NICOLE JOHNSON
"(Being Miss America is) not about glamorous Hollywood events. It's being with real people in small-town America performing the greatest kind of service that you can perform as an individual -- giving of yourself, sharing your heart, your love, and your time." -- Nicole Johnson, Miss America 1999
PHOTO BY KENNETH WILLHARDT
Warm, friendly, approachable, and articulate -- all the ingredients for a great Miss America and the four words that describe Nicole Johnson, Miss America 1999. As her year of service is nearing completion, Nicole takes a moment from her incredibly busy schedule to tell us that she'll be going home the next day after the live national telecast. She explains that she'll be home for four days before leaving for Europe to work, not for vacation. Next she'll travel to Paris and Belgium to talk about diabetes on the international level, then fly back to the States to work for two weeks straight. But her travels don't stop there. She'll soon find herself in Istanbul to educate our middle-eastern neighbors about diabetes, a disease that affects all nationalities. Then it's off to Bejing, China. In short, Nicole will be criss-crossing the world through December. "I'll also continue with my national board membership for the American Diabetes Association, and I've been named as a chairperson for the High Hopes Fund for children with diabetes. It's an international position."
When asked if she still plans to earn a Ph.D. in Mass Communications to become a national news anchor, she answers that she has changed her mind. Instead, she plans to study public policy and continue to motivate our youth. "I want to help change some things that are going on in society right now." In fact, Nicole is currently involved with the National Drug Control Policy Initiative. It's a program that teaches young people that drugs are not a good thing. "I've had experience in this area. As a young person, my peers tried to influence me to use substances, but thank God I always made the right decisions."
Apparently, her purpose was becoming a nationally-recognized public figure and a role model for many young girls. She then explains that many people have a misconception of what the Miss America program is all about. "It's not about a girl who wears a crown and a gown and rides around in a car and waves to people." She wants the American public to realize that this is a position of validity. "And that it not only provides higher education for women, but it also promotes a better self-esteem, promotes good health, and, most importantly, promotes community service."
The Miss America Organization is the single largest provider of college scholarships for women. Contestants and volunteers at all levels have contributed more than 450,000 hours to nearly 12,000 different causes and charities nationwide. Each year, they offer over $30 million to women in college scholarships, and all contestants receive a scholarship award just for competing. For example, Nicole received more than $65,000 while advancing to become Miss America.
Just as Nicole is a major advocate for diabetes awareness and early detection, the Miss America Organization requires all contestants to have a platform which advocates the cause of a national charity, civic, or educational organization.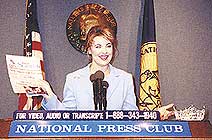 At the National Press Club, the audience gives Nicole their full attention as she speaks on the importance of diabete's recognition and prevention.
The enormous difference Miss America titleholders make in many areas (literacy, domestic violence, homelessness, and many others), is staggering to the imagination. During Nicole's year of service, she has lobbied Congress seven times and spoken personally to most of the key members in the House and Senate. She has been lobbying for support of diabetes issues and for increased funding for the National Institute of Health.
In fact, she met with the director of NIH (the National Institute of Health), Dr. Harold Varnich, in a private meeting where they spoke about how to increase research funding and find a path that will lead to a cure for diabetes. Nicole has also developed a relationship with the "people on the Hill" (Capitol Hill) and believes these relationships will be lifelong.
"Also, in my home state of Virginia, I was honored to be the third person to ever speak on the floor of the Senate. I am now in a category with Al Gore and Margaret Thatcher -- one of my fondest accomplishments." Beyond those types of hard-hitting legislative issues, she has had private meetings with individuals all across the country from the Secretary of Health and the Surgeon General to (Ret.) General Colin Powell whom she adores.
Nicole has also met with celebrities in Hollywood. She's had dinner with and helped honor Steven Spielberg who in return mailed her an autographed CD from the movie Saving Private Ryan. "That's one of my most prized possessions!" And she enjoyed the Carousel of Hope Ball in Los Angeles where 6.2 million dollars was raised for diabetes research. The other people involved were Jay Leno, Celine Dion, Kenny G. and David Foster. "In fact, the 1200 people in attendance were all celebrities."
When asked if any hard reforms have occurred yet and whether she plans to continue working on her platform on a permanent basis, she answered yes. "I'm going to continue to be a lobbyist on behalf of medical issues for many years to come whether that's officially or unofficially, I don't know yet; but I will continue to be very involved."
As far as reforms go, she's helped pass legislation in three states (Virginia, South Dakota, and Nebraska) that she knows of so far, with several states pending. She says that there are only 16 states left, and she plans to help get legislation passed in each of those as well.
Throughout her many speaking engagements, galas, and travels, several memories seem to stand out in her mind. "I was in Omaha, Nebraska, at a gala where 'lunch with Miss America' was auctioned for $1600! It was wonderful, because all of the proceeds went to diabetes research. The high bidder was a precious family who had two young boys, both with diabetes. We were supposed to go to a fancy restaurant, but the boys didn't want to go. They wanted to go to McDonalds and then to their basketball game! So, we took them to McDonalds, in the limo! Then I said, 'Okay, well part of the deal is that I'm going to play basketball with you!' And, if you can imagine this, I'm in a business suit, heels, with a boy on each arm escorting me into the room with all the little-league basketball players. And we all warmed up for the game together! I even made a basket. It sounds so simple and so small, but that is just one of my most special memories."
Nicole also recalls a letter she received that included a pink-construction-paper crown from a little boy in New York. On the crown he called her the "Queen of Diabetes." In her words, "That was the best!"
After her year of service, she plans to reside in the Washington, D.C., area, since it's close to her home and is one of her two favorite areas. (San Diego, Calif., is the other.)
We asked her if she had any words of wisdom to impart to her successor, and she was more than happy to share some helpful hints. "I want (the new titleholder) to realize that although this is a wonderful experience, it's going to be very frustrating at times. What I've done is saved letters and pictures from children. I keep them in a special place in my suitcase. Then, when I feel down, I look at those faces and remember what it's all about."
She also relayed that maintaining proper perspective is also a key to success in this position. "It can't be about the titleholder, it has to be about what you are giving to others. And so this year my efforts have been to give everything, every ounce of energy, every ounce of anything that I have to the medical community to try to change perceptions and to change legislation."
She hopes the next young woman commits herself in a similar way, because "to be truly successful as Miss America, you have to speak from the roots of passion and conviction that are deep down inside. You also need to have the perspective to realize that this job has nothing to do with anything that's external, but everything that comes from that source deep within your heart."
However, Nicole attributes her success to her strong faith and relationship with God. "You can't waver. You have to remain true to who you are and what you know is right -- no matter what the media says, no matter what other people say, and no matter what the gossip. All of us have that sixth sense, a small voice that speaks to us."
Before she had to go, Nicole wants our readers to know that what Miss America does day to day is not all glitz and glamour. "It's not about glamorous Hollywood events. It's being with real people in small-town America performing the greatest kind of service that you can perform as an individual -- giving of yourself, sharing your heart, your love, and your time. Sure, you talk about the big names that people recognize, but in the heart of every Miss America are the real people in small-town USA. That's where the impact is made. That is where society is altered and changed."
True to her word, we know that this past year Nicole has been helping to save people's lives by presenting a message on behalf of the medical community. According to Nicole, more than 16 million Americans are fighting a disease that costs our country nearly $100 billion each year. It blinds, cripples, even kills one person every three minutes. As of June 26, 1999, Nicole has helped to raise more than $12 million for diabetes research and treatment.
What better spokesperson than a person suffering herself from this hidden disease? Miss Johnson is truly a noble and inspirational woman, two more ingredients for a treasured Miss America.