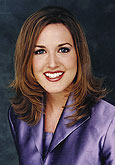 Bridget Bobel is a senior at Ball State University in Muncie, Indiana, pursuing a degree in Public Relations. A seven-year pageant veteran, she competed for her first time in the Miss Indiana America Program in June with the title of Miss Southern Heartland. She has used her public relations knowledge to promote her platform, "The Power of Reading: Promoting Literacy in Today's Youth," around the state. Her experience includes internships with Rolls-Royce Corporation in the employee communications department and in the promotions department of WNOU 93.1 in Indianapolis. She also traveled to Atlantic City to watch her sister, Betsy, Miss Indiana 2000, compete for the crown while covering the story for her local newspaper.
In a world where presentation is everything, pageants and public relations harmonize nicely. In public relations, professionals serve as advocates for their clients. They do this by building relationships with representatives of community and public interest groups and those in print and broadcast journalism
In pageants, contestants serve as advocates for their platforms. They do this by building relationship with representatives of community and public interest groups and those in print and broadcast journalism.
See a connection?
There is more to pageants than glitz and glamour. In the Miss America Organization, for example, each contestant is required to have a platform which she promotes. All across the country, young women between the ages of 18 and 24 are spending countless hours working to raise asthma-treatment awareness, to keep the arts in schools, or to increase literacy levels, among others.
How do these women let the public know what they're trying to accomplish? Through public relations.
What television station wouldn't love to cover a story about a young woman who raised $10,000 for AIDS awareness through a golf outing she organized? What newspaper wouldn't jump to feature a contestant who worked tirelessly to help homeless veterans get back on their feet?
The more publicity contestants have when promoting their platforms, the more community support they will have. This support equals credibility in the interview. When the judges realize that a contestant has extended a huge amount of effort to get the community involved with her platform, they will see that she truly loves what she's promoting.
Public relations is such an important part of the pageant world that it would be hard to win a pageant without it. So, how do you achieve good public relations?
---
Making solid connections with your community starts with building bridges to businesses and the media.
---
The Basics of Platform PR
First of all, write a press release explaining your platform or what it is you are trying to accomplish in your pageant system. Explain why what you're doing is important. Send it out to area newspapers, television stations, and magazines.
Secondly, always be an advocate for your cause. Plan an open house so the community can get to know more about your platform or your goals. Be sure to invite the press to events like these.
By developing this positive relationship with the press and the community, they will learn that what you're trying to do is more than competing in a beauty pageant; they will see that you're working tirelessly to make a difference in the world.
When the glitz and glamour of a pageant does occur, it doesn't happen spontaneously. It takes hours of meticulous preparation on behalf of directors and contestants before the stage can light up and the crown can be placed on the winner's head.
Guidelines for Directors
It's easy for directors and contestants to simply assume that the community is conscious of the upcoming pageant because those involved in the planning and organizing of the event have it foremost in their minds. But that assumption would be one reason why your event may not attract the attention it deserves. Just as a pageant winner needs to let the community and media know what she is doing with her title, the pageant organizers must do the same thing.
Directors must keep the community aware of dates and deadlines for the pageant. They can do this through an effective media kit that contains press releases, backgrounders (an explanation of the pageant's history), and biographies (information about the current queen). When the media knows everything about the pageant, they will be more likely to cover the event.
For any pageant to be a success, it has to have excellent public relations. With poor public relations comes lower attendance and less interest from potential contestants and the community. An excellent way to excel at public relations is through promotion.
Sponsorships and Promotions
Promotion is what makes the wheels of pageantry spin. American businesses spend millions of dollars each year promoting pageants because they have found that they are the greatest form of advertisement in the country.
There are several ways a pageant can go about obtaining sponsorships. For example, the contestants can be solely responsible for finding community donations. They can easily go to their local beauty shops, clothing stores, and food establishments to ask for assistance in their quest for the crown. Remember not to ask only for a monetary donation; some businesses would much rather give away a service, such as free tanning or make-up consultation. Be careful when going to chain restaurants or stores. It can be hard and time-consuming to gain the upper management's approval of a donation.
This type of sponsorship is great for the contestants because, let's face it, competing in pageants isn't always cheap. Many women wouldn't be financially able to compete if it weren't for the donations they receive from businesses.
When getting sponsorships like this from the public, remember to practice good public relations. Always write a thank-you note for the contribution, no matter how large or small. Better yet, write a letter of appreciation to the local newspaper, listing all the people and businesses that donated. If possible, also list them in your advertisements in the pageant's program book.
When effectively using public relations, pageants can be a huge success. Using the same principle, contestants have a better chance at winning their desired title. Either way, public relations is too important to overlook when becoming involved in the pageant world.
Getting Media Attention
A veteran journalist who works in the pageant industry suggests the following points to obtain media attention:
1 Get to know the people who decide what goes into the publications or programs you are targeting. Make a phone call and find out which editor or producer would handle your type of events or platform issues.
2 Send each contact a personalized letter of introduction. Then follow up with a phone call and ask them what types of stories they are working on that you might be a source for.
3 Ask your contacts in print media if they would accept an opinion/editorial piece you have written on whatever issue you feel strongly about.
4 For events coverage, make sure to direct an announcement listing to the calendar editor. That way, you are sure it will land on his or her desk and receive the attention you deserve.
5 Follow up to request coverage of your event separately by contacting a local or state editor and requesting a reporter or photographer be assigned (regional newspapers especially are always looking for good human interest photographs).
6 Don't be afraid to use your network of friends. If you know someone who knows someone working for a media outlet, get that person to call their media friend on your behalf.