Gail del Corral made a profitable living as a mechanical model, fashion model, and actress throughout the ?70s and ?80s. She has appeared on network shows hosted by Johnny Carson, Mike Douglas, and Steve Allen. After retiring from a highly successful career, Ms. Corral opened her own model and talent agency in New Orleans, Louisiana, and books talent in local and national commercials as well as in fashion shows and movies. Today Del Corral Model & Talent Agency is the largest agency in the states of Mississippi, Alabama, and Louisiana. It has booked talent in such blockbuster movies as The Awakening, Honey I Shrunk the Kids, Miller?s Crossing, Pelican Brief, Interview with a Vampire, Primary Colors, Crazy in Alabama, and Double Jeopardy as well as in hundreds of TV commercials. Gail also offers courses in modeling, drama, makeup, good grooming, and mechanical modeling at del Corral Model and Talent Centre.
---
If you find yourself interested in getting into the modeling field, you must first decide which areas you are interested in, such as convention modeling, fashion, photography, or commercial work.
Regardless of what anyone may tell you, to become a high-fashion model, you must be at least 5?8? tall, and most department stores don?t even use fashion models unless they are at least 16 years old. (Most children do not receive compensation.)
Before signing with just any agency, you should call your local department stores, advertising

Isabell Robinette, only 5'3" landed a part in the hit movie Primary Colors. More recently she made $100,000 in an Accolate commercial.
agencies, television stations, and production companies to see which agencies they use and which agencies are reputable. Some agencies try to sell modeling courses and don?t get a lot of work. They make their money from courses they sell, but a truly reputable agency makes the bulk of its money from commission. Illegitimate agencies try to convince you to pay them to land a job for you, but reputable ones pay you! True agencies earn their money from commission after you?ve received compensation for a job.
In a large city, such as New Orleans (where my agency is located), you can make thousands of dollars if you are lucky enough to land a national commercial. Photography pays anywhere from $50 to $100 per hour. Convention work pays $25 per hour before 5 p.m. and $30 per hour after 5 p.m. with a $150 minimum. Local commercials pay $340 for a 13-week usage.
Although fashion modeling requires strict height and weight restrictions, you don?t have to be beautiful, tall, and thin to do commercials. For commercials, we represent talent from 3 years of age up to 80 years old ? tall, short, heavy, thin, young, or old. Yes, even old. We recently placed an elderly lady, Isabell Robinette, only 5?3?, into an Accolate commercial, and she made $100,000! Also, not too long ago, Isabell landed a part in the hit movie Primary Colors with John Travolta.
Since my agency has been in business for over 35 years, throughout the years many people have asked me for tips and advice to increase their chance of landing a job. Here are my top 20 tips and a good-grooming suggestion:
Good Grooming Suggestion
Keep your look up to date. Keep your tote bag accessories up to date. Know what is going on in the fashion world! You must be clean and well-groomed. Most of all, do not just show up. It's not enough. Create a look and make an appearance!
THE TOP 20 TIPS: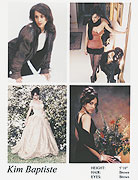 A good comp card, like this one, shows Kim Baptiste in a variety of scenery, outfits, hair-styles, and poses from different vantage points and distances.
1 Always bring a picture and resum? to ALL auditions.
2 When you are called about an assignment, always put the information on two calendars... one to keep with you and one to keep at home. Write all the information down so that agencies don?t need to give it to you more than once. Having to give you the same information twice makes you look unprofessional.
3 Never give your home telephone number or address to anyone, especially when filling out casting sheets. In most agencies you would be fined for doing this.
4 Report to work at least 20 minutes early. Being late reflects a bad image on the agency and on you. If you can?t make an audition, please contact the agency immediately. Please remember, agencies can always be reached, even if you have to call the emergency number. My agency insists upon this. Any talent canceling an assignment without at least 48-hours notice will usually be fined.
5  If the weather looks threatening, always call your agency before going on an assignment, just in case it has been postponed.
6 If on a modeling assignment, any talent who damages clothing will be financially responsible for the cost of the outfit. To avoid accidents, purchase face masks and dress shields.
7 This may be obvious, but you?d be surprised: no smoking, eating, or chewing gum while working! No model is to drink (even water) with a client. Socializing during working hours will result in an immediate drop from most agencies. Agencies are not dating services.
8 Always bring extra clothes and accessories to all assignments.
9 No one is allowed to bring cameras on the set. Anyone bringing camera equipment will be fined and sent home.
10 Whether acting or modeling, after you?ve completed your assignment, always call your agency to give the number of hours worked and say how it went.
11 Advise your agent when you are not going to be accessible. If you're going to be out of town, let your agent know where you can be reached and when you will return.
12 Always advise the agency of any changes in your address or phone number. I highly suggest an answering machine or answering service so that messages can be left for you.
13 Remember there are several different agents in the office. They all work on different assignments. When you call, it?s helpful to mention to the receptionist what your call is in reference to, such as a fragrance, audition, convention, informal modeling, etc.
14 A city map is mandatory. You should never call a client for directions!
15 Never sign anything without reading it first to someone with authority at your agency. At my agency, if we don?t see what you signed, we?re not responsible for billing or payment.
16 Packets of vouchers can be obtained from most agencies. Ask about them. You should have one for every assignment. Vouchers are used for print and commercial work.
17 Money and payments should never be discussed with other models or clients. This is very unprofessional. Your agent is being paid to negotiate all contracts and rates. Let us do our job. Then you do yours by being the best talent ever hired.
18 Make sure you keep accurate records of what is owed to you and what you have been paid (check numbers, dates worked, dates received, etc.).
19 An Agent Service Fee (called an A.S.F.) is charged to the client for the agency?s services. This A.S.F. is not the same as the talent?s commission.
20 Agencies cannot secure you work without the proper sales' tools. We need at least 100 composites and resum?s. Also, if your hair style or image changes, new composites are needed immediately. Also, furnish your agency with a video cassette for promoting commercials or an audio cassette for voice work.
If you are interested, Gail would be happy to answer your questions. Just click below to e-mail your questions to Gail del Corral at agencyl@aol.com. Good luck!