PHOTO BY LES ANAS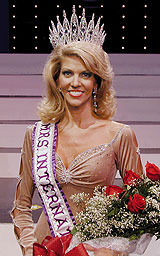 Mrs. International 2003 Michelle Fryatt of Nevada won the title and the admiration of the Mrs. International family, including the other Top 5 finalists.
A pageant committed to community celebrates its most heartfelt success to date.
Close your eyes and imagine a place where women are honored for their commitments to family and community — a place where you will not be judged only for your outward beauty, but for the beauty that lies within. Now open your eyes, because this is not a dream — this is reality in the Mrs. International Pageant system, which "showcases the accomplishments of today's married woman" throughout the year and honors her and her family with a national event that is second to none.
The 2003 Mrs. International Pageant once was hosted by Bob Eubanks, the man who wrote television history as host of the incredibly successful The Newlywed Game. The talented Mrs. International Singers and Dancers joined him in support of the superstars of the show — the contestants themselves. The finalists competed on stage in Interview, Aerobic Wear, and Evening Gown segments, and then the Top 10 reappeared, slow-dancing in the arms of their husbands, whose expressions of love and pride flowed as they escorted their wives to center stage and exited to await the judges' final decision.
Bob Eubanks received the envelope bearing the results, and moments later he announced the Top 5, in reverse order of finish: 4th Runner-up Mrs. Ohio Cami Gooding, 3rd Runner-up Mrs. Oregon Mary Nelson, 2nd Runner-up Mrs. Indiana Lacey Mervine, 1st Runner-up Mrs. District of Columbia Michelle Carolla, and Mrs. International 2003 Michelle Fryatt of Nevada. The theater erupted in applause as the audience and the delegates showed their appreciation for another outstanding event from the Mrs. International organization. The evening's festivities culminated with an exquisite Coronation Ball.