Click on the underlined web address or the photo of the site to visit that site.
Still looking for that perfect dress for prom? These sites have got it!
Once again, prom time is rapidly approaching. Hopefully, by this time you have already begun thinking about who you might like to have for a date during the prom, and who you'll hang out with once you're there. Maybe you have already visited www.promtime.info and gotten an overview of what style of gown you like. The PromTime website displays all of the gowns you see in the PromTime Fashion Showcase. When you click on the gown you like in the PromTime Fashion Showcase, it will take you to a page where you can obtain contact information for that manufacturer. The manufacturers who have their own websites have a link on the contact page that you can "click and go" to visit their site. At some point you're going to choose one special dress... and that is where these sites come in.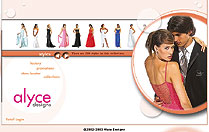 Alyce's newly-redesigned site features over 150 gowns in their prom line.
Alyce Designs www.alycedesigns.com
Alyce Designs' site has been completely redesigned. At the time this article was written, Alyce was in the process of updating their site. Click on the link above, or the page to the right to see their new look.
Alyce Designs produces several lines, such as bridesmaids and special occasion. Once that special gown is located, you can click on "Find A Store" and put in your state to find the name, city, zip, and phone number for the store nearest you.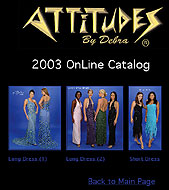 Attitudes by Debra's site features over 230 gowns.
Attitudes by Debra www.attitudesbydebra.com
Attitudes by Debra's website features their entire 2003 catalog and over 230 of their gown designs. The thumbnails are large enough to get an idea of the style, and clicking on the thumbnail takes you to a much larger photo.
The site also features a store listing organized by state. Simply click on your state's name and see all the retail store listings for that state. If there are no retailers in your area or none close to you, Attitudes provides a "super link," i.e. retail stores where you can special-order your dress and have it shipped to you.

Claire's website features many celebrities wearing their fashions.
Claire's Collection www.clairescollection.com
The website for Claire's Collection touts the company's many gowns designed for celebrities. The welcoming page features Mindy Burbano (see photo right) from Entertainment Tonight, who now covers the world of entertainment for KTLA Channel 5's News at Ten in Los Angeles.
Claire's Collection is one of the more creative manufacturers websites because it provides a wealth of content areas, all presented in interesting ways. "Whites" is, of course, their bridal line, the "Fashion Show" flashes four gowns at a time on your screen and lets you click "continue" to have more of them pop up.
Many celebrities wear Claire's gowns. When you see Sandra Bullock in their gown in an Academy Awards photo or Halle Berry donning a Claire's-designed wedding gown, it makes you want to own one of them all the more. Other celebs include singers Shania Twain, Aretha Franklin, and pageant celebrities and entertainment TV journalists Julie Moran and Mary Hart.
Fleur De Lis www.fleurdelisbyjustine.com
At the time this article was written, the Fleur De Lis website was undergoing a major redesign. See their new look in January, 2003.

Ciré is Landa's prom line.
Landa Designs www.landadesigns.com
Landa's site features many types of lines, such as Pageant, Special Occasion, and Bridal. Cir? is where you'll find the Landa prom designs. There are plenty of gowns to choose from in this line. The gowns are grouped together in small gallery photos, which can be clicked on to view larger photos as well as style numbers, colors, and size options. This page also features a "size picker," a handy chart to help you decide which size is best for you.
Their store list is one of the speediest store-finders around. Arranged in frames, a click on your states' abbreviation will instantly pull up a list of all the retail stores in that state.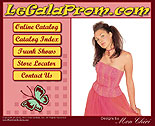 Le Gala's new site has a youthful look.
Le Gala Prom www.legalaprom.com
Le Gala Prom is a division of Mon Cheri Bridals. The new site for the Le Gala Prom line features a fresh "today" look. The models in their gowns wear contemporary accessories such as bandannas, temporary tattoos, and body glitter/art.
The catalog index is an easy way for you to get the specifics on a particular dress if you already know the style number. The catalog itself is very well detailed and organized, and you can quickly skim through it even while you are viewing larger photos of the gowns. Their store locator has a list menu for both the U.S. and Canada, which are searchable by state or province. If you find a store carrying the line you like and they have a website, the site provides a link on the listing page. Very cool!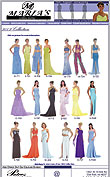 Maria's Collections features large previews.
Maria's Collections by Putros Couture www.mariascollections.com
Maria's Collections is the prom division of Putros Couture. Their gowns are featured in fairly large images, even on your initial look at them (right). This beats having a preview that is too small, forcing you to click on a link for a larger view — only to then discover that it wasn't anything you were interested in. The site's larger images pop up in a new window, accompanied by style number, color, and size options. Credit applications and order forms are available online in PDF format. If you would like to receive a free catalog, simply fill out their online form.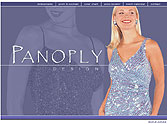 Panoply Design's site is easy to navigate and features great color charts.
Panoply Design www.panoplydesign.com
Panoply's website has both a "Bridesmaids" and a "Cocktail and Prom" section. The gowns are presented in a thumbnail format that can then be clicked on to show the style numbers and colors. The largest views give you a very good idea of what the gowns look like. They even have a "color chart" area that shows the colors for any of their fabrics that you select via a list menu.
The ultimate goal is to have you go to one of their retail stores, which offer services such as wardrobe consulting, dyed-to-match shoes, and invitations, among others. The way to find a retail store is through the "store locator." It lists city, store name, phone number, and which lines are carried (bridesmaid, prom, or both). A few listings even have links to the store's website.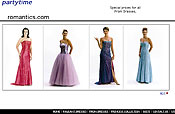 Party Time's gowns are presented in a horizontal scrolling-frame format.
Party Time www.partytimeromantics.com
The Party Time site's gowns are presented in a horizontal scrolling-frame format. Four gowns show at a time in the window, and you can click the "next" button to move on to another set. You can click on these photos for an even larger view and details about colors and sizes, etc. Each page also features a helpful sizing chart. To find the store nearest you, click on the "store locator," which lists the shops in alphabetical order by state.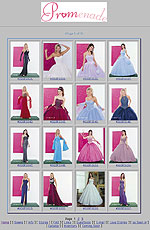 Promenade by P.C. Mary's.
Promenade by Mary's Bridal www.marysbridal.com
Promenade is what fashion manufacturer P.C. Mary's calls their line of prom gowns. You can see them by clicking on the "Please see our new Spring 2003 Prom collection" link in the main navigation frame. A click on any of the thumbnail photos will show a larger view, style number, and a unique and helpful brief description. For example: "Strapless organza gown, heavily bugle beaded/sequined bodice in sun ray design, shawl." The usual color and size options are given, as is the very unusual price (suggested retail price before oversize, rush, alteration, and shipping charges) — a good thing to know before going to the store.
Find a store in your area by clicking on your state on the map, or for international visitors, call one of the numbers listed. You may request a 100-page catalog from P.C. Mary's by sending $2.00 to the address listed.
The Crown Collection www.thecrowncollection.com
At the time this article was written, the Crown Collection website was under construction. Visit them later in January, 2003.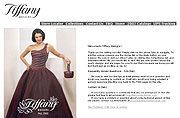 Tiffany Design's minimal site design packs a wealth of catalog choices.
Tiffany Designs www.tiffanydesigns.com
Tiffany's website features a simple, yet very powerful, interface. Clicking on any of their lines offers options for each. For example, a click on "Tiffany" reveals "Please choose a catalog/collection to view." Your options are "Fall 2002," "Spring 2002,? and "Carryovers." These links lead to the full catalogs, so you can see every gown in their line.Tiffany also offers a unique store finder. After you select your state in the list menu, it offers a second menu so you can tell it which city you are in. This is an easy way to find the location nearest you.
---
The above sites, along with the www.PromTime.info website, are wonderful places to search for the gown of your dreams. A good thing to do when you visit these manufacturers' sites is to print out the page of the gown you're interested in and take it to your local retail store. This printout, with the gown photo, style number, sizes, and color choices available, is a great way to ensure you get exactly the dress you want. Good luck in finding that special dress, and have a great time wearing it at prom!

---