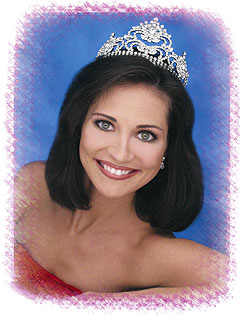 Kristi looks forward to a yearlong series of speaking engagements, personal appearances, and media interviews.
By Fred Abel
Though held halfway around the world, this pageant touches the U.S. heartland with its veneration of married life.
There are some 60 million women with the title of "Mrs." in front of their names in America, but there is only one reigning Mrs. America. State representatives from all 50 states and the District of Columbia gathered at Honolulu, Hawaii's Hilton Hawaiian Village in late September for the 26th annual pageant that would decide just who was so honored with the title of Mrs. America 2003.
The event was hosted by Gary Kroeger, star of PAX TV's revival of the classic game show Beat the Clock, with the mellifluous tones of the voice-over announcer belonging to John Harlan. The finals TV special, billed as "the only televised pageant for married women," was taped for airing on Pax TV Network and was shown on Saturday, Oct. 12, 2002.
The original Mrs. America system, which began in 1938 and lasted for three decades before discontinuing in 1968, was designed to select the ideal American homemaker. In 1977, current owner David Marmel formed a new Mrs. America organization and established a nationally-televised program featuring a more contemporary format for married women. Competition includes evening gown, swimwear and interviews. Mrs. America goes on to represent the United States in the Mrs. World competition; 2002's Mrs. America winner, Nicole Brink, went on to win that crown in late 2001.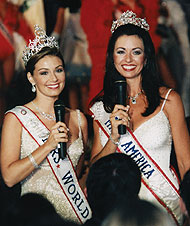 Mrs. World '02 Nicole Brink and Mrs. America '02 Laurett Ellsworth Arenz (L-R) share cohost duties at the pageant finals.
This year's Mrs. America would be chosen by a panel of judges that included influential TV producer Al Masini, Hawaii's First Lady Vicky Cayetano, Mrs. America 2000 Leslie Lam, and 2002 Survivor Marquesas million-dollar prize winner Vecepia Towery.
Honolulu offered a lush, festive pageant backdrop. The producers took advantage of it by staging the show outdoors at dusk, on a stage flanked by a faux rainbow, with real palms and the sparkling Honolulu waterfront skyline serving as backdrop. Host Gary Kroeger energetically kicked off the proceedings and quickly introduced the opening number — the 51 contestants, wearing wedding gowns, promenading to "An Old Fashioned Wedding," a duet recorded by Tom Wopat and Bernadette Peters from the 1999 Broadway musical revival of Irving Berlin's Annie Get Your Gun.
A costumed procession followed, with each woman arriving onstage in a colorful thematic outfit that was apropos of their home states. Mrs. Louisiana, for instance, dressed up as a giant crawfish, Mrs. Nevada (Las Vegas calls itself "the wedding capital of the world") arrived as a bride, and Mrs. New York as Lady Liberty. The eye-catching segment allowed some entrants to serve as walking billboards for popular state enterprises: Mrs. North Carolina was a stock car racer, Mrs. Vermont dressed as a sugar maple, Mrs. Connecticut touted New Haven's Yale University, and Mrs. Wisconsin, who dressed as a milkmaid, pitched the dairy state.
'I thrive on being challenged and want to help young people understand what they are facing in their daily lives.'
— Mrs. America '03 Kristi Phillips
Awards went to the following contestants: Most Original: Mrs. Maryland, dressed as a knight which appears on the state seal; Most Whimsical: Mrs. Georgia, as a creature from her state's Okeefenokee Swamp; and Best costume: Mrs. Hawaii, who appeared as her state flower, the hibiscus.
Contestants next were introduced on the arms of their husbands — a parade of well-dressed couples that reinforced the institution of marriage and brought family values to center stage. After another dressing-room visit, the candidates returned in red-and-white flower-print bikini swimsuits and matching sarongs, as a color guard appeared and the anthem "America the Beautiful" played. As each competitor reached center stage, she untied her sarong, drawing attention to the bevy of tanned and toned bodies gracing the stage and serving as a segue to the presentation of special appearance awards. They included: Best Smile, Mrs. Kentucky Crystal Riley; Most Photogenic and Mrs. Fitness, Mrs. Mississippi Susan Desporte; and Mrs. Congeniality, Alabama's Kristi Phillips.
The announcement of the Top 10 came next. Going on as semifinalists were the contestants from Minnesota, Illinois, Hawaii, Michigan, Colorado, Wisconsin, Tennessee, Georgia, Ohio, and Alabama. Following taped video of the Hawaiian sites and sponsors, the Top 10 appeared in blue swimsuits, while voice-over biographies listed each semifinalist's age, education, hometown, occupation, years of marriage, husband's name and profession, and number of children.
A dance number ensued, with all contestants stepping out to the song "Dreamgirls" while judges tallied scores on their matching laptop computers.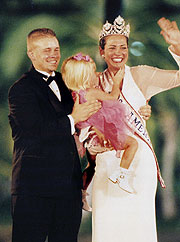 Kristi Phillips and her husband, Brian, are the parents of a 2-year-old daughter, Kayleigh. Kristi is a mentor and motivational speaker, and she also shares youth pastor duties with her husband.
The evening gown phase was presented with voice-over descriptions of each semifinalist's community service, employment, and leisure activities. The segment concluded with Gary Kroeger singing a Billy Joel ballad, "She's Got a Way About Her," and the farewell of 2002 titleholder Laurett Ellsworth Arenz. The mother of five listed America's surge of patriotism, her travel to the Olympic Games, and her visit to Time Square on New Year's Eve as her most lasting memories.
The final stretch of the two-hour pageant telecast cut the field in half, with the women from Georgia, Tennessee, Hawaii, Minnesota, and Alabama getting the go-ahead to the Top 5. Then, standing before the judges one more time, each fielded a final question composed by a fellow contestant. Once the judges touted their final marks, Gary Kroeger dramatically revealed the order of finish: 4th R/U Mrs. TN Erin Mayo, 3rd R/U Mrs. HI Helen Berger, 2nd R/U Mrs. GA Allison Meeks Hood, and 1st R/U Mrs. MN Charity Kelly.
That left the title of Mrs. America 2003 to Mrs. Alabama Kristi Leigh Phillips of Montgomery. The 25-year-old, 5-foot-7-inch brunette held her hands over her shocked facial expression as she was crowned. Later, she spoke words of grateful surprise upon winning. "I'm still in shock over it all," said Kristi. "I'm just a Southern belle from Alabama. This is the first beauty pageant I've ever been in. I'm excited and overwhelmed... I'm just really happy."

---
To read more stories like this one, subscribe to Pageantry TODAY!