PHOTO BY DON SEIDMAN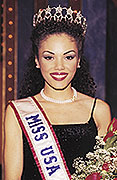 A glowing Lynnette just moments after being crowned the new Miss USA 2000.
"And your new Miss USA for the year 2000 is Lynnette Cole!" As the crowd erupted into thunderous applause, the new Miss USA valiantly fought to hold back the tears. But who is this person behind the coveted title and under the crown? Is she for real?
Well, let us share our personal knowledge of this complex young woman who is more than fit to be the first Miss USA of the decade, century, and millennium. Lynnette was born in Columbia, Tennessee, on February 9, 1978. While this piece of background information may seem "normal," the lifelong trail she has travelled to this point has been remarkable. Adopted as a child, many of her life experiences show through in her desire to not only succeed, but also in her determination to impact the lives of other young people.
According to Lynnette, "From the beginning, I experienced enormous obstacles from the outside world. I was diagnosed as mentally slow and mistreated for being bi-racial as well as for being adopted by a white couple. My parents (the Cole's), were brave enough to provide me with love, understanding, and security. The people who became my parents are my everyday heroes." In fact, Lynnette lived with 127 foster sisters throughout the first 15 years of her life. Thus, the foundation of her commitment was formed early on.
Making the most of the opportunity presented her, Lynnette put herself on a quest of personal excellence. Enrolled in a private school, she worked extraordinarily hard to obtain good grades and constantly listened to motivational and educational books on tape during her spare time. To help her parents pay the tuition, Lynnette made the decision to model and participate in pageants for the money and scholarships available. This was a fateful decision in which she has aptly succeeded.
"I never think of pageantry as a competition against another person; it is a quest for personal excellence."
-- Lynnette Cole
On modeling, Lynnette can be very realistic. "Modeling has really helped me in the area of self-confidence, which allows me to have better stage presence." With her exotic looks, the modeling assignments have been numerous and quite impressive. Over the years, Lynnette has graced the pages of Teen, Cosmopolitan, and Peachtree magazines, just to name a few, along with her visible exposure as a regular model for the national retail store Uptons. In addition, Lynnette was a feature model for Pageantry magazine in the Spring Prom '99 Photo Shoot where she was a hit with the staff and the other models. Pageantry's editor, Lisa Nees, notes, "She spent almost all of her spare time studying!" But even with all of the exposure, Lynnette remains grounded in her expectations. As for giving advice to other aspiring models she says, "I still consider myself an amateur. But I believe that if a person believes they have that extra special talent, they should sit down, research and educate themselves. That means working very hard to save their money to attend the classes required. Then they need to set a time limit, maybe 2 or 3 years, to really give themselves a chance." Following her own advice, Lynnette has given herself two more years in modeling after which she plans to attend law school.
PHOTO BY MAXX MEDIA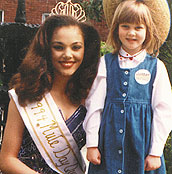 As Mule Day Queen '94, Lynnette begins encouraging others.
As for pageants, Lynnette became a natural winner. Beginning pageants at the ripe old age of 15 (late for pageant competition), Lynnette has captured such titles as Miss Tennessee World '93, Miss Tennessee Teen USA '95, Miss Teen USA Photogenic winner '95, and Miss Teen All American '97. In between these major titles, she continued to compete and always viewed competition in the best way possible. "It has been a learning experience. When I first began competing, I looked at it as an opportunity to help my parents pay for my high-school tuition... but then I saw it as a way to open my eyes to new things and the opportunity to meet a lot of different people. Living in a small town and going to a private school, you feel you're isolated from everyone else. Pageants have given me a little more of an opportunity to branch out and experience new things."
When asked what she likes most about the pageant experience, Lynnette is very forthcoming. "The developmental process. I enjoy the diligent focus on pushing myself to be my personal best. I never think of pageantry as a competition against another person; it is a quest for personal excellence. Pageantry competition places a woman out of her natural element and into a highly demanding set of extraordinary experiences. As a result, pageantry not only pushes women to investigate who they are, but also creates the circumstances that enable women to develop a wide range of social skills and a goal-oriented mind set." With such an ability to set goals, it comes as no surprise that her modeling assignments began to contribute to her success in pageants, and vice versa. "Modeling has given me new ideas about different looks; hair, makeup, body language, everything. On the other hand, pageantry has helped me in the modeling world by keeping my head level and focused. I'm able to see more into the future than just at the moment." As an example of their co-influence, in addition to her numerous titles within pageantry, Lynnette has also won the coveted AMTC "Overall Female Model" award at the National Millie Lewis Winter Convention.
PHOTO BY MAXX MEDIA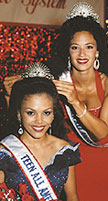 Winning Miss Teen All American '97 further strengthened her spirit to help others
At the present moment, in addition to her duties as Miss USA 2000, Lynnette (a graduate of Columbia Academy 1996) is taking classes via telecourse from Columbia State Community College with an emphasis in Pre-Law. She hopes to one day become an attorney specializing in family law. Lynnette is also a substitute school teacher for grades K-6. However, her dream job is to either take Tyra Banks' place on the cover and pages of Sports Illustrated or to act in a soap opera. Lynnette explains, "I love modeling. I love print. But with the way that the looks are going for that, it's more of the everyday-girl next door (look), just the opposite of me. They're very tall, and I'm only 5'8". But I've always loved acting. I received a little bit of exposure to it when I was in my senior high-school play, and I absolutely loved it. So if I were going into the acting world--which I'm going to try, I will take some classes while I'm in New York. That way I can be centralized and look into other things for my future; and even if I'm 40, I'm still going to law school."
In the meantime, Lynnette will soon be traveling to Cypress to compete in the upcoming Miss Universe Pageant. "I'm really excited and looking forward to it. Cypress is a whole new ball game, because we're talking about girls from different countries and a lot more of us (contestants) are going to be there. So I have to focus on the whole picture, because that's what they're wanting. They're not wanting someone who's maybe good in one thing and not so good in another. I have to focus on every aspect of the pageant preparation from fitness to eating well to clothes, makeup, interview skills, just anything I can to give myself that little bit of edge."
"As a result, pageantry not only pushes women to investigate who they are, but also creates the circumstances that enable women to develop a wide range of social skills and a goal-oriented mind set."
-- Lynnette Cole
Whether she captures the title of Miss Universe 2000 remains to be seen, but Pageantry knows that Lynnette has already climbed the mountain of success and is a winner in everyone's book. For six years she worked in an after-school day care and summer enrichment program where she gave of herself to children, particularly to those less fortunate. And as an active community volunteer, Lynnette also worked with children in the Family Crisis Center, ran a 5K race for breast-cancer awareness, collected donations for disaster victims, and spoke to thousands of children throughout the State of Tennessee encouraging them to never lose sight of their dreams. In her quest for success, Lynnette Cole has definitely succeeded in proving that with hard work and perseverance, all things are possible.


INTERESTING TID-BITS ABOUT LYNNETTE:
Favorite Book: One Day My Soul Just Opened Up by Iyanla Vanzant

Favorite Movie: Hello Dolly

Favorite TV Programs: Law & Order, Dateline, and 20/20

Favorite Recording Star: Barbra Streisand

Would Most Like to Interview: Oprah Winfrey

Most Treasured Possession: Her Adoption Papers

Her Most Vivid Childhood Memory: "Dates" with her father portraying how young men should conduct themselves respectfully and responsibly.

Her Wish: That there would be more mentors for the frightened and confused young people in our society.