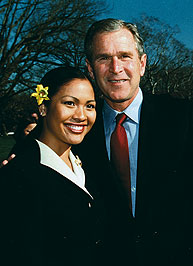 Angela Perez Baraquio has tackled a tough assignment: To encourage character education in the nation's classrooms. In this far-ranging interview with Pageantry Editor Fred Abel, Angie talks candidly about her challenges and successes.
by Fred Abel
EDITOR'S NOTE: The word 'character' has many definitions. The next time they revise the dictionary, the authors should add Angela Perez Baraquio to the text in order to help us truly understand its meaning.
(LEFT) Angela receives the VIP treatment in Washington, D.C., from, among others, President George W. Bush.
---
Angela Perez Baraquio
is a classroom teacher by profession, but after becoming Miss America 2001 last October she soon found that she herself still had a lot to learn. Growing up in a close-knit family of 12 from Hawaii, Baraquio's history-making victory as the first Asian-American Miss America has taken her half a world away from her homeland and her confidence-building circle of support among her family, friends and the school children who encouraged her to enter the Miss America competition. She admits it was a big adjustment for a young woman who wasn't comfortable in airplanes suddenly to be fulfilling a travel schedule that has upped her frequent-flyer credits some 20,000 miles a month.
Yet, it was a more fundamental quest as a teacher — "to make a difference in the lives of children" — that kept her going after being crowned. Through all of her travels, Angie has not only embodied the American Dream but also has encouraged her countrymen to embrace the values underlying the dream. In the process of absorbing some personal lessons in perseverance, Angie has striven to live up to that commitment that flowered first in her own classroom teaching experience — to make a difference. We caught up with her in mid-June by phone in the nation's capital. — F.A.
Q My nine-year-old daughter wants to know, how did you get so much confidence to win your title and then to go out and do all you are doing?
A This is my third year competing within the Miss America system. I started when I was 18 and it wasn't until my students challenged me to go back that I said to myself, 'You know what, if I am going to be a role model for them then I can't be scared." They were afraid of trying out for the basketball team, so I made them a deal. I said I'd run in a local competition if they tried out for the team. I had to be confident up there because these kids were counting on me."They gave me a stack of letters and I read them the night before I went into every preliminary competition. So that's what gave me the confidence, knowing my family and friends and the people who really believed in me had the confidence in me too. Onstage, I tried to make the competition a one-on-one experience, so I acted like I wasn't performing in front of millions of people, because that's when I'd get nervous. Confidence is just knowing you're okay inside, and knowing that you're perfect just the way you are.
Q So how confident do you feel about what you've accomplished so far?
A First of all, I am really proud of what I've done these past seven months. I have eleven months of service, because I was crowned in October and I pass on the title in September. I am the first Asian-American and the first educator to have this title — that in itself is an accomplishment. Being able to meet with the president of the United States twice, have a private meeting with the First Lady, meeting with Gen. Colin Powell and the Secretary of Education Rod Paige, then flying to the Philippines to meet my grandfather for the first time, and then meet with the president of the Philippines are just some of the highlights of my year. But it's almost like I have a once-in-a-lifetime experience every day. In June, I turned twenty-five, and it's funny how seven months into my year, all of a sudden I wake up and ask, "I am just now getting accustomed to the schedule?" I finally have a system going on and it's kind of a shame because it took me so long to get into the groove of things. It was such a huge transition in my life, but I'm glad I am finally getting used to the pace. Overall, I am really proud of what I've done and I am looking forward to what I can do in these next couple of months.
Q Tell us about meeting people such as Secretary of State Colin Powell.
A I had wanted to meet General Powell from the very first day that I won. My platform is Character in the Classroom: Teaching Values, Valuing Teachers. I travel about 20,000 miles a month (probably farther because I live in Hawaii and went to the Philippines this year). I had a really good background of meeting with celebrities, since I was a local interviewer with "Hit TV" back in Hawaii. I was used to meeting the celebrities and I wasn't really star struck. But with General Powell, he was the leader of America's Promise Alliance for Youth, it was different. Just last night I was presented with the Friendship Award from an organization called Best Friends Foundation. General Powell's wife, Alma, was sitting next to me in the president's box and she said to me, "My husband came home one day and said, 'I met Miss America!' " And I said to her, "Well, I'm telling everyone I met your husband." He gave me a picture of him and he signed it, "With great admiration." And I wanted to say, "I think it's the other way around, buddy."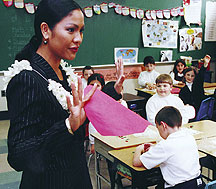 (ABOVE) Angela visits students to spread the word
about her platform, Character in the Classroom.
Q Education is a big part of your platform. When I mention to people that your issue is "character education," they kind of frown a little bit and say, "What's that?" They don't even know what it is.
A Absolutely, and that's what my job this year is: to create awareness. What I find is that one of the challenges — beside the stereotypes that come with being a woman, an Asian and a person who won a beauty pageant — is that people are not aware of character education. That is at the heart of teaching. My first assignment as a student teacher was called "Why Teach?" Twenty of the people in my seminar wrote essays. When we compared what we had to say, basically everybody said they wanted to make a difference in the lives of young people. Teachers are already teaching about character and values because we do that in everything that we do and everything that we say. We're teaching about character and instilling that in somebody else.
But if it is not a schoolwide effort, it is not as effective. I can teach my students one thing, but they can leave my class and the next teacher may not value the same things I do. That creates inconsistency and mixed messages. Everyone should be on the same page. It's really important for the principal to adopt some sort of character education initiative and infuse it throughout the school so that it is integrated into every subject. And then it has to be a way of life, a long-term commitment. It's not an add-on curriculum. Some teachers will say, "I'm doing too much, there's too much on my plate." Well, I look at them and say, "Well, that is your plate!" And when you go back to the question "Why Teach," that's why we got into the profession. It's not because you wanted to help kids read; you want to make a difference. That's why character education is important.
One of the challenges with my platform is that, I think people still don't understand the importance of character in the classroom or character-building in communities. It's really important, because when you look at what happened in Columbine (High School in Colorado), those two student gunmen killed twelve students and a teacher, wounded more than twenty others and then killed themselves. The thing is they were "A" students. They were obviously taught to excel in academics, but we did not, as a society, instill good values in them to help them make good decisions. So I know we have to focus on academic standards, but we also have to focus on the moral integrity of kids in our schools.
Q Is the role of public education itself in trouble in America? Having gone through seven months of your work for character education as Miss America, what is your picture of that?
A I'm really optimistic. Some of the best schools are the best particularly because they have a character education component. I can see it when I walk into a school; I can tell that I'm in a school of character. I've had wonderful experiences at schools and I've had horrible experiences at schools. And always the defining factor is whether they have a character education initiative already in place. You can tell right off the bat: People welcome you, they are respectful toward each other, the kids feel included, there's a sense of community, the morale of the teachers is high. Character education makes academic achievement soar. It lowers discipline problems and it's cost-effective. So I've seen, for the most part, that there are great public schools out there. The failing public schools are the ones that are too busy with discipline problems, because the kids don't feel safe and the teachers don't feel safe. That makes me sad, but it all goes back to the need for character in the classroom.
Q How do you see the need for the government in schools and families at home implementing this character-building? Are there programs that you've seen that work?
A Yes. There are about twelve-hundred character education initiatives in the United States. I've worked closely with the Character Education Partnership, and the Ethics Resource Center — they're both based in Washington, D.C., and are wonderful places to go if you're interested in starting character education at your school. Government can get involved by, of course, creating the awareness, putting into legislation that it is important to teach character in schools. I was working on legislation in the H.R. 1 President's Education Bill, and there was a huge victory for character ed because the House and the Senate passed an amendment that said fifty million dollars will be allotted to character education in fiscal year 2002. Some congressmen had invited me privately to meet the day before (the vote). They were the authors of this amendment, and they wanted me to write a letter to the House. I got an e-mail from one of the Representatives saying that, yes, it was passed unanimously in the House, in part due to my letter, and I found out it also was passed in the Senate on May twenty-fourth. So that was really exciting for me to play a small part in that. At least I know I've done something with our government that impacted education.
What are some things that schools and families can do? Schools can implement a character education initiative. Families can get more involved with their children's lives. First of all, they should value teachers. They should get involved in their kid's extracurricular activities as well as in-school activities. I think there needs to be education reform. "We need to have this competitive job market to recruit and retain teachers. In the next ten years there will be a teacher shortage of a million to two million teachers.
Q On a more personal note, when you meet people now as Miss America, what surprises them most about you?
A When people don't really get to talk to me or hear me speak, they want to know what kind of prizes did I get. When I won, I got scholarship money. Well, they think I got cars and furs and jewels. Miss America wins fifty thousand dollars cash scholarship; that's it. And if I don't use it towards school, I don't get to use it at all. That's one misconception. But when I start telling them about my background, and why I started to run and how old I was when I first ran — I was eighteen — they're like, "You're so real, you're not a typical pageant girl." That's a compliment to me because I don't ever want to seem like the stereotype or come across as plastic. People say, "You're so genuine, you're so real."

(ABOVE) Angela dances with her grandfather in the Philippines—the first time Miss America left U.S.A. while serving.
Q What was it about your childhood experiences or your parent's parenting that contributed to your success?
A My family is unique. My two parents were teachers in the Philippines who moved to America in 1970. So I'm a first-generation American. Thirty years and ten kids later, and we're all able to be college educated. And then for my parents to see me become the first Asian-American Miss America was like the American Dream for them. But growing up, obviously with six sisters and three brothers, you learn about character quickly. We were brought up in a Catholic family. We were always doing community service and singing in the choir. I had wonderful teachers that I remember since childhood. My coaches were a big influence on me as well. So I think my experiences as an athlete, a coach, one of ten kids, being a teacher, a performer and a TV host kind of melded together to help me get to where I am today. And I think without those experiences I would not be able to do this job as well.
Q Is the reality of being Miss America different than what you dreamed about. Or did you ever even dream about becoming Miss America?
A Growing up, I used to watch the Miss America telecast once in while. I wasn't this huge Miss America buff because I thought, wow, those women are so beautiful, poised, gracious, and talented. But I could never do that. I'd be too nervous. (I used to have stage fright.) And another thing is, the women didn't look like me. Being the first Asian-American Miss America, there was nobody to follow and say, hey, I could do that someday. So I thought I could never do it because I would never have a chance. But then with the encouragement of a lot of people who cared about me, they were the ones who made me believe I could do it.
The dream is different from the reality because I found out how much of a job this really is. I competed two years before, but I didn't realize: twenty-thousand miles a month — that's a lot of traveling! I met with Heather French (Miss America 2000) last year when she came to Hawaii and there I was, crowned Miss Hawaii and heading for Atlantic City in two weeks, and I said, "Tell me everything. What's it like?" And she said, "You live out of a suitcase, you do your laundry by hand, it's tough. You've got to be tough-skinned. There are a lot of people that are going to hound you" (as far as people twisting your words around in the media). She said, "You're going to have a lot of challenges to face, but it is as rewarding as it is challenging." A lot of times the good outweighs the bad, so that's why it's worth it. By the end of her trip, I said, "If I win, that's cool, because I can make a difference with my platform. But if I don't, it's okay!" Which is why I was so happy on-stage that night. It just kept getting better and better as the night went on. So, it was really more than I ever expected. And it's harder work than I thought. But you have to, in this job, have a lot of energy. You have to be able to handle the media, you have to be able to handle the pressure, be flexible because everything changes every second of the day. Your itinerary is packed. You have to get over any fears as a speaker. You have to be grounded physically and mentally and spiritually. That's important because you are away from your family and friends for so long. That's been really hard for me.
Q Can you describe the most fun that you've had — other than this interview, that is?
A Oh wow, I've had so many fun times. I got to do the "Wheel of Fortune" show in Hawaii. I did the "Hollywood Squares" show for the whole week. We did all the filming for that in one day. Going to the Super Bowl and the Macy's parade was fun. But one of the best experiences was being a part of the Children's Miracle Network Celebration in Orlando. We started in Washington, D.C., with fifty of these "miracle" kids. Some of the kids suffer from diseases, have cancer, and have undergone open-heart surgery. They're champions, they're the role models of good character. So I went with them and we just had a great time at Disney World.
Q What was your favorite place to visit, and did you have a favorite splurge meal anywhere along the way?
A I really liked Wenatchee, Washington, when I went during the winter. I was surrounded by the Cascade Mountains. It's called the Apple Capital of the world. We drove to Leavenworth and there is a Scandinavian village there. I went with my sister, my nephews, and my brother-in-law. I also liked going to Massachusetts, Pennsylvania and other states on the East Coast, because " I had never been to any other states except Washington and California. The best part was seeing Gettysburg in Pennsylvania and the Freedom Trail in Boston because it really put me in touch with American history. Now, speaking of splurging, I was in Washington, D.C., for the White House Correspondents' Dinner and they had this awesome dessert! I usually don't splurge, but this dessert was like S'Mores. It had chocolate ice cream inside, a fudge crust, marshmallows and caramel and peanuts, and I ate three-fourths of the thing. Everybody was saying "I'm not touching it." And then they're looking at me, thinking, "Miss America is eating it. We guess it's all right" (laughs). It was great!
ALL PHOTOS COURTESY OF THE MISS AMERICA ORGANIZATION