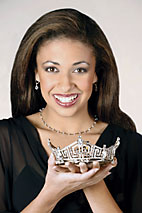 Q. Tell us about your daily routine and how you handle your busy appearance schedule.
A. The great thing about this job is there certainly is no monotony. Every day is very different. There's no specific schedule; it all depends on what event you're doing. You may have a 6:30 call for a television interview where you have to be camera-ready, which necessitates your being up at 5 a.m. Or you can have late-night appearances which mean you're up later in the day. A lot of times, I'm speaking in schools, traveling from school venue to school venue, other times I'm speaking in front of not-for-profit organizations or with governmental officials. The key is being very flexible and being able to adapt to even-changing circumstances.
Q. What has it been like being Miss America during the war to fight terrorism and to liberate Iraq?
A. In wartime, American symbols become very important, and the title of Miss America is an iconic symbol. It has really been an honor to serve in that capacity, because I've been able to participate in a variety of events with the U.S.O., and military appreciation events. I've visited with injured troops who returned from Iraq, and they saw me as a symbol as well. Being Miss America at this time has also taught me a greater appreciation for many of the freedoms that we often take for granted — freedom of speech, freedom to practice your religion as you see fit, freedom of self-determination. Meeting those troops who were being asked to potentially sacrifice their lives to defend those freedoms made me realize the high price many paid to safeguard them.
Q. Were there other aspects of being in the midst of increased levels of Homeland Security that impacted you as Miss America?
A. Certainly travel restrictions. We spend a lot of time at the airports, obviously, and we have to be at the airports very early now. Usually we get selected to be screened, because we're usually buying one-way tickets and that's one of the triggers for screening. So, you just accept that as one of the necessities of providing for the national defense. Certainly, it's inconvenient at times, but it's what's required.
Q. And there's no exception for Miss America, is there?
A. No! (laughs)
Q. What do you tell your young audiences about your platform, "Preventing Youth Violence and Bullying: Respect Yourself, Protect Yourself," and your own personal struggle with bullying while you were growing up?
A. One of the things I tell them is that, because I am Miss America, they probably think I was homecoming queen and the most popular person at school, but in actuality I did not fit into any of those categories. I tell them that when I was in the ninth grade, I was the victim of severe and pervasive racial and sexual harassment. This included name-calling, teasing, taunting, vandalism of my family's property, and death threats. I was forced to transfer to a different school during the middle of my sophomore year. That was a time in my life when my self-esteem and self-image was assaulted on a daily basis, and really made me question who I was and how I felt about the person I was trying to be. I encourage young people to refuse to let others define them; you have to choose to define yourself on your own terms. I also talk to them about the way in which you rebuild your self-esteem and your sense of optimism: by being involved in community service; retaining the values that are important to you and that you enjoy; and by refusing to allow another person to set limitations upon you based on their stereotypes or misconceptions of what you ought to be.
Q. I suppose to most adults, including the government leaders you've met, playground bullying and fighting seems to be a pretty common occurrence. When you meet with U.S. leaders, how do you impress upon them the importance of the youth violence issue?
A. After Columbine, I think that really galvanized the nation's consciousness in terms of recognizing that peer-to-peer harassment is not just something that can be taken lightly — and that, if it is not curbed at an early age, it can escalate into really violent situations. When I speak with lawmakers, they talk about Columbine being a tripping point in terms of making them realize this is an issue that demands their attention. State Sen. Stewart Greenleaf, one of the leaders with whom I've met, is very committed to trying to implement anti-harassment legislation in Pennsylvania schools. I met with Attorney General John Ashcroft, and he strongly supports trying to employ some means of addressing this issue.
Q. What do you believe is your role in helping our society understand the problem of youth violence?
A. I hope my role will be the catalyst for greater change. I'm fully cognizant of the fact that one 45-minute presentation is not going to be a panacea for all of these problems. But what I do hope happens, as the result of my presentation, is that young people who are being victimized recognize they don't have to live in those circumstances and will choose to stand up for themselves. I hope that school officials will start to take the issue more seriously and start to implement programs in their own schools and communities. And, I hope that our country, as a whole, starts to re-evaluate the way in which we view this problem of violence, and recognize that it is not just an inevitable right of adolescent passage, but that it is a serious issue that demands our attention. If we don't focus on it now, we're going to have to deal with much more serious consequences later.
Q. Miss America Organization President George Bauer has stated that it is MAO's desire to become more of a service organization. How do you see the role of Miss America changing in that regard?
A. Just because you have the Miss America crown, although that's beneficial to you on a personal level, the greater good is to use that to direct attention to something that's important. On a personal level, I always stress to students the importance of making a contribution to their schools and communities. I tell them that that's the only way they can leave a legacy. People aren't going to remember what kind of clothes they wore or the hairstyle they had. People are going to measure their legacy by the capacity they had to show kindness and compassion to other people. One of my favorite quotes is from George Elliot, who said: "We make a living from what we get. We make a life from what we live. What we do for ourselves dies with us. What we do for others and the world is immortal." I think a lot of students are looking for that kind of immortality, and I tell them that being involved in community service gives them that."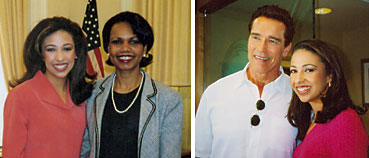 VIP Treatment: Erika has appeared and consulted with some of this country's most influential citizens, including (clockwise, from top): actor Arnold Schwarzenegger, U.S. Attorney General John Ashcroft, and President Bush's National Security Advisor Condoleezza Rice.
Q. Which experience as Miss America was the most fun and why?
A. I enjoyed going to the Super Bowl immensely. I'm a sports fan, and I enjoyed being a part of an event that is larger than life. I had the opportunity to be involved in celebrity events during the course of it. I was a part of "Gridiron Glamour," which was a celebrity fashion show where we were modeling top designs. I also got to attend some of the NFL parties. It was just such an incredible experience, something I'd seen on television but never planned on visiting. So when I got the chance to see it from the level of a VIP, it was extraordinarily fun.
Q. Which experience was the most difficult or painful and why?
A. After I finish a presentation, sometimes a student will come up to me and share with me his or her own personal story of being victimized or being made to feel inferior. I have maybe 30 seconds to a minute to be with each student. It's so difficult to come up with precisely the right words that are going to speak to their situation and give them hope. For me, it's not just about giving a speech and leaving; I want to find some way to instill in young people the belief that it doesn't matter what people have said about them. It doesn't matter that they're different from their peers. They still have inherent dignity as a human being, and they deserve respect. It's difficult sometimes to see young people who are in such painful and tragic situations and not be able to do anything directly to rectify the situation.
Q. When people question the relevance of pageants and Miss America, what is your response?
A. I think that the crown is as relevant as the individual who wears it. If you, through your actions and words, use the crown to focus attention on issues of substance and concern, then you contribute something of relevance and significance. The crown is a tool to be able to focus attention on something that's important. If you crown someone who has a passion and conviction and has a real dedication to using it as a symbol to focus attention on issues of concern, that's when you achieve the relevance.
Q. Is the job of being Miss America the same or different than what you expected?
A. It has been very much as I imagined it to be, because I spent a lot of time researching the job of Miss America, and what type of attributes one needs to be successful. I tried to put myself into many situations that would be similar to the job of Miss America, because if you receive that crown, you need to be ready to hit the ground running from day one. You don't have a lot of opportunity to make mistakes. You have to make that first good impression, because that's the way you're going to be perceived by the public. For any person who wishes to do this job, make sure you prepare yourself for it.
Q. You certainly were ready from day one. What was it about you that helped you prepare so thoroughly for the Miss America role, and what tips do you have for those who seek to succeed you?
A. I think that's one of my personality traits. I tend to over-prepare for exams and do too much research. But in this situation, I think it paid off for me. My biggest piece of advice would be not to focus on the external trappings of pageantry, in terms of wardrobe, makeup, and hair. While those things certainly serve a purpose — they may be what get you the crown — they won't be the things that will enable you to be successful once you have it. The attributes that make you successful in any title are compassion, empathy, dedication, the willingness to stand up for the things you believe in even when they are not popular. The way that you develop those attributes is by living life to the best of your ability; whenever you're faced with difficult circumstances and challenges, not running from them but being willing to face them head-on; and standing up for what you believe in, and learning every valuable lesson. Living a full life is the best way of preparing for this job.
Q. What message do you have for our country's young people?
A. There is a great deal to be optimistic about. There are a lot of wonderful young people who are talented, who are ambitious, and who really want to make a difference and are just waiting for those opportunities. As a society, we have to make sure we provide them with good adult role models, good mentors, and access to high-quality education. We need to make sure that we cultivate their talents and ambitions, because they have a lot to offer.
Q. Do you have any inspiring message that you would like to leave us with?
A. I think to sum up this year, I would like to say that it has been an incredible honor to serve as Miss America. It has afforded me so many opportunities to do things that I ordinarily would not have had the chance to do. Any person who has a title or is aspiring to a title should recognize that it is indeed an honor for people to entrust that type of an opportunity to you. Once you receive it, you should be looking outward, as opposed to inward, and recognize that the biggest contribution you can make is using that crown in the service of others.
ALL PHOTOS COURTESY OF THE MISS AMERICA ORGANIZATION