Katie Harman spreads her special brand of compassionate optimism as Miss America 2002. Along the way, she's learning that inspiring others can be life-transforming for the pageant winner as well.
EDITORS NOTE: In late September 2001, the Miss America Competition chose Katie Harman, a 21-year-old speech communication and vocal performance student from Gresham, Oregon, as its 75th titleholder. Pageantry caught up with the well-traveled Katie by phone in late May. We found her bright, engaging, and energetic exactly the character traits the country needs in its All-American female role model.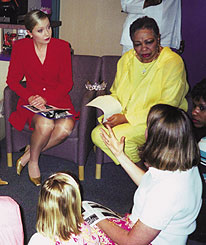 Katie frequently speaks with hospital caregivers as part of her cancer-awareness platform. She visited the St. Francis Medical Center in Newark, NJ, in March (above).
Pageantry magazine:
Your year as Miss America is more than half over now, isnt it?

Katie Harman:
A little over eight months can you believe it? It goes by way too fast.
PM: So, you'd probably do another year if you could?
KH: Absolutely!
PM: Let's look back at this year so far.
KH: First of all, I want to say that Pageantry magazine has been absolutely wonderful in its coverage of the Miss America Program, and of our pageant in particular this past year, and I greatly, greatly appreciate that. I've always been a huge fan and really appreciate the perspective that the magazine takes.
PM: Thank you. We try to stress that Miss America leads the world in providing scholarships for women, and that fact should be promoted. What are the scholarship opportunities possible for a young woman today through the program?
KH: When people ask me, What did you win from competing in the Miss America Competition, I say, I won the key to unlock my future. I was blessed to have the first year of my education paid for through community scholarships and grants. But in the long-term the rest of the three years of undergraduate education as well as a masters or a Ph.D. program I had no way of funding those years. From the time I became involved with the Miss America Organization in January 2000 until now, I've used that money to pay for my sophomore year of college at Portland State University. And now, after having completed the second year, I have two more years of undergraduate studies left for my degrees in speech communication and vocal performance, and then masters work in either a law degree or a medical degree I'm still trying to decide which path to take. But ultimately, I'll earn a masters degree and a Ph.D. in bioethics.
I view the crown that I have as a megaphone that gives me the opportunity to voice the needs of breast
cancer patients everywhere.
PM: All with the help of the Miss America Organization?
KH: Yes, $75,000 plus. Isn't that incredible? I'm so thankful for that, because, honestly, it simply would not have been possible without the Miss America Organization.
PM: Sometimes, we are asked about the relevance of pageantry. What is your response to that question?
KH: More women are going to college, and more women want to assume responsibility for their success and for their futures, and scholarships are the way to achieve that. The second part of the relevance of Miss America is obviously service through the platform. That is key, in my mind.
PM: Your platform is Breast Cancer in America: Caring Community-by-Community. What progress do you feel has been made in the last year in the area of breast cancer awareness?
KH: Quite a lot. I view the crown that I have as a megaphone that gives me the opportunity to voice the needs of breast cancer patients everywhere, to ensure that they have access to everything they need to provide them with the highest quality of life. When we speak of a queen, that implies that people are serving her, and that she's up on a pedestal. In this case, I truly believe that Miss America is more of a public servant. Yes, she has that crown, but she has a responsibility; that crown belongs to the people she is serving and those people she represents.
PM: Who are some of the people you've met who you most admire?
KH: I met this one particular woman in January in Richmond, Virginia, at a branch of the University of Virginia Medical Center. Her name was Kathleen. She was facing the end of her life as a result of breast cancer. When I walked in to talk to her, she was so cute, because she was a young woman, maybe forty years old, and she had put on a beautiful silk robe and she wore makeup. Obviously, she had no hair as a result of chemotherapy and other treatments, but she was smiling, beaming. When I talked to her, you could see the joy she had, the perspective she had on life. She knew breast cancer was going to claim her life, but she said, You know, Katie, we're not that much different from each other. The only difference is that I know what's going to take my life. But you know what? I never let that get me down, because I live for every day. Every moment is precious. Then she said, I'm looking forward to the day when I come back to the center and encouraging other people who are going through the same situation, volunteering at the center. Meeting Kathleen changed my perspective on life. I kept in contact with her and her nurse, Ursula. When I was at the Super Bowl, I received a phone call from Ursula saying that Kathleen had passed away. That news was very, very hard on me, because of how special she had become. [Katie pauses.] But she knew that what she had told me would be communicated for the rest of my life, and that just whew, you can tell, it means a lot to me. She made a big, big difference.
PM: These emotional experiences can be draining. How do you keep up your energy, confidence, and positive outlook?
KH: What encourages me and fuels everything I do are those stories of encouragement people tell me. Also, two secrets here: I take twenty-minute power naps whenever I can, and I drink lots and lots of water. The exercise and the healthy lifestyle aspects of this job are crucial to my maintaining that energy. In winning the title, my motivation also came from something that my mother told me growing up. She said, Katie, always place in the back of your mind one little phrase: No regrets. In my preparation for Miss America, I devoted one-hundred and ten percent. I wanted to prepare as much as I possibly could, so that when I got into competition, no matter what I was facing whether I would walk away as Miss Oregon or with this job as Miss America I would never say, Oh, I should have done this, or If I would have done this, it would have been different.
PM: What experiences as Miss America do you consider to be the most fun so far?
KH: I made an appearance on the TV show Whose Line Is It Anyway? I laughed so hard, I thought I was going to fall over. They think out of the box, and they are so spontaneous. And I had the opportunity to be in one of their skits. [The show is scheduled to air in August, prior to the Miss America telecast; check your local television listings.]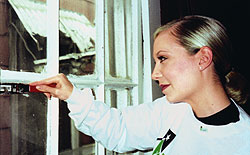 Katie participated in "Rebuilding Together," a Habitat for Humanity project, in February in New Orleans.
PM: Is the job of being Miss America what you expected it to be?
KH: It is what I expected it to be, and more. The wonderful thing about the Miss America Scholarship Program, along with the state organizations, is that they really prepare their young women. I knew there would be a lot of travel involved. What was added was the growth that I have seen in myself. I have a new understanding of community and service because of this job.
PM: What advice would you give to the young women who are preparing right now to become your successor?
KH: I would remind them to be public servants. Ninety percent of what I do is public service. When we compete in the Presentation and Community Service portion of competition, that basically is giving competitors media training. In press conferences, Miss America needs to be able to speak efficiently and effectively. Competition also allows her to become a well-rounded woman. The Artistic Expression portion of competition teaches another form of communication. The Lifestyle and Fitness portion like I said, in this job you don't get a lot of rest. If you don't pace yourself, if you don't continue to exercise and nourish your body, you won't last. This job is about stamina. The Presence and Poise portion of the competition is also very important, because that is teaching a young woman how to walk into a room and command the attention of every individual in that room.
PM: What is your underlying message for Americans?
KH: Hope is the overall message I seek to convey throughout my year as Miss America. I was selected right after Sept. 11, and the role of Miss America changed slightly, becoming more of a conduit of hope and encouragement. The same thread of hope that I saw at Ground Zero, and the determination and motivation of the rescuers, is something I see every day in working with breast cancer patients. They are determined and motivated to maintain their quality of life. Hope is how that is accomplished.
PM: We commend you on bringing that message to America. Is there anything else young women following in your footsteps need to understand?
KH: Society wants to see young people assume responsibility for the future and achieve greatness through service. I want to encourage my successors to really value what this organization does, to really value the perspective it can give them on life, to never take it for granted, and to strive to find new nuggets of knowledge about this organization and to communicate the relevance of the Miss America Organization.
ALL PHOTOS COURTESY OF THE MISS AMERICA ORGANIZATION