By Carl Dunn


With hurricane Isabel trying to crash the Boardwalk Parade and an Ivy League-rich field raising the bar for all 51 candidates, the pageant ended in a nail-biting finish, with "Ericka, Miss America" as its new anthem.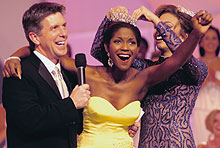 Ericka Dunlap reacts to hearing her name called as Miss America 2004.
A Level 5 hurricane aiming for your general vicinity will certainly grab your attention. So will 51 of the most articulate, talented, beautiful, and determined women in America. With Hurricane Isabel bearing down on the eastern United States with 100-plus-mile-per-hour winds and surging tides, thousands of brave supporters descended upon coastal Atlantic City for the 83rd annual Miss America Pageant. Despite the impending weather, the majority of buzz centered throughout the week around which state representative would capture the prestigious crown, accolades, and most importantly, the $528,500 awarded during the national competition — just a portion of the $45,000,000 available throughout the year to the approximate 12,000 goal-oriented young women who compete throughout the country.
After the dissipating tropical storm grazed the New Jersey coast and moved inland, the show was on, with its many new additions — the Casual Wear competition category, a live-live viewing party feed from the hit show The Bachelorette, a new host in Tom Bergeron, and a live performance from America's heartthrob Clay Aiken.
The Casual Wear and Swimsuit competitions produced the Top 10 finalist representing the states of Oklahoma, Wisconsin, Florida, Hawaii, New Hampshire, California, Rhode Island, Indiana, Virginia, and Maryland. Following the Evening Wear competition, the final five who would compete in all remaining categories were chosen: Miss Florida, Miss California, Miss Maryland, Miss Wisconsin, and Miss Hawaii. Finalists 6-10 each received a scholarship award of $10,000.
After Talent competition and the nerve-racking game-show-style Miss America Quiz competition, the judges' final decision was announced. Receiving a $20,000 scholarship as 4th Runner-up was Miss California Nicole Lamarche. Furthering her education with a $25,000 scholarship for 3rd Runner-up was Miss Maryland Marina Harrison, while a $30,000 scholarship was awarded to Miss Wisconsin Tina Sauerhammer for capturing 2nd Runner-up. Hugging and praying at center stage, only Miss Florida Ericka Dunlap and Miss Hawaii Kanoelani Gibson remained, until Miss Hawaii received a scholarship of $40,000 as 1st Runner-up, and Miss America 2004 Erika Dunlap disbelievingly asked Mr. Bergeron to repeat the words that she had for so long imagined hearing: "Miss America Ericka Dunlap."


For the complete behind-the-scenes story — including features on the "Show Me Your Shoes" parade, the Miss America Trade Show, the behind-the-scenes photos of Miss America celebrities, and a report on the delegates' historic trip to Washington, D.C. — as well as details on other exciting competitive events from across America and a wealth of insider tips to improve your chances of victory, be sure to order Pageantry today.