It's late July in New York, the fashion and entertainment capital of the world, and hundreds of aspiring models, actors, agents, managers, scouts for both film and television, and representatives from the recording industry — as well as a host of other idol makers — create a frenzy of excitement. We are among the hundreds of up-and-coming participants at the annual New York International Modeling and Talent Association (IMTA) and Barbizon summer convention at the Hilton New York and Sheraton New York Hotel and Towers in Manhattan. With its proximity to a plethora of dream makers, IMTA/Barbizon in New York City offers an alluring combination — a chance to be seen, heard, and discovered by those in the modeling and entertainment industry's inner circles.
Young people of all ages from all walks of life and dreams are congratulated and saluted by their peers after a long week of studying, competing, and, most importantly, bonding.
For attendees wishing to perfect their craft and learn from industry experts, the IMTA and Barbizon convention fulfills any wish list within any age group. Actors, singers, dancers, print and runway models, and performers of all shapes, sizes, and performance styles bring their unique and personal agendas for all to witness. Classes, working workshops, and seminars for participants and parents impart the secrets to success in the entertainment business, while also revealing the truths about the need for commitment, training, dealing with disappointment, and the realities of succeeding or not within these industries.
As within any genre of modeling and talent competition, the attendees arrive with their sights set on the ultimate objective: to receive the "call back" — that highly prized personal meeting with an interested talent scout — in the hopes that they might be offered the opportunity of a lifetime... a contract. Many of these talented IMTA and Barbizon performers, entertainers, and models have worked for years to reach this level of competition. In fact, several have attended the convention in previous years, returned home to perfect their craft, and returned with a renewed sense of determination. Additionally, many others are only now beginning the journey toward a possible career and are experiencing their first taste of the demands required by their chosen industry.
A signature highlight of the convention is the presentation of the Barbizon Awards, which recognize outstanding performances of participating Barbizon modeling schools in 20 different categories. Young people of all ages from all walks of life and dreams are congratulated and saluted by their peers after a long week of studying, competing, and, most importantly, bonding. Within the Overall Male and Overall Female categories, the aspiring models are also competing for the opportunity to work within Pageantry magazine's annual PromTime fashion showcase. Previous honorees and featured Barbizon models who appeared in PromTime are now working in exotic locales such as Milan, Paris, Great Britain, Tokyo, and New York.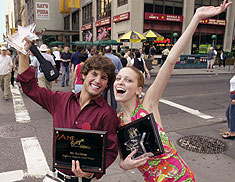 Looking forward to their appearance in the upcoming Pageantry PromTime fashion spread, Jackie Wilkins and Laura Leary celebrate on the streets of New York City.
With a Barbizon Awards multimedia presentation worthy of a massive concert staging, the attendees, parents, and directors were treated to a video montage showcasing the week's multifaceted programs, set to the fast-paced, thumping bass beat of "Set It Off." Interspersed throughout the production were pictures and credits of former conventioneers who have continued to gain success in the entertainment field of their choosing, along with the faces of models who have graced the pages of some of our nation's most popular magazines, including the PromTime fashion showcase.
As the awards ceremony reached its anticipated finale, everyone's attention was focused on the stage and big screens for the announcement of Barbizon's most sought-after titles, Mr. Barbizon and Miss Barbizon. These beautiful and talented models would immediately depart for their own private photo shoot, and would additionally earn an all-expenses-paid modeling pictorial within Pageantry's annual photo shoot. Garnering top recognition at the New York 2003 convention were male model Jackie Wilkins from Barbizon-Avanti in Raleigh, North Carolina, and female model Laura Leary from Chique Models in Somers Point, New Jersey. Congratulations to all the IMTA and Barbizon attendees who dare to pursue the dreams of stardom.