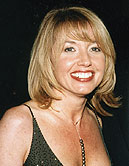 The president of the Miss Universe Organization talks about a new network, boosting the telecast's glamour, and her early personal experiences with pageants.
Miss Universe Organization President Paula Shugart for the last two years has played a key role in shaping three of the world's most visible pageants: Miss Universe, Miss USA, and Miss Teen USA. Pageantry sat down with her during the week of the successful 2003 Miss USA NBC telecast to gain insight into how the new partnership between NBC Television Network and Miss Universe Organization (MUO) will impact all three events.
Q. What are some of the positives of the new partnership with NBC?
A. NBC has just been great. They have been nothing but professional, and didn't come in and say, "Okay, we're the television company; here's what we want to do." They said, "You've been doing this for 52 years. What do you think it needs?" And we were all unanimous. We need to get back to our roots, and have it be about the delegates. We are the first reality TV show, and as you know there's a little bit of buzz about reality. We decided that rather than have a musical act, we'd put that time into letting the audience get to know the delegates more. NBC is really focused on what we can do to help get the brand better exposure. The network also owns Telemundo. They sent a crew to San Antonio to do a half-hour behind-the-scenes show, and they turned it into an hour.
Q. Network promotion: Is that going to be a staple in the future?
A. Absolutely. The one thing that NBC has been the master of over the years is that they know how to promote. I was watching Law & Order and a banner came across the screen saying, "Monday Night -- Miss USA Night on NBC." Even those things promote awareness, which is key, because there are so many options for TV viewers today. Everybody has to fight for their piece of the pie. A classic case in point: When Miss Teen USA had 'NSync coming back, because they were so popular, I had a lot of friends calling up to ask when the show was going to be on, after it had already aired, but nobody knew it had already passed because it wasn't promoted.
'That was an example that stuck with me all these years
­ that pageants are all about being your personal best.'
Q. What has been done to increase the glamour of the Miss USA production?
A. We all worked together to bring in a new production team. Phil Gurin has been a great liaison between NBC and MUO. He's helped us join forces, and he knows the shorthand of working with NBC. Phil and Rex Holt, working together, have been instrumental in bringing back the glamour as well. The glamour never goes away. That's the consistent aspect of the Academy Awards show, and that's true with pageants as well. People tune in to find out who wore what, how they looked, and how they presented themselves. That's where we were born, and we're going back to those roots.
Q. How has being involved in pageants affected you personally.
A. I always tell this story to the delegates before the competition. I was a very shy person in high school, and I was involved with theater and was asked to run the spotlight at the Miss Coronado Pageant. It left a mark on me--the way these women pushed themselves. They were nervous and scared, but they went out and confronted their fears. They were poised no matter what, even if someone made a mistake. That was an example that stuck with me all these years--that pageants are all about being your personal best. They're about setting goals for yourself. It's not necessarily about who's going to be the next Miss USA. All of these women who come out of this pageant are going to be better for the experience. This is a once-in-a-lifetime experience for them. They'll leave with great friendships. It's been trying for them at times. They haven't gotten a lot of sleep. But it's an experience that they'll always be able to look back on. Yes, the product is beauty, but pageants are also about being open to new life experiences. A lot of us look back when we are older and say, "If only I knew back then what I know now...." These Miss USA contestants are well on their way to that understanding already.
Q. What role does involvement in charitable causes have on the participants of Miss USA, Miss Teen USA, and Miss Universe?
A. Our charitable causes are huge in terms of the life experiences for all of these titleholders. As soon as they are crowned, our winners move to New York. A lot of times they don't have any friends in New York. We have an instant family that they're surrounded with. All the focus is on the titleholder. Our charitable relationships put the focus on others, so that while the winners have the spotlight, they can see the good they can do for other people. Shauntay Hinton can look back and say, "I raised $35 million for breast cancer awareness." That's something she's going to look back on proudly for the rest of her life.
Q. What effect does that kind of work have on the next Miss USA?
A. The great strides that Shauntay has made will allow [Susie Castillo] to go even further with it. Certainly, each winner can adopt their own individual platform. Shauntay is very involved with some homeless issues because that's something that strikes very close to home for her. Justine Pasek, Miss Universe '02, is involved with issues related to the rain forests and the environment. We help her out, and she also makes a concerted effort for the Miss Universe cause, HIV and AIDS awareness.