By Fred Abel

Miss Illinois Erika Harold accepts a bouquet of roses from Julie Moran and the tiara from Katie Harman as the news sinks in.
The 'Miss America' telecast borrows a page from 'reality' TV with a new quiz-show segment, 'Survivor'-type voting, and a sense of humor. The results were a fun-filled three hours with a nail-biting finale and a Harvard-bound winner.
Last year, like a protective mother, Miss America threw us an emotional lifeline just days after the Sept. 11 terrorist attacks shook us to our foundations, as a grateful nation rallied around the flag-draped telecast and its promise of hope. By the time the preliminary competition got under way at Boardwalk Hall for this year's annual ritual to pick America's sweetheart, however, much had transpired not only across the nation but within the Miss America Organization itself.
MAO's primary goal, as interim president and chief executive officer George Bauer set forth, would be "re-defining who we are..." while retaining and reinforcing the pageant's core appeal as a wholesome, televised American institution. Thus, "the largest scholarship competition for women in the world" would reveal the academic dollar awards of winners and runners-up alike for prime-time consumption. The community-service angle also went prime-time, as each of the 10 semifinalists explained her "platform," the social issue she was dedicated to supporting through public appearances and fund-raising events. America's newfound sense of racial and ethnic diversity gained a foothold, with six African-Americans, a woman of Indian decent, a Native American, and an Inupiaq Eskimo among the delegates. And, to double our viewing pleasure, the Top 5 finalists would take part in not one but two rounds of quiz-show-style questioning on topics of current events, pop culture, and history.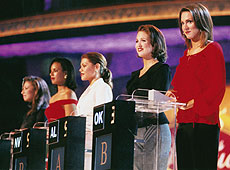 The questions — and the quizical looks — came fast and furious as The Miss America Quiz tested the cultural and historic knowledge of the Top 5 finalists.
Of course, this year's Miss America telecast on ABC still had its traditional job to do — to entertain us. The competition among 51 smart, engaging, and, yes, beautiful young women remains the heart of the show. For three hours, this prime-time pageant telecast chose to engage viewers with a variety of new bells and whistles that serve as a beauty pageant's latter-day makeover.
This would be producer Bob Bain's second year to manage the production and the first during which he could let down his hair. Like the stylists and coaches who help the young women competing for the Miss America title itself, a television producer must do a good deal of primping in front of the mirror before sending his creation into the bright lights of network viewing. Many changes, both obvious and subtle, went into the formula. The result was a melding of high-style elegance and fun-loving TV showmanship — a contest that at once showcased its family values while letting us play dress-up just for fun. In recent years, the American viewing audience has shown a preference for some new items on their media-driven dessert tray — reality-game-show confections, instant feedback via the Internet, and youth-oriented entertainment sprinkled on top. To that end, the show ramped up viewer involvement with the Miss America Quiz, online voting via ABC's web site, and a young host with diverse appeal. In that sense, this year's Miss America executives and viewers had their cake and ate it, too.
The 51 contestants, all dressed in white evening gowns, entered from the front of Atlantic City's Boardwalk Hall on the glossy blue runway leading up to the stage. As the voiceover announced the state titleholders, the women stepped up to platforms and revealed their names and career educational goals, as when Miss Illinois said, "Hi, I'm Erika Harold, looking forward to attending Harvard Law School" and Miss North Carolina said,"Hi, I'm Misty Clymer, pursuing a Master's in Business Administration."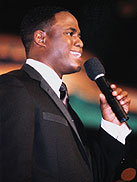 Multi-talented Wayne Brady sings in the opening number.
As soon as Miss Wyoming completed the introductions, it was time to jump into the musical opening. A hip, loose, and youth-oriented style was perfectly captured in host Wayne Brady, a rising TV star who, as a black man of 30, was the first African-American host of the show as well as the youngest in its history. Before moving on to the show's opening remarks, he launched into a patriotic, soul-stirring medley that featured the multi-talented Brady singing a musical number combining soul singer James Brown's "Living in America" and the anthem, "America the Beautiful." The comedic Brady then allowed us to chuckle at the fact of his history-making appearance with a few seemingly off-the-cuff remarks: "I just really want to get this out of the way," he said. "Yes, this is the Miss America Pageant. Yes, I am the host. And, yes, I am black." The audience laughed, and Brady breathed a sigh of relief and said, "I got that off my chest." That led to additional stand-up comedy lines, including ones regarding the Miss America contestants' typical complaints due to their self-imposed eating restrictions. Quipped Brady, "Give them a Big Mac and call it a night!"
Noteworthy also was Brady's references to other "reality" TV shows in explaning the changes in scoring ground rules. Those would include the vote of the 46 non-finalists (that would count for 10 percent of the Top 5 scoring) and the expansion of the question-and-answer segment for the final five. "It's kinda like Survivor but with beaded gowns," he said about the so-called "8th judge" contestant voting. For the expanded quiz segment, Brady said,"So I'll be Regis [Philbin, the host of ABC's one-time game-show ratings winner, Who Wants to be a Millionaire?], just a little more tan." And Brady also set the tone for the remaining telecast by telling viewers that they would "get to know who these women truly are, to go behind the veneer" with personal video clips and live interviews.
Miss America co-host and former Entertainment Tonight host Julie Moran was introduced next, and her well-honed TV personality during introductions of the judges and explanation of the scoring made it clear that we would be in good hands as the contest unfolded. While seemingly mundane, these preliminaries served to update newcomers and remind casual viewers about the contest rules and the scholarship awards at stake.
Then, without a commercial break, the numbers game began, because, as Brady announced, "51 becomes 15." The semifinalists selected were called in this order: Miss SC Kelly McCorkle, Miss MS Jennifer Adcock, Miss NV Teresa Benitez, Miss OK Casey Preslar, Miss NC Misty Clymer, Miss IN Tangra Riggle, Miss AL Scarlotte Deupree, Miss CT Tanisha Nicole Brito, Miss TX Lisa Dalzell, Miss WA Amanda Beers, Miss MA Melanie Beth Correia, Miss IL Erika Harold, Miss NY Tiffany Walker, Miss AZ Laura Lawless, and Miss MD Camille Lewis. The cameras cut to placard-waving family and friends in the Boardwalk Hall audience, putting a visual exclamation point on the growing excitement.

The show ramped up viewer involvement with the Miss America Quiz, online voting via ABC's web site, and a young host with diverse appeal.

Miss America 2002 Katie Harman appeared next, and the show again took advantage of live television by featuring a chatty, enlightening exchange on-stage between Katie and Brady that also served to reinforce the great effort and meaningful work ahead for Miss America 2003. As Katie reminded the contenders and audience alike, Miss America's mission is to serve the public, "to implement that platform issue throughout the United States, to be an ambassador of hope, and of comfort, and of encouragement."
With 36 candidates already out of the competition, ABC's cameras took the home audience backstage to gauge their opinions before the Swimsuit competition. Almost immediately, the interviewees talked about how successful they felt despite being passed over. Miss SD Vanessa Shortbull expressed hope that, whoever the title went to, all the women would be judged "on the content of their character, and not on the color of their skin" — a phrase she had obviously borrowed from racial equality leader Martin Luther King's speech in the late 1960s.
With that noble message sent, the competition next turned to an area where, to some extent, skin becomes a determining factor — Lifestyle and Fitness in Swimsuit competition, where the judges are looking for, as Brady explained, the qualities of "attractiveness, confidence, and charisma." Though always popular (viewers voted several years ago to keep swimsuit competition as part of the show), swimsuit competition at Miss America finals counts for only 10 percent of the final score. As an added feature this year, video clips provided the sweaty details as to how these young women worked on their physical fitness. Kelly McCorkle, for instance, appeared on her video doing splits on a backyard trampoline while, on the recorded voice-over, she talked about the benefits of exercise as part of a healthy lifestyle.
Similar presentations featured candidates on rock-climbing walls, jogging, biking, weigh-lifting, water-skiing, golfing, roller-blading, practicing martial arts, etc., while an Elvis Presley sound track kept beat to the body work. While the scoring was compiled, a brief, sentimental montage of video clips of contestants back home was aired, accompanied appropriately by the country song, "I Could Not Ask for More." Then Julie Moran revealed, for the first time in Miss America history, the online voting results for swimsuit competition. Finishing 3rd was Miss NY Tiffany Walker, in 2nd was Miss OK Casey Preslar, and 1st for online voters was Miss MS Jennifer Adcock. Viewers agreed with preliminary judging, which had given both Tiffany and Jennifer top marks earlier in the week.
Soon thereafter, another five candidates were relegated to the "8th judge" position, as the seven official judges delivered their Top 10 choices. Hope of victory stayed alive for the following contestants (as announced by Brady): MS's Jennifer Adcock, NV's Teresa Benitez, OK's Casey Preslar, AL's Scarlotte Deupree, CT's Tanisha Nicole Brito, TX's Lisa Dalzell, MA's Melanie Beth Correia, IL's Erika Harold, NY's Tiffany Walker, and MD's Camille Lewis.
With the swimsuit segment behind them, we knew the Top 10 candidates could walk the walk. But could they talk the talk? The answer would soon come as the Top 10 survivors faced a non-judged question-and-answer session, with questions composed by their fellow contestants. Brady made himself comfortable on a wide, red-cushioned seating area with five semifinalists on either side of him. Miss Benitez, asked about her most-admired celebrity, admitted to having a "crush" on the child actor Fred Savage, who starred in The Wonder Years. Miss Deupree, when asked what one quality she would like to gain overnight, admitted dancing wasn't her strength, which was why her talent performance would come in singing. Which celebrity would Miss CT like to see become Miss America (if such a thing were possible)? Miss Brito had no doubts — she picked Condoleezza Rice, President Bush's national security adviser and Tanisha's role model. All the contenders appeared relaxed, spontaneous, and potential Miss America timber, piquing viewer interest in the upcoming events.
Preliminary scores were openly available to interested parties this year. Those who followed the preliminary results closely already knew that, based on those marks, Nevada's Teresa Benitez and Illinois' Erika Harold had won knowledge and poise and interview, events that make up 50 percent of a contestant's preliminary score, while Maryland's Camille Lewis won in talent and evening wear, which make up 40 percent of the preliminary score. With preliminary scoring counting for 40 percent on finals night, those three contestants had to be considered favorites going into the final rounds.
What were the women backstage thinking at this point? That was no idle question, since the peer vote of the 46 eliminated contestants would count 10 percent toward the Top 5 final score. With Julie Moran backstage, the answer was just a pointed question away. The five candidates who were last cut from contention gave the edge to Misses Connecticut, Illinois, and Maryland.
When it came time for Presence and Poise in Evening Wear competition, Julie Moran appeared from behind the curtain to make the on-stage introductions. Where was "the man who does it all," Wayne Brady? He had the opportunity to sing a shortened version of "There's Nobody Better for Me" from his new album. As the musical interlude continued, the 10 semifinalists made their way down stair steps on the arm of male escorts (fathers or other close family members) as the candidates voice-over recordings told what those special men meant to these special young women. The stage design featured a curved stairway, backed by cylindrical sets of purple illuminated columns, billowy curtains, and a midnight blue backdrop with numerous mini "star" lights casting glamorous backlighting onto the stage. The total effect was as polished as the high-gloss blue floor under foot.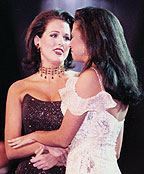 Miss Alabama Scarlotte Deupree (L) and Miss Illinois Erika Harold (R) realize they are just seconds away from the historic decision.
Once again, Julie Moran returned to share the online voting results with the viewers at home. America's favorites in evening wear were TX's Lisa Dalzell in 3rd, MS's Jennifer Adcock in 2nd, and MD's Camille Lewis in 1st place. Without the preliminary results in mind, Camille and Jennifer now looked well on their way to making it into the Top 5 — but there was much more to come, and more to consider than met the eye of casual viewers.
The next cut would send another five women offstage — each $10,000 in scholarships richer but now part of the so-called "8th judge." The naming of Erika Harold (IL), Camille Lewis (MD), Teresa Benitez (NV), Scarlotte Deupree (AL), and Casey Preslar (OK) as the Top 5 finalists made more sense with the preliminary scores in mind, but the results probably disappointed TV viewers who had given high marks to Jennifer Adcock for attractiveness.
As we were learning, first impressions can be misleading. For instance, who would have thought, to look at him, that Wayne Brady was a clogger? But yes, as the competition was about to turn to its five finalists for their Artistic Expression in Talent presentations, Brady showed viewers another side of his bottomless pit of skills. The funny interlude was another example of this show's mood-lifting spirit. Before each Top 5 talent performance, worth 20 percent of the final score, a brief videotaped message featured the performer, her home town, and her daily activities — another of those small but important production choices which kept viewers focused on the stars of the show. Following the video, each finalist performed her specialty at center stage with a large video screen set backstage and occasionally projecting close-ups of her as she performed. Erika Harold sang opera, Camille Lewis played violin, Teresa Benitez spoke a monologue, Scarlotte Deupree sang a power ballad, and Casey Preslar sang a jazz classic. Soon enough, we learned that Casey came in 1st in the online voting, following by Camille and Scarlotte.
Would the judges agree with the viewers' choice participants who, for the first time, were playing judge and jury from a comfortable spot near a home computer? That's something we wouldn't find out, because the official judges' marks for individual segments are kept under wraps.
One vote count that would be revealed came next from the "8th judge." As they sat at circular tables with wireless electronic voting devices in their hands, the 46 non-finalists had one more job to do before their Miss America efforts were done. It was clear by the looks on their faces that these women felt empowered as Julie Moran called on them to cast their ballots that could effect the final outcome. The score, revealed only to TV viewers between rounds of the Miss America Quiz, placed Erika Harold and Camille Lewis in a tie for 2nd place, and Scarlotte Deupree in 1st place.
Prior to the last competitive segment, The Miss America Quiz, the Top 5 finalists were each asked a question about their public-service platforms, and Wayne Brady reminded the audience how important this aspect of public speaking would be to the eventual winner. Each response, given 30 seconds, was proof of how ready any of these young women were should her name be called last.
But to get there, the Top 5 faced one more major hurdle — the multiple-choice quiz was next, and there were no rehearsals that would make up for whatever knowledge of culture and history they might lack. Would the smartest girl standing capture the title? Enquiring minds would soon find out. Two rounds of questions stood between the five finalists and the crown, and it was as simple as choosing A, B, or C. The first round presented the women with eight questions on "American contemporary culture and current events." They had five seconds to lock in their answers, and their cumulative correct scores were immediately totaled on their podiums' electronic panels. From the very first question, Erika Harold, Teresa Benitez and Scarlotte Deupree were off to the races with correct answers. After Round 1, Teresa and Scarlotte shared the lead with five correct answers, while Erika had four points and Camille and Casey had three points each.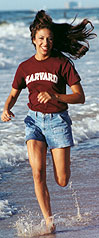 As winner the next day, Erika took a traditional barefoot jog in the Atlantic City surf.
"People and events that made America great" was the topic of Round 2's questions, and from the very first volley, Erika, Teresa, and Scarlotte advanced with the correct answer. And so it went — the fast-paced, nail-biting and revealing second round made for an entertaining finish to the competition. The quiz was fun, it was intriguing, it captured the sense of immediacy inherent in the TV game shows that came before it (especially ABC's own Who Wants to Be a Millionaire?). Everyone could play along, matching brain power with the next Miss America. Additionally, the quiz revealed immediately who was winning — a rarity in most pageant segments. And, for a scholarship competition, testing the knowledge of the women who seek the title and the $70,000 first-prize scholarship seemed an appropriate addition.
The accountant's representative handed the final results to the waiting Wayne Brady, who was joined on-stage by Julie Moran, and Katie Harman. As the five finalists clutched hands, the winners were announced in reverse order of finish: 4th Runner-up Camille Lewis, 3rd Runner-up Teresa Benitez, and 2nd Runner-up Casey Preslar smiled graciously and accepted their bouquets. As Brady paused, Erika Harold and Scarlotte Deupree now embraced with their heads resting on each other's for support. The 1st Runner-up title went to Scarlotte Deupree. Miss America 2003 Erika Harold spent the opening moments of her one-year reign trying to cover her shock, surprise, and disbelief. Her lips could clearly be seen on TV close-ups, repeating the words, "Oh, My God!" With her hand over her chest, Erika Harold seemed to be awakening with a start, trying to calm her racing heart as she learned that her dream of becoming Miss America had come true.

---