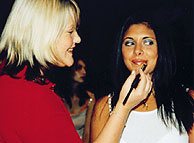 Kristi Fuhrmann of MTV applies the finishing makeup touches on Jaime-Lynn Sigler, the actress who plays the character Meadow on HBO's The Sopranos.
With these tips from an MTV stylist, you'll be ready for the hot lights of summer competition.
When you start to create your spring and summer look, add color, add shine.
The soft, feminine fashions appearing for the season call for delicately pretty makeup and hair that retain some of the sparkle that lit up the holidays. Lip gloss with a touch of glitter, eye shadow in iridescent tones, blush that shimmers, and foundation that glows — all these are part of the spring/summer face. Hair should be equally shiny, falling in a satiny straight line or tumbling in crisp curls.
The colorful, shiny looks showed up on the runway at the Girls Rule! show sponsored by Sally Beauty Supply and Teen Magazine in New York during Spring Fashion Week. The makeup and hair were designed by MTV stylist Kristi Fuhrmann.
A special guest model for the show was Jaime-Lynne Sigler, who plays Meadow on the HBO hit The Sopranos. With her ink-dark hair and huge brown eyes, she personified the fresh, feminine look of the season. The MTV stylist highlighted the eyes, playing shimmering pastel pink, blue, and gold shadows against black mascara. Important here was a touch of "pixie dust" at the inner corners to give a wide-open sparkle.
With the dramatic eyes, Kristi kept a natural look on the lips and cheeks. She accented cheek bones with sheer color, keyed to the model's complexion — a bit of pink tint for rosy skin, a bare peach tone for those with more olive coloring -- then topped it with a subtle shine. For lips, Kristi chose a sheer neutral lip gloss topped with a high-shine gloss loaded with shimmer.
Healthy hair is the first step toward a great style, according to Kristi. She recommends a good, nourishing shampoo and conditioner selected for your individual needs. To get the silky straight look, apply a straightening balm to damp hair, blow dry with a large, round boar bristle brush, and finish with a straightening iron. Smoothing on a glosser or pomade will eliminate frizzies all day.
Do you love Meg Ryan's disheveled mop? Get it by pulling out individual pieces and using pomade or hair wax to keep them separate. If curls are your thing, start with a good frizz-control styling gel, blow dry and use a curling iron. The best irons have multiple heat settings to allow you to adjust the temperature to select what's best for your hair. A temperature too high can damage fine hair, while thick hair with lots of body won't curl if the temperature is too low. Even curls need a glosser to prevent frizz, a light oil-free spray works great on waves and curls.
With curls and color, shine and softness, your look can be a reflection of the best this season has to offer.

---
Ernie McCraw is director of beauty for Sally Beauty Company, the world's largest distributor of professional beauty products. A licensed cosmetologist for more than 30 years, he is frequently asked by newspapers and national fashion and beauty magazines for beauty advice.

Click here to visit Sally Beauty Company's web site...