By Fred Abel

ALL PHOTOS BY PRION PRICE
In the spirit of tradition, Katie appears with two of this country's icons, the Miss America crown and the American flag.
Under a cloud of terror's ashes, the country's beauty and talent rise phoenix-like to honor heroes and lift our flagging spirits.
Twenty-one-year-old Miss Oregon, Katie Marie Harman, became Miss America 2002 this year. But even before her crowning achievement was realized, Katie and 50 other hopefuls would share in a victory of the American spirit over terrorism.
Only days after the World Trade Center atrocity drove like a dagger toward the country's heart, some of the show's organizers, sponsors, and most ardent supporters wondered if holding the Miss America pageant would be realistic. Might the 81-year-old competition be an affront to the memory of those more than 6,000 Americans feared dead and buried under the rubble after the gut-wrenching terrorist attacks that destroyed two New York City icons, the World Trade Center towers, and a portion of the Pentagon Building in Washington, D.C.? How would the suffering loved ones of the victims feel? Could the American people — with their spirits shaken as tremors of fear rippled out of Ground Zero and with their cheeks dampened by tears as the casualty list lengthened — find a sliver of hope in the annual search for the best and brightest young woman in America?

"Too many individuals have sacrificed their lives to preserve the right of freedom of speech for us to be intimidated. Our program, like our country, will not be held hostage by terrorism."
— ROBERT RENNEISEN
President/CEO of the Miss America Organization

We would quickly know the Miss America Organization's conclusions. On the day after the attacks, contestants voted 2-to-1 to continue with the competition. Military veteran and MAO President Robert Renneisen, the MAO board of directors, and ABC were determined that the show should go on. In a strongly worded statement the day of the decision, Renneisen said, "Too many individuals have sacrificed their lives to preserve the right of freedom of speech for us to be intimidated. Our program, like our country, will not be held hostage by terrorism."
Thanks to the courage and wisdom of all those involved, the three-hour live telecast that the Miss America Organization produced and ABC aired on Sept. 22 proved to be one of the 81-year-old pageant's most significant and shining moments. Only 11 days after the attacks, along came the premier pageant for American women, wrapped in red, white and blue bunting, to remind a struggling nation that our country remains strong in the face of abject terror.
The 2001 Miss America competition broadcast itself proved worthy of the show's theme-song lyrics, "There she is, our ideal." Fifty-one of America's most talented, well-educated and beautiful women, competing for a $50,000 college scholarship first prize and a chance for $300,000 in appearance fees, assembled in Convention Hall, marching courageously before the world, supported by family, friends, fans, and a phalanx of security forces. Perhaps as never before, the pageant served not only as a cultural tradition honoring feminine beauty, talent, and brains, but also as a stalwart expression of the American way of life. As integral as baseball, apple pie and motherhood, Miss America endures.
Indeed, the entire Miss America competition served to underscore another undying American tradition: facing down fear itself. Security on final's night blanketed the vicinity of Convention Hall. Police cars lined the famed Atlantic City Boardwalk, a Coast Guard cutter cruised the Atlantic City shore, and a police helicopter hovered overhead. Security guards using hand-held metal detectors examined every person who entered the hall. Glass and plastic bottles were banned from inside the arena.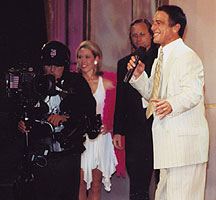 After his tap dance routine, Tony Danza jokes with the audience.
Right from the start of the telecast, the show's new executive producer, Bob Bain, made sure to telegraph the country's new-found patriotism. American flags waved throughout Convention Hall — the audience raised handmade versions given out by the Miss America Organization staff, and a virtual Old Glory waved intermittently throughout the night on a giant video screen placed center stage.
The pageant's new host, actor Tony Danza, delivered the Miss America Organization's reasoning for carrying on with the competition even as the country continued to mourn. "We don't carry on to make less of what happened. We carry on to make more of it, and to add resolve to our nation's voice," Danza said. "We dedicate this show to all those we have lost — and their families. To all of us who promise to carry on, and to our men and women in uniform — God speed." Then, with tears welling up, Danza led the audience in the Pledge of Allegiance and gave a telephone number viewers could call to support the United Way's September 11 fund. An on-screen graphic appeared during the telecast to tell viewers how to do so.

"We don't carry on to make less of what happened. We carry on to make more of it, and to add resolve to our nation's voice," Danza said. "We dedicate this show to all those we have lost — and their families. To all of us who promise to carry on, and to our men and women in uniform — God speed."
— TONY DANZA, Host

But producer Bob Bain quickly had Tony Danza turn on his mischievous charm once the competition began. "Are you ready for Miss America?" Danza asked. "Me and the ladies. I'm so proud of them. Let's do it." Taking advantage of changes in the show's format introduced earlier this year, Danza deftly guided the audience from homage and respect to a tone of light-hearted sincerity and togetherness as the scholarship competition marshaled on. Each of the 51 delegates announced herself while standing in the audience. By turning lights and cameras on the flag-and-sign-waving crowd whose enthusiastic demonstrations were encouraged, the producers put a mirror up to reflect America's family-centered optimism. Another poignant new practice that put the focus on family values was the on-stage procession of Top 20 delegates escorted by their fathers or other male relatives. As each candidate and escort appeared, the delegate's baby picture was flashed onto the giant on-stage video screen behind them, creating a warm intimacy to which families in the audience and at home could relate.
Outgoing Miss America Angela Perez Baraquio appeared backstage with the newly created "Eighth Judge," comprised of the 41 delegates who didn't finish among the Top 10. Angela complemented Danza's relaxed and homey temperament while eliciting comments from the 41 other contestants. The votes of the "Eighth Judge" figured into the selection of the Top 5, although their scores were not revealed during the telecast.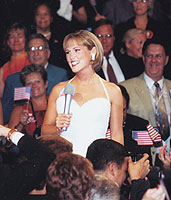 Miss New York Andrea Plummer introduces herself from the audience in the new introduction format. Miss New York received much media attention throughout the week.
The flashier MTV-style presentation of last year was replaced by elegant staging more in keeping with highly regarded historic Miss America productions from more than five years ago. Time and again, Danza, a New Yorker with a streetwise, easy-going style that has made him a successful TV actor in such comedies as "Taxi" and "Who's the Boss," brought buoyant excitement to the proceedings. His impish enthusiasm and self-deprecating humor — whether he was introducing competition segments, engaging the Top 10 finalists in short, unjudged conversations between personal video clips, singing and tap-dancing his way across the stage with contestants, or delivering seemingly unscripted quips between the Top 5's talent appearances — kept the show's pace relaxed and upbeat.
In competition, the petite Miss Oregon Katie Harman proved as smart as she is talented. She won preliminary competitions in both swimsuit and evening gown. In her Top 5 artistic expression appearance, she passionately performed "O Mio Babbino Caro," a Puccini aria. Then she answered six of eight questions correctly in the quiz-show-style questioning, demonstrating that she is prime Miss America material. In all, Katie Harman's bravura combination of talent and knowledge tipped the scales in her favor, making her the first Miss Oregon to be crowned Miss America.
Harman, a junior at Portland State University, cried and clutched her chest as Tony Danza announced that she had won. She smiled and waved as she made the traditional walk down the Convention Hall runway. Her parents, Glen and Darla, stepped onto the stage and hugged her — another first for Miss America that reinforced the family values ambience of the production.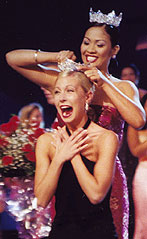 Still not believing that she is the new Miss America, Katie Harman screams with excitement while the 2001 Miss America Angela Baraquio secures the crown on her head.
Standing 5 feet, 3 inches tall, the blue-eyed blonde from Gresham, OR., weighs 110 pounds. She is a speech communications major and plans to pursue a master's degree in bio-ethics. Harman will speak on behalf of her platform, Supporting Terminal Breast Cancer Patients, during her year of service. She became involved with this issue while modeling in fund-raising fashion shows run by a breast-cancer support group. She also promised to become active in fund-raising for the families of the World Trade Center victims.
One casualty of this year's event was the traditional formal Southern States Party, hosted by NAMASP and the Southern States Directors. Also, city officials decided to cancel the traditional Miss America Parade, normally held the day before the telecast, due to security concerns. Instead, MAO chose to hold a smaller, toned-down version in an auditorium. With rickshaws replacing the parade's vintage cars as transportation, the contestants were proud to show off their state costumes. And, true to the parade's tradition, delegates lifted their feet in responce to crowds of enthusiastic supporters who hollered, "Show me your shoes!" Also on hand was MAO President Robert Renneisen, who participated in the ceremonies where many favorite past Miss Americas were introduced.
The successful trade show in Ocean One Mall on the Boardwalk was held again this year, with retail stores, jewelry manufacturers, news services, photographers, makeup artists, and university counselors participating. The fashion shows were spectacular. The staircase to the second floor, decorated in red, white, and blue, served as a patriotic backdrop for the fashion models. Dana Phillips, Miss Oregon director, and her able staff should be congratulated for organizing such a well-run event.
Saturday's finals telecast was a great credit to the Miss America Organization, as well as being Katie Harman's night to remember. For the better part of three hours, the pageant helped lift America's spirits during a troubled time. And, conversely, America's patriotism in the wake of terrorism gave new resonance to the show. The best example came as Tony Danza prepared to pare the Top 20 in half. Pondering out loud how the non-finalists might feel, Danza said almost forlornly, "I hate to lose any of you." In any other year, that comment could have sounded hollow. This year, Danza's words of sympathy tugged more strongly at the heartstrings, making this perhaps the most touching Miss America finals ever. Before September 11, 2001, it had been a long time since a pageant did that.

---