PHOTO COURTESY CBS PHOTO DEPT.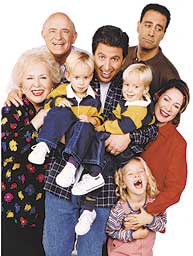 THE BARONE'S: (Center) Ray Romano who's holding real-life twins Sawyer and Sullivan Sweeten, (Far Right) Patricia Heaton, (Top Right) Brad Garrett, (Far Left) Doris Roberts (Top Left) Peter Boyle, and, of course, (Bottom) Madylin Sweeten.
Eight-year-old Madylin Sweeten stars as Ally Barone, the precocious yet adorable daughter of actor-comedian Ray Romano on CBS's hit comedy Everybody Loves Raymond. As most of you know, the show airs on Monday nights at 9:00 p.m.
For those of you who haven't yet had the good fortune of being entertained by this terrific comedy going into its fifth season, Everybody Loves Raymond is a family-oriented show starring comedian Ray Romano as sportswriter Ray Barone. The show is about his life with his wife Debra (played by Patricia Heaton), daughter Ally (Madylin), twin sons Michael and Geoffrey (played by Madylin's real-life twin brothers Sawyer & Sullivan Sweeten), and Ray's parents and older brother who live across the street.
According to Madylin, Ally is a complex character to portray. In one episode, for instance, Ally completely misbehaves. "Mom" and "Dad" take a parenting class, but when their new techniques are applied to Ally, they don't work until different elements unfold throughout the episode. Playing Ally, however, isn't difficult for Madylin, because she has plenty of "showbiz" experience.
Interestingly enough, Madylin got her start in local pageants in Brownwood, Texas. In only 18 months, she captured over 40 trophies including the national title "Our Little Miss."
"She would win and win," explains her mom. "She would talk to the judges, while the other kids were pretty shy." Her loquacious personality paid off when, at the age of four, Madylin made her television debut in the CBS film A Promise To Carolyn, starring Delta Burke (Miss Florida '74). Madylin played a young version of Delta Burke and had to dye her hair black for the part.
After successfully completing the movie, Madylin and her mother returned to Los Angeles for pilot season where she was quickly hired by executives to play the role of Ally in Everybody Loves Raymond. Madylin has also appeared in many commercials, including Welchs, McDonalds, and Kelloggs.
Madylin's showbiz' career doesn't stop there though. In a Warner Brother's film called A Dog of Flanders (which opened in August of last year), Madylin starred in a leading role opposite celebrities Jon Voight, Jason Robards, and Cheryl Ladd. The movie was shot on location in Belgium where she played "Aloise," the best friend of Nello, a young orphan in the early 1800s. Madylin also co-starred in the Fox Family Channel's The Christmas Path.
Madylin's favorite part of show business is getting dressed up for the award shows. This past November, she was invited to be a presenter at the Hollywood Reporter Young Star Awards. She received the invitation after receiving 1998 and 1999 Young Star Award nominations for "Best Actress in a Television Comedy Series."
PHOTO BY BRION PRICE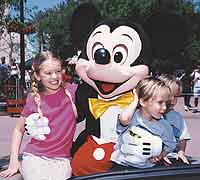 As the Celebrity Guest of the day, Madylin has a parade held in her honor. Joining her are her real-life twin brothers Sawyer and Sullivan and, of course, Mickey Mouse.
Madylin has also been nominated (along with her co-stars) for "Outstanding Performance by an Ensemble in a Comedy Series" for the Fifth Annual Screen Actors Guild (SAG) Awards! Other widely recognized presenters were Jake Lloyd (The Phantom Menace), Ryan Merriman (The Pretender), and Larisa Oleynik (3rd Rock From the Sun). The young actress received even more recognition when she was featured in People magazine's October 11, 1999, issue.
Pageantry invites you to join us in this delightful interview with the magnetic Miss Sweeten during her stay at Disney's MGM Studios where she was invited to visit as the Celebrity Guest of the day:
PM: Along with hundreds of other people, we watched you dip your palms in cement for Disney's Walkway of Fame. Was that fun?
MS: It was very fun, and I was in a parade they had just for me!
PM: How exciting! How did you get started in acting?
MS: I did pageants when I was three, and then one day my mom called an agent. I went out for a commercial, and I just got the job. I started acting when I was four.
PM: When you were in pageants, did you do a talent?
MS: I sang, but I can't remember the song. I remember wearing a dress that Grandmother made for me, getting up on stage, and really liking it.
PM: You began your stage career in a local Sunburst pageant, eventually leading you to a national pageant which led you to the agent who noticed your stage presence. Do you think competing in pageants helped you showcase your talents?
MS: Yes, because I wasn't afraid to be on stage. I used to do runway modeling too. Then after the Our Little Miss national pageant, I landed the part in the film A Promise To Carolyn. I played Delta Burke when she was little.
PM: You must work some pretty long days if you're working on Everybody Loves Raymond and going to school at the same time. What's a typical week like for you?
MS: We start with everybody reading the script, and then we do a rehearsal. Then we do another rehearsal and a run-through. The next days: run-through, rehearsal, rehearsal, run-through. You know, until Saturday, and then we have our weekend. On Monday we do camera shots, and then on Tuesday we film.
PM: Do you enjoy filming in front of a live audience?
MS:: Yes, it's very, very cool!
PM: How do you like working with your TV dad, Ray Romano?
MS: I love working with Mr. Ray. He has a little girl my age. The whole point of the show is that it's about his family and sometimes about our producer's family and the things they do. The show is really funny.
PM: Are you anything like Ally, the character you play?
MS: I would say she's a very different person.
PM: Why do you say that?
MS: Remember the episode when Daddy Ray tells me to clean up my barbies? Mr. Ray comes up to me and says, "I'm going to count to three, and if you're not cleaning up your barbies, there's going to be no TV. One. Two. Two-and-a-half. Two-and-three-quarters! Three! That's it. No TV!" And I say, "No, I hate you, I hate you!" Well, I would never really say something like that.
PM: Not to live and tell about it! How about memorizing your lines? Do you find that difficult?
MS: Not a problem!
PM: We hear you have a tendency to memorize everyone else's lines too! So, are you on a break from the show right now?
MS: Yes, and then when I get back we'll be starting a brand-new season. We're going to be in Italy for the first two episodes.
PM: How exciting. What other shows have you been in?

PHOTO: COURTESY OF MADYLIN SWEETEN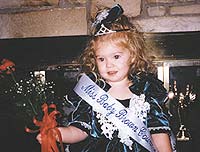 Madylin's charm is discovered at an early age when she won the Miss Baby Brown County (TX) Pageant. Madylin won over 40 pageants in only 18 months.
MS: I went on the Donny & Marie Show and on the Rosie O'Donnell Show. She's (Rosie) very nice. She said she was jealous because Donny and Marie gave me a kitty for Christmas. I took a picture that I drew to her and gave one to Martin Short.
PM: You've been doing Everybody Loves Raymond for four years now, going on your fifth. What are your plans for the future?
MS: Acting and singing. And I want to learn how to snowboard and play the guitar.
PM: At 8 years old, you're already a highly successful actress. Do you like being a star?
MS: That's a hard question, but yes!
Although many young ladies interested in a stage career participate in pageants to gain that all-important "stage presence," Madylin's incredible stage presence combined with her ebullient personality, immense talent, intelligence, poise, and charm quickly launched her into the ranks of Hollywood. There's no doubt that today she's a familiar face in every household across the country. (It seems impossible that so much talent could be neatly bundled into one little individual!) In essence, expect to see a lot more of this gifted child as she grows up, accepts other leading roles, and becomes even more famous. For those who know her, the hit show could easily be called Everybody Loves Madylin.


MADYLIN'S FAVORITE THINGS:

Favorite Disney Ride: Voyage of the Little Mermaid
Favorite Book: The Little Mermaid
Favorite Movie: The Little Mermaid, Star Wars, Star Kid
Favorite Bands: N' Sync, Back Street Boys, Christina Aguilera, Britney Spears
Favorite Holiday: Halloween
Favorite Actors: Shirley Temple, Rosie O'Donnell, Tom Hanks
Her Kitty's Name: Osmond
Hobbies: Singing, Ballet, Skiing, Painting, Drawing, Riding Roller Coasters
Other Talents: Impressions of Marlon Brando & Forrest Gump
Short-Term Ambitions: To Learn to Snowboard and Play Guitar