Glamorously
UP
We've got the perfect updo for a perfectly glam you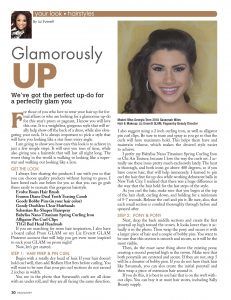 For those of you who love to wear your hair up for formal affairs or who are looking for a glamorous up-do for this year's prom or pageant, I know you will love this one. It is a weightless, gorgeous style that will really help show off the back of a dress, while also elongating your neck. It is always important to pick a style that will have you looking like a star from every angle.
I am going to show you how easy this look is to achieve in just a few simple steps. It will save you tons of time, while also giving you a hairstyle that will last all night long. The worst thing in the world is walking in looking like a superstar and walking out looking like a lion.
Get The Look
I always love sharing the products I use with you so that you can choose quality products without having to guess. I have listed each one below for you so that you can go grab them easily to recreate this gorgeous hairstyle.
* Evolve Boars Hair Brush
 * Fromm Diane Dual Teeth Teasing Comb
 * Goody Bobby Pins (in your hair color)
 * Goody Ouchless Clear Hairbands
 * Sebastian Re-Shaper Hairspray
 * Babyliss Nano Titanium Spring Curling Iron
 * Alligator Pin Curl Clips
 * TIGI Bed Head Headrush
If you are searching for more hair inspiration, I also have a board called Prom GLAM on my Liz Everett GLAM Pinterest account that will help you get even more inspired to rock your GLAM on prom night!
Now, let's get started.
Step 1: Hair Prep & Pin Curl
Begin with a totally dry head of hair. If your hair doesn't hold curl well, then add Redken Hot Sets before curling. You will want to be sure that your pin curl sections do not exceed 2 inches in width.
You see in the photo that Savannah's curls are all done with an under roll, and they are all facing the same direction. I also suggest using a 2 inch curling iron, as well as alligator pin curl clips. Be sure to tease and spray as you go so that the curls will have maximum hold. This helps them have and maintain volume, which makes the desired style easier to achieve.
I prefer my Babyliss Nano Titanium Spring Curling Iron or Chi Air Texture, because I love the way the curls set. I actually use these irons pretty much exclusively lately. The heat is thorough, and both irons go above 400 degrees, so if you have course hair, that will help immensely. I learned to pin curl the hair first for up-dos while working debutante balls in New York City. I realized that there was a huge difference in the way that the hair held for the last steps of the style.
As you curl the hair, make sure that you begin at the top of the hair shaft, curling down, and holding for a minimum of 5-7 seconds. Release the curl and pin it. Be sure, also, that each small section is combed thoroughly through before and sprayed after.
Step 2: Pony & Pony
Next, drop the back middle sections and create the first ponytail up high toward the crown. It looks lower than it actually is in the photo. Then wrap the pony and secure it with a larger piece of hair and a couple of bobby pins. You want to be sure that this section is smooth and secure, as it will be the most visible.
Then, do the exact same thing above the existing pony, creating a second ponytail high in the crown. Make sure that both ponytails are centered and secure. If they are not, step 5 will be a disaster of bobby pins. If you do not have thick hair like Savannah, you can also create the initial ponytail and then wrap a piece of extension hair around it.
If you do this, it is best to use hair that is on the weft without clips. You can buy it at most hair stores, including Sally Beauty supply.
Step 3: Bang Puff & Fluff
Complete dropping the middle with the top. Use the volume created with the initial pin curl to created your front height, but do not be afraid to tease it if necessary, as well. Be sure to tease it right by the root, if needed.
You will want to pinch the section right at the desired height and then use 2-3 bobby pins on each side to totally secure the style. I always say create the bang a little taller than desired, because it will lose a tad of volume as the night goes on.
Be sure to spray it well once you have it in place. You can also move your head around a bit to be sure that it is secure. You don't want your hair coming undone during the night.
Step 4: Fold Over Flair
This part is crucial. Once you have taken all of the pins out, you can begin creating the sides. Be sure to lightly brush the sides before you roll them upwards. You want to be sure that any tangles or wonky pieces have been tamed before you begin shaping the style.
The key is to use the whole side section all at once or in two smaller parts. You then want to be sure to roll them securely into the center of the bang section. You can see in the photo that the side view shows that the side pieces are actually twisted and pinned into the bang section.
One side will overlap the other, and that is how we achieve that gorgeous twisted look. Shove a few extra pins in that overlap, as well. You should also triple check that the bang and side sections are blended well with each other. It is so important to make sure that, before you get to step 5, you have the base pieces of the style secure, smooth, and lifted.
Step 5: Smooth, Flip, & Pin
You are almost done! Now, the secret to a gorgeous flip of the ponytail is a head of smoothed curls. I love to work through the curls in large sections with the boars' hair brush. You can see that Savannah is holding a large section and the brush, getting ready to smooth it together.
Once you have that done, you can grab the top ponytail, flip it forward, and pin it. Be sure to spread the ponytail after it's pinned to create tons of height. Use at least 4 bobby pins on each side to secure the style. Spray it well, and then wobble your head to make sure it is secure.
Repeat this step with the bottom ponytail. Don't forget to check the overall shape from different angles. Spray it well and get ready to twist.
Step 6: Twist It Up
I like to do a small section wrapped first, so that my shape is beautifully connected. You can see Savannah holding a larger section with all of the remaining hair. You can wrap that the opposite direction and pin it. I suggest using 3 bobby pins for the initial hold and then going back through the wrap to add about 4-6 pins throughout to be sure that the style is extremely set. Follow up with a good spray, moving your head back and forth to check for stability. The final thing you need to do is check the style from all directions to be sure you love it. Oh, and don't forget a few shots of TIGI Head Rush for some gorgeous red carpet shine. It's your time to shine from head to toe on your special night!