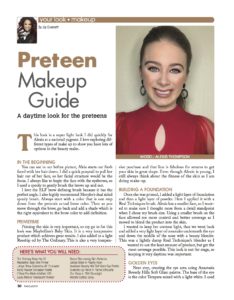 Time for a preteen makeup guide… This look is a super light look I did quickly for Alexis at a national pageant. I love exploring different types of make up to show you have lots of options in the beauty realm.
In the Beginning
In this preteen makeup guide, you can see in our before picture, Aleia starts out fresh faced with her hair down. I did a quick ponytail to pull her hair out of her face, so her facial structure would be the focus. I always like to begin the face with the eyebrows, so I used a spooly to gently brush the brows up and out.
I love the ELF brow defining brush because it has the perfect angle. I also highly recommend Morphe's dual sided spooly brush. Always start with a color that is one step down from the person's actual brow color. Then as you move through the brow, go back and add a shade which is the right equivalent to the brow color to add definition.
PrimeTime
Priming the skin is very important, so my go to for this look was Maybelline's Baby Skin. It is a very inexpensive product which achieves great results. I also added in a light Rosehip oil by The Ordinary. This is also a very inexpensive purchase and that line is fabulous for serums to get your skin in great shape. Even though Alexis is young, I still always think about the fitness of the skin as I am doing make-up.
Building a foundation
Once she was primed, I added a light layer of foundation and then a light layer of powder. Here I applied it with a Real Techniques brush. Alexis has a smaller face, so I wanted to make sure I thought more from a detail standpoint when I chose my brush size. Using a smaller brush on the face allowed me more control and better coverage as I moved to blend the product into the skin.
I wanted to keep her contour light, thus we went back and added a very light layer of concealer underneath the eye and down the middle of the nose with a beauty blender. This was a lightly damp Real Technique's blender as I wanted to use the least amount of product, but get the most coverage possible. This look is not for stage, so keeping it very daytime was important.
Golden eyes
Next step, creating the eye area using Anastasia Beverly Hills Soft Glam palette. The base of the eye is the color Tempera mixed with a light white. I used a mixture of Burnt Orange with the color Glistening for her crease. I always love a golden tone for a younger competitor or Queen's day look. If you do not have an eyeshadow palette, you could also use bronzer.
Once we have a beautiful blend on her eye I always go back with a large brush and sweep out any excess shadow droppings, making sure her face is very clean. If you find you have a ton of eyeshadow that dropped, you can either use a makeup wipe to lightly clean the area and then reapply the concealer or you can use a little bit of primer to sweep away the excess.
Draw the Line
I went in with a light powder color to create eyeliner which is very soft and blended, using the color Rustic for this look. It blends easily and my experience with this particular eyeshadow palette is that there's not a lot of fall out, so there is not a lot to clean up underneath the eye.
Now you can also rock out with a fabulous triple coat of mascara. I totally suggest L'Oreal's Air Volume. It gives such great coverage for the top and bottom lashes. Again, I wanted to keep it very age appropriate for this look, using Jayme Shaw's Peachy Keen blush on her cheeks.
Lip Service
For the lip, we created a slight overline to give her gorgeous lip shape a little boost, choosing Givenchy's Parme Silhouette. It is such a beautiful color that really adds such phenomenal definition. When you do an overline, you want to make sure you just focus on the cupid's bow, so that it looks very natural.
To read the entire Makeup feature… Click Here