Lessons

in

Longevity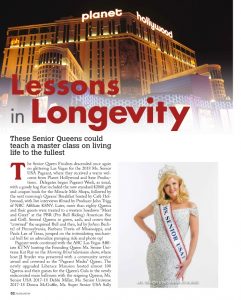 The Senior Queen Finalists descended once again on glittering Las Vegas for the 2018 Ms. Senior USA Pageant 2018, where they received a warm welcome from Planet Hollywood and Saxe Productions. Delegates began Pageant Week, as usual, with a goody bag that included the now standard $2000 gift and coupon book for the Miracle Mile Shops, followed by the next morning's Queens' Breakfast hosted by Café Hollywood, with live interviews filmed by Producer John Trigg of NBC Affiliate KSNV. Later, more than eighty Queens and their guests were treated to a western hoedown "Meet and Greet" at the PBR (Pro Bull Riding) American Bar and Grill. Several Queens in gown, sash, and crown first "crowned" the sequined Bull and then, led by JoAnn Bechtel of Pennsylvania, Barbara Travis of Mississippi, and Paula Lee of Texas, jumped on the intimidating mechanical bull for an adrenaline pumping ride and photo op!
Pageant week continued with the ABC Las Vegas Affiliate KTNV hosting the Founding Queen Ms. Senior Universe Kat Ray on the Morning Blend television show, where host JJ Snyder was presented with a community service award and crowned as the "Pageant Media" Queen. The newly upgraded Liberace Mansion hosted almost 100 Queens and their guests for the Queen's Gala in the newly redecorated main ballroom with the reigning Queens, Ms. Senior USA 2017-18 Debbi Miller, Ms. Senior Universe 2017-18 Donna McGuffie, Ms. Super Senior USA Sally Beth Vick, Ms. Senior China Universe Sophia Fradelis, and others performing for the attendees. Queen Kat Ray, along with Las Vegas celebrity DJ Michael Susara of High Flyin' Entertainment, emceed the event with everyone joining "Liberace" in an evening of dancing and entertainment. One of the original Super Senior USA Queens, Cindy Doumani, was presented with a Lifetime Achievement Award, followed by the presentation of the Pageantry magazine Spirit Awards. The Pageantry Spirit Awards were presented to: Ms. Super Senior California USA Jan Fowler, Ms. Senior Florida USA Gailyn Saahir, Ms. Senior Kentucky USA Judy Cook, Ms. Senior Maryland USA Karen Moore, Ms. Senior Massachusetts USA Pamela Kiriaji, Ms. Senior Minnesota USA Lynn Perry, Ms. Senior Nebraska USA Cherie Kidd, Ms. Senior Ohio USA Correan Baker, Ms. Senior Oklahoma USA Vickey Rose, Ms. Senior Tennessee USA Debbie Watts, Ms. Senior Texas USA Paula Lee, Ms. Senior Utah USA Shelley Gish, Ms. Senior Virginia USA Ginger Hannums, Ms. Senior Washington USA Linda Allbright, with an Honorary Spirit Award presented to Michael Susara of High Flyin' Entertainment. June Lacey, Ms. Super Senior Minnesota and a recent stroke victim, was presented with an Honorary Ms. Super Senior Sweetheart Sash.
The pageant finals were held in Planet Hollywood's luxurious SAXE Theater. The judges, Amie Jo (host of syndicated TV show Sizzle.Vegas), Hadi Sadjadi (an artist and actor who has appeared in several movies including Into the Night), Ninon de Vere De Rosa (President of KidsTalk Productions and host of Vegas Live with Ninon), Ellen Stokes (founder of the Miss Fabulous Las Vegas Pageant) and Gayle Anderson, who was presented with a Lifetime Achievement Award for her work in creating the International Office of Protocol under what is now the Las Vegas Global Economic Alliance, would have the difficult task of selecting the next Ms. Senior USA.
Before announcing the new court and finalists, it should be noted that these are "Senior" women who have a commitment to community service and possess an infectious and enviable energy. The Senior Queens include military veterans, cancer survivors, a city mayor, doctors, attorneys, CEO's, gymnastic and dance instructors, Olympic participants, and amazing women who have raised families and supported their country through good and bad times and who seemingly traverse the country on a weekly basis. In the months leading up to the 2018 Ms. Senior USA Pageant, the state Queens participated in an exhaustive state application process which then produced the national finalists. Over the months, the national state finalists joined their national reigning queens at more than fifteen national and international events.
To highlight their passion this year alone, 2018 began with the queens attending the Senior Softball Masters Tournament of Champions in February. Ms. Senior USA 2017-18 Debbi Miller sang the National Anthem at an awards dinner attended by over 1500 players and their guests. Pageantry magazine CEO Carl Dunn joined the queens at the fundraising game in support of Wounded Warriors. Next, there was the largest Chinese New Year celebration in the West, with Ms. Senior China Universe Tang Li Ping (Sophia Fradelis), Founding Queen Kat Ray, and Ms. Senior Asia Pacific Universe Salve Edelman attending events throughout Las Vegas at The Linq, the Forum Shoppes, Fashion Show Mall, and the Parade Downtown.
In March, three amazing Queens, Sharon Maloney of Washington, Charlotte Ambrose of Montana, and Ms. Senior USA Debbi Miller, went to New York (in the middle of a major blizzard) to attend the International Women's Day conference at the United Nations, followed by being hosted at the historic Shubert Ambassador Theater on Broadway. They were invited on stage for pictures with Thia Calloway, the Theater Manager, and then with members of the cast and crew of Chicago! Then, traveling several thousand miles, they attended the 2018 Global Beauty Awards in Seattle. As the newest members of the "Major Leagues," Ms. Senior USA and Ms. Senior Universe were the only senior pageants recognized, and the Queens Kat Ray and Lauren Monahan were finalists in four categories. Founding Queen Kat Ray received a special award for her heroics and volunteerism in the aftermath of the tragic Las Vegas shooting. In accepting the award, Kat said: "We have to thank Carl Dunn and Pageantry magazine, whose support has taken us from our first Meet and Greet in November 2016 to being a recognized finalist and national and international award recipient."
Later in the month, the queens participated in the SPOTLIGHT Senior Spectacular Event in Las Vegas. With approximately 2,000 attendees throughout the day, entertainment was provided by Queens Debbi Miller and Kat Ray, along with JJ Snyder (host of Morning Blend), The Bruce Harper Big Band with Elisa Fiorillo, and Special Emcee Queen Kat. Also performing was Rob Garrett-King of Diamonds Neil Diamond, Jazzin' Jeanne Brei with Doc Phineas, Sythe and Deanne O'Reard-Cameron, Lisa Gay with Teri Noel and Gwen Moore Forsythe, Paige Poole, Barbara Brighton, the Anthem Jazz Dancers with Nicole Duffel, "Mr. President" John Morgan, Korabo Taiko Drums, and the Rhythm Debs of the Sun City Dance Group. The event was a fund raiser for the Honor Flights, an organization focused on transporting senior veterans to Washington DC to see memorials of the wars they fought in as a way of providing closure.
In April, Ms. Senior USA was invited to the red carpet of the 28th Annual Producers Awards being hosted for the first time at Hard Rock Las Vegas. In the following months, the queens attended Honor Flights and the Miss USA Pageant in Shreveport, Louisiana, showing support for their state favorites.
Ninety-eight applicants from across the USA began the process of achieving the Ms. Senior USA crowns. That number was eventually winnowed down to the finalists arriving in Las Vegas. After two days of preliminary competitions, the top seniors (over 60 years) and Super Seniors (over 75 years) were announced, earning the opportunity to compete, once again, in their stage presentations of Gown Walk, Philosophy of Life, and Talent. After a spirited and crowd pleasing performance, the individual category winners were announced, followed by the crowing of the NEW 2018 Ms. Senior USA and Super Sr. USA Queens.
Within the Senior Category, Cherie Kidd was proclaimed first runner up, second runner up was Gailyn Saahir, and rounding out the top 4 were third runner up Dr. Gayla Kalp Jackson and fourth runner up Debbie Watts. The Super Senior Category winners were announced next. First runner up was Marilyn O'Connell, followed by
second runner up Joanie Helgesen. Rounding out the top finalists were third runner up Dr. Ida White, fourth runner up Dr. Sharon Maloney, and and fifth runner up
Jan Fowler.­
In the individual overall categories, the Senior Sweetheart (Congeniality) award went to Vickey Rose (Oklahoma). Joanie Helgesen (Florida), who wowed the audience with a classical performance on a custom harp, captured the Talent Trophy. Second place in Talent went to Peggie Fowler for her dance to "I Want to Be a Cowboy's Sweetheart." The Best State Costume (not a part of the official judging) was awarded to Judy Cook (Kentucky) and her horse representing the Kentucky Derby, with Second Place recognizing Cherilynn Paris for her Georgia peanut costume. Always elegant, the highest score for Gown Presentation went to Gailyn Saahir (Florida), with second place going to Sara Jo Burks (Alabama).
The time had arrived to crown the new Ms. Senior USA and Super Senior USA queens. Sara Jo Burks of Alabama, who sang "Cry Me a River" for Talent, was announced Ms. Senior USA 2018 and was crowned by Ms. Senior USA 2017-18 Debbi Miller, and Ms. Senior Universe 2017-18 Donna McGuffie. Nancy Long of Georgia, whose talent was an ASL (American Sign Language) interpretation of "To God Be the Glory," was announced as Ms. Super Senior 2018 and was crowned by 2017 Ms. Super Senior USA Sally Beth Vick, along with our 2017-18 Ms. Super Senior Universe Betty Aden. Nancy staggered back and burst into tears when her name was announced.
The Senior Queens include amazing women who have raised families and supported their country through good and bad times. As in any true united pageant family, the words and feelings of those who attend and participate in the Ms. Senior USA and Super Senior USA events remain #VegasUnited: "We are the women and daughters of 'The Greatest Generation'. We are strong, savvy, goal-oriented, wise and aware." They are Ms. Senior USA and Ms. Super Senior USA!