Modeling Industry
Q&A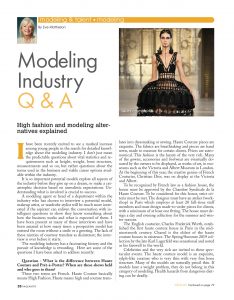 I have been recently excited to see a marked increase among young people in the search for detailed knowledge about the modeling industry. I don't just mean the predictable questions about vital statistics and requirements such as height, weight, bone structure, measurements and so on, but rather questions about the terms used in the business and viable career options available within the industry.
It is so important potential models explore all aspects of the industry before they give up on a dream, or make a catastrophic decision based on unrealistic expectations. Understanding what is involved is crucial to success.
A modeling agent or head of a department within the industry who has chosen to interview a potential model, makeup artist, or wardrobe stylist will be much more interested if the aspirant can enliven the conversation with intelligent questions to show they know something about how the business works and what is expected of them. I have been present at many of these interviews and have been amazed at how many times a prospective model has entered the room without a smile or a greeting. The lack of these niceties of courtesy translate as disinterest; the interview is over before it starts.
The modeling industry has a fascinating history and the pursuit of knowledge is rewarding.  Here are some of the questions I have been asked to address recently:
Question – What is the difference between Haute Couture and Prét-à-Porter? When are these shows held and who goes to them?
These two terms are French. Haute Couture basically means High Fashion. Haute means high and couture translates into dressmaking or sewing. Haute Couture pieces are exquisite. The fabrics are breathtaking and pieces are hand sewn, made to measure for certain clients. Prices are astronomical. This fashion is the luxury of the very rich. Many of the gowns, accessories and footwear are eventually donated by the owners to be displayed, as works of art, in museums such as the Victoria and Albert Museum in London.  At the beginning of this year, the creative genius of French Couturier, Christian Dior, was on display at the Victoria and Albert.
To be recognized by French law as a fashion house, the house must be approved by the Chambre Syndicale de la Haute Couture. To be considered for this honor, strict criteria must be met. The designer must have an atelier (workshop) in Paris which employs at least 20 full-time staff members and must design made-to-order pieces for clients, with a minimum of at least one fitting. The house must design a day and evening collection for the summer and winter seasons.
The English couturier, Charles Frederick Worth, established the first haute couture house in Paris in the mid-nineteenth century. Chanel is the oldest of the haute couture houses in existence. The Spring/Summer 2019 collection by the late Karl Lagerfeld was sensational and noted as his farewell to the world.
Celebrities and the very rich are invited to these spectacular events. The haute couture model is an exquisite, sylph-like creature who is very thin with very fine bone structure. Many of the models are naturally pencil thin. If models have a weight problem, they do not belong in this category of modeling. Health hazards from dangerous dieting can be deadly.
The number of Couture houses in Paris has diminished considerably over the years. Nevertheless, in spite of prohibitive prices, the industry is flourishing across the world. Designers in major fashion cities now have their own Haute Couture houses.  This is indeed a rarified world from every aspect.
Prét-à-Porter is French for Ready to Wear and these collections are presented during Fashion Week in a growing number of cities around the world. The most famous, however, are presented in Paris, Milan, London and New York. Many of the Haute Couture designers will often also present a Prét-à-Porter collection. This is an unbelievably hectic and exciting time for everyone in the fashion industry. Celebrities, newspaper and magazine editors and anyone with the right credentials line the runways. Some venues will have twenty shows a day, which means there is a lot of work for models. Men and women who walk these runways need to have the required statistics and great stamina to keep up with the pace.
The staging of the shows are remarkable and the creativity of the designers mesmerizing. The designs are costly, but in a very short time many are replicated in stores on the high streets around the world at more affordable prices.
I consider the following question very sensible. I have paraphrased it because several young girls have echoed the same sentiments:
Question – I have the height to be a model, but not the willpower to stay on a permanently restricted diet in order to maintain mandatory measurements. I want to have a career in the modeling industry; what advice do you have and what are my options?
I am so glad you have voiced the feelings of many of your contemporaries. There are enough grueling challenges in the modeling industry without adding severe dieting, which will zap your energy and strength – two vital components for success. However, being a model is not the only way to have a career in this industry.  You only have to leaf through the pages of any Pageantry magazine to see the amazing talent at work in their various career choices. The fashion and entertainment industry offers an exciting assortment of jobs available in the modeling world. There are hair stylists and wardrobe stylists, makeup artists, marketing and public relations people, journalists, photographers, television crews, advertising experts, bookers, agents, clients, production coordinators, researchers and location scouts. All of these people are part of the powerful, indispensable team which makes these careers and dreams come true.
I have interviewed members of all of these professions. Their stories were fascinating, but one stands out as a very good illustration of how fulfillment, success and great happiness can come when one dream, through force of circumstances, opens a different door. American makeup artist, Catherine Hatcher, told me, "I always wanted to be a singer, but was not allowed to pursue that goal. The closest I came to being a singer was working as a makeup artist on music videos. For me, working with all those singers was close enough to fulfilling my dream." Her charm, talent and persistence opened many doors. For over twenty years she worked in film, commercials, video production, print and fashion shows. Among the celebrities she made up for on-camera work were: Steven Spielberg, Tom Hanks, Matt Damon and Jay Leno. She then created her own makeup line and also started a very successful industry-related business. She said, "If your heart is set on being in the modeling and entertainment industry, but you are not the right body type, there are a lot of ways in which you can be associated with the industry. I love what I do because I know I can make a difference in the ultimate performance. I am the last person a model or actor sees before going in front of the camera. I apply emotional makeup as well as the other kind. I can boost a person's confidence, morale, or ego with a few words. I found my fulfillment behind the camera."
There are some very talented makeup artists at the international fashion shows. British makeup artist, Pat McGrath, was gifted with a natural talent and creative genius. She had no formal training in makeup, but drew her inspiration from her Jamaican mother who had a passion for cosmetics, hair styling and fashion. Born in Northampton, England, Pat was made a Member of the Order of the British Empire (MBE) by Queen Elizabeth ? for her services to the beauty and fashion industry. She has also been hailed the most influential makeup artist in the world, by none other than Anna Wintour, editor of American Vogue.
Charlotte Tilbury is also British and a celebrity worldwide. She has worked with the most famous supermodels, photographers and designers. Charlotte was formally trained at the Glauca Rossi School of Makeup in London.
Kudos to 20-year-old American makeup artist, James Charles Dickinson who, at 17, became the first male ambassador for CoverGirl and appeared on the cover of the magazine.
We will never forget the fabulous Kevin Aucoin and Way Bandy, makeup artist extraordinaires, who through their genius and courage helped make this prestigious career what it is today.
To the young people who wrote to me about their weight issues with regard to runway modeling, I would point out height and weight are not always an issue in television commercial work, sitcoms, or movies. Great passion is how your path should be chosen.  Resilience and dedication are, however, mandatory in all aspects of the industry.
Jacques Silberstein, an international photographer, told me, "Perhaps in the beginning, the new model won't achieve success as a top fashion model, but as a commercial model or as a stylist or another industry professional. You have to take whatever opportunity comes to you and perhaps your original goal will come through a process." I agree! Don't give up your dream to be part of the industry. There is something for everyone. It's all show business as the song says, and there's truly no business like it.
To read the entire feature in Pageantry Digital, Click Here