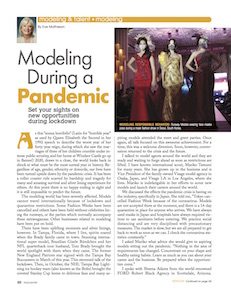 Set your sights on new opportunities during lockdown
As this "annus horribilis" (Latin for "horrible year" as used by Queen Elizabeth the Second in her 1992 speech to describe the worst year of her forty-year reign, during which she saw the marriages of three of her children crumble under intense public scrutiny, and her home at Windsor Castle go up in flames!) 2020, draws to a close, the world looks back in shock at what must be the most surreal year in history. Regardless of age, gender, ethnicity or domicile, our lives have been turned upside down by the pandemic crisis. It has been a roller coaster ride scarred by hardship and tragedy for many and amazing survival and silver lining experiences for others. At this point there is no happy ending in sight and it is still impossible to predict the future.
The modeling world has been severely affected. Models cannot travel internationally because of lockdown and quarantine restrictions. Some Fashion Weeks have been cancelled and others have been held without celebrities lining the runways, or the parties which normally accompany these extravaganzas. Other businesses related to modeling have been put on hold.
There have been uplifting moments and silver linings, however. In Tampa, Florida, where I live, spirits soared when the Brady family came to town. Stunning international super model, Brazilian Gisele Bündchen and her NFL quarterback icon husband, Tom Brady brought the world spotlight with them when they came. The former New England Patriots star signed with the Tampa Bay Buccaneers in March of this year. This stemmed talk of the lockdown. Then, in October, the NHL Tampa Bay Lightning ice hockey team (also known as the Bolts) brought the coveted Stanley Cup home to delirious fans and many aspiring models attended the meet and greet parties. Once again, all talk focused on this awesome achievement. For a time, this was a welcome diversion. Soon, however, conversation returned to the crisis and the future.
I talked to model agents around the world and they are ready and waiting to forge ahead as soon as restrictions are lifted. I have known international scout, Mariko Tatsumi for many years. She has grown up in the business and is Vice President of the family owned Visage model agency in Osaka, Japan, and Visage LA in Los Angeles, where she lives. Mariko is indefatigable in her efforts to scout new models and launch their careers around the world.
We discussed the effects the pandemic crisis is having on the industry, specifically in Japan. She told me, "Tokyo cancelled Fashion Week because of the coronavirus. Models are not accepted there at the moment, and there is a 14-day quarantine in place for anyone who arrives. We have always used masks in Japan and hospitals have always required visitors to use sanitizers before entering. We practice social distancing and are very disciplined with precautionary measures. The market is slow, but we are all prepared to get back to work as soon as we can. I check the coronavirus statistics constantly."
I asked Mariko what advice she would give to aspiring models sitting out the pandemic. "Nothing in the area of requirements has changed. Concentrate on your shape and healthy eating habits. Learn as much as you can about your career and the business. Be prepared when the opportunities come."
I spoke with Sheena Adams from the world-renowned FORD Robert Black Agency in Scottsdale, Arizona. Sheena started at the agency as an intern nine years ago and worked her way up to fashion agent and Director of the Children's Division. Sheena is a wealth of information on the industry. I asked how her agency was coping with the rules and regulations of the pandemic crisis. She said, "It is certainly a different world. We are learning to cope with the new normal. We are exploring new ways to do what we do, while staying within the rules and guidelines to keep everyone safe. We have done everything, including virtual photo shoots with models on their iPhones. Models enlist friends, boyfriends, husbands or roommates who are photographers and are able to shoot at home with direction from the clients. It has been interesting to see who has in-house capabilities to produce the content that the client still needs and wants. Online shopping is the biggest trend right now because most people are shopping during their quarantine."
We discussed the effects of the pandemic on the industry. Sheena said, "We are now becoming well-versed in how beneficial Podcasts, YouTube channels and Zoom are in providing ways for us to stay connected. We just don't know at this point what sort of an impact this will have on our lives. We are learning from our standpoint as an agency, and from the standpoint of our talent, how to stay connected through social media, and this has been another plus."
"Normally our talent travels all over the world, but the current lockdown has put a hold on this. We require our talent to stay put if they are out of the country and make the most of it. We hope our clients will circle back and see how they can best utilize them while they are located there. There are so many lessons we can learn from all of this. We can't see each other personally from day to day, but we can still find ways to stay connected. Millennials are so used to just text messaging, but now we have found ways to connect virtually."
Sheena's advice to young boys and girls who dream of a modeling career is, "Hang in there! Don't look at it as if the dream is done and over because you are in lockdown. Ask yourself, 'How can I be relevant within it? Does a Podcast work for me? Or Instagram? Or a YouTube channel. Learn the special details like when to post, what kind of followers you have and what you can do to keep yourself current and connected with everyone while you are waiting.' This is an interesting time!"
I mentioned silver linings as a result of the lockdown caused by the pandemic at the beginning of this article. One story immediately comes to mind. It is about stunning, eighteen-year-old British schoolgirl, Evie Harris, who was devastated when her school was closed because of COVID-19 and she and her family were under lockdown. Her A-Level exams for university were later cancelled. Last year, she was scouted by the world-famous Premier Model Agency, in London, and made her debut in London Fashion Week Spring/Summer 2020. During the lockdown this year, her agency sent her to Milan where she walked for five major designers. Evie's international career was launched. She went to Paris to walk in Fashion Week there. Later she took and passed her A-Levels, but her university plans have been put on hold as she looks forward to an awesome modeling career.
Lila Moss, daughter of iconic model Kate Moss, celebrated her eighteenth birthday this year in Milan where she made her runway debut for Italian designer, Miu Miu, during Fashion week. Lila is represented by her mother's agency, the Kate Moss Agency, and is the face of Marc Jacob's new perfume, PERFECT. Interestingly, Kate Moss was 18 when she did her first runway show for Dolce and Gabana in Milan.
A new generation of models, agents, and designers are moving in with new ideas and dreams. They will not be subdued or defeated by a pandemic or any other crisis. Tragedy and hardship bring out the best in people. Without a doubt, these new, young trailblazers will overcome the present crisis and create a better life and industry for everyone.
To read more features like this… Click Here