Miss USA 2020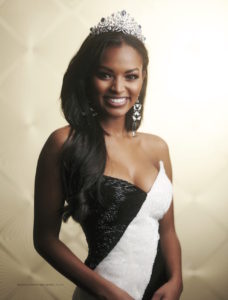 The Miss USA 2020 Pageant, after a year's long delay due to the COVID-19 pandemic, was welcomed back to center stage in a presentation of beauty, intelligence, and social activism. Broadcast live from Graceland Studios in Memphis, Tennessee, the socially distanced audience was treated to the true Southern hospitality of Memphis and Elvis Presley's stunning home of Graceland. The pageant was hosted by Emmy nominated Akbar Gbaja-Biamila and sports television personality and Miss Teen USA 2005 Allie LaForce. The wait for Miss USA 2020 was finally over and the time had come to meet the 51 diverse state titleholders and crown Miss USA 2020.
Following the opening production and state delegate introductions, the Top 16 finalists were announced: Miss New Jersey USA Gina Mellish, Miss Idaho USA Kim Layne, Miss Alabama USA Kelly Hutchinson, Miss Louisiana USA Mariah Clayton, Miss Mississippi USA Asya Branch, Miss Missouri USA Megan Kelly, Miss Ohio USA Stephanie Miranda, Miss District of Columbia USA Cierra Jackson, Miss Oklahoma USA Mariah Davis, Miss Indiana USA Alexis Lete, Miss New York USA Andreia Gibau, Miss Georgia USA Alyssa Beasley, Miss California USA Allyshia Gupta, Miss Illinois USA Olivia Pura, Miss Nevada USA Victoria Olona, and Miss Hawaii USA Samantha Neyland. The competition for the crown of Miss USA was officially underway.
The first on-stage competition, Swimsuit, showcased their commitment to a fit and healthy lifestyle, something many found difficult amidst the worldwide pandemic. Narrowing the field from the initial sixteen finalists, a Top 10 consisted of representatives from the following Miss USA states: Mississippi, Illinois, Hawaii, Oklahoma, Alabama, California, Indiana, Idaho, New York, and New Jersey.
Fan favorite, Evening Gown, always glamorous and poised, followed Swimsuit and would once again reduce the finalists from ten to the Top 5 of Miss Oklahoma USA, Miss Mississippi USA, Miss Indiana USA, Miss Idaho USA, and Miss Alabama USA.
Although the delegates, along with the rest of the country and world had spent months socially distanced, it did not mean they were unaware of current events or newsworthy headlines. Paraphrased, the Final Question Round would address such topics as whether an App selling an individual's private information to third parties would influence the decision to download it, what must be done to bring our nation together, how to fix the concern that only one-third of Americans could pass the Citizenship test, agree or disagree with the discussion of police reform, and whether social media platforms have a responsibility to fact-check posts. The questions, while thought provoking, were extremely timely and apropos.
If the final question did not induce enough anxiety for the delegates and audience, one more thought-provoking competition awaited the Top 5 in the Topical Discussion phase and would decide the crown of Miss USA 2020. What would the discussion address and how succinctly would the finalist convey her views? The topics were Voter Suppression, Gun Laws, Climate Change, Mental Health Reform, and Prison Reform. Whether or not someone agreed with a particular view, the audience cheered each delegate's discussion and the ability to put into words what many struggle with.
Miss USA had returned to center stage, and the stage was set for the crowning of Miss USA 2020 following the Final Look. With the completion of the competition, the finalists and court of Miss USA 2020 was proclaimed: Fourth Runner-Up Miss Alabama USA, Third Runner-Up Miss Indiana USA, Second Runner-Up Miss Oklahoma USA, and First Runner-Up Miss Idaho USA, as Asya Branch of Mississippi was crowned Miss USA 2020.
As Miss USA 2020, Asya Branch, settles into her role as Miss USA and prepares for the eventual Miss Universe Pageant. Pageantry magazine welcomed the opportunity to visit with her and discuss her goals and plans as Miss USA 2020.
Pageantry magazine: Were you ever wondering, during this COVID-19 pandemic, if you would actually be able to compete in the pageant?
Asya Branch: I did wonder that. I think it was a thought in all of our minds, "Are we going to have the Miss USA competition or not?" I'm just excited it was able to happen and I'm even more excited I was crowned.
PM: With all the social protocols, what was the competition like?
AB: It was different than I imagine previous years have been, to say the least. I think the main goal was to make sure we were all healthy and safe throughout the entirety of the competition. We were masked up every second of the day, except for when we were eating. We had masked choreography on and off the stage. I think the most difficult part for me was not being able to hug all of the girls and interact in a way we typically would because we did have to stay socially distanced. So, it was a bit different, but we all left the competition COVID free, so it worked.
PM: How exciting was it competing in Memphis at Graceland?
AB: Oh, my goodness. My hometown in Mississippi is just 30 minutes down the road from Elvis Presley's birthplace. It felt like a touch of home being in Graceland because I do have such a close connection there. So, it was awesome. It felt like I was at home and in my comfort zone. I think it made it all the more special for sure.
PM: When you were traveling around and doing some of the promos for Memphis, as well as Graceland, did you share your connection to Elvis Presley with your sister delegates during the tours?
AB: Oh, no I didn't. However, I think we had some real Elvis fans among us. That made it a lot of fun because they'd never been to Graceland. They'd never experienced seeing all the Elvis memorabilia and it was nice to see everyone really enjoy the experience.
PM: A lot of people may not realize you were split up into groups and not all of you went at the same time. Did you interchange groups throughout the week or was it always the same circle of delegates?
AB: It was the same group of people together throughout the week, just so we could make sure we had the same people in close proximity. I think there were probably 10 girls in each group with our particular host moms as well. We stayed with our close groups, so we had those people who we were interacting with regularly. Then we would see the rest of the girls at rehearsals.
PM: When you hear the title Miss USA 2020, what does the title mean to you?
AB: It means a dream come true, honestly. It also gives me an opportunity to be something more than just myself and really reach an audience, and truly make a difference, to have an impact with such a large audience and platform foundation. It's truly a blessing and an honor. Everyone hopes to win the title, and when it actually happened, it's just still so unbelievable and unfathomable. I'm so grateful for this opportunity and experience.
PM: Your crowning was a historic win, as the first woman from Mississippi to capture the Miss USA title.
AB: It still seems so surreal. I went into the competition just hoping to make the top 15, everything after that was just an additional blessing. That's how I was viewing it. As I kept progressing forward, I was so grateful to be still standing on that stage. When it got down to the top two, I just couldn't believe it. I was this close to making this dream happen. Even if I had left as first runner-up, I would have been just as grateful. But wow, I became Miss USA. It doesn't seem real.
PM: You come from a rather large family. How has the reaction been back home?
AB: It's been great. My siblings are so supportive. A lot of them were able to be there, whether it was in a watch party or in the audience, they were able to be in Memphis supporting me, which was so amazing. Their outpouring of love has been so awesome, it feels like they're on this journey with me.
PM: It is still early in your reign as Miss USA. Obviously, there's still another goal in the future.
AB: Yes, Miss Universe. Of course, I'm excited for that as well.
PM: What are some of the things you've been able to do so far?
AB: Well, the rules are very strict here in New York. Many things have been on Zoom, but that's the new normal now. I've been able to do a lot of different appearances and meetings virtually. I recently went to work with God's Love We Deliver, here in New York, which was so amazing to finally be doing something hands-on that was helping the community. That was such a blessing, being able to help make food and package things for people here who have chronic illnesses and dietary restrictions who can't get out and get the foods they need. God's Love We Deliver brings food to over 11,000 people here and I was grateful to be a part of that.
PM: I know you've had the opportunity with the weather to make snow angels with your roommate.
AB: Yes. Oh my goodness! It's actually snowing right now as we speak and I'm just watching it pile up. Snow angels are so much fun! They were a bit colder and deeper than I thought. I knew I was going to fall, but I didn't expect to fall so far. Oh, it was great. It's a little cold, but worth it.
PM: I know you're very familiar with the world of pageantry and the Glamor Lifestyle Industry. What have you learned from competing for different titles?
AB: Overall, I've learned a lot about myself and my capabilities. I think I've grown so much throughout my competitions in pageantry. I used to have the worst stage fright. I used to be terrified to speak in front of people and that's basically gone now. I've grown so much as an individual, but I've also gained so many life skills that'll carry me through the remainder of my life, which is truly a blessing.
PM: Would you like to talk about your personal platform?
AB: Yes, it's very important to me because it is my life story. I think we find a lot of things in life that we're passionate about, but when it's something you've experienced, it really hits differently. Growing up as a child of an incarcerated parent, I faced a lot of difficulties alongside my mother and siblings. My dad was our main source of income, so losing him, we lost his money as well. We lost our home to foreclosure. We struggled financially, emotionally, physically. There was just a lot of stress put on our family. I think everything happens for a reason and I truly wouldn't be where I am today in life had I not gone through so many hardships and obstacles. I like to tell people the difficulties we face today tend to prepare us for the things which lie ahead.
I gained a lot of strength. I gained a lot of knowledge about myself and the world around me. Through those difficulties, I was able to push myself to not be a statistic because statistically speaking, the child of an incarcerated parent should either follow in that cycle and become incarcerated themselves, or be pregnant, a school dropout, a drug user, and the list goes on and on. I was none of those things. I was able to become Miss USA, which is nowhere near the scale of expectation for someone who's been through things like myself.
I spent a lot of time working with inmates and at-risk children, sharing my story in hopes of inspiring someone and giving them an example to know regardless of the hardships they face, they can still accomplish their wildest dreams and aspirations. It's all about your mindset and what you do to prepare yourself for the future. You can allow your hardships to hinder you and keep you from progressing, or you can use them to strengthen you and push you even further towards your dreams and aspirations. That's what I chose to do and it served me well. It wasn't easy. It was very difficult. I felt like I had to work twice as hard just to get one step, but it was definitely worth it.
PM: You brought up a question that applies to a lot of people today, especially with COVID and people being under a lot of mental and financial stress. They're worried about foreclosure. What would you tell young people looking towards the future? What kind of hope can you impart to them in this crazy world we're living in right now?
AB: I feel like the world we're living in right now is so unpredictable. This is an unprecedented time none of us saw coming. As hard as it may be to predict where you may end up, I think it's important we continue striving to do our best. Also, really let people know when you need help.
I think that's one thing we need to learn to be comfortable with, is asking for help when we need it. Staying optimistic and doing all you can to better yourself. I know how difficult these times are for a lot of us and we may not know where our next step is or what may happen next. It's all about the optimism, your mindset, and just trying to stay in the right place and pushing yourself to do all you can to stay positive.
PM: After speaking with you, I'm thinking you are a very driven and determined person. Where does that come from?
AB: My dad. Growing up, he instilled a lot of the qualities I possess now. I'm so grateful for that because I grew up with four older brothers and I was the kid who was like, "Anything you can do, I can do better." He would say, "Get out there" and my brothers would be doing who knows what, and I'd try to outdo them. My dad would kind of egg it on, "Are you going to let your baby sister outdo you?" So then I'd try even harder. I always wanted to be the best at whatever I did and my dad really encouraged that in me.
PM: You've had an opportunity a lot of people have never enjoyed. As a young person, you attended summer school at Harvard. What was that like?
AB: The first couple of days I was there, I was a little bit homesick just because I could feel the distance. I'd never been that far by myself before. Once classes started, I began interacting with my roommates and my classmates. My mom called me at the end of the session and she said, "Do I even need to get you a plane ticket home?" I told her, "I'd rather you not, but I know I have to finish out my senior year." It was a life-changing experience for me because I was exposed to so many different cultures and people I had never been exposed to before. I learned so much. It broadened my horizons and I just felt so much growth while I was there. I also received eight college credits. It was an amazing opportunity that I am so grateful for and feel it has really helped to shape me.
PM: What goals do you have as Miss USA?
AB: I have so many goals in mind. I know things are a little bit difficult to accomplish amidst a global pandemic, but I think we found a way to do a lot virtually or safely socially distanced. I'm trying to work with different organizations when it comes to criminal justice reform. Partnering with these organizations, learning from them and making my impact as best as I can is really my ultimate goal. I feel like once I accomplish one goal, I'm onto the next one. So, I am hoping to make this a busy year.
PM: I do know one fun thing you were able to do this year, and that was attend the Egg Bowl.
AB: Yes, that was so much fun. I was so grateful to be back in my home state at Ole Miss. I was welcomed with open arms and the outpouring of love there was just truly incredible. So, that was one for the books.
PM: How can fans follow your journey as Miss USA?
AB: You can follow me mainly on Instagram, @asyadanielle or @missusa. I recently started a TikTok account, so you can find me at asyabranch. Please don't expect too much on TikTok because I'm still navigating my way through it.
To read the entire Miss USA 2020 feature with Asia Branch… Click Here