Crowning

Catriona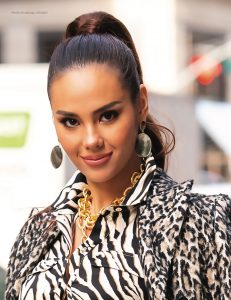 As Miss Universe 2018, Miss Philippines Catriona Gray adds yet another jewel to her country's crown
Exotic Bangkok, Thailand welcomed ninety-four of the most beautiful, confident, poised, and dedicated women from around the world to compete for the title of Miss Universe 2018. World renowned for its pristine tropical beaches, magnificent ancient ruins, ornate royal palaces, and Buddhist temples, this jewel of Southeast Asia provided the perfect hospitality and backdrop to the most coveted crown in the universe. And what a perfect setting it was.
From the opening production featuring traditional Thai drummers and dancers accompanying platinum recording artist Ne-Yo, this would be a show unlike any other in its production and elegance. From the great hall of the Impact Arena and hosted by Miss Universe staple Steve Harvey, replete in his custom bejeweled suit with ninety-four stones representing the ninety-four countries in the competition, the show quickly amped up the energy of the live and world-wide televised audience with the introduction of the Miss Universe delegates.
The Miss Universe Selection Committee would have the unenviable task of choosing the twenty semi-finalists who would compete for the illustrious title. And if you were wondering, the finalists would be chosen from three main regions: the Americas (5), Europe (5), and Africa & Asia Pacific (5), with the remaining five finalists chosen as wild card delegates from one of the three competitive regions.
The first group representing Africa & Asia Pacific welcomed Miss South Africa Tamaryn Green, Miss Philippines Catriona Gray, Miss Nepal Manita Devkota, Miss Vietnam H'Hen Nie, and Miss Thailand Sophida Kanchanarin. Following from Europe were Miss Poland Magdalena Swat, Miss Belgium Zoë Brunet, Miss Great Britain Dee-Ann Kentish-Rogers, Miss Hungary Enikő Kecskés, and Miss Ireland Grainne Gallanagh. Representing the Americas were Miss Curacao Akisha Albert, Miss Costa Rica Natalia Carvajal, Miss Canada Marta Stepien, Miss Puerto Rico Kiara Ortega, and Miss Jamaica Emily Maddison. Lastly, as the pressure built, the wild card finalists of Miss USA Sarah Rose Summers, Miss Venezuela Sthefany Gutiérrez, Miss Indonesia Sonia Citra, Miss Brazil Mayra Dias, and Miss Australia Francesca Hung were welcomed to the stage as the twenty representatives began their journey to the crown of Miss Universe 2018.
The initial competition to narrow the field was the new Opening Statement which allowed each delegate to present a personal message to her worldwide audience. This powerful Opening Statement would produce the top 10 contestants of Misses South Africa, Vietnam, Venezuela, Philippines, Costa Rica, Curacao, Nepal, Canada, Thailand, and Puerto Rico.
But before the next phases of competition would commence, the always spectacular and sometimes over-the-top National Costume winner was announced as Miss Laos On-anong Homsombath in a glittering gold and ingeniously designed costume that gave the illusion that she was one of three individuals. It was a "wow" moment, especially for the first year that Laos was represented in the competition.
The exciting and up-tempo Swimwear Competition was next and showcased the top ten in their commitment to a healthy lifestyle. They proudly took to the stage amidst a thunderous round of approving applause and shouts of encouragement. Next up was the Evening Gown Competition, the last opportunity for these stunning ladies to make a lasting impression on the Selection Committee.
Following the final stage presentations of the evening, all that remained was the announcement of the top five. This group consisted of Miss Puerto Rico, Miss Vietnam, Miss Philippines, Miss South Africa, and Miss Venezuela, who would field a final question as posed from one of her finalist sister delegates, winnowing the field to a final three. The final three contestants would answer the Final Word question, with each contestant hoping her ability to quickly think-on-her-feet would catapult her to the crown.
Finally, the evening's competitions were complete, and the Selection Committee had made its decision as to whom would wear the crown of Miss Universe 2018. Second runner-up was Miss Venezuela and First runner-up was Miss South Africa. And for the fourth time in history, the crowd roared its approval as Miss Philippines Catriona Gray would be forever revered as Miss Universe 2018.
Pageantry magazine: As the fourth woman to capture the Miss Universe crown representing the Philippines, what could possibly have been going through your mind standing center-stage?
Catriona Gray: In top two, it was the strangest sensation. I would always daydream that, "Wow, what if I was to be in the top two?" Would my heart be in my throat? Would I be hyperventilating? How would I be feeling?
But, in the actual moment, it's really strange to say that I just had this sense of calm over me. I just had this overwhelming sense of gratitude in my heart. Every step of the pageant journey, even getting into top 20, top 10, top 5, then top 3, then standing in top 2, every single time I was just so grateful. When I would look around the arena, when I could hear the people, seeing the Filipino flags, I knew that if I were to be first runner up, I had made my country proud. I had done the best that I could do, and everything happens for a reason. But if I were to be called, wow, what an amazing honor it would be to bring so much pride and joy to my country.
PM: Have you received any advice from your Philippine predecessor, Miss Universe 2015
Pia Wurtzbach?
CG: I met her on coronation night after I was crowned. We had a photo together, and she also messaged me on social media after. She was so, so sweet. She was just saying that I performed so well and that I'm in for a hell of a ride this year and to just enjoy every single moment of it.
PM: What are some of the media outlets you have visited thus far, and what has it been like?
CG: We've done Good Morning, America, and Good Day, New York. We've also done AOL Build, which I really enjoyed because there was a forum with questions from the audience, the associated press, and different media outlets here in New York City. I really loved it.
PM: Rumor has it that your mother dreamt that you would win Miss Universe in a red dress when you were a child.
CG: It's true. My mom has been watching Miss Universe ever since. Actually, just a small piece of trivia, my mom tried out for Miss Philippines back when she was a young girl, maybe around 17 years old. So my mom has been a fan of pageantry ever since.
When I was 13, she came to me one morning and said, "Sweetie, I dreamed of you winning Miss Universe, and you were in a red gown." I just shrugged it off like a disinterested teenager, like, "Aw, okay, Mom." I just didn't really have the interest in pageantry back then, or I didn't really see it for the platform that it is. But of course, when I was going on to represent the Philippines in Miss Universe and I was conceptualizing my evening dress, I remember my mom telling me that. So, I knew that I wanted to wear red.
PM: Can you tell us about your support of children's education, and specifically Young Focus?
CG: I grew up in Australia and then found myself as a teenager in the Philippines. Throughout all of my life, I had never experienced the reality of poverty firsthand. I've seen it through a screen or on a TV or in a movie, but there was something so different about walking along the streets of this area in Manila.
It's a place called Smokey Mountain, which is literally a mountain made up of trash, because it is a trash dump. Subsequently, a lot of families in the area make a living by scavenging through the rubbish and collecting and selling recyclable materials. So, as you could imagine, the living conditions there are heartbreaking. There are a lot of under-served children there. Instead of toys, they're playing with things that they collect in the dumps.
As a reality, as a consequence rather, instead of them going to school, a lot of them are pulled out early to help the family make ends meet, or they just never get the opportunity to go to school. When I first experienced that, I really struggled because I was just thinking, "What makes me so lucky that I was born in such a circumstance that I had a good childhood?" I never knew what it was like to feel hungry. I was given the opportunity to go to school. I was given the opportunity to pursue a dream. These kids are just born into this situation or this circumstance. It's not fair. Why do I get to dream and they don't?
So, that's why I fell in love with the cause, and it really struck a chord in me. Education is a tool that can really have the potential to break the cycle of poverty. Because, when you think about it, the education that you give a child can never be taken away from them. And if they are to develop a love for learning at a young age, to continue their academic career, they could possibly find work that could pull their whole family out of that situation and out of poverty.
PM: And you've founded your own school, correct?
CG: We actually fund-raised for a school center, like a building that is used as a school now. It was an apartment building previously. Very run down. So we fund-raised by approaching different organizations, different sponsors. I also held benefit concerts, because I sing. I held them in Canada and in Australia and in the Philippines to raise funds. I also auctioned off some artworks and did different events just to raise funds for this building. It has been in operation for the last two years, and that's something that I'm really, really proud of.
PM: Miss Universe has been an ardent supporter of HIV awareness. Can you describe your work with LoveYourself, Philippines?
CG: It's a very personal cause to me. Again, I draw from personal experience. When I was around 22 years old, I was working as a model, and one of the bookers that I worked with, he suddenly passed away at the age of 26. Before that point, he had never said anything. It was only later that we found out that he passed away due to health complications associated with HIV.
Throughout my years, I've met people who have friends, who have family, and more so as a volunteer at LoveYourself, Philippines, I've heard stories where it's affecting so many people. The reason that it is so prevalent in the Philippines is because there is a massive amount of stigma that surrounds it, where a lot of fear is there. It stops people from getting tested and from treatment being more accessible.
That is why I am really drawn to working with LoveYourself. It's a volunteer-run organization. They give free testing, free medication, free counseling and support and advice, all in regards to HIV and AIDS. I've been working as a volunteer there for about two years now. I really want to break down the stigma, especially because the majority of new cases of HIV in the Philippines affect people aged from 15 to 24 years old. When you think about that, you think about the fear that is encasing this whole issue. You imagine a young teenager defining their life, defining their worth, from that health condition. It's really heartbreaking. That's something that I really want to work to address.
PM: With a Master's certificate in Music Theory, how important do you think the arts are to society, and what can we do to help promote them more?
CG: Art is a universal language for me. It's something that everyone can fall in love with, the different facets of arts, whether it be music, whether it be movies, film, or even textiles, fabrics, and fashion. Music is just something that's been a love of mine ever since I was a little girl.
I also love being able to merge my love of music along with the causes that I'm passionate about. Actually, a month ago I released my first original song. It's called "We're In This Together." It's available on Spotify and iTunes­, and it's a message just calling people to really relate to other people who may not be as well off as them, and to spread the message that we're all in this together, so we should all help each other.
The music video was actually shot in Smokey Mountain and where my charity, Young Focus, is based. It is a tool that I really wanted to use to create awareness for the area and to create awareness for the need of education for the children there and in impoverished areas. It's really in merging my love of arts with my causes that I really do feel fulfilled, and I think that arts is an amazing medium or an amazing vessel that people could utilize to connect with.
PM: What does the title of Miss Universe mean to you?
CG: The work that I've been doing as Miss Philippines and as a volunteer, it was so fulfilling to me. And now that I've been blessed and given this wider and larger audience, I'm able to not only create awareness, but educate and actually lend my voice to these causes and these organizations. It's really doing the work that I love on a larger level and being able to positively impact more people, which I think is an amazing, amazing opportunity. It's something that I'm incredibly grateful for, but I know that with it comes this huge responsibility.
PM: Of course everyone loved your evening gown. It was the talk of social media. How did you come up with the idea of representing the Mayon volcano?
CG: Actually, my hometown in Philippines is home to the Mount Mayon volcano, so it does have that connection to me. Also, there is a very popular folklore, or legend, associated with that volcano, which is about Daragang Magayon, which means the beautiful lady. My mother's maiden name, or my middle name, Magnayon, is almost the derivation from that. So, I just had all of these links. And, of course, with being in my mind that I wanted red, it just seemed to kind of fall into place with me and my designer, Mak Tumang. We really just collaborated, and it came out with that fiery red gown.
PM: Tell me something about yourself that no one has asked you yet.
CG: I'm super, super outdoorsy. When I was 15 and 16 years old I did a two-year course in outdoor recreation in Australia, so I know how to absail and rock climb and kayak and canoe and cave. So, I'm always game for an adventure.
PM: How can people follow you throughout the year?
CG: They can obviously find me on Miss Universe social media, which is @missuniverse on Twitter, Facebook, Instagram, and YouTube. Or they could also check into my personal accounts on Instagram. It's catriona_gray. And it's catrionagray on Twitter and Facebook and YouTube. I'll be posting about different causes that I'm passionate about, how people can help, and how people can help raise awareness, too.