Miss Teen USA 2019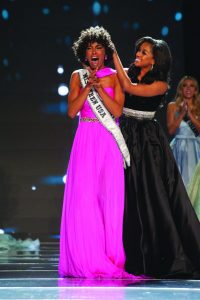 To subscribe to Pageantry magazine… Click Here
The Biggest Little City in the World, Reno, Nevada, and the Grand Sierra Resort welcomed the fifty-one state representatives vying for the Miss Teen USA 2019 title. Hosted by Tim Tialdo and Miss USA 2014 Nia Sanchez, the exciting night would showcase these confident and beautiful young women to a worldwide viewing audience via the Miss Teen USA webcast.
As the live theater audience rose to their feet with applause and support of each delegate, the show commenced with the Miss Teen USA state introductions, followed by the announcement of the Top 15 who would vie for the title and crown: Miss Oklahoma Teen USA Abigail Billings, Miss Kansas Teen USA Hannah Debok, Miss Illinois Teen USA AíMaiya Allen, Miss Arkansas Teen USA Maggie Williams, Miss Nebraska Teen USA Erin Shae Swanson, Miss Mississippi Teen USA Kaylee Brooke McCollum, Miss South Carolina Teen USA Allie Richardson, Miss Maryland Teen USA Amalia Sanches, Miss North Dakota Teen USA Caitlyn Vogel, Miss Alabama Teen USA Kalin Burt, Miss Massachusetts Teen USA Annie Lu, Miss Nevada Teen USA Erica Yvette Bonilla, Miss Connecticut Teen USA Kaliegh Garris, Miss Wyoming Teen USA Grace Turner, and Miss Tennessee Teen USA Bailey Guy.
With worldwide keyboard enthusiasts providing commentary and competition opinions during the live-stream, the Miss Teen USA 2019 stage presentations kicked off with the boundless energy of the Active Wear Competition, whereby each finalist confirmed her commitment to a fit and healthy lifestyle.
Next, the Miss Teen USA Evening Gown Parade and Competition would help narrow the field of the Top 15. Elegance, poise, and grace were displayed in abundance and the difficult decisions presented to the Selection Committee were apparent. However, the judgements were cast and the finalist were narrowed to a Top 5 representing the states of Mississippi, North Dakota, Nevada, Connecticut, and Alabama who would advance to the Question Round.
Fielding questions from the Selection Committee, the Top 5 addressed questions such as Why does anxiety and depression seem to affect their generation more than any other?; Do they agree or disagree with the proposal of Senator Elizabeth Warren to cancel or reduce college debt of some Americans?; Should community service be mandatory for 18 year olds as proposed by Mayor Pete Buttigieg?; Why they felt young women seem less motivated by money than their male peers?; and Did they feel that our current political system is working or not? These were extremely pertinent and thought-provoking questions which many adults would have a hard time addressing, much less in front of a worldwide audience and with a time limit imposed to answer succinctly and eloquently.
As the votes of the Selection Committee were tallied and verified, words of encouragement were expressed both from the live venue and from viewers following the live-stream Miss Teen USA broadcast. As the world awaited the announcement, one special award was given to a delegate voted upon by her peers. As one of their own, Miss Minnesota Teen USA was welcomed and applauded as Miss Congeniality.
After the major competitions of Active Wear, Evening Gown and the Final Question were impressed upon the Selection Committee, the Miss Teen USA results were proclaimed: 4th Runner-up Miss Teen USA Alabama, 3rd Runner-up Miss Teen USA Mississippi, and 2nd Runner-up Miss Teen USA Nevada.
In true pageantry style, the two remaining delegates stood center stage awaiting the announcement. With the decibel levels reaching an all-time high, Miss North Dakota Teen USA became 1st runner-up as Miss Connecticut USA Kaliegh Garris was presented as Miss Teen USA 2019, only the second woman from Connecticut to capture the Miss Teen USA title.
Recently, Pageantry magazine had the opportunity to speak with Miss Teen USA 2019 Kaliegh Garris to revisit her title winning night and to look ahead at her year as Miss Teen USA.
Pageantry magazine: What do you remember most about when you heard your name, Miss Connecticut, announced as Miss Teen USA 2019?
Kaliegh Garris: I remember thinking, "What's next?" Also, I was trying to search for my mom in the audience and I actually yelled, "Mom," in the video and you can see my lips say it. She is my number one supporter and she always has been. So it was a big deal for me, but it also was a big deal for her as well.
PM: How long did that pause seem with you and Miss Teen USA North Dakota standing center stage?
KG: It felt like it took forever and they were doing a dramatic pause. I knew that was going to happen, but then I was just standing, thinking, "What is taking so long?" I look over Miss North Dakota's shoulder and I see the cameramen were just starting the circle to film around us. So I was like, "They're going to say it after they finish this circle, so I'm going to have to wait all this time."
PM: You're now the second young woman from Connecticut to become Miss Teen USA. How special is this?
KG: It's actually really cool because I personally know the previous Miss Teen USA from Connecticut, Logan West. Our moms worked together, so I knew her growing up. Of course, there's a little bit of an age gap, but it was really cool because she was the only one from Connecticut and now I can follow in her footsteps. It's a little legacy that we have going on.
PM: Being the youngest of three, has there been a shift in the dynamics of your household?
KG: Not exactly. My twin sisters are eight years older than I am. My sister, Samantha, she's in the military so she's been out of the house for a while now. My other sister, Chauntel, has always lived with us in the home because she has multiple disabilities. I would say she's the happiest one in the family. My entire family still treats me exactly the same. I'm the youngest of all three, so they would say I need the most attention and that I'm kind of the spunky one, so nothing really has changed that much.
PM: As a competitive dancer for over 10 years, how did that discipline prepare you for Miss Teen USA?
KG: I would just say sticking to a schedule because your classes are the same every single week and you have to learn how to handle going to two high schools as well as going to dance and practicing more than 10 hours a week. It really has helped me to focus because dance is really where I de-stress. It allows me to stay focused and stay on a schedule, but also allows me to get out any extra stress I am feeling. I know that if I'm feeling stressed or I'm overwhelmed with something, I just have to be doing what I enjoy the most to get my mind off of it and then I have more clarity after.
PM: Do you have a favorite discipline?
KG: I really like contemporary dance. That is my favorite style, and has been my solo style of dance for probably the past seven years. It's something I really enjoy because you can tell a story and portray emotion through dancing.
PM: Why are the arts important in today's society?
KG: The arts are so important because I feel as though when we grow up we lose the ability to have fun and to be creative because we're so focused on getting the job and fitting into the office. I feel as though if we keep the arts, we keep our minds open and for me, I don't feel like I have to fit into a mold. Going to a creative art school and meeting people who are so like-minded in the sense that they are open to new ideas and new thoughts is great. We're able to have conversations and make eye contact with our teachers, having that professional relationship with our teachers, but still be able to learn from them and really trust them.
PM: You've competed in pageantry before, what do you feel competing teaches you?
KG: I feel it teaches you to be yourself because you start off not knowing what you're doing. I personally started when I was eight. I was looking up videos of the pageants and trying to figure out how they all work. At first, I was just doing pageants because my sister did them and I thought she was so cool for being on stage in a gown; I really looked up to her. So I begged and begged my mom to let me do them.
They were all natural pageants. I couldn't wear any makeup or extensions in my hair. It was all about me. Through the years, I straightened my hair. Then after a while, I cut my hair because I wanted to embrace who I truly was more. When I went into pageantry with my natural hair, I realized I didn't want to take that part of myself away because I thought that's how a pageant girl should look. So it has taught me to be myself and allow myself to stay true to who I am.
PM: A lot of opinions were expressed early about your personal decision, against recommendations, to compete with natural hair. How did you come to that decision?
KG: I wasn't thinking of pageantry when I cut my hair because growing up I only did one pageant a year. It wasn't something which was constantly going through my head. When I cut my hair, it was because I had heat damage and my hair kept getting shorter and shorter. I lost the baby hairs on the front of my head and my hair was just damaged. So I decided to let it start growing out. I kept braiding it repeatedly, every single day until the curls were grown out enough to where I could cut it.
When I went back to my next pageant, I had the option to straighten my hair and add extensions, which people had recommended. It wasn't necessarily because they didn't like my curly hair, it was because they knew what has been winning. I told them, "No, I want to keep my curly hair." I think it makes me different. I think it makes me stand out and it makes me unique. I feel special when I wear my natural hair. That's when I feel most like myself. So I wore my curly hair and it's been working out pretty well for me.
PM: The media tour has been fantastic, especially when appearing as one of the three African American major titleholders. Does this recognition have any special importance to you?
KG: I just think the time that we're in is amazing because there's so much change happening. I feel as though there being three women of color who have won their respective titles is changing beauty standards. I think because it is such a large conversation, it still shows how far we have to go when it isn't abnormal for three women of color to win. I think it shows how far we've come, but how far we still really have to go.
PM: Tell us about your personal movement, We Are People 1st.
KG: I started We Are People 1st a couple of years ago because I have a sister with multiple disabilities. I go to public schools and different events where I talk to students and adults about how to properly use People First language. So, a good example of that is instead of saying, "the autistic boy", you say, "the boy with autism." It's more respectful because you're talking about somebody with a disability, and it doesn't necessarily have to focus on the fact they have a disability first.
My sister, Chauntel, always had a ton of people staring at her because she's in a wheelchair. I never understood that because my sister is my normal. So I'd get really mad sometimes at parents who would just stare at my sister and my family in the mall or would pull their children away from her because they thought my sister was going to hurt them, even though she can't move from her chair.
That made me really frustrated and I wanted to be able to educate and show people that sometimes others have mental disabilities or physical disabilities, but that doesn't make them any different from you and I. They may have to do something a little bit differently, but that doesn't mean they're incapable of doing the same things we are able to do.
PM: And you eventually wish to become a trauma nurse, correct?
KG: Yes. I'm going to Southern Connecticut State University and I am in the nursing major. The plan for nursing is to become a nurse anesthetist. You go to school for four years, then you work at a trauma center for two, and then you go back to school to get certified in anesthesiology.
PM: Although it is still new, what does the title of Miss Teen USA represent to you?
KG: It represents just being a teen, being able to be a positive role model for younger girls and boys and sometime older people as well. It means being able to show them you can be professional, but you could still have fun, be yourself, have a personality and be able to have respectful conversations. It also means having fun with your friends and just living like an everyday teen.
PM: What have you learned about yourself since capturing the title?
KG: I've learned that I really haven't changed. A lot people thought this when I came back from Teen USA, "Oh, she's going to be different because she won this title.î I flew back home and the first thing I had was a dance competition on the same day I got back. So, I raced to the dance competition and all of my friends came over because they want to congratulate me. I just started doing this really weird dance, and they're like, "Nope, still the same Kaliegh." I learned all of these opportunities I've been getting shouldn't change me because I still want to be the same person at the end of the day that I was at the start of it.
PM: How do you manage your time as a student and the responsibilities of Miss Teen USA?
KG: I just graduated from my high school, but during the competition I had to balance my schoolwork and pageant preparations. All of my teachers were very kind and they knew how much it meant to win Teen USA, so they had one-on-one sessions with me to get missing work and learn the material. It was really kind of them.
PM: What is your number one wish to accomplish as Miss Teen USA?
KG: My number one goal is to make as many people as possible feel accepted and loved because I know growing up, a lot of people feel as though that they're not wanted or they don't make a difference in someone's life. I want to teach as many people as I can that they matter to me and no matter how little or big our conversations are, they still had an impact on my life.
When I go out and somebody recognizes me, but they're too afraid to come up to me, I always go up and introduce myself because I want them to know they are noticed and they don't have to be afraid of talking to me. I'm not this person on this higher shelf. I'm the same as them. I want as many people as possible to feel loved and feel that appreciation.
PM: How can people follow you throughout your year?
KG: They can follow me on Instagram. It's just my name Kaliegh Garris and that is actually all of my handles across Instagram, Twitter and Facebook.
PM: Is there anyone that you would like to recognize?
KG: I just want to say thank you to my mom and my family for going along with me on this crazy road. It has been such an amazing ride and it's still going. At times it can be stressful, but I really appreciate all of them for helping me along the way, especially my mother for always being there.
To subscribe to Pageantry magazine… Click Here
To read the entire feature in PageantryDigital, Click Here
To learn more about Miss Teen USA… Click Here