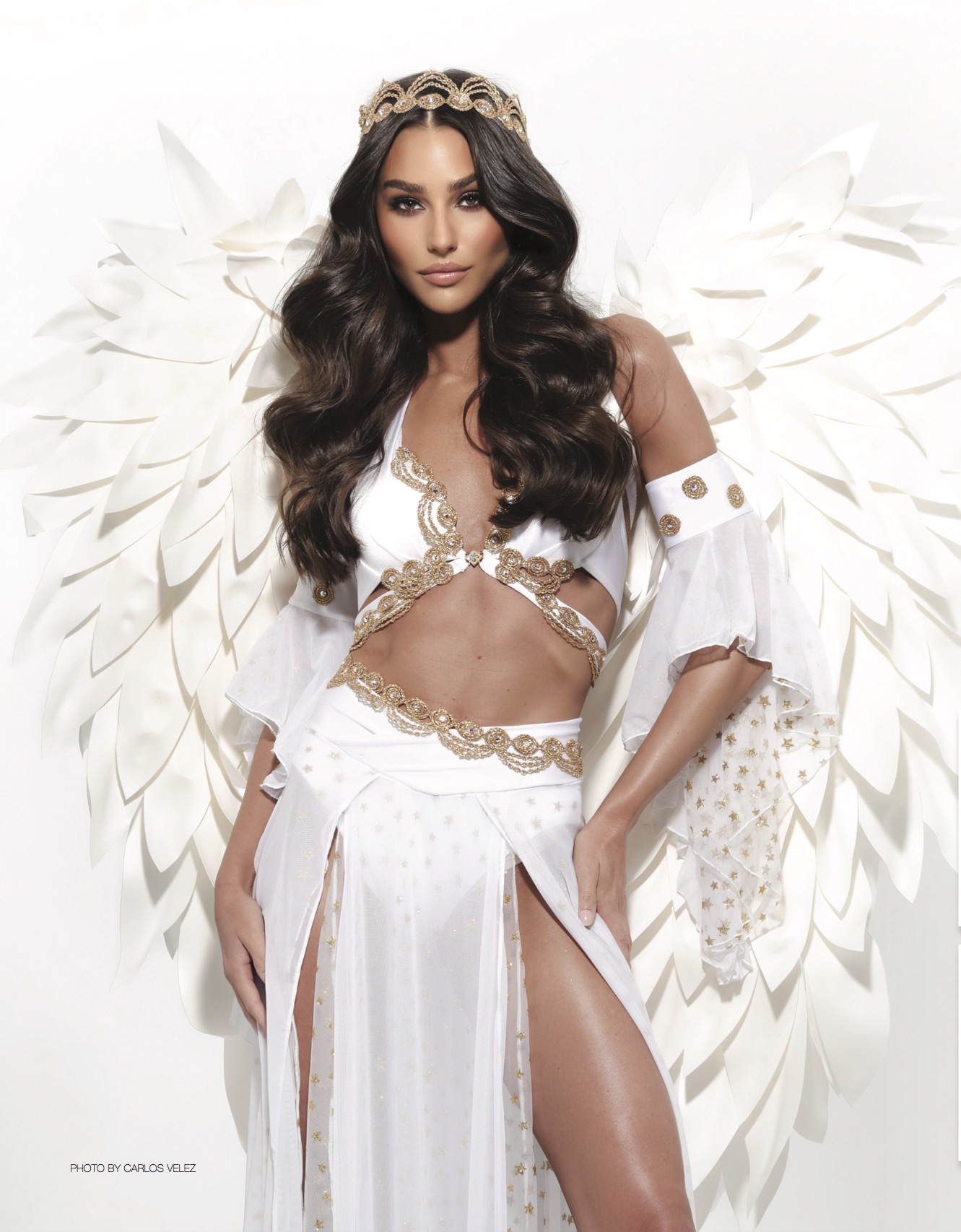 Miss Earth USA delegates, supporters and sponsors prepared to venture to the entertainment capital of the world, Las Vegas, for the 20th Anniversary Miss Earth USA 2020 Pageant and the crowning of the most eco-friendly queen throughout the U.S. However, 2020 and a worldwide pandemic had other plans for these environmentally conscious representatives.
In true pageantry spirit, production plans were methodically devised to reinvent this pageant into a worldwide, virtual celebration of the ideals and platforms of these Earth angels who promote environmental responsibility, which is a very real concern for our worldwide population. Whether in person or virtually active, these women represent the "Beauty for a Cause" with passion, grace, and of course, beauty.
As the worldwide audience logged into the Miss Earth USA streaming broadcast, many who may not have been familiar with the Miss Earth USA Pageant system were excited to realize that in addition to Miss Earth USA, four additional titles would be awarded representing the "Elements" of Air, Water, Fire, and Eco. Delegates first submitted video montages of the various competitions and cause communications, then spent three days with live chats and online judges' interviews, all while the viewing audience waited with anticipation. Virtual reality is our new worldwide reality.
The Miss Earth USA delegates would compete in Runway, Evening Gown, and Swimwear, again, through a submitted video which they produced. Runway featured each delegate modeling along with a complete bio of her goals and accomplishments. The glamorous Evening Gown followed after and the Top 15 finalists were announced: District of Columbia, Shannon Lynch; Nebraska, Angel Strong; Louisiana, LeighAnna Kingvalsky; Rhode Island, Alexandra Curtis; Atlantic Ocean, Lindsey Coffey; Alabama, Kennedy Thomas; North Carolina, Lili Klainer; Georgia, Autumn Adams; Oklahoma, Jessi Stringer; Delaware, Kayla Morgan; New York, Skylee Lawton; New Mexico, Bianca Wright; Virginia, Brianna Ruff; Central Plains, Amaya McGough; and Idaho, Paige Jensen. These fifteen "Earth Angels" would now compete, virtually, in Swimwear with an abundance of health and confidence.
Following Swimsuit, the Top 10 of GA, AL, DC, Atlantic Ocean, NE, NC, RI, Central Plains, LA, and Delaware had one final opportunity to impress their eco-friendly policies on the world by answering the question: "Why Beauties for a Cause?" All that awaited was the final announcement of the four elements and Miss Earth USA 2020.
As announced in order were the court of Miss Earth USA 2020: Miss Eco USA Alexandra Curtis – Rhode Island, Miss Fire USA LeighAnna Kingvalsky – Louisiana, Miss Water USA Autumn Adams – Georgia, and Miss Air USA Shannon Lynch – District of Columbia. With the recognition of the four elemental titles, the comments section of the virtual broadcast exploded with congratulations as Lindsey Coffey (Atlantic Ocean) was bestowed the title of Miss Earth USA 2020.
While not a live pageant broadcast in the normal sense, normality is just a formality these days. The Miss Earth USA delegates, director Laura Clark, Miss Earth USA supporters, and team provided a unique insight into the goals and aspirations of these Earth angels; they are truly, Beauty for a Cause. Congratulations to Miss Earth USA 2020 Lindsey Coffey as she competes virtually in the 2020 Miss Earth Pageant and continues to make our Earth and our environment a top priority for a better world for all.
No matter the results of the virtual Miss Earth 2020 Pageant, Lindsey will go down in history as the 20th Miss Earth USA and the first to compete during a virtual international competition. She will crown her successor on January 17, 2021 at the next national live pageant in Orlando, Florida.
Pageantry magazine: What does the title of Miss Earth USA mean to you?
Lindsey Coffey: Being a title holder, especially for Miss Earth USA, gives me the opportunity to stand for something much greater than myself. I never thought I would have that opportunity presented to me until I joined this system, and having this title gives me more motivation and more direction on where I really want to go and the impact I really want to make. This makes me want to scream out from the rooftop, "Hey, I have the ability to make a difference and so can you, and let's do this together."
PM: How did you become interested in competing for the title?
LC: I ended up exploring pageantry systems and when Miss Earth came about, our priorities aligned completely. Having a system which revolved around something I was so passionate about spoke volumes to me. I said, "I need to do this. If I don't do this, I'm just watching an opportunity go by. I need to grab this." That's what really got me into it, was knowing somebody had the exact same passion as me and expressed it just how I wanted to express it.
PM: Can you explain the tagline "Beauty for a Cause?"
LC: Yes, I love the phrase that we're a "Beauty for a Cause." That was really what our Miss Earth USA pageant focused on: why are you a Beauty for a Cause? I'm a Beauty for a Cause every day when I try and make a difference, no matter how small. Whether donating my blood every 60 days because I have a universal blood type or picking up trash on the side of the road, I am a Beauty for a Cause because I stand for something greater than myself. My end goal was to always make an impact, no matter how small. That is how I define Beauty for a Cause.
PM: What was the most difficult aspect of competing in a virtual online competition?
LC: It is so challenging. You're putting on an entire production yourself. You don't have the crew who does it for you. Now, fortunately, it's not like the Miss Earth USA pageant where I literally did everything by myself; it was just me, my cell phone, and a tripod. At least now I have a team behind me, but we have to act as an entire production. We have to make something entertaining, make something eye catching, and something people want to watch. The most difficult idea is trying to put something together that is very creative, expressive and attention getting.
PM: You are actually competing for the title of Miss Earth as we speak today. What has your schedule been like?
LC: Everything is go, go, go. We spent a week in Florida, then we spent some time in New York, after we had to go back to Florida, and now we are talking about going to DC. There are many different locations and a lot of moving around. We also put in a lot of planning into backdrops; we needed to find historical, famous backdrops which were elegant and poised as well. It has been a bit hectic, a bit stressful, a bit overwhelming, but I say all of those in the best possible sense. It has been amazing, to put it shortly, and I have been able to meet so many new team members. It has been hectic, but a good hectic.
PM: What have you learned about yourself as Miss Earth USA?
LC: I've learned I'm capable. That was something I've always questioned about myself because sometimes I wonder, "Who am I to make a difference? Who am I to deserve this title? Am I able to reach the potential I've always wanted?" I'm my worst critic. That is what this title has taught me: I am capable, I am worthy, and I am deserving. If I can put my mind to it and I really care about the cause, then I know I'm going to be successful.
PM: Talk to me a little bit about ecotourism.
LC: Ecotourism! This has been on trend and it should always be on trend because ecotourism, in a sense, is just visiting local national parks or wildlife refuges where you are putting good into that environment. You are supporting the local workforce. You are supporting the environment surrounding your destination. You are committed to preserving that land as well. We have a lot of ecotourism in the United States, such as Hawaii, Colorado, Virginia, and Alaska.
Whenever you get to go and immerse yourself in nature, I think that is one of the best vacations because you're truly going back to your roots. Most likely, you're also having a once in a lifetime experience to live like a local in that area. You're not going to an all-inclusive resort, you're going to Mother Earth. This is where you came from. You're going back to the woods. You're supporting the species and the environment within there.
I think it is a beautiful idea and more people need to jump on that because we don't know how long our lands are going to look like this. It's about time we step up our game, go visit and support our local communities and environments, truly support ecotourism.
PM: With Miss Earth, there's a plethora of different causes we can look at, but one that's very specific to you is the worldwide water crisis. Can you expand on?
LC: With the climate crisis, we have four major contributors to consider: global warming, pollution, biodiversity loss, and the water crisis. The water crisis is my advocacy because it is a global issue which poses the most immediate risk to humanity and regional stability.
The one staple we cannot live without is water. We have many issues facing our water today, it's such a broad topic. We have fracking, we have water pollution, we have water scarcity, we have outdated or a lack of infrastructure. We have already seen countries which have had water crises such as South Africa, Lebanon, India, Israel, and Jordan. We have seen all of this, and just because they are the first countries to have a water crisis does not mean they're going to be the last.
We need to focus on this while we can because without water it completely ruins our life cycle and we are facing extinction across the species worldwide. That is why it is so imperative to address this immediately because we only have 1% of the Earth's water that is usable, even though most of our world is water. We need to take the water we have and utilize it to provide more fresh water. If we end up having hydropower plants instead of using fossil fuels, we'll be able to turn this around and emit less carbon into the air because that carbon also goes into our oceans and creates ocean acidification.
From the ocean acidification we have carbonic acid, which gets evaporated into our atmosphere. This then turns into acid rain that goes into our crops where we harvest our food, which then we consume, thus consuming all those chemical influences as well. There is a complete life cycle which revolves around water. It affects every aspect of life and that is why this issue is so crucial to discuss.
PM: Do you feel the United States should rejoin the Paris Accord?
LC: Absolutely, because the Paris Accord is basically a goal and a mindset. If we can hold ourselves accountable, that is when we are more prone to action. If we are signed into the Paris Agreement and make commitments such as, "We're going to lower our emissions by this much, and by this year," and we fail to meet that goal, then globally we are judged poorly for it. We're keeping ourselves accountable through written action and that is a great motivator.
PM: Let's talk about your dual degrees and how they may help you in promoting these environmental causes as Miss Earth USA 2020.
LC: I have a background in Political Science and Communications. Basically, since I studied how to view politics from a humanistic and scientific perspective, I'm able to see both sides of the argument. I'm able to be a diplomat, but I'm also able to profess my views to the best of my ability where there are no gray areas. I can be diplomatic and really understand where each party is coming from, but then I can also stand my ground.
I feel that helps me a lot with my title because the climate crisis is a political issue since the only way to combat it is to implement legislation and new policies. Having a political background helps me analyze policies we have now and possible policies we can put into law in the future. We can see the benefit of the environment, and we can also see the benefit of our country from a financial gain. We have to take in all of those aspects and having a background in politics helps me understand each of those aspects.
PM: In addition to being Miss Earth USA, you're also a working model. How have you been able to balance the time constraints with both?
LC: It actually hasn't been bad. As I mentioned briefly, with my job I already move around a lot. I work in a lot of different places with a lot of different team members, so basically I felt the same. I haven't had too many conflicts with my schedule, especially due to the pandemic making everything a bit slower for work.
PM: You've traveled extensively around the world. Has that given you the foundation to carry on the work you wish to do as Miss Earth USA 2020?
LC: My travels have turned me into the person I am today. The experiences I've had, the people I've met, the places I've seen, that is who makes me, me. My travels have given me the opportunity to be cultured, open-minded and well-rounded. I was able to see how different people live, how different people interact, just the different cultures, the different foods, the different lifestyle. That has given me such a great perspective on our world because I like to say that I'm more than my country. In order to be Miss Earth USA, you have to be more than your country. I've lived in Australia, I've lived in Africa, I've lived in Europe, I've lived in South America. I'm not just an American, I'm a citizen of the world, and that is what really helps me carry on the title of Miss Earth USA.
PM: In a few months, you're going to crown your successor. Even though you're only a few months into your own reign, what advice can you provide to your successor?
LC: I would like to speak to her, even just one-on-one, to see how she was feeling. When I was crowned, I had so many nerves and questioned myself, "Can I do this? Am I deserving of this title?" That's what I had to work through. What I would tell her is that no matter how overwhelmed she is, no matter how much she gets in her own head, you can do this. You won this title for a reason. If you're determined, you're passionate, then you should have no fear that you're going to conquer.
PM: How can fans of Miss Earth USA, and yourself, follow you?
LC: I have three Instagram accounts at the moment. We have the Miss Earth USA Instagram account, and my personal Miss Earth USA page, ecoangelusa2020. I also have my business page, which is at lindseymariecoffey. Then we have our Miss Earth USA Facebook, and my personal Facebook, Lindsey Coffey.
To learn more about the Miss Earth USA Pageant… Click Here
To learn more about Miss Earth USA… Click Here