Payton Places the
Focus

on

Teens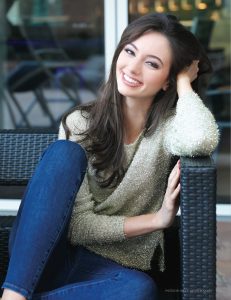 Payton May of Washington captures the title of Miss America's Outstanding Teen in the City Beautiful
The City Beautiful. Truer words have never been spoken as fifty-one of the most talented, intelligent and ambitious teens from across the country traveled to Orlando, FL, to compete for the coveted title of Miss America's Outstanding Teen 2020. For the past 14 years, the Miss America's Outstanding Teen competition has called the Orange County Convention Center's Linda Chapin Theater home. After two days of interview competition and three preliminary nights of competition, the week culminated with the energy infused final night of competition which included a few surprises for the teens and the audience. This year, for the very first time, the contestants would become the seventh judge and receive a vote in deciding who would become the new Miss America's Outstanding Teen!
At the top of the evening, all fifty-one teens enthusiastically presented themselves with video introductions and then all eyes turned to hosts Austin Romero and Miss America 2019 Nia Franklin, as they announced the top fifteen: MAOTeen Oklahoma, MAOTeen Tennessee, MAOTeen South Carolina, MAOTeen Kentucky, MAOTeen Indiana, MAOTeen Missouri, MAOTeen Arizona, MAOTeen Washington, MAOTeen Nebraska, MAOTeen New Jersey, MAOTeen Louisiana, MAOTeen Pennsylvania, MAOTeen Alabama, MAOTeen Idaho, and MAOTeen Mississippi.
The night began with Lifestyle and Fitness, featuring the fifty-one teens in active wear, and the finalists kept the energy high as they showcased their personal commitment to a healthy lifestyle. Following was the Talent competition where the contestants wowed the audience with their amazing displays of dance, vocal performance and instrumental presentations. Finally, while exuding grace, poise, and confidence, the teens competed in Evening Gown and ended with the On-stage question.
As the audience awaited the final decision, Miss America's Outstanding Teen 2019 London Hibbs, expressed her deepest appreciation for the organization during her final farewell. The scores had been tabulated and the proclamation announced: 4th Runner-up, Miss Missouri's Outstanding Teen, Shae Smith: $2,000.00 scholarship, 3rd runner-up, Miss Tennessee's Outstanding Teen, Taylor Parsons: $5,000.00 scholarship, 2nd Runner-up, Miss Kentucky's Outstanding Teen, Landry Feldmeier: $7,500.00 scholarship, and 1st Runner-up, Miss Arizona's Outstanding Teen, Katelyn Cai: $10,000.00 scholarship, leaving Miss Washington's Outstanding Teen, Payton May as the newly crowned Miss America's Outstanding Teen 2020. She captured the $30,000.00 scholarship in addition to her $500.00 preliminary award for Evening Gown/On-stage Question.
Pageantry magazine: How does it feel now, to be recognized as Miss America's Outstanding Teen 2020?
Payton May: It is absolutely phenomenal. It's crazy to think back just a little over a year ago, I was sitting on my couch in my living room watching London getting crowned, and just thinking I wanted to be her. So actually having the honor of wearing that crown and holding that title, it's truly remarkable, and it doesn't feel real most of the time.
PM: Has it started to sink in more and more?
Payton: A little bit more, yeah, but it's still crazy. Any time I have an appearance, or I get to put on the crown, I still have to remind myself this is who I actually am. I look in the mirror and think, "Oh my goodness. This is me. I'm Miss America's Outstanding Teen." It's wild.
PM: Speaking of putting the crown on, what do you remember most about when you realized you had captured the title?
Payton: Oh my goodness, I honestly don't remember a lot about that moment because I felt so overwhelmed with emotion. Getting to compete with those 50 amazing girls, becoming best friends with them, and getting to stand there with Katelyn in the final two, and just knowing one of us was going to become the next national titleholder, it was just such an amazing feeling! I can remember feeling so overwhelmed with joy and happiness at that moment.
PM: Tell us about some of the appearances you've been able to make thus far.
Payton: One of the first things I got to do was come back home to Clark County and participate in the Clark County Fair, which is a really big deal in our community. I was there for about a week, every single day, and I got to help out in the dairy booth, which was really amazing. I got to meet all these little kids and make them milkshakes. I also got to introduce myself at the monster truck shows, which was so cool because everyone was so excited. I think the craziest part was that last year at the fair, I was introducing myself as Miss Clark County's Outstanding Teen, and now I got to come back to introduce myself as Miss America's Outstanding Teen. The community was so supportive of me.
I've also been able to make other appearances since winning the title. I had the opportunity to go to Carmel, Indiana and attend the Great American Songbook Foundation Gala. That was phenomenal. I got to meet Paul Williams and a lot of other really amazing performers and artists. I got to appreciate the history of music and art in this country. It was so amazing to be flown out there and to be able to have that experience.
PM: Have you had a chance to visit with any Children's Miracle Network hospitals yet?
Payton: Yes, I have. I actually went to Seattle Children's hospital last weekend, which is the largest children's hospital in Washington State I believe. Actually, I used to live pretty close to there, so it was really cool to go back. I got to spend time in the playroom, got to blow bubbles with the children, and got to color some crowns with them; it was a really fun time, and it was amazing to see the difference I could make in their day, even if just for a few minutes.
PM: What did you learn about yourself when meeting these amazing young people?
Payton: I realized how blessed I am, in the sense that I'm healthy and I have a great life. Yet, here are these little girls who definitely don't have the same blessings I do, but they still have a smile on their face, and they still choose to fight through it every single day. Just seeing their positivity and the mark they leave on the world, just by being themselves and by choosing to spread kindness and joy, it's just such a reminder we are all so blessed to be on this Earth, to be kind to one another, and to spread joy even on our worst days.
PM: Please explain your platform, "Your Voice Matters, Educating the Voters of Tomorrow."
Payton: Ever since I was little, I've been involved with politics. My mom worked on the governor's campaign in Washington just a couple years ago. I've always been around politicians and immersed in that world. One of the things I've noticed as I've gotten older is teenagers, especially in high school, really have no interest in the political process or in our democracy. When I was trying to come up with a platform, I wanted to do something I was really passionate about, and that was getting teenagers involved in voting, making them feel like they have a voice in our democracy.
One of the main goals I have with my platform is to register teenagers in high school to vote. I've already done multiple voter registration drives at my high school, which has been really remarkable because I registered over 50% of our senior class so far. Since so many teenagers either don't have the resources or they just don't even know how to register to vote, registration drives like these make all the difference. Being able to make that an easier process for teenagers is the whole objective of my platform.
PM: How do you get them, not only to register to vote, but also get them interested in participating in the political process?
Payton: I ask students, "What are you passionate about? What are things you want to see change in our country?" Then, I tell them they have the opportunity to change those things by registering to vote, and voting for candidates who reflect the same values and ideals they stand for. I really take it on a personal level, and try to help them understand that if they utilize their voice, and they elect the candidates who they believe will truly enact the changes they want to see in our country, then their voices will be heard and they will matter.
PM: What do you feel is the most pressing challenge facing teens in the world today?
Payton: One of the most pressing issues I see a lot with teenagers and young adults, especially with my friends, and sometimes even with myself, is having a negative self-image of our body or of the way we look. I have experience with disordered eating, and knowing what it's like to not feel confident in your body as well as feeling like you need to change yourself in order to fit in. That's one of the things that's always been really disappointing and sad for me to see: girls who are so beautiful, who are just trying to be themselves and show the world who they are, but they can't, because they feel like they have to compare themselves to models or other girls who are prettier than they think they are.
One of the things I really focus on, especially if I'm talking to girls who are my own age, and who I know may be struggling with the same things I am, is we're all beautiful in our own right. We all matter regardless of what we look like, and we shouldn't have to change our eating habits, or our diet, or the workouts we do in order to look or feel a certain way.
PM: As a senior in high school, have you decided on college and where you would like to attend?
Payton: Yes, I have. For a couple years my dream school has been University of Southern California. I won't find out if I got in until January of 2020, but I'm crossing my fingers I get accepted. It'd be so incredibly exciting to be able to go there.
PM: How do your peers view you now as Miss America's Outstanding Teen?
Payton: In a way, I feel like not a lot has changed, except my nickname now is Miss America. It's all in good fun. Some of my teachers call me it, and of course, some of my friends, but everyone's been really amazing and supportive so far. So many of my teachers are understanding when I have to miss school to go do community service projects, or when I may not get my homework entirely done because I'm up late doing something for my Miss America's Outstanding Teen responsibilities, but for the most part, the outpouring of love I've received from my school administration, my friends, and fellow peers has just been amazing. I'm glad to have that support system behind me.
PM: Keeping with Miss America's Outstanding Teen, during the competition, you performed vocally. How long have you been training?
Payton: I started training when I was six years old. I'm trained in classical and operatic voice, but I actually sang more musical theater songs for my talent in Miss America's Outstanding Teen, which is kind of my guilty pleasure. I love Broadway music so very much, and especially Judy Garland. It's just something which brings me so much joy and happiness, and I never, ever want to stop singing.
PM: Why do you feel the arts are important in today's society?
Payton: I am someone who's so involved with the arts at my school: I participate in chamber choir, I'm a member of the drama club, and I attend almost every single orchestra, band, choir concert and performance. It's such a huge part of my high school experience, and speaking for myself, it has made an impact on not only my day-to-day school life, but on my grades and my academics as well. Singing and the arts allow me to have a creative release which I don't receive in the rest of my academic classes.
I actually start my day with choir as it's my first period class. It's a great way to start my day at school, and to begin on a really happy and positive note. I think anyone who can or has the opportunity to should definitely take classes in the arts at their school. There's always beginner courses for choir, orchestra, art, and photography. If you can take those at your school, it's going to benefit you so, so much, especially in your academics.
PM: How can people follow you throughout your year of service?
Payton: Where I'm most active is on my Instagram page, which is MAOTeen. My personal is Payton.May, but if you want to keep up on all things Miss America's Outstanding Teen, definitely follow the MAOTeen page. I can also be found on Facebook, as Miss America's Outstanding Teen.
PM: Do you have any shout-outs or anybody special you would like to acknowledge or thank?
Payton: The first people I want to thank are my parents. I talk about them all the time. They're basically my best friends. I give all the credit to my parents for raising me to be the person I am today. They're so incredibly supportive of everything I do. I truly don't think I could've become Miss America's Outstanding Teen without their help and everything they've sacrificed for me to get here.
Then, of course, my state director, Lana, who has just been so instrumental in helping me prepare for nationals. Also, my very first local director, Sheri Backous. I'm still in contact with her all the time. She runs the Miss Clark County program, which is an outstanding program in our state. She's pretty much taught me everything I know about pageants and the Miss America Organization, so I'm super thankful for her as well.
To read the entire MAOTeen feature with Payton May, click here of PageantryDigital