The time had come to crown the 90th young woman to wear the crown of Miss America. The Fourth Runner-Up and recipient of a $10,000 scholarship is Miss Oklahoma Emoly West; the Third Runner-Up and recipient of a $15,000 scholarship is Miss Washington Jacquie Brown; the Second Runner-Up and recipient of a $20,000 scholarship is Miss Hawaii Jalee Fuselier.
In the anxiety-filled moments that can only exist on live network television, the two remaining Miss America hopefuls could only wait and dream of their name to be called as the audience screamed their support and best wishes. The honor of First Runner-Up and recipient of a $25,000 scholarship belongs to Miss Arkansas Alyse Eady. The 90th woman to capture the crown of Miss America, as bequeathed by the 50th Anniversary Miss America 1971 Phyllis George, and its $50,000 scholarship award, is Miss Teresa Scanlan.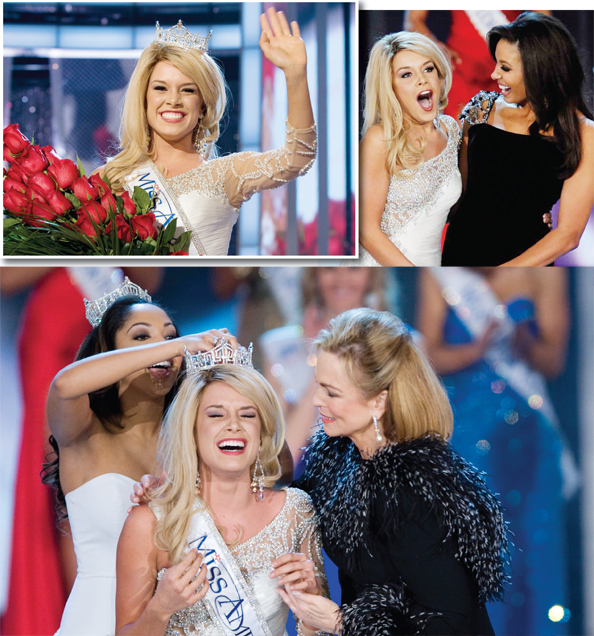 One-of-a-Kind: As the very first Miss Nebraska to win the title of Miss America, Teresa Scanlan is also the organization's youngest national titleholder in 84 years. After being congratulated by 1st runner-up Alyse Eady, Teresa is then crowned by her predecessors Caressa Cameron and Miss America 1971 Phyllis George and makes her historic walk across the iconic pageant's stage.
As the nation welcomed her newest Miss America, the youngest Miss America in decades, and first from the state of Nebraska, Miss America 2011 Teresa Scanlan joined a sisterhood that has been celebrated for 90 years. We all wish we could celebrate with this much style, grace, and beauty at 90.
Pageantry magazine: It's only been a few months since you captured the title of Miss America. What were your initial thoughts and have you become accustomed to the role?
Teresa Scanlan: I certainly think so, it's been just a lot of fun. Honestly, the last few years I've become the kind of person that enjoys this job, and I certainly wasn't always that way. A couple years ago I never would have imagined myself in this position, and I certainly would not have enjoyed it.
PM: Being the first young woman to wear the Miss America crown from Nebraska, how exciting was your homecoming?
TS: It was amazing. We had such a great time. It was just so neat to go home and see so many people that have been there your entire life and they're still there for you.
PM: Initially, a lot of press was given not only to your age, but also the maturity level you projected. How does it feel to wear the crown as the youngest Miss America in decades?
TS: It's certainly an honor and a privilege, and it makes me want to work harder at this and really uphold the position to the best of my ability. It's incredible to see at the 90th anniversary, celebrating such a timeless tradition, and also celebrating that it's young and youthful and that a teenager could still win the title. It's not just me—there are so many teenagers across the country doing amazing things, and it's just neat to be able to shine the spotlight on them and show the world that my generation is stepping up and is holding themselves to a higher standard, and isn't just settling for average anymore.
PM: You actually had a birthday at the Super Bowl?
TS: Right, it was so neat and we had a lot of fun. I got to watch the game, have thousands of people there for my birthday party, the Black Eyed Peas performed for me—there's no way to top that birthday, that's for sure. We had such a wonderful time, certainly one I'll never forget.
PM: As the newest and youngest member of the Miss America Sorority, have you received any valuable advice from your predecessors?
TS: There have been a few, especially Katie Stam and Kirsten Haglund, who have both been very supportive and great. We've been able to talk a little bit about what to expect this year and in the years to come, and how to prepare for that. You do realize what a great sisterhood it is and a great thing to be a part of, and to have all of these amazing women who have done such terrific things be there for you.
PM: As this is a title that you will have for the rest of your life, has the reality set in for your family and friends?
TS: There are always moments that are breathtaking, that you don't really think are real, but I think it's enough that we've all accepted it but are still surprised by it. It's been long enough that the reality has mostly set in. It might take all year, though.
PM: It was an historical and triumphal return to network television on the 90th anniversary of the event. What was it like meeting so many of your Miss America sisters who attended the event?
TS: We were all so excited about that, and it was really neat to see the ratings numbers after. We just did so well this year, which is great for the future. Hopefully, we can continue to build on that. It was the 90th anniversary and we came back so strong and that was an incredible thing to be a part of.
They (former titleholders) were just incredible. When I was younger, I read the book that Heather Whitestone's mother wrote about her experiences as the first Miss America with a disability. Reading that book was one of my first experiences learning about Miss America, so being able to see her there and meet so many others that I had heard about was just incredible.
PM: What can you tell us about your original decision to pursue the crown?
TS: The dream to become Miss America hasn't been that long in the making for me. When I was 13, I competed in my first pageant and it was just the county fair pageant in my hometown in Nebraska. It was something that I realized that I loved, and I was good at it and had fun with it. I thought, I'm going to find some more pageants to compete in, but at that time it was just something that was fun for me, and I didn't have my dream set as high as Miss America.
I remember when I was about 14 or 15, I was watching the Miss America Pageant for the very first time—it was the year that Kirsten Haglund had won—and one of the ladies who was a local director there said, "Teresa, are you going to be on that stage someday?" I said maybe, but she said that I had to believe it and that it would happen. And only a few years later, I was competing on that stage. Without going for it and without trying, if you let fear hold you back you'll never know what could happen.
PM: Even in these few short months, you have had a very active schedule. What are a few of the most memorable moments so far?
TS: Out of this time already, there have been so many. But in general, the most memorable are the visits to the Children's Miracle Network hospitals and the military hospitals with the USO. Those are things that will always stick out in my mind, that I'll never forget.
They make you realize your priorities and make you think about what life is really all about, and how important it is. These are breathtaking experiences that we can certainly never replace. I wish every person my age—and any age—had the opportunity to have those experiences. But I am just so thankful and grateful that I am able to have those experiences visiting those children and visiting those wounded soldiers. It really does change your life.
PM: After the pageant, we spoke of my sons' excited call following the talent portion of the competition, as they also play the piano. What advice can you impart to those who are inclined to the path of the instrumentalist?
TS: I can't encourage them enough. I was sad to see that out of 53 Miss America contestants, there were five pianists and a fiddle. Those were the only instrumentalists. It's disappointing to see that not that many people go toward instruments, and I encourage every young person, if they're interested at all, to try an instrument. Obviously it's not for everybody, but for those people who are interested, try it and see and don't ever give up. I knew I was never going to be a concert pianist, and I'm not nearly as proficient as I should be after 11 years, but it's something I love. It's something that is fun for me, and it's relaxing and reenergizing. I wouldn't trade it for the world, and I will continue to play hopefully through college and beyond.
PM: As a scholarship program, the Miss America Organization is the largest in the world for young women. How much does the organization make available each year?
TS: $45 million per year, and that is on the local, state and national level. It's amazing. It's just outstanding to see that many dollars made available to young women across the country. For me, it became absolutely essential as I'm going to school next year and now I have my entire undergraduate—as well as part of law school—paid for by the scholarships I've earned through the competitions. It's essential because my parents have seven of us to put through college and scholarships are absolutely necessary for me to go to the schools that I'd like to. I'm looking toward Harvard for law school and that is not cheap. This has made that dream more of a reality.
PM: What does the title of Miss America mean to you?
TS: It obviously means the things that it was founded upon—the principles of service, scholarship, style and success. It's about the process of searching, eliminating and finding one person that hopefully inspires others to dream, to hope and to follow. That can be a huge role to fill, but we have to realize that although everyone is human and everyone makes mistakes, we also have to realize that there is nothing wrong with idealism. This is what it's about—the American ideal, and showing others that they can achieve their dreams by showing accomplishment and success, and that's what I hope to do. If anyone had the odds stacked against them, it would have been me, being from a state that has never won, a small town in western Nebraska and so young, I never thought this would have happened. It may seem cliché to say that, but now I'm a believer more than ever before.
PM: It's still early in your year-of-service. When you eventually pass on your title to your successor, what do you hope to have accomplished this year?
TS: I want to be remembered as someone who loved others, and that may seem like pageant cliché but that's honestly what this is. I want my reputation to be that of showing love to others, being accepting of others, and that everyone can feel that love and warmth from me. I feel that so many times, young people do not feel like they have someone in their lives who truly loves them, but I want everyone to have that in their lives because I was blessed to have parents and a family who provided that for me. It can be hard sometimes, people criticizing our dreams and putting us down, but I want my reputation to be that I kept on going and I never gave up and continued showing love to others.
[To listen to the interview in its entirety, visit the Pageantry PodCast]