T he 2011 edition of the Guinness World Records features 288 pages of people who have made names for themselves by performing incredible tasks, pulling off unthinkable stunts, possessing remarkable habits, and exhibiting all-around quirks. Included in those pages is a 19-year old girl who made history because of her hard work and dedication to achieving a life's ambition. When Stefania Fernandez was crowned Miss Universe last summer, she earned her place among the Guinness greats because she was the first-ever Miss Universe to be crowned by a fellow countrywoman.
On August 23, 2009, Stefania was declared Miss Universe in front of the world's most talented, beautiful and intelligent women, and she was crowned by her Miss Venezuela predecessor Dayana Mendoza forever cementing the duo in history. But global fame is hardly Stefania's priority. She's embraced the duties of Miss Universe strongly this past year, so much that she's dedicated to remaining on a campaign to educate people in every country about the realities of HIV. For now, though, she's going to rest up before she waits to see if she sets another record by crowning another Miss Venezuela.
Across the Universe: (Top to Bottom) Stefania is taught how to crochet a bracelet by a craftswoman from Same Sky, a charity that offers sustainable income to Rwandan women affected by the 1994 Genocide. Stefania and Secretary of the Presidency for the Dominican Republic Cesar Pina Toribio in the Ministry of the President's Office. Stefania with renowned chef, Mark Murphy, at City Harvest's "Summer in the City." Patricia Velasquez, founder of the Wayuu Taya Foundation, thanks Stefania for her support of the Wayuu, Latin-America's indigenous people that live in the region of Guajiran Peninsula.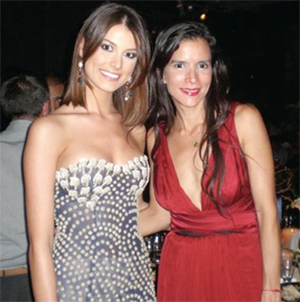 Pageantry magazine: Almost a year ago, you were crowned Miss Universe in the Bahamas, and you were the second Miss Universe in a row to be crowned from Venezuela. How have your countrymen and women reacted to that?
Stefania Fernandez: The people in my country were so excited and so happy, they call me all the time. They can't believe that this is the first time that Miss Universe is from the same country [back-to-back] and they are just all so, so happy.
PM: Why do you think Venezuela is so successful at Miss Universe?
SF: It's because we work very hard and we want it a lot—to be Miss Venezuela. We have English classes, oratory classes, makeup class, hair class—the people know that we have to do that every day when we go to the Miss Universe Pageant. For three weeks we have to wake up very early and do everything for ourselves, and we train in Venezuela for one year, so that is why.
PM: So like Miss Universe, being Miss Venezuela is a full-time job and they do prepare you?
SF: Yes, it is a full-time job. When I won Miss Venezuela, I worked every day, with no weekends. When I won Miss Universe, it was a little bit the same but it's not preparing you to go to another pageant. I've been working with people who have HIV, traveling around the world and going to events, so it's a little bit different. But you never sleep throughout the entire year. Every moment of every week I have something to do, so sometimes I have to say, "Please, I need one day free" and they say, "No, you have to be here." But I really enjoy it a lot.
PM: As Miss Universe, you've had the opportunity to travel the world, as you just mentioned. What are some of the countries that you have visited?
SF: I've visited the Dominican Republic, Puerto Rico, Mexico, Brazil, Indonesia, Rwanda, the Czech Republic, Russia—so many countries. I learned a lot about the cultures, the people, and about the food—I just tried too many things. I've really liked it and I learned a lot this year.
PM: Looking back, if you had to pick, which country was totally different from what you expected before you went?
SF: When I was in Africa and Rwanda, I was so proud of those people, because they really love their countries. They are working very hard to become good countries, and I was just so happy for those people.
PM: Has there been a certain memory that you'll never forget, an experience that you'll take with you forever, as your year comes to a conclusion?
SF: When I went back to my home country Venezuela for the first time after Miss Universe, the parade for my homecoming was so big, and I was so excited and happy. We were all so crazy, and everyone was excited that I was there, so for us all it was really big.
PM: You've traveled the world as Miss Universe. Of course, as Miss Universe, you have certain causes that you promote. Tell us a little about that.
SF: When I became Miss Universe, I took on the causes of the Latino Commission and Aid for AIDS. I have been working with those organizations here in New York. When we have time we travel around the world, like when I went to the Dominican Republic to visit schools and talk to the young guys and ladies about HIV. We talk about prevention and how people have to be aware, and I went to so many classes. Don't look at me as just Miss Universe, but look at me as Stefania Fernandez, who is going to keep working with these organizations even after I finish.
PM: You earned your title and you captured your crown in the Bahamas. On August 23, you'll be going to Las Vegas and the Mandalay Bay. Have you been able to check that out yet?
SF: Yes, I was there for the Latin Grammys, and it's a beautiful place and everyone really enjoyed it there, so I think it's going to be a really great place, but I will be a little bit sad.
PM: Speaking of being sad, is there something you're going to miss most once your year comes to an end?
SF: I am going to miss everyone at the Miss Universe Organization, because they are like my family here. I will be so sad, but I have to understand that it's just one year. But one that I'll never forget.
PM: And what are you most looking forward to?
SF: I want to go home and spend time with my family and rest for one or two months. Then I want to study communications.
PM: Any acting? Maybe we'll see you on the big screen.
SF: Maybe. We have the New York Film Academy [as part of the MUO prize package], and maybe I'll take them up on that. But right now I have to practice my English a little more, so maybe I will take it.
PM: Everybody always wants to know—on August 23, there will be a new Miss Universe. What will be your first words of advice to her?
SF: The first thing I would say to her is that you have to enjoy it. During the year, there are sometimes that you will be so tired, but you have to think that you have this opportunity to meet so many people and Donald Trump gave you that opportunity. It's an amazing year and you will go to so many beautiful places, so you have to enjoy that.
PM: You became Miss Universe at a relatively young age, 19 years. There are young women all over the world, what would you like to say to them as they pursue their dreams, whether as Miss Universe or as a worldwide celebrity?
SF: Being a celebrity or being famous is very hard. I've been working on that since I was about 15-years old, when I was in my first pageant. It's very, very hard, but I would tell all people that if they want something, then they have to work for that. Nothing is easy in life.
PM: Are there any dreams or goals of yours that you'd like more people to know about?
SF: I think people know so much about me already. I try to be a very open person, and that way I can represent my title very well and I can also represent my home country very well. h
[To hear the complete interview with Stefania Fernandez, please click Pageantry PodCasts.]