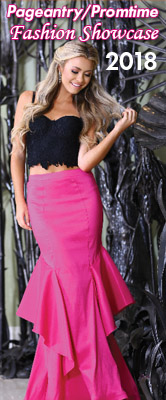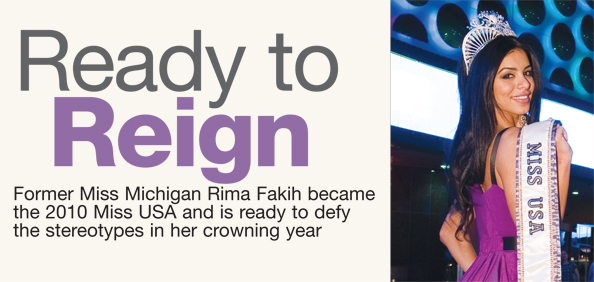 With the aplomb that only one of pageantry's most recognizable personalities can possess, Donald Trump officially opened the live Las Vegas telecast from Planet Hollywood Casino and Resort with the introduction of the 51 contestants vying for the crown of Miss USA 2010, along with the hosts and special guest performers. The explosive energy and glitz of the opening production bode well for the show that could rival any of the other Vegas venues throughout the evening.

With hosts Natalie Morales of the Today Show and celebrity chef Curtis Stone guiding the night's festivities, the announcement of the Top 15 delegates, who would showcase their qualifications to earn the crown of Miss USA and take the spotlight, was made. To the cheers of hometown and state supporters, Miss Arkansas Adrielle Churchill, Miss Kansas Bethany Gerber, Miss Michigan Rima Fakih, Miss Wyoming Claire Schriener, Miss Pennsylvania Gina Cerilli, Miss California Nicole Michele Johnson, Miss Colorado Jessica Hartman, Miss Tennessee Tucker Perry, Miss Oklahoma Morgan Elizabeth Woolard, Miss Missouri Ashley Strohmier, Miss Alabama Audrey Moore, Miss Nebraska Belinda Wright, Miss Virginia Samantha Casey, Miss Mississippi Breanna Ponder and Miss Maine Katie Whittier moved on to the next round. The life of one of these young ladies would change forever on this night.
The Top 15 finalists hoping to catch the eyes of the impaneled judges began the quest for the crown of Miss USA in earnest. With the band Boys Like Girls providing the tempo whilst performing its newest hit single "Heart Heart Heartbreak," the audience was treated to the first competition of the evening—Swimsuit. In a competition in which the average combined judges' scores were beamed to the television audience, the delegates were being winnowed from 15 to 10. The results? 21-year-old Miss TN, 26-year-old Miss ME, 20-year-old Miss MS, 24-year-old Miss AL, 24-year-old Miss MI, 21-year-old Miss OK, 21-year-old Miss MO, 24-year-old Miss CA, 21-year-old Miss VA, and 19-year-old Miss CO.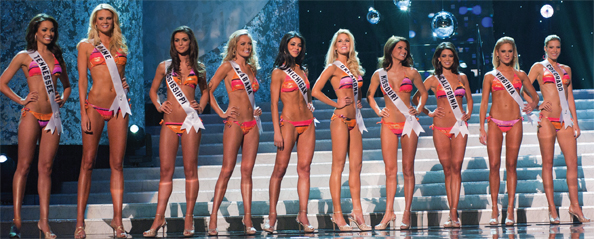 Eye-Kandy: The 10 MISS USA 2010 semifinalists competing for the title of MISS USA 2010 pose together in swimwear by Kandy Wrappers and Nina footwear. (L-R) Tucker Perry, Miss Tennessee USA 2010; Katie Whittier, Miss Maine USA 2010; Breanne Ponder, Miss Mississippi USA 2010; Audrey Moore, Miss Alabama USA 2010; Rima Fakih, Miss Michigan USA 2010; Morgan Elizabeth Woolard, Miss Oklahoma USA 2010; Ashley Strohmier, Miss Missouri USA 2010; Nicole Michele Johnson, Miss California USA 2010; Samantha Casey, Miss Virginia USA 2010; and Jessica Hartman, Miss Colorado USA 2010.
Following the pop-rock tempo of swimsuit and video montage of the Miss USA finalists, the ever-elegant evening gown presentation would glide by to the effortless vocalization of county superstar Trace Adkins crooning his recently released single "This Ain't No love Song." From evening gowns in a variety of styles and fabrics—such as jersey, chiffon, and beaded accents—to gowns with cutouts, one shoulder ensembles, and strapless to backless, the personal and glamorous stylings were a testament to grace and beauty.
Before the announcement of the Top 5 contestants who would continue the quest for the Miss USA crown, two special awards were given. Miss Congeniality, as recognized by her sister delegates, went to Miss Nebraska Belinda Wright and Miss Photogenic Online, as voted by the public, to Miss Alabama Audrey Moore. And then, the Top 5 states were called. Taking center stage Miss OK (5'9"), Miss MI (5'9"), Miss CO (5'10"), Miss VA (5'9"), and Miss ME (6'). All that remained between the dream of Miss USA and reality was the final question posed to each finalist as presented by the panel of judges.
Fabulous Five: (Above L-R) Morgan Elizabeth Woolard, Miss Oklahoma USA 2010; Rima Fakih, Miss Michigan USA 2010; Jessica Hartman, Miss Colorado USA 2010; Samantha Casey, Miss Virginia USA 2010; and Katie Whittier, Miss Maine USA 2010, are announced as the Top 5. (Below) Rima elicits laughter from hosts Curtis Stone and Natalie Morales during her final question.
And nothing about the final questions were stereotypical in the least. The thought provoking queries, as evidenced at times by the audience reaction, were direct, socially conscious, and timely. Questions ranged from state rights, the anonymity of social network responsibility, immigration, health benefits, and the responsibility for the environmental disaster of the Gulf oil spill. How many individuals could stand before a live telecast and speak on such profound issues in the spur-of-the-moment, without notes or a teleprompter, while speaking with compassion and conviction? Well, these young ladies can... and did.
The Miss USA competitions of swimsuit, evening gown, and the final question were complete. The judges' decisions submitted. The tabulation of the scores verified. From 51 dreams of the Miss USA crown - to 15 - to 10 - to the remaining five. The results—4th alternate Miss Maine Katie Whittier, 3rd alternate Miss Colorado Jessica Hartman, 2nd alternate Miss Virginia Samantha Casey, 1st alternate Miss Oklahoma Morgan Elizabeth Woolard, and from Dearborn, Michigan, Miss USA 2010 Rima Fakih. What's next for Miss USA? Read the interview as she becomes settled into her New York apartment and prepares to return to the scene of her triumph in Las Vegas for the Miss Universe pageant.

Head to Head: (Above Left) Morgan Elizabeth Woolard, Miss Oklahoma USA 2010; and Rima Fakih, Miss Michigan USA 2010, support each other before the announcement of Miss USA 2010, by Co-Hosts Natalie Morales and Curtis Stone. (Below) Rima speaks to the media on stage while being congratulated by the other delegates after being crowned. (Above Right) Rima Fakih, 24, of Dearborn, Michigan, points to the adoring crowd after being crowned Miss USA 2010 at the conclusion of the LIVE NBC telecast.
Pageantry magazine: Take us back to Las Vegas. What was your first thought upon hearing your name announced as Miss USA?
Rima Fakih: It's hard to explain, and I don't think anyone can really know how I felt that night unless they were in my shoes, because it was at that point that I realized—Did they just say my name? I turned around and looked at the girls because I felt like I had 50 sisters, and they all just pointed at me like, "Yeah Rima, they just called your name." They knew what I was going through. The whole night, I kept thinking, this can't be happening, this just feels too good to be true. I went to sleep that night with the crown on the pillow next to me, and every time I'd wake up I'd make sure it was still there.
PM: Do you still sleep with it on your pillow?
RF: That's a secret [laughs].
PM: What was the journey of getting to Las Vegas like for you?
RF: It was very tough, just because of all the preparations that took place to get ready for Miss USA. But at the same time it was a memorable moment, and I would do it again if I had to because it's exciting. Who can complain about shopping? I know the working out, the dieting and the exercising I had to do was tough, but this is something that I will carry on throughout all of my life. If someone asked me what my biggest accomplishment is, it's not just that I won Miss USA, it's that I put in all of my confidence into doing so much and I actually achieved what I wanted to do.
PM: Has the enormity of the experience been fully realized by your family and friends?
RF: I call my family everyday, and everyday when my mom answers the phone she yells, "Oh my God, it's Rima!" And I say, "Mom, I call you everyday" but it's just exciting to hear her voice. My dad said something to me on Father's Day. I arrived from Africa, and I called him right after I got off the plane to wish him a happy Father's Day, and he said, "You know, Rima, I always knew you were strong, I just didn't know how strong you were until now." He's seen that when I set my mind to something, and I want to do it, I do it. I put that dream from when I was little into my mind and I actually went for it.
PM: And of course you had the full support of your family backing you, correct?
RF: Oh 110 percent. It was actually my mother who wanted her little girl who was a tomboy to be the princess and pageant girl. My mom was my PR manager, my dad was my support system, my brothers and sisters were the ones who were always wanting to give me their input and tell me what looks best on me. They're the people besides my director, who have helped me and supported me.
PM: Which competition or event do you remember most from Las Vegas?
RF: I have one happy one and one sad one. The happy one was meeting with Donald Trump. He's someone I've always looked up to, and also the reason I chose Business in school as a degree, just from being raised in New York and reading so much about Mr. Trump and his business planning. It was an honor to me. It was like meeting a celebrity, an actor or an artist, or just someone a person looks up to—that was Donald Trump. The second experience was sad, yet it made me grow so close to all of the girls and the Miss USA Organization staff. That was when one of the girls [Miss Nebraska Belinda Wright] lost her father during the pageant, and we were able to all gather together and come together as a family to pray. You just kind of see everyone for more of who they are, because you can't ever really get to know someone in only two weeks. It was a really touching moment, and I'll never forget that.
PM: It was really a sign of the sisterhood that you all have, that the general public doesn't get to witness on a daily basis.
RF: I was just talking to someone who does the pageant at Miss Michigan, and they mentioned to me that during the pageant everyone was making comments while watching the telecast, and he kept telling them, "I was just like you until I judged a pageant, and there is so much that goes into this pageant. It's not what you see right now on this night, it's everything that has built up through the weeks that equal this night." When the judges are looking at the girls, they know a lot more about them than everyone else does.
PM: It is still relatively recent (since you won Miss USA), but what are some of the opportunities that you have been able to enjoy as Miss USA?
RF: There have been so many. The interviews. I got to travel to Houston and Boston. I got to play touch football with Tom Brady. I was able to see some of the Miss Teens, as they're going for Miss Teen USA soon, and I'm very happy that I'm going to be a part of that. And being able to go to Rwanda with Miss Universe (Stefania Fernandez) to meet with the victims of the genocide. I get to go to China, and Las Vegas... it's definitely a dream come true. I love the traveling, and I don't mind the hectic life like everyone calls it. To me it's like working a dream job, rather than working like I used to work before—part-time jobs and sitting behind a desk. It's definitely a full-time job being Miss USA, but it's an honor and a privilege.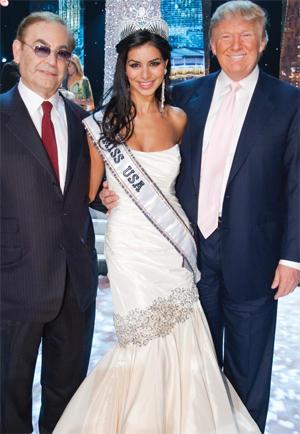 Rima's World: Rima Fakih's whole world is about to change as she pauses to pose with Judge Phil Ruffin (L), and Donald Trump (R) on stage after the 59th annual MISS USA competition before embarking on her world-wide promotional tour.

PM: With all the television appearances and doing the talk show circuit, you've had the opportunity to move to New York into the famous apartment. And now you don't even need a car, right?
RF: Nope, I don't need a car, I don't need to pay rent, I don't need to pay electricity, and I don't have a phone bill. Every time I put that key into the door to the apartment, I say, Wow, I'm lucky and I'm so happy to be here. It took me a while. People are like, "We have Miss USA on the phone," and I think, Oh my God, they just called me Miss USA. So it's definitely an honor, and you have to always remember where you came from and how hard you worked. A lot of girls tend to think that if they become Miss USA or Miss Universe, then that's it—life has started. But they forget who they really were—like I was as Rima. Every girl wants to be in your shoes, so you have to take that as a gift.

PM: Obviously you're very grounded and you understand the time and the commitment and the sacrifices that people like yourself have to make to earn this title. And speaking of earning a title, how did you prepare yourself for Are You Smarter Than a Fifth Grader?
RF: The Miss Universe Organization is a group of some very well-skilled, well-rounded people—businessmen, marketing, fashion, you name it and they know everything. They surprised me when they told me they had talked to my old elementary school, because I had grown up in New York City, and they wanted to take me back to PS69, my elementary school, and the fifth graders had prepared questions for me—just like the game show—to help me prepare. I assume we're going to the classrooms and are going to talk to kids, and I get there and hear a voice, and I was shocked because I knew the voice and it was my fifth grade teacher. They did the whole thing just like the show, and they put together a very good set of questions. I felt so happy after I left because it made me realize that I know what I need to work on and I know how prepared I am now.

PM: Have you received any advice from your sisterhood of previous Miss USA titleholders?
RF: I got to see Kristen Dalton's previous show of Are You Smarter Than a Fifth Grader? Paula Shugart, our wonderful president, got me a couple books, and they also got me a fifth grade textbook with quizzes, so everywhere I'm traveling I take them with me on the plane and at the airport, while I'm doing my hair, whatever I'm doing I have them in my purse. It's like my bible right now.

PM: You also have a competition to prepare for coming up later this summer.
RF: Miss Universe! August 23rd. I can't wait for that.

PM: With almost a full year ahead, what is your dream and what do you hope is the legacy of Rima Fakih?
RF: I don't see it as leaving, because once you're crowned Miss USA, Miss Universe or Miss Teen USA, you will always be that. You'll always be a part of the Miss Universe family. I see it as accomplishing more, because I'm always reaching for the stars. I see it as taking this title to the extreme. I think there is still a stereotype out there about Miss USA and Miss Universe, whether about dieting or education and knowledge level or the reputation. I just want to take it to another level and show everybody exactly what these girls are. Being a Miss USA and Miss Michigan, to me these girls are the ultimate package. I called my dad the first day at Miss USA and I said, "These girls are hot, smart and funny" and he said, "Yeah, they're a bunch of Rimas." It's amazing, all these wonderful girls. Everyone comes with a different gift. That's why everyone should look at themselves and not compare themselves to other people. The way I like to take it, from now until I'm hopefully 110—with great skin—I'd like for everyone to know that I was Miss USA, and I still am Miss USA by heart and by soul.

PM: What advice do you have for all of our readers who are looking to become Miss USA?
RF: I say this not only to girls who are titleholders or looking to be in pageants, but I say this to women, children and men—you have to always believe in yourself and be confident. It's like the book "The Secret." If you want to be Miss USA, then you have to act like Miss USA. That doesn't mean you have to do the pageant wave or walk around like you've got a crown on your head. It means you're good to others and you're good to yourself. No one can bring you down, you have to always believe in yourself and be positive about everything. Never think negatively and always believe that everything happens for a reason. Everything takes preparation and research. Anyone who says they can't do something is just lazy. It took a long time for me to adapt to dieting, but I finally did, and I lost the weight that I wanted to lose through proper dieting and exercising. I wanted it so bad that I put it in my mind that I won't let anything stop me. Nothing can stop me.

PM: Any parting thoughts?
RF: Watch me compete for Miss Universe on August 23rd at the Mandalay Bay Resort and Casino, and I want everyone's support because USA's gotta get it! h

[To hear the complete interview with Rima Fakih, please click Pageantry PodCasts.]

w