PM: What's it like working for Mr. Trump?
KD: He's a great boss, he works so hard for us. I really don't see him that much, but when I do he's always so supportive of what we do, and he's also so supportive of the USO and that's one of my favorite causes. He's a good boss, it's very inspiring to work for him. He holds us to a very high standard.
PM: And as Miss USA you're in the very unique position of having two sister queens. What were some of the highlights that the three of you shared this year?
KD: This had to be one of the best years of the three titleholders living together because we all got along so well, we were so laid back and there was no drama. I'd say one of the most fun things that we did, as the three of us, was creating our holiday video that we made for the Web site. We made a ginger bread house that day, decorated the apartment, goofed around and we were just really in the holiday spirit. We also go to dinner together all the time and that's really just the best bonding experience.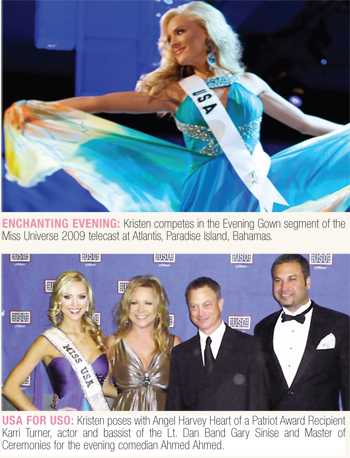 PM: With the title and recognition that comes with being Miss USA, what were some of the highlights of your own year?
KD: I've done so many cool things throughout the year. One of my favorite things is that I'm learning how to salsa and I'm going to perform in the World Salsa Congress. I can speak Spanish and I love to travel so I wanted to pick up salsa. I started taking lessons and I realized I loved it. My instructors thought I was actually pretty decent, so they invited me to perform at the World Salsa Congress, where people from 45 countries come to New York to perform. It was so much fun working with these instructors because they're the best in the world. And it's such an honor to be performing on that stage.
PM: What's your average day like?
KD: Well we don't really have an average day, but if I had to put one together it would probably start with waking up early and going to the gym to lift some weights. After that I'd have a phone or TV interview, and then I'd go to the office and meet with Paula Shugart, the President of the Miss Universe Organization, or I'd meet with someone in creative and prepare for or go over any appearances that I have coming up, write thank you notes or answer fan mail. I work with breast and ovarian cancer charities, so I will go volunteer at Gilda's Club and work in their office, or I'll visit a hospital and speak about raising awareness. I may go visit a school and speak about achieving your dreams. Then around that evening we'll have a gala or a fundraiser.
PM: You appeared on Are You Smarter Than a Fifth Grader. How did you fare?
KD: I was smarter than a fourth grader (laughs). I studied a lot for that thing. Everything I do I take very seriously and always try to do the best I can. I wanted to represent pageantry and the Miss Universe Organization, and those questions can get pretty hard. But it was fun and Jeff Foxworthy helped me out.
PM: Your year is nearing its end with the Miss USA Pageant approaching. What are your thoughts as it comes to a close?
KD: I really don't want it to end, and I was really ecstatic that it was pushed back a month, because I'm really nervous about losing a job and not having a salary, a place to live, or health insurance. It all happens at once and I don't really have a plan right now. I'm most excited about getting to see my family, but I just love being Miss USA, I love the lifestyle and I love the Miss Universe Organization. I've got a few ideas I'm tossing around, but nothing is set. Starting on the next chapter of my life is going to be exciting but it's going to be challenging, too.
PM: A lot of state titleholders are preparing and getting ready to compete. What advice do you have for the ladies who want to replace you as Miss USA?
KD: I remember when I was preparing, there were a lot of people who wanted to give me their advice and their opinions and it's really tough because you don't want to hurt anyone's feelings or upset anybody. My advice would be to keep your inner circle close and know who you can trust. More than anything, you have to listen to yourself. It's a once in a lifetime opportunity, so prepare with no regret and do things the way you want them to be done.
PM: Whose advice have you relied on most this year?
KD: I've always valued my mom's advice. I can't really do anything without her blessing. There are people you're going to meet throughout your life with plenty of advice, but the person that's always going to be there for me is my mom.
PM: Let's sum up the Miss USA experience in one sentence if we can.
KD: This year has been dynamic a year of leadership and service.
PM: Is there anything that you'd like our readers to learn from you?
KD: Not everything in life is going to be easy. You're going to have goals and dreams, and you won't necessarily achieve all of them. But it's your attitude and your character, how you handle setbacks that really develop your character and define who you are.
[Listen to the complete interview and hear Kristen's voice, in her own words, exclusively on the Pageantry PodCast, online now at Pageantrymagazine.com]