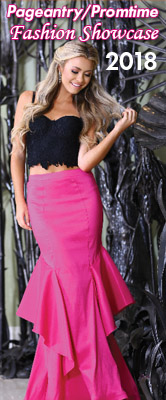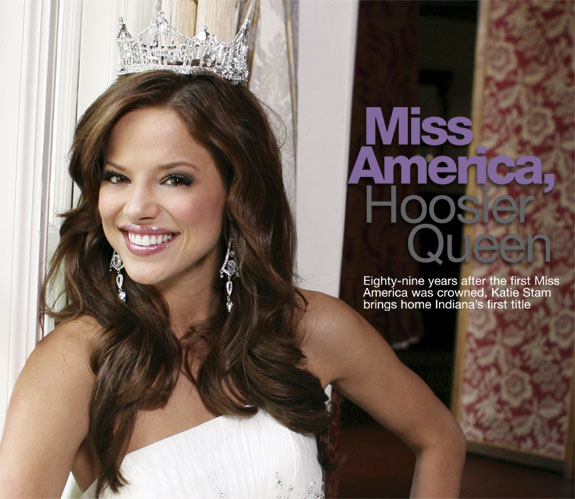 Ohio and California have done it six times. Oklahoma has done it six times, too, with two in the last four years. Pennsylvania and Michigan have five each and Mississippi has four. Twenty-three other states and the District of Columbia have had at least one girl crowned Miss America. On January 26, after 89 years of Miss America competition, Indiana embraced victory for the first time as 22-year old Katie Stam was crowned Miss America.
The backdrop was once again the Planet Hollywood Resort & Casino in Las Vegas, and 52 of the nation's best and brightest role models captured the attention of the thousands in attendance and the millions watching on TLC, which captured the week's highest cable rating with the Miss America Pageant. Multi-talented and charismatic television icon Mario Lopez again provided his famous charm for the hosting duties, as he led viewers through the two-hour spectacle of choosing Miss America 2009.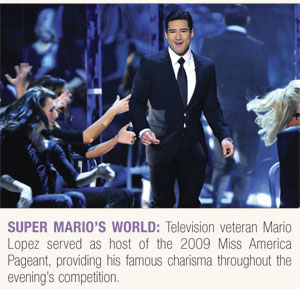 Mario received color commentary throughout the evening from his roving reporter Clinton Kelly, who is the host of TLC's What Not to Wear. Clinton conducted a variety of interviews during the telecast, from gathering the perspective of the state delegates in the elimination lounge to trading quips with former Miss Americas like Lauren Nelson and Kaye Lani Rae Rafko in the backstage area. Miss America 2008 Kirsten Haglund was also honored throughout the evening for her work with the Children's Miracle Network, as well as her work with eating disorder awareness.
The competition truly began weeks earlier on TLC's Countdown to the Crown, a show that gave the Miss America delegates a chance to introduce themselves to the country. On Countdown, the ladies competed in a variety of events that gave them the opportunity to earn gold sashes. This was important because the show's viewers eventually voted for their Top 4 gold sash recipients. When the Miss America Pageant began, America's choices were revealed as Miss South Dakota Alexandra Hoffman, Miss Georgia Chasity Hardman, Miss Indiana Katie Stam and Miss Alabama Amanda Tapley.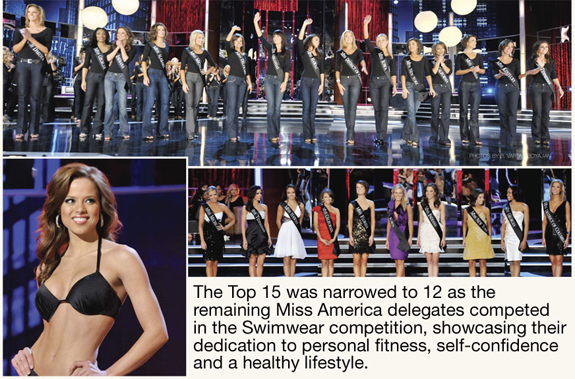 The four gold sash favorites took their place in the Top 15 and were soon joined by 11 other hopefuls. The Lifestyle and Fitness competition not only showcased the women and their dedication to fitness, health and self-confidence, but it also cut the field down to 12. The remaining delegates were then rushed backstage to prepare for the eveningwear competition, where the field would be narrowed to the 10 contestants who were introduced to perform their talents, which featured a variety of vocal and dance routines.
Ten became seven as people on the Vegas streets asked the remaining women questions on topics ranging from performance-enhancing drugs in sports to the cost of college tuition. Once the seventh question was answered, three more ladies took their place in the elimination lounge. After Kirsten Haglund took the stage for her farewell, it was time to crown her replacement.
From the seven remaining finalists, Miss Florida Sierra Minott was named fourth runner-up, Miss New York Leigh-Taylor Smith was next as third runner-up and Miss Iowa Olivia Myers followed as second runner-up. The remaining four ladies braced for the emotional impact of hearing the final two names. Miss Georgia Chasity Hardman was declared first runner-up, and Katie Stam became the first representative of the Hoosier State to ever be crowned Miss America.
Such a priceless moment has left so many before Katie speechless, but after hitting the road for a huge Indiana homecoming and preparing for a year of appearances and travel, she's only just begun to tell her story.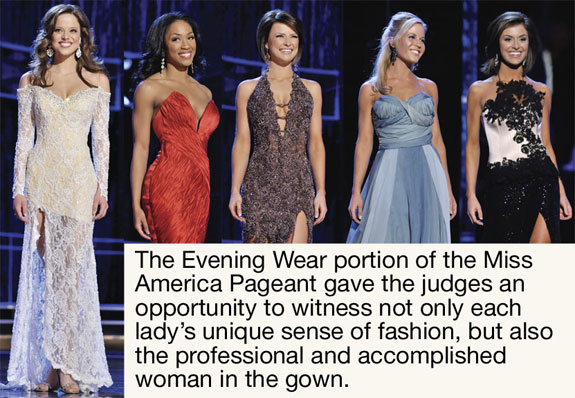 Pageantry magazine: Your bio reads like a classic American tale—young girl is raised in the heartland, shows cattle at the county fair and has a 4-H membership. At what point did becoming Miss America become a dream for you?
Katie Stam: It was always a dream. It's funny, I had a picture of myself when I was about three- or four-years old, sitting in a rocking chair in a little white dress and a crown on my head. Miss America was always a goal that I set for myself as a little girl and it's something that I've been working toward my whole life.
PM: Your early pageant background is nearly perfect. How did your early success affect your expectations for Miss America?
KS: I don't think they changed my expectations at all. I always knew that the different pageants that I did leading up to Miss America weren't Miss America. Every single pageant system is different. I knew going into Miss America that it was a whole new group of girls and a whole different ball game. Who knew how I was going to do? The very first local I did I got first runner-up and I was ecstatic. I don't think I had any expectations as to what my pageant background meant to my future with Miss America.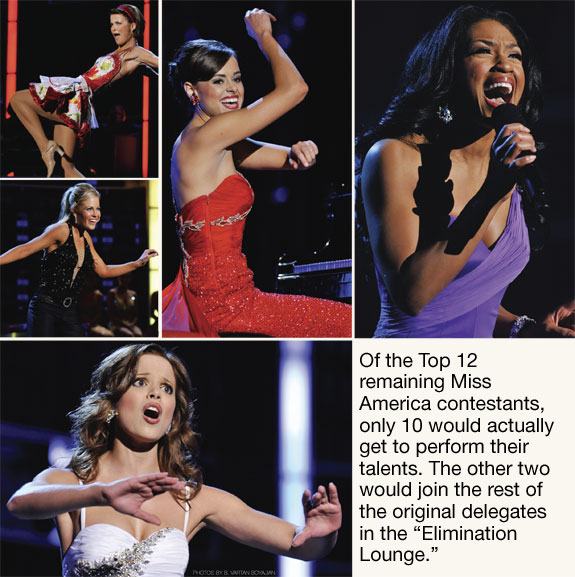 PM: You've actually appeared in Pageantry before because of your modeling background. What kind of impact had your modeling experience had on your preparations and pageant pursuits in general?
KS: I didn't start modeling until after I was crowned Miss Indiana. Really the modeling came because of the Miss America journey. Being featured in Pageantry Magazine is a dream come true, too. When I started my pageant journey, I was featured in Pageantry when I was 16 in a small blurb in the back of the magazine after having won a title. It was really very special to be a part of that magazine, because you see former Miss Americas that you've looked up to your entire life on the cover.
PM: It's something that you'll be asked for the rest of your life, but describe the feeling of hearing your name announced as Miss America 2009.
KS: That's very tricky because I honestly don't think you can describe it in words. It's something that I find very difficult to describe to people, because you realize that the moment that you've been working toward your whole life has just been fulfilled. It's all of your goals accomplished and your dreams fulfilled. It's truly very surreal. It's something I hope everyone has the chance to experience.
PM: Some girls need multiple attempts to win their state crown and make it to Miss America. Some girls never get the chance at all. You did it all in one shot. What was your preparation like for Miss America, and did it differ at all from your performances at Miss Indiana?
KS: It's so funny, because friends, family and people I would just come across would ask me about my preparation for Miss America and I'd say, "It's good, but I don't know what I'm doing." I really didn't know how to prepare for a pageant and I still don't. As far as physical fitness goes, I work out on a regular basis anyways, so I didn't change anything about my diet or workout plan. I didn't really change anything about me. I just wanted to stay true to myself and kept doing what I've always been doing.
PM: Since being crowned Miss America, you've been on a whirlwind tour, which included quite the reception and recognition from your home state. What has the response been like from your perspective and what has it meant?
KS: Indiana is so amazingly supportive of me. This is the very first time in the 89-year history of Miss America that Indiana has brought home the title. It seems like the entire state is just in an uproar, they're just absolutely ecstatic. During my Homecoming, everyone was so welcoming and supportive. I truly felt so much love coming from everyone I met. I felt like a hometown hero.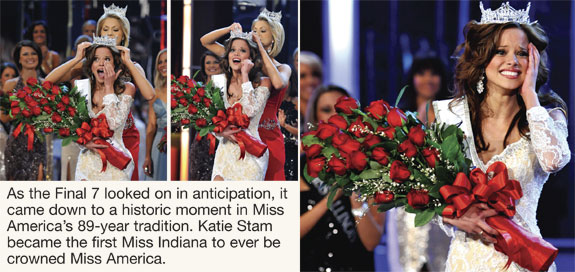 PM: The Miss America Pageant is, of course, now preceded by the Countdown to the Crown reality series on TLC. Because that is so unique to these major pageant experiences, what was is like from your perspective?
KS: Not only was it a wonderful experience for us to gain more exposure for the Miss America Organization, but what an incredible opportunity it was for us girls to get to know each other. We were out in Los Angeles for three weeks filming the reality show, and through an experience like that we all became so very close. It was really important to all of us to get to know each other on a personal level before we came out to Las Vegas for the competition. I had such an incredibly positive experience, regardless of any outcome. I felt like the production company had a very positive outlook on what they wanted to accomplish. And I felt the girls all had a very positive attitude about what they were doing, and overall I felt like it was a great experience.
PM: You received the first Gold Sash on Countdown to the Crown, which meant that you would be one of 15 girls voted on by the home audience to advance to the top 15. Did that offer you more a sense of relief or did it simply prolong the anticipation of the next level?
KS: If anything, the way I looked at it was like a pat on the back, like I was doing a good job and to just keep doing what I was doing. It did not give me any reason to slack off, and that was something everyone kept asking me about having the first gold sash, if I was going to lighten up and not be as competitive. If anything it gave me more motivation. Apparently I was heading in the right direction, so it was a great feeling and I was very happy and very blessed to have received the first one.
PM: What kind of standard or legacy do you want to create as the first-ever Miss Indiana to win the Miss America title?
KS: As far as my state goes, I just hope that I can represent them the way they deserve to be represented. It's very important to me to show people what Indiana has to offer, and the values and qualities that Hoosiers uphold every single day. Hopefully I can show the world what Hoosiers are all about. That's very important to me because we've never had a Miss Indiana go on to be Miss America, or even Miss USA. We've never had the national spotlight like this. As far as the legacy I want to leave with Miss America, I think every Miss America that comes through wants to be known as one of the most beloved or best. It's truly just being true to who you are and seeing what kind of response you get from people.
PM: How has Kirsten Haglund been as a resource for you? What kind of advice has she offered you about your reign as Miss America?
KS: Kirsten is such an amazing person, and following her I definitely have some big shoes to fill. She was a wonderful Miss America. I've talked to her several times, and she's busy trying to move on to the next chapter in her life, moving out to L.A. and auditioning for several different television roles, and also continuing to make appearances on behalf of her platform for eating disorders. I've talked to her about how she battled the exhaustion at first—how do you combat that and what do you do in order to stay healthy and energetic on the road? Other than that, we just continued our friendship. I want to keep up with her and wish her well.
PM: What do you look forward to most about the upcoming year and what do you most wish to accomplish?
KS: I'm most excited about my work with Children's Miracle Network. I absolutely love kids and I have the passion to serve them. It's an incredible opportunity to be their advocate and their spokesperson and really take their stories out into the world and help people really feel a personal connection with these children. We're already on such a great track this year. We've already raised $1.3 million (as of press time) and I just hope that we can do some really great things this year, because that's the most important part—to help them get healthier and get better faster so they can go on to just being kids.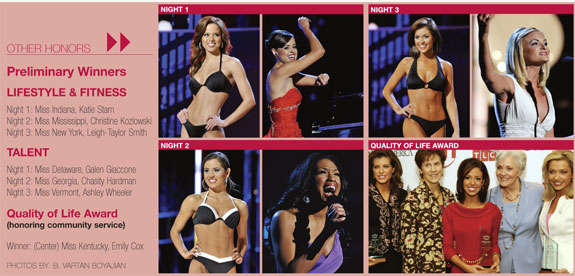 w