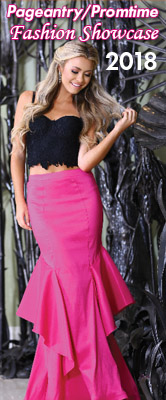 F

or centuries, Nha Trang was nothing more than a home for Vietnam's exotic wildlife. Tigers roamed the area freely, as small villages came and went as the years passed. But as the world modernized and the small Pacific Asian nation looked to draw attention to its pristine beaches and transcending culture, Nha Trang was transformed into a tourism hot spot. Hot enough that the entire world took notice on July 14 when the city hosted the 2008 Miss Universe Pageant.

Contestants from 80 countries and territories competed to capture this year's title, as the locale of Nha Trang served as a historic first for the pageant, in that it was the first time it had ever been held in a contemporary Communist state. But that's the symbolic power and essence of the Miss Universe Pageant—it brings these women, their countries and their countrymen together. It's the antithesis of divisiveness, instead combining beauty and dedication with education and cultural preservation.

Hosted by television icon and host of America's Got Talent Jerry Springer and Melanie "Scary Spice" Brown, of Spice Girls fame and host of TLC's The Singing Office, the 57th Miss Universe Pageant was a celebration of nationality and a collection of global patriotism. In addition to an esteemed panel of celebrity and professionally notable judges, the pageant featured a performance by pop sensation Lady GaGa, who energized the crowd with her hit single, "Just Dance."

Culture Club:

Contestants from 80 countries and territories competed for the title of Miss Universe 2008 in Nha Trang, Vietnam. As part of the event, the delegates competed in their National Costumes, representive of their cultures and history.

One Billion Served


The evening began with a familiar face as exotic and beautiful as the beaches of Vietnam. Reigning Miss Universe Riyo Mori and the 2008 Miss Universe contestants welcomed the global television audience of almost one billion people, as well as the 7,500 people in attendance. After a brief video montage of the Miss Universe contestants appreciating the different locales of Vietnam, they hit the stage for the introduction of Melanie and Jerry, who was charming and playful as he's famously known for, and entered the stage on a scooter, remarking, "When in Vietnam, do as the Vietnamese do."

We Are The World
But as a celebration of the global community and its collection of unique cultures, it only made perfect sense to begin the evening with the National Costumes, complete with a backstage look at the ladies during their final stage preparations. The delegates donned wardrobes definitive of their cultures and countries' historical significance. The National Costume portion of the evening was interactive, allowing the global viewers to log on to NBC's web site and vote for their favorite costume. After the voting was complete, later in the competition, Miss Thailand Gavintra Photijak was declared the favorite, winning the Rogaska Crystal trophy and the $1,000 cash prize.

After the costume segment and the introduction of Riyo Mori, during which she reflected on her year as Miss Universe, the field of 80 was narrowed to just 15, emphasizing the strenuous duty placed on the judges. In no specific order—but perhaps with a bit of foreshadowing—the Top 15 was announced, leading off with Venezuela's Dayana Mendoza, followed by Kosovo's Zana Krasniqi, Mexico's Elisa Najera, an obvious crowd favorite in Vietnam's Lam Thuy Nguyen, South Africa's Tansey Coetzee, Australia's Laura Dundovic, Japan's Hiroko Mima, the Dominican Republic's Marianne Cruz Gonzalez, Italy's Claudia Ferraris, Colombia's Taliana Vargas, Russia's Vera Krasova, Hungary Jazmin Dammak, the Czech Republic's Eliska Buckova, the United States' Crystle Stewart and Spain's Claudia Moro.

The audience was once again introduced to the Top 15 in a video vignette, showing the women in individual swimsuit photo shoots. Then, of course, it was time to meet the people responsible for the eventual selection of Miss Universe 2008, and the judges were introduced. The panel of nine judges featured television personalities, professional executives and even former Miss Universe 2004 in Jennifer Hawkins. Before resuming with the competition, host Jerry Springer gave the world a tour of Vietnam and some of its exotic tourism locales.

Counting Down
As Lady Gaga performed her aforementioned single, the Top 15 showed off their dedication to fitness in the Swimsuit competition. From there, it was time for the judges to make another choice, turning 15 into 10 and taking the world one step closer to a new queen. The Top 10 included Kosovo's Zana Krasniqi, Australia's Laura Dundovic, Spain's Claudia Moro, Mexico's Elisa Najera, Colombia's Taliana Vargas, USA's Crystle Stewart, the Dominican Republic's Marianne Cruz Gonzalez, Russia's Vera Krasova, Italy's Claudia Ferraris and Venezuela's Dayana Mendoza.

Soon enough it was time for a more intimate introduction to the Top 10. Through a series of videos, the remaining ladies told the world a little about themselves, from dreams and ambitions to platforms and family background. Jerry once again walked the audience through a montage of Vietnam's scenery and living history. Then playful became formal as the Top 10 began the Evening Gown portion of the evening's pageant. The delegates worked the runway in their unique and stylish gowns, adding elegance and captivating one billion people in the process.

Five Final Thoughts


Then it was time for five of the Top 10 contestants to move on. The judges made their decision and Mexico's Elisa Najera, Venezuela's Dayana Mendoza, the Dominican Republic's Marianne Cruz Gonzalez, Colombia's Taliana Vargas and Russia's Vera Krasova comprised the Miss Universe Pageant's Top 5 finalists.

First and Last Words:

Venezuela's Dayana Mendoza (top) is guided through her Interview question by Miss Universe hosts Jerry Springer and Melanie Brown; Miss Universe 2007 Riyo Mori (above) embarks on her final walk, as the world says farewell to the past year's queen.

Colombia's Taliana Vargas led off the Interview segment and drew Jennifer Hawkins, who asked her if she had the opportunity to change a moment from her past, which would it be and why. Taliana praised her family for a great life and said she wouldn't change a thing. Venezuela's Dayana Mendoza was asked by judge Louis Licari if she believed that men or women have it easier in their lives, to which she jokingly pointed out that women are more meticulous about getting from point A to point B than men. Judge Donald Trump, Jr., asked the Dominican Republic's Marianne Cruz Gonzalez what the biggest sacrifice she ever had to make was and how she handled it. Marianne said that she sacrificed her childhood for her family as she had to work as a child to help get by because her parents were divorced, and that it was all worth it. Judge Roberto Cavalli asked Mexico's Elisa Najera when a woman is truly satisfied, to which she replied that a woman is satisfied when she has a balance in her life, between her family, job and community. Finally, Russia's Vera Krasova was asked by Bollywood star and judge Eesha Koppikhar if there is still discrimination and what can be done to stop it. Vera said that women have become stronger and smarter and that it was possible for women to be successful and that in time women will be better.

Venezuela's Victory


Before Miss Universe 2008 could be revealed, it was time for a special award to be announced. The 80 delegates of the 2008 Miss Universe Pageant voted for El Salvador's Rebeca Moreno as Miss Congeniality Universe, and she received a trophy and $1,000 cash prize for the honor.

As the two-hour event had introduced so many people to Vietnam and to 80 incredible women, it was time for one specific contestant to become a household name. After second runner-up was awarded to Miss Dominican Republic Marianne Cruz Gonzalez, the crown would belong to a South American, as Colombia's Taliana Vargas and Venezuela's Dayana Mendoza remained. As is the suspense and thrill of creating the tension and anxiety of the crowning moment, destiny was sealed for Dayana when Taliana's name was called as the first runner-up, leaving Miss Venezuela with a new title, Miss Universe 2008.

The road to international fame was never easy for Dayana Mendoza, but she has a new world in front of her as she'll be forever celebrated and recognized, not only as the fifth Venezuelan Miss Universe in history, but as a woman who captivated the largest world audience in the pageant's history.

For the complete behind-the-scenes story and all the details on this and other exciting competitive events from across America, as well as a wealth of advice to improve your chances of victory, be sure to Order Pageantry today.
w