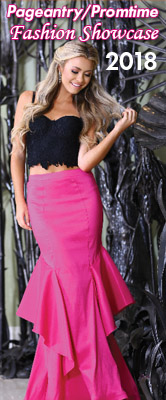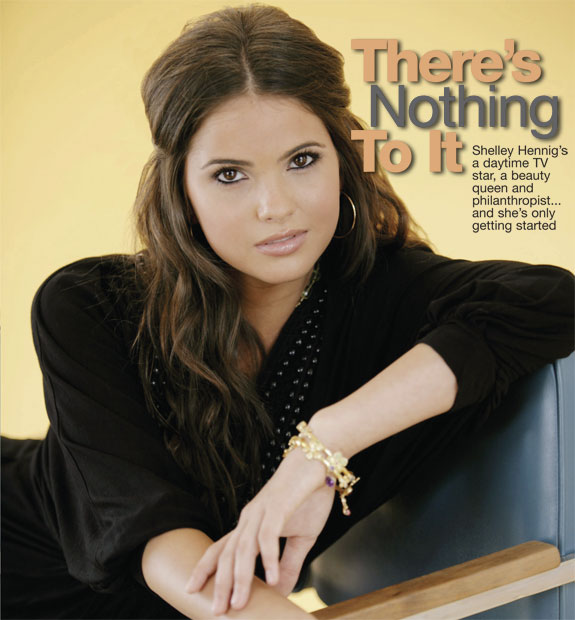 F

orty-four years ago, a nation of television viewers first heard the words: "Like sands through the hourglass, so are the days of our lives." Since November 8, 1965, Days of Our Lives has not only been a staple of daytime TV, but the medium in general. It's a legendary show that has produced legendary characters—the crown jewel of daytime TV acting.
Four years ago, Shelley Hennig was a bright-eyed beauty queen from New Orleans, fresh off of her crowning as Miss Louisiana Teen USA and clueless to the world that would soon unravel in front of her. This down-to-Earth, self-proclaimed normal teenager went from her high school dance team and the student council to taking the 2004 Miss Teen USA Pageant by storm, and that was just the beginning of something she may not have anticipated, but is certainly becoming her destiny.
Now in her second season as Stephanie Johnson on Days, Shelley's character is a whirlwind of danger, excitement and constant change. A fitting metaphor for a young actress with her heart locked and determined to turn her recent splash into a long career in show business, all the while refusing to forget where she came from.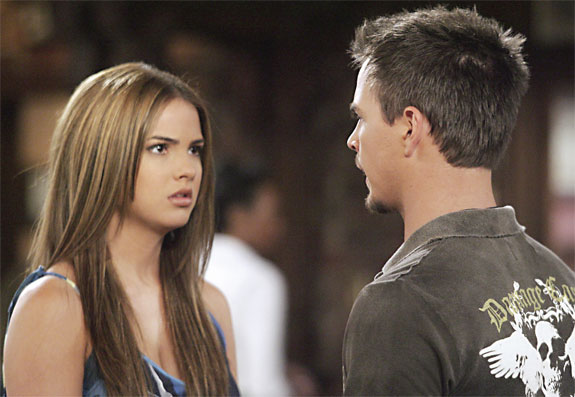 Role of a Lifetime:
Shelley Hennig walked into a screen test for Days of Our Lives and walked out with a contract to play Stephanie Johnson.
Pageantry magazine: A lot of people probably don't realize this—at least not me—but Days of Our Lives has been on TV for 44 years now. What was going through your mind when this daytime institution offered you a contract role last year?
Shelley Hennig:

The first thing that went through my mind was, "Oh my God, my acting school!" I hadn't graduated yet, so it was just a bit surreal, and then the next thing I thought was, "Los Angeles!" I'd been in New York for two years freezing my buns off because I'm from Louisiana and it doesn't get cold there. I thought about the weather and how great it would be to live in Los Angeles—all of the shallow things.
It didn't cross my brain what job I had booked. I went there on vacation, so that's why I was thinking about locations and having to move from New York. Then I didn't even realize the woman I screen tested with was the soap phenomenon Mary Beth Evans and had been on the show since the 80s—one of the most beloved stars in the soap world and here I am screen testing with her and didn't even know that she was such a big deal.
I'm finding these things out as I go by, working with Stephen Nichols, who is fantastic and brilliant.
PM: What is it like to work on a daytime soap opera? What is the atmosphere like on the set?
SH:

I would love to say that it's an easy thing. You have your days when it can be easy and fun and light, but at the end of the day it's a drama. You take yourself to these places that you don't really go to in everyday life. You do, but not all the time, and we do it every single day for 12 hours a day.
It's very challenging, but I love all of my co-stars, I love my producers, the directors, hair and makeup, wardrobe... I have made so many good friends, not just inside, but outside the show. We hang out and it's a really great atmosphere.
I've heard from people who aren't on the show anymore, and have moved on to other shows, that nothing is like Days of Our Lives. Not to say that other soaps aren't like us, but I think people get a really great vibe when they walk in. I'm just very lucky to work there.
PM: You've been portraying Stephanie Johnson for a year now, are you recognized by Days fans in public? How do they typically react?
SH:

I am, but more as time goes on. I am not Shelley anymore, I am Stephanie Johnson when they meet me—"Oh my God, is that Stephanie?" It's kind of weird but it's just one of those things.
It makes me smile because I love to know that people watch the show because we pour our hearts out for these scenes, we really do. I share secrets in my real life through my character, so it's really great to hear that people watch, they like my character and you're making someone's hours each day worthwhile.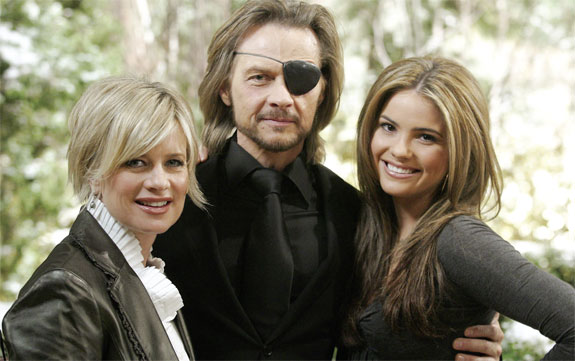 All In the Family:
Shelley Hennig (R), couldn't be happier on the set of Days of Our Lives, with mentors like Days veterans Mary Beth Evans and Stephen Nichols guiding her.
PM: Stephanie Johnson has been a racecar driver, a flight attendant, a college student and an intern at an advertising agency. How have you prepared for and put yourself into this role that can change at any moment?
SH:

She has done all of those things, but I didn't come on to the show until after the racecar driver, and they wanted to redo the character, which they do a lot in soaps.
She used to be a red-haired, blue-eyed girl. When I screen tested they [auditioning girls] were all redheads with blue eyes and maybe one blond. When they had me come in they said, "You may not be right for the part but we'd love to get you on camera." I didn't really think I was getting the part and that they were just getting me on camera so that if there was a future role and I fit the description they could call me.
Anyway, she's done all those things and I must say the flight attendant last summer was quite interesting. I had a lot of fun with it because everything was still new to me and it was just a crazy storyline. It was a lot of Las Vegas stuff, and it was a lot of fun. My character does things that I would never do in real life so I got to live vicariously through my character. Of course it's a lot of fun, but it's also very emotional.
PM: How do you adapt to your character and put yourself in these roles that could change at any moment?
SH:

I just do what I was taught in acting school. There are so many things that you can do—it's your acting homework—and it's never-ending. When I went to the Acting Conservatory in New York, my friends were at LSU and they'd say, "You're so lucky, you're at an acting school, it has to be so much easier." But I told them to look at it this way—their studying ends at some point. Our studying never ends. You can always be working on a scene, not like working on problems 1 through 10. If you're a perfectionist like I am, you can go on all day.
Luckily, I got a place with a pool so I spend a lot of time out there studying and running lines with friends. I can't even go back and look at some of my first episodes. Even though I knew I had potential, it was just all those nerves and so much to memorize and everything was happening so fast. But as time goes on, within the next month, I was already getting so comfortable. Noel Maxam has been an amazing director and it's been great working with him. I wouldn't want to be anywhere else.
PM: Your character has dealt regularly with some pretty heavy topics—sexual assault and domestic battery. What's it like dealing with such sensitive yet topical subjects?
SH:

I was at a fan event, and someone came up to me and said, "What you portrayed through your character really hit home and I wanted to thank you for sharing that with me" because she had been there and my character had helped her feel better about her situation and helped her move forward. So to hear that from somebody was incredible.
I got a lot of emails and messages on MySpace from people who said the same exact thing, but to hear it face-to-face from someone, it broke my heart to hear something like that happened to someone, it really touched me. All I could think was that I'm very thankful to have this role, and it's amazing to know that I helped someone who saw what I portrayed in my character and it touched them and helped them out. At the end of the day, that's all I could ask for.

Just Popping In:
(Above) Fresh off of winning the 2008 Miss USA Pageant, Crystle Stewart paid Shelley Hennig a visit on the set of Days of Our Lives in a walk-on role.
PM: Did you talk to [Miss USA 2008] Crystle Stewart before her appearance on Days? Did you get to spend any time with her and what did you think of her acting chops?
SH:

She was here for a day, and I took care of her and showed her around, as well as some other people. We went to lunch and we had a really good time. She was actually really good.
When I had a walk-on role on Passions, I was awful. I'd never acted before. She came right on and was all business—pouring water and talking and doing all these things at once. I just thought, "Good for her!" I don't know if I could have done that on a walk-on role. I was very impressed and she's a sweet girl. I wish her the best.
PM: Do you see yourself hanging around Salem for a while, or do you have plans beyond being Steve and Kayla's daughter?
SH:

You never know on soaps. You always have to be one step ahead and prepare for the future. I wouldn't mind doing primetime either. I'm very good with drama, and I think that's what I have to offer.
Natalie Portman is my favorite actress and my idol as far as acting goes, and I think she's brilliant, raw and natural. She may not be the most perfect actress but she just has something so special she brings to her roles. I look up to her for that and I see a lot of her in me. I'd love to do films—that's my ultimate goal.
My training on soap operas right now is preparing me for that, because I can knock out 20 scenes in a day and bring my all to them.
PM: After you were crowned Miss Teen USA in 2004, how much did your life change as a result? Did you have the chance to be a normal 18-year old and enjoy those first few years as an adult?
SH:

Oh yeah, I was a senior in high school, which was already exciting in itself. I had some friends who followed me to Palm Springs for the pageant to surprise me. They had a huge party at the local pub for me back at home in Louisiana, and everyone was so genuinely excited for me.
Of course it's a great feeling to win Miss Teen USA, but to go home and to know the people you've grown up with and people in your hometown are supporting you that whole time and were so genuinely happy made everything so much more amazing.
There was no jealously in school, and it was the greatest feeling. Things were so beyond me, but that's what was so fun about it. I had no expectations, because I did not expect to win. Everything was a plus. I was happy to be where I was and to meet all these cool people and travel to all of these exciting places, and still be a senior in high school.
I still got to go to my dances and my prom. I was on the dance team and took dance class. Acting has taken over for now, but I will get back into dancing soon.
PM: How involved with the Teen USA pageant have you been, as far as keeping in touch with your "sister" queens and just following the pageant in general?
SH:

I'm very close with [Miss USA 2005] Chelsea Cooley, we actually lived together in New York in the middle of my two years at school. We still hang out and talk. I'm still very close with Paula Miles, my state director from Louisiana, and I still do a lot of the events that she puts on throughout the year. I've met so many people through her that I still hang out with. When I was in New York, the Miss Universe Organization was my second home. If I was having a bad day, I'd walk in the office and talk to Paula Shugart, and she'd make me feel better. Suzie Dicker, Roston Ogata, Esther Swan. Everybody was so supportive and happy for me. They're still my second family. [Miss Teen USA 2003] Tami Farrell, who crowned me Miss Teen USA, is my roommate so we still work together on the Sparrow Club and Buzz Free Prom.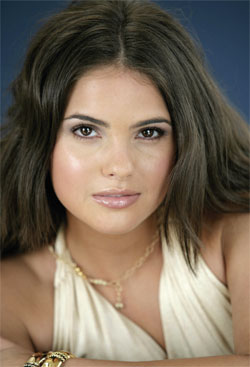 Her Future's so bright:
Shelley's acting passion isn't limited to daytime TV. The 21-year old has ambitions of becoming a big screen star, citing Natalie Portman as her dramatic inspiration.
PM: Tell me a little bit about your work with Buzz Free Prom.
SH:

I have made school videos about Buzz Free Prom and hopefully students across the nation are watching my story and others' stories. I lost a brother when I was 14 to a drinking and driving accident. I took my title as a chance to get out there and have people listen to me and hear that it's just not worth it.
I've worked on putting together these DVDs for different schools across the nation to watch. I've done a lot of traveling, doing numerous events. There's a prom dress giveaway in Dallas that I love doing. But it all promotes Buzz Free Prom and it gets students to pledge that they won't drink at their prom, and it's a great feeling knowing that you could be saving at least one life.
PM: You are a published poet. Do you still dabble in poetry?
SH:

I write a poem maybe twice a year. I have one in my phone right now that I've been working on; It just comes to me at night while I'm studying.
I can't believe I'm saying this, but I'm an artist. I never said that about myself, but then acting school opened my eyes. I'd never thought about acting school before, but I'm just so weird. I think about the craziest things. I have an overactive, creative mind. It's perfect that I'm in this industry.
But I'm into drawing more now. For Christmas, Tami bought me some art books, sketch pads and pencils and stuff, and I drew a portrait of Stephen Nichols, my dad on the show, and gave that to him. I was pretty impressed with myself.
I still have all of my old poems from high school that were published, and even some that I never shared with anyone because they were really close to my heart. I think the reason I was writing so many poems in high school was because of the loss of my brother. I think now I'm in a brighter place and drawing has been fun for me.
PM: What's the hardest thing about being an actress on a legendary daytime soap opera?
SH:

I don't think of it that way. Of course I know it's a legendary soap opera, but when I'm there everyone is so down to Earth. Deidre Hall, who has been there forever—I love talking to her. I feel at home, and it's not always perfect and peaches and cream, but the majority of it is a great feeling. I love being at work, and I hate having a day off.
PM: If you had to offer one piece of advice to a young girl who wants to follow in your path, what would it be?
SH:

As I said in the Miss Teen USA competition: Be Yourself, the end.
I promise that's what has made me stick out. I am so against conforming to something you think someone wants you to be. I have been very true to myself and very grounded. Those are two important things and people will see that.
w