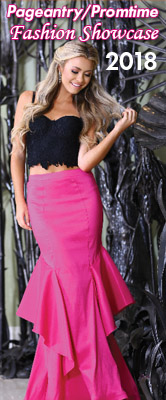 New Star of
the Vegas Strip

Crystle Stewart may not have been the lone star at Miss USA but this Texas beauty is on her way to New York as the reigning Miss USA.




By JJ Smith

C

rystle Stewart, a patient 26-year-old beauty from the small town of Missouri City, Texas, always knew that something wonderful loomed in her future, so sure in fact, that after competing in Texas for a number of years, she travelled to Las Vegas to prove it as a delegate to vie for the crown of Miss USA.

At the 57th Annual Miss USA Pageant, beamed live from the Planet Hollywood Resort & Casino in Las Vegas, former child stars and daytime talk show hosts Donny and Marie Osmond delivered their family-friendly humor and the offbeat brother/sister bickering that's made them a staple of the Vegas scene for so many years.

A Family affair:

Daytime talk show veterans and famously comedic siblings Donny and Marie Osmond (L) took the reins as co-hosts of the 2008 Miss USA pageant. Above, Donald Trump and this year's contestants made Las Vegas a little brighter than usual.

STARS ARE OUT IN VEGAS


The Miss USA pageant is always a glittering affair and this year's event was even more enjoyable with the number of pageant celebrities, titleholders and up-and-coming future winners to watch who were in attendance. Of the youthful treats for all to see and meet were the approximately 40 state Teen USA titleholders present, cheering for their respective Miss counterparts. Also spotted were a bevy of international contenders, the stunning representatives from the Dominican Republic, Puerto Rico and Venezuela, there to see who would join them in their upcoming battle for the Miss Universe title—currently held by Japan's Riyo Mori—who attracted a throng everywhere she went as well.

Fabulous indeed:

Miss Texas USA Crystle Stewart proved that what happens in Las Vegas doesn't always necessarily stay in Las Vegas when she was crowned Miss USA 2008.

Popular outgoing queen Rachel Smith welcomed Miss USA 2003 Susie Castillo to the festivities. Barbara Peterson (Burwell), Miss USA 1976, was still dazzling as a crowd of fans gathered around her. Reigning Miss Teen USA Hillary Cruz was joined by the friendly former Teen USA titleholders Tami Farrell (2003) and Shelley Hennig (2004) (Editor's note: See cover feature beginning on page 56). Chelsi Smith, who triumphed at Miss USA in 1995 on her way to the Miss Universe throne, was still dazzling and as personable as ever.

Because Vegas is known for being so over-the-top with its incorporation of elegance and intrigue from around the world, the winning representatives from all 50 states and the District of Columbia were introduced one-by-one from different city locations, bombarding the viewing audience with a showcase of the lights and scenery.

FIRST CUT IS THE DEEPEST


As these ladies hoped with everything in them that their names would be called into the top 15, the wishes were ultimately granted to: Raquel Roxanne Beezley (California), Jessica Rafalowski (Florida), Brittany Mason (Indiana), Jackie Bruno (Massachusetts), Kaylee Unverzagt (Minnesota), Leah Laviano (Mississippi), Candice Crawford (Missouri), Tiffany Andrade (New Jersey), Lindsey Jo Harrington (Oklahoma), LauRen Merola (Pennsylvania), Amy Diaz (Rhode Island), Jamie Hill (South Carolina), Hailey Laine Brown (Tennessee), Crystle Stewart (Texas) and Julia Bachison (Utah). As 36 disappointed titleholders exited the stage, the flame of a national title burned a bit brighter for those left standing.

suit yourself:

(Above) Miss USA's Top 10 rocked their matching two-piece swimwear as Finger 11 played its hit song "Paralyzed."

The national TV audience got its first look at the 15 remaining contestants through a series of video clips previously recorded during a special photo shoot. Not only did this event give the ladies a specific feeling for what their lives would be like if they captured their ultimate prize—bulbs constantly flashing, extravagant wardrobes and instant celebrity status—but it showed the modern class and elegance that these women are prepared to portray. And the fashion shoot was merely a breeze in the whirlwind week the ladies had been a part of. Leading up to the main event, they'd been given a crash course of everything Vegas, from red carpet treatment at the Wynn Hotel for the critically acclaimed La Reve to swimming with the dolphins at the Mirage Hotel.

The sexy-yet-sophisticated swimsuit competition featured an edgy sensation, as the semifinalists crossed the stage and posed to the live performance of the hit song "Paralyzer" from the rock band Finger Eleven. The band did a stellar job of maintaining a steady, elongated beat of the song's catchy, double-platinum grooves during the Osmonds' introduction of each remaining contestant. The ladies, clad in matching two-piece, black suits accented with gold hoops, captivated the audience one-by-one as they entered the stage in PETA-friendly faux furs, removing them at center stage and giving the crowd a glimpse of the look, confidence and dedication to fitness that advanced these girls this far.

Contestants with the five lowest scores were eliminated and included the representatives from California, Minnesota, Rhode Island, South Carolina and Utah. Donny and Marie next walked us through a glimpse of each contestant, allowing an opportunity to learn what drives these ambitious females, through a series of brief-but-informative video vignettes. Each girl had their own unique personality, and there was a very gracious, family-centric theme, as well as a deep admiration for the men and women of the Armed Services.

A quick change into evening gowns by the top 10 remaining hopefuls resulted in a dazzling competition of finery, beauty and grace. The evening gown parade was accompanied by Rihanna's smash, Grammy-winning single "Umbrella," which features hip hop icon Jay Z. The gowns were elegant and demure as expected, featuring a variety of classic black and white, as well as a few exotic and more colorful choices.

formal affair:

(Above) The Top 5 contestants held nothing back in the evening gown competition as each lady dazzled with her elegant and modern formal attire.

THEN THERE WERE FIVE


Once again, the five lowest scores were eliminated, producing a top five of Mississippi, New Jersey, Oklahoma, Pennsylvania and Texas. Additionally, in a poll based on online votes, Alaska's Courtney Erin Carroll was declared Miss Photogenic USA. The fun-loving and personable Monica Day, Miss Ohio USA, was the delegate that the contestants declared Miss Congeniality. A viewing audience estimated at more than 250 million watched as the tension in the venue was turned up a notch as the five finalists lined up to face the individual questions that would ultimately determine the winner and forever change lives.

The anxiety of the final moments rose as the five finalists faced the uncertainty of what question would be posed to each of them. Each finalist pondered and answered to the best of her ability the wide-range of final questions. Heather Mills asked Pennsylvania's LauRen Merola her feelings on cosmetic companies that target girls as young as elementary school with makeup, to which she replied that it could be acceptable so long as it was done properly and with the girls' safety in mind. Texas' Crystle Stewart was asked by San Diego Chargers' Pro Bowl linebacker Shawn Merriman if she thinks that 18-year old Americans should be required to perform one year of service in the military, and she said no, invoking memories of the draft. Project Runway's Christian Siriano asked Oklahoma's Lindsey Jo Harrington if she had to choose one celebrity to help restore order in his or her life, who would it be, and much to the audience's delight she admitted that she'd like to help guide Britney Spears back to success. New Jersey's Tiffany Andrade told Joey Fatone that she thinks it's bad that some children in America aren't allowed to watch any TV or view the Internet at all, because when used properly and under proper supervision both can be great tools of education. Finally, Mississippi's Leah Laviano admitted to Nip/Tuck's Kelly Carlson that she has used her beauty to her advantage by building a positive self-image and, in turn, trying to educate her peers on the importance of doing the same.

THERE CAN BE ONLY ONE


All pageants contain particular certainties and one of them is the fact that the judges, no matter how difficult the decision, must mark their final ballots. And so it was done. The excitement in the room reached a near-fevered pitch as Pennsylvania's LauRen Merola was announced as the fourth runner-up. She was followed by Miss Oklahoma USA Lindsey Jo Harrington. Second runner-up was New Jersey's favorite, Tiffany Andrade.

The moment of realization when only two girls remain dawned upon Leah Laviano of Mississippi and Texas' Crystle Stewart, as they embraced one another in the moments before the life-changing announcement. As Rachel Smith enjoyed the remaining minutes of her successful reign, she poised herself to crown her successor. Millions of viewers experienced the historic flash of seeing the nearly incomprehensible moment when Crystle Stewart realized that she had just become the ninth girl from Texas to be named as Miss USA.

When Crystle's moment of victory finally arrived, the newest star in the world of pageantry was confident in her beliefs and well prepared to begin her role as the new Miss USA. From her preperation and competition in the Miss Universe Pageant and beyond, Crystle faces many wonderful opportunities to look forward to as a representative of women across the USA.

Don't mess with texas:

(Clockwise from above) Twenty-five year old Crystle Stewart captivated the audience from start to finish, from her poise and confidence in the swimsuit competition to her glorious, defining moment of being named Miss USA 2008, as she received her crown and celebrated with her fellow contestants.
w