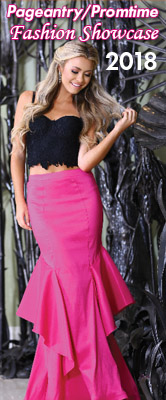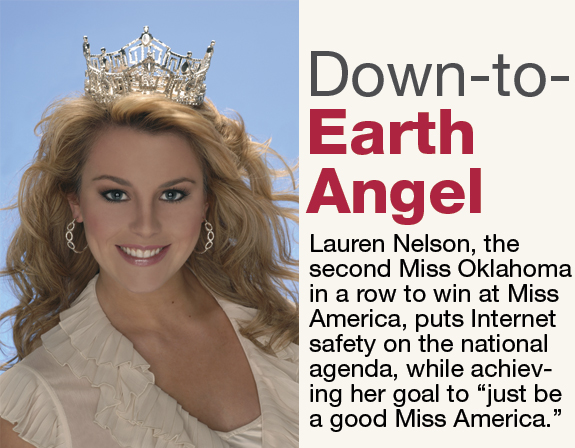 Pageantry magazine: We know how busy you are, and we thank you for taking time for this interview. What have you been involved with in these last few weeks before passing on your Miss America crown in January?

Lauren Nelson:

A lot of holiday parades, which has been a lot of fun. We did the Philadelphia Thanksgiving parade, and last week we did the Neiman Marcus parade in Dallas, and later this week we're on to one more parade. This past week we were in Washington, D.C., working with Jobs for America graduates, and we did a 4H conference earlier this month in Atlanta. We still travel 20,000 miles a month! Usually we're on an airplane every other day, so we probably do three to four appearance locations a week. So I might have a speech one morning and another engagement at night; it all depends.
PM: With all that work involved, what motivated you to become Miss America and helped you prepare for the job?

LN:

I started in the Miss America program when I was 16 with a teen pageant in my hometown, Lawton, Oklahoma. It was another place to get to sing and perform. My friends from church actually talked me into doing it. I finished first runner-up, and then the next year I came back and won that pageant and then the next year won Miss Teen Oklahoma, which is when I felt it became a dream of mine to become Miss America. As Miss Teen Oklahoma that year, I was chosen by the organization to become one of three teens to perform at the preliminaries for the 2005 pageant. So I got to go to Atlantic City and sing on the stage as a 17-year-old, and that's when I knew I wanted to be back. I really attribute a lot of my success to what I learned during my time as Miss Teen Oklahoma, because I got to see it all before I competed, and that really helped me quite a lot.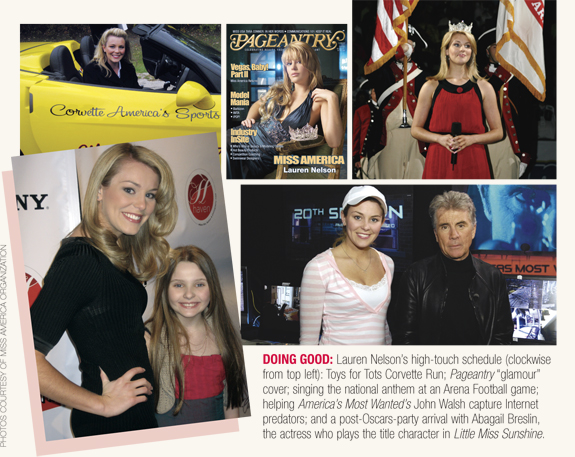 PM: What other types of training and guidance did you have?
LN: I definitely had many people there to help me and to let me know what I needed to be working on. Especially after I won Miss Oklahoma State Fair, I had a lot of help: where to go for my music and singing, who to work with for interview.
PM: Against a very competitive field, how did you see your chances of winning last year at Miss America finals?

LN:

My philosophy going into every pageant has been not to worry about the other contestants and what they were doing, because you can't control them. All you can control is what you do. So I focused on that. Going into Miss America, I felt like I would do well, but I didn't think I would win. Since Jennifer Berry is also from Oklahoma as well, I heard plenty of times that I might not win because of that, so I didn't go into the competition thinking I was going to win. But I felt confident and knew I had prepared to the best of my abilities.
PM: How did you become involved in the Internet safety area as your platform?

LN:

The reason I chose that as my platform was that, as a 13-year-old, I was approached by a stranger online. At the time, I was chatting online and was asked for personal information by an older man. I gave it to him and he sent inappropriate pictures of himself afterwards. My friends and I alerted our parents. We were lucky and weren't harmed, but so many young people in that situation are not so lucky. It was a problem eight years ago, and today it's an even larger problem with the Internet continuing to grow.
PM: What do you want to accomplish in supporting your platform?

LN:

The best you can hope for is to raise awareness of the issue. A lot of times, parents and teachers are not even talking about it with kids. My discussing it hopefully will begin a dialogue between adults and kids about the issues, both the positives and negatives, of the Internet. I'm definitely pushing for increases in education on this issue. There needs to be mandated courses in our high schools, junior highs, and even the younger age groups. We have three-year-olds in pre-kindergarten getting on the Internet. As soon as that happens, you should be starting that education.
LAUREN'S FAVORITES
Meal:

Mexican


Dessert:

Cheesecake


Snack:

Everything, honestly, that's probably not good. Hum, let's see… I love Goldfish.


TV Show:

Gosh, I really don't watch TV that often. Brothers and Sisters: I try to catch that every Sunday.


Film:

Of all time… Pretty Woman.


Song:

Oh, gosh, there's too many to list them all.
PM: We see there's a Miss America browser for web surfing. Tell us about that.

LN:

Yes, after working with Children's Educational Network earlier in 2007, we created the Miss America's Kid-Safe Browser. The great thing about that is it's only prescreened, pre-approved Web sites that kids are allowed to view. It cuts out all of that material that they shouldn't be seeing. It's aimed at children ages three-and-a-half to 14, and it's a free download.
PM: We noticed that TLC, the new Miss America television network, is promoting its first telecast of the finals broadcast as Miss America Live. What else do you expect to happen as TLC takes over?

LN:

I think it's going to be a great partnership, because they know what Miss America stands for and they want to present it in the best light and stay true to our traditions, while also giving it a contemporary feel as well. It will be a perfect marriage of past traditions and new-age.
PM: What has been your most memorable experience since winning the crown?

LN:

Being from Oklahoma and it being our centennial, I had the opportunity to celebrate our 100th birthday and be there for all the major events: We had a huge parade, the Oklahoma Spectacular, and all five of the living Miss Americas from Oklahoma were there, and we spent time together and performed. It will be one of the events I'll remember for the rest of my life.
PM: How has Oklahoma become so successful at Miss America over the years?

LN:

We have a great group of girls to choose from each year, but I really attribute all of our success to the support that we have. We have a wonderful board of directors; Kay Alexander does an amazing job directing us. We have a lot support across the state — donors and sponsors — who really care about Miss Oklahoma and what we're doing. When you have all that support, it makes it so much easier to compete and do well.
PM: What famous people have you met, and, how have you dealt with your own fame?

LN:

It was really neat to get to meet the president and the first lady. I had a chance encounter on a flight from New York to Las Vegas: I sat down, and then [actor] Forrest Whittaker sat down next to me. Becoming famous has taken some getting use to, definitely. It will always feel weird, going from a little girl from Lawton, OK, to Miss America... that's quite a lifestyle change.
PM: How do feel about what you've accomplished as Miss America?

LN:

The day after I was crowned, I was flying from Las Vegas to New York and I told Bonny Sirgani, who is the Miss America traveling companion, that I just wanted to be a good Miss America. And I have tried every day, every minute I've had this title, to represent Miss America ideals and also be a very real, approachable, genuine Miss America. I really hope that that's my legacy.
PM: Well, also, you were on the cover of Pageantry [Summer 2007] that was the fastest-moving sellout issue ever. That's quite a feather in your crown, too!

LN:

Wow! That's a really neat accomplishment. The photo turned out really well, and I think the entire magazine is really great. It was a different look, and I think Miss America can be high glamour and be "the girl next door" at the same time.
PM: What advice do you have for other young women who want to learn your secrets about the right way to position themselves to become Miss America?

LN:

Whether you're wanting to become Miss America or not, you have choices every day. It's important to make the right choices to represent not only yourself, but also your family and the ideals that you stand for in your personal life in an upstanding way. That will serve you well, whether you decide to compete in pageants or not.

w