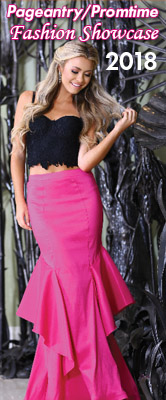 The pressure-packed finals puts the spotlight once again on the difficulty of scoring points in front of millions of worldwide viewers.




By Fred Abel

W

ho could have imagined that a teen pageant could give us a cartoon-art history lesson and an unforgettable finish? Come to think of it, though, that's the instructive power of a live televised competition, which reaches a viewing audience of 250 million in 70 countries—people who, like the giant illustrated bikini girl set off to one side of the stage, filled their own thought bubbles with the words: "SO COOL!"

The 25th Miss Teen USA 2007 telecast, this year presented at the Pasadena Civic Auditorium in Pasadena, Calif., convened competitors from all 50 states and the District of Columbia for the coveted Miss Teen USA title. As in years past, contestants appeared in Swimsuit, Evening Gown, and Interview segments in the live two-hour NBC telecast for the chance to spend her year living the life of a celebrity in a Donald Trump high-rise condo shared with Miss Universe and Miss USA.

The winner would also stay busy appearing on behalf of many service organizations, as well as attending the New York Film Academy. The reigning Miss Teen USA 2006, Katie Blair, would pass on her crown and sash at the conclusion of the spirited competition, which this year was hosted by Extra's Mario Lopez and judged by a celebrity panel that included former teen TV stars Melissa Joan Hart and Joey Lawrence.

CRUZ CONTROL:

Colorado's Hilary Cruz performs flawlessly in Evening Gown, Swimsuit, and Interview while on her way to capturing the Miss Teen USA 2007 crown.

To complete the cool factor in this highly entertaining production package, Miss Universe Organization President Paula Shugart and Executive Producer Phil Gurin presented 19-year-old pop-music performer Kat DeLuna to sing "Whine Up," and the hot new Jonas Brothers band to deliver a medley of their hits "Hold On" and "S.O.S." during the Evening Gown segment.

We Wear Short Shorts!
The era of retro cartoon chic carried over as this year's 51 Miss Teen USA contenders announced themselves on-stage in a parade of gyrating dance moves as they wore sleeveless cropped classic white T-shirts and pastel-colored short shorts. Mario summed up what lay ahead: "It takes dedication, strong will, mental toughness, and, oh, yeah, tonight it wouldn't hurt to look good in an evening gown. As far as the final question, though, ladies, you're on your own. Nobody said this was going to be an easy night."

Mario was underscoring a modern reality: Competitions provide, to a greater extent than ever, a jump-start to many diverse and potentially lucrative career paths pursuing TV hosting, music, modeling, and acting careers. After outgoing Miss Teen USA 2006 Katie Blair was introduced at finals, she told the audience that winning the title the year before "felt unbelievable."

In It To Win It!
Just as all 51 young ladies are getting acquainted with appearing before a worldwide viewing audience, though, the numbers game began, and, based on the preliminary Swimsuit, Evening Gown, and Interview rounds judging, the "51" became "15." Surviving the cut were the representatives (in the order they were called) from the states of Alabama, Kansas, Tennessee, Wyoming, Colorado, Virginia, Hawaii, West Virginia, New Jersey, South Carolina, Minnesota, North Carolina, Rhode Island, Illinois, and New Mexico. The show cut to fast-paced video clips of each teen modeling for Miss Universe's official still photographer, Fadil Berisha, then introduced the star-studded judges' panel.

Surf's Up!
Gathering confidence by this point was a top priority for the Top 15 contestants, as they returned for a pop-art Swimsuit presentation amid a sea of kitschy seaside icons: a sunburst graphic, lifeguard station, and beach umbrellas. While Kat DeLuna delivered her hit music, the swimwear clad contestants joined in the choreography, each spinning her way to center stage wearing two-piece swimwear and platform sandals, while stage lights enhanced the dazzling, audience-pleasing production.

That led into the Evening Gown event, but not before another five teens were sidelined. Surviving in the Top 10 (in order as revealed) were Alabama, West Virginia, Virginia, South Carolina, Rhode Island, North Carolina, New Jersey, Minnesota, Kansas, and Colorado. Fleshing out this group were supergraphic summaries with Mario's narration and pre-taped segments spotlighting each young woman.

STANDOUT PERFORMANCES:

MUO photographers captured the Top 5 in top form in Evening Gown.

Rock This Town!
The Jonas Brothers, a popular new guitar-based rock group, next provided the musical accompaniment for Evening Gown with a set of up-tempo, drum-driven guitar riffs and vocals, as each contender stepped gracefully across to center stage, hit her mark in front of the judges, and exited.

As scores were being compiled, the show's hand-held backstage cameras captured behind-the-scenes antics, while informal pre-taped videos brought across a cross-section of facts and opinions from the 2007 contestants about everything from their favorite foods to their grade-point average: 3.62 out of 4.00.

Back live after the break, the two Miss Teen USA special awards were presented to Mississippi's Anne Parks as Miss Congeniality (voted on by 2007's contestants) and Maryland's Allison Farrow as Miss Photogenic (voted on by visitors to the NBC.com Miss Teen USA web site).

Must See TV!
Taking another slice out of the field, the judges gave thumbs up to the Top 5 (announced in this order): Miss South Carolina Teen USA Lauren Caitlin Upton, Miss Colorado Teen USA Hilary Carol Cruz, Miss West Virginia Teen USA Chelsea Welch, Miss North Carolina Teen USA Kaitlin Coble, and Miss New Jersey Teen USA Alyssa Campanella. Mario then spoke about the final questions that loomed directly ahead as a "make-or-break moment that is easier said than done—especially with the whole country watching."

The pressure took its toll when South Carolina's Lauren Upton stepped forward first and struggled to make sense of a question about American students' lack of geography skills. "I personally believe U.S. Americans..." she began. Her response grew more disjointed, and then ran over the 30-second buzzer. For Colorado's Hilary Cruz, up next, a question about her favored female pop idol (Paris Hilton, Brittney Spears, or Lindsay Lohan) drew a long pause from her before she answered, "Well... first of all, I would not say that they are my role models." The audience cheered at this most decisive turning point.

STILL IN THE RUNNING:

The Top 5 at center stage are (L-R): Lauren Caitlin Upton (SC), Hilary Carol Cruz (CO), Chelsea Welch (WV), Kaitlin Coble (NC), and Alyssa Campanella (NJ).

OMG!
Meanwhile, Mario returned to introduce Katie Blair's final walk before announcing the results in quick succession: 4th Runner-up, Miss West Virginia, 3rd Runner-up, Miss South Carolina, and 2nd Runner-up, Miss North Carolina. Brought forward were Miss Colorado and Miss New Jersey; one of them would have the duty to serve if the winner became unable to continue, while the other would take her place alongside Miss USA and Miss Universe in a Trump Tower condominium as the new Miss Teen USA. Mario ended the suspense, pronouncing, "The first runner-up is New Jersey, so Miss Teen USA 2007 is Colorado!"

Hilary Cruz's eyes welled up with tears as she assumed the well-deserved title and accepted the crown and roses, having proven she has the ability and confidence to stand before the world and "nail" her interviews—and look beautiful while doing so. As time expired on the Miss Teen USA finals telecast, the cartoon thought bubble hanging over the stage said it all: "OMG!"

MOMENT OF TRUTH

Colorado's Hilary Cruz and New Jersey's Alyssa Campanella await the judges' decision that named Colorado's contender as Miss Teen USA 2007.
w