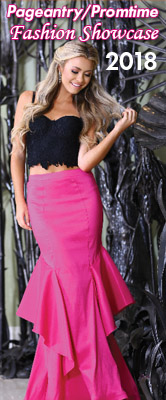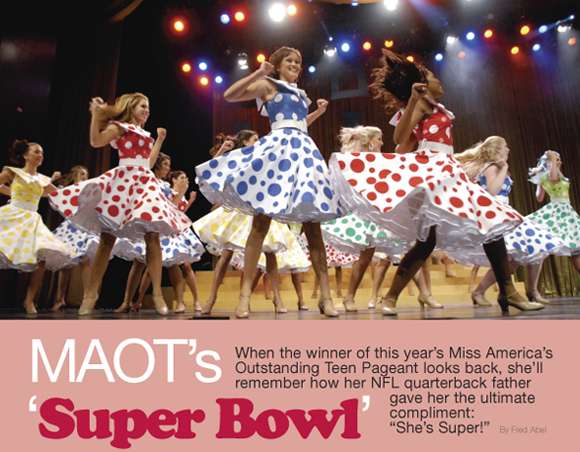 I

attended a "Super Bowl" this summer, but it wasn't played by beefy males on a football field in front of well-heeled season's ticket holders. Instead, it was dedicated to a group of highly motived young women in pursuit of their dreams. The audience did stand and cheer quite a bit for its superstars, though, just like that other Super Bowl.
"Super Bowls" aren't only for men. Just ask the 52 girls who've competed for this year's Miss American's Outstanding Teen 2008 title. They know what it means to pursue a seemingly "unreachable star," to strive against all odds, fighting tooth-and-nail for a title that no one can ever take away from them, along with the college scholarship that goes along with it. If pageants such as this one aren't their "Super Bowls," what is?
The Super Bowl comparison would become clearer to all in mid-August once we learned who had captured the Miss America's Outstanding Teen 2008 title. Still, from the very start of the lively staged two-hour show on finals night, the true value of teen scholarship competitions was apparent to all, and what better place than at the third installment of the Miss America's Outstanding Teen Pa-geant, which once again was presented in the world's most popular tourist destination of Orlando, Florida.
As the little sister of the venerable 86-year-old Miss America Pageant, this year's MAOTeen competition proved itself to be more exciting, wholesome, and noteworthy than ever for the teens who arrived from around the country for a chance to win one of the world's most generous teen scholarship awards (with a $30,000 top award and $125,000 in all on the line), to demonstrate their wholehearted collective commitment to public service, and display their promise as ideal types among sisters, daughters, and future leaders of our society.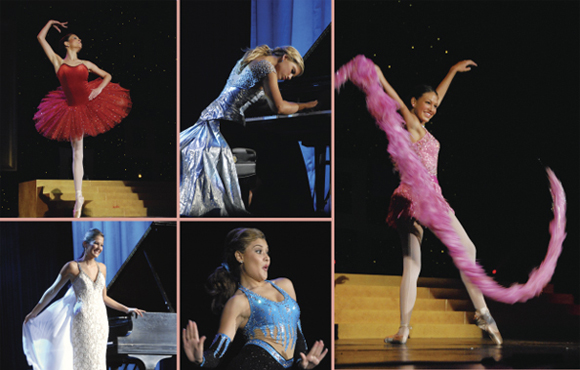 WHERE TALENT COUNTS MOST:
Earning 35 percent of their final score in the Talent round are these Top 5 finishers in the competition (counterclockwise from above): Virginia's Caitlin Brunell, Utah's Lindsey Brinton, Louisiana's Mary Jane Hobgood, Kentucky's Ann-Blair Thornton, and Pennsylvania's Elena LaQuatra. (Opposite) The high-energy opening dance number features a colorful polka-dot dress design.
52 "Most-Talented" Teens
As was the case last year, the competition was being entirely captured by multiple video cameras for later telecast. The show began with the combined videotaped and live introduction of 52 of the nation's most talented teenage girls, who had already proven their mettle in Talent, Evening Gown, Sportswear, and Interview events in all 50 states, the District of Columbia, and the Virgin Islands. Now, it was time for them to prove themselves as role models of female beauty, grace, talent, athleticism, and intellectual achievement on a national stage.
MAOT board member Dr. Wintley Phipps once again performed his stirring rendition of the National Anthem, which was followed by the on-stage entry of all 52 contestants escorted by another new and growing MAO organization, the Miss America Princesses, made up of pre-teen girls. The TV spotlights and video cameras were next trained on stage left, where the cohosts were introduced: the beautiful reigning Miss America 2007 Lauren Nelson was joined by Walt Disney World actor and musical theater performer Billy Flanigan.
All the glitz and glamour of the opening culminated in the introduction of MAOT's second titleholder MAOT 2007 Maria DeSantis, who recounted some of the highlights of her successful year of service as the second of what promises to be a long list of distinguished teen winners. In only its third year, MAOT had made tremendous strides under the leadership of MAO CEO and President Art McMaster, MAO Board Chairman Sam Haskell, and MAOT Board Chairperson Donna Bozarth.
A Working Vacation
Nine days earlier, after having arrived and checked in at the Rosen Centre Hotel, the 52 MAOT candidates began creating a youthful and glamorous whirlwind, as they made their presence felt throughout the Orlando region with shopping trips, sponsor parties, and promotional appearances throughout the magic kingdom acknowledged as the No. 1 vacation capital in the world.
In between rehearsals, they videotaped their opening introductions, splashed about at the water park, and attended a supper fit for royalty at a Midieval-themed dinner theater. Like all true MAO participants, they made time for public service with tiara-party visits sponsored by Give Kids the World, competed in a "Bowling for Scholars" tournament, feted outgoing winner Maria DeSantis at a farewell gala, and relaxed at a "Popcorn Pajama Party."
The contestants also had their work cut out for them over four nights with four preliminary events—Talent, Onstage Question and Evening Wear, and Lifestyle and Fitness in Sportswear—for which they were divided into three separate groups, named Red, White, and Blue. Based on the preliminary judges' scoring, only 10 of the 52 MAOT state titleholders would advance to finals. Lauren and Billy took turns delivering the good news for the following 10 semifinalists: Louisiana, Oklahoma, Wisconsin, Utah, Florida, Pennsylvania, Mississippi, Virginia, Kentucky, and Indiana.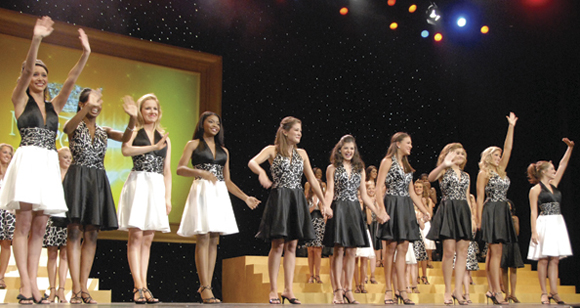 SETTING THE STAGE WITH ENTHUSIASM:
(From top) Emcees Billy Flanigan and Lauren Nelson turn over the mike to Miss America's Outstanding Teen 2007 Maria DeSantis; Devonda Simmons entertains with the song "There Ain't No Mountain;" all the MAOT contestants combine for a fitness floor show; and the Top 10 greet their fans.
Super in Sportswear
After the announcement of the judges and sponsors, the competition turned up the energy with a song-and-dance number presenting all 52 MAOT contestants in sportwear outfits, with the various dance, workout, and leisure and competitive sports uniforms representing the numerous fitness activities these teens actually pursue in their daily lives. This presentation was followed by individual appearances by the Top 10, which were accompanied by video slide shows on the large stage screen and narration by Lauren Nelson. Lifestyle and Fitness in Sportswear, worth 10 percent of the total score at finals, put the emphasis truly on "sports," as the 10 semifinalists modeled various outfits from tennis, golf, cheerleading, dancing, and track. The audience greeted these appearances warmly, then settled back as more humorous videos showed contestants describing themselves with funny words and entertainer Devonda Simmons extended the upbeat tempo with her rendition of "There Ain't No Mountain."
Hitting Their Stride
With Lauren and Billy delivering voice-over background biographies for each of the 10 semifinalists, the Evening Gown procession commenced with all contestants appearing in red gowns, along with Miss America's Outstanding Teen Princesses wearing pink, while Billy sang the romantic ballad "Lady in Red." This number was followed once again by Top 10 appearances, this time in evening gowns of their choice, while Lauren voiced a narrative that summarized each girl's goals and aspirations.
Standing tall in a literal sense were the male dancers from the group called the Second Story Guys, who donning stilts and colorful tuxedos, put on a rousing dance show while the finals judges recorded their scores and the theater audience grew excited in anticipation of the well-practiced Talent performances.
As you might expect in a pageant where the Talent segment counts for 35 percent of the final score, the next 10 Talent appearances promised to be decisive in determining which young ladies would move into the Top 5. Audience-pleasing appearances came in the form of five dance, three vocal, and two piano presentations.
Halfway There
Back from intermission, the audience didn't have to wait long to find out who was moving closer to their MAOTeen dream. Judges put their stamp of approval on the Outstanding Teen representatives from Virginia, Caitlin Brunell; Utah, Lindsey Brinton; Louisiana, Mary Jane Hobgood; Kentucky, Ann-Blair Thornton; and Pennsylvania, Elena LaQuatra.
With the goal of revealing the personality of each Top 5 finalist on the live stage, Billy drew them over to seats on-stage, where each was given a question to answer regarding such subjects as government funding for the arts, Hollywood's influence on youth, the relevance of MAOTeen and other pageants, historical events, and the way in which MAOTeen participation had changed a participant's life. After all five hopefuls gave poised answers, Lauren stood center stage to sing "To Dream the Impossible Dream" while the judges' final votes were tallied. Those decisions would determine who would be named MAOTeen 2007 and be given the tiara, sash, and bouquet, as well as the chance to live for one year as an All-American role model whom all teenage girls could emulate.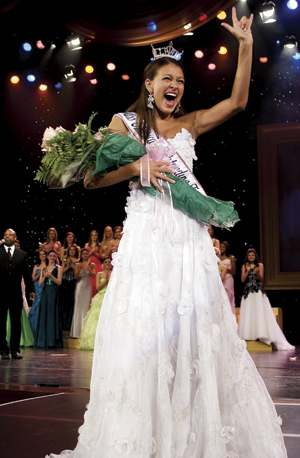 super success:
Caitlin Brunell outlasted a highly talented field to claim the title of Miss America's Outstanding Teen 2008.
Court's Final Countdown
Lauren and Billy built the tension, then broke it as they announced the final results: 4th Runner-up MAOT-Kentucky Ann-Blair Thornton, 3rd Runner-up MAOT-Louisiana Mary Jane Hobgood, and 2nd Runner-up MAOT-Pennsylvania Elena LaQuatra received recognition for their fine overall results. Last year's 2nd Runner-up was the teen from Virginia, and this year that state's representative, Caitlin Brunell, once again was awaiting the judges' decision, standing alongside Utah's Lindsey Brinton. Which one would step onto the national stage in the year-long position as Miss America's Outstanding Teen for 2008? The answer came, when the teen from Utah was named 1st Runner-up, and Caitlin Brunell became the first to bring the title of Miss America's Outstanding Teen 2008 to Virginia. The news released a rush of energy throughout the Linda Chapin Theater and Virginia's many supporters.
Caitlin's mother, Stacy, was in the audience and elated with her daughter's success, and she knew right away the first person she needed to contact via text message on her cell phone: her husband, NFL quarterback Mark Brunell. He was unable to witness his daughter's MAOTeen triumph because he had a competition of his own back home in Washington, D.C. — appearing in a Redskins preseason football game. Stacy's message got through with the good news, because Mark had planned ahead and given his cell phone to a Redskins security agent on the sidelines.
After Caitlin heard her father's words of congratulations from her Mom, I asked Caitlin how she felt about her Dad missing her hard-fought victory. "It's okay," she said through tears of joy. "He went to my state pageant. He said, 'This is a girl's Super Bowl.'" It was a good night for all the Brunells, as Mark helped the Washington Redskins to a stunning 14-0 victory over the Tennessee Titans.
w