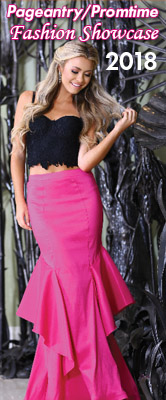 LOOK OF A WINNER

: Riyo Mori shows why she won it all in this post-pageant
fashion shoot exclusive.

PHOTO: FADIL BERISHA
MAKEUP: YUKO TAKAHASHI
HAIR: LAURENTIUS PURNAMA

The view down Mexico way never looked so lovely as during the

MISS UNIVERSE 2007

TV special

By Fred Abel


Photos by Miss Universe L.P., LLLP

C

avorting in the surf and sand or climbing ancient ruins at resorts such as the sundrenched fun spots of Acapulco, Cozumel, Chichen Itza, and Guadalajara, this year's Miss Universe 2007 contestants certainly put a positive spin on tourism-friendly Mexico. Having traveled from all parts of the globe for a once-in-a-lifetime experience in the nation's capital, Mexico City, the 77 beauty queens from Albania to Zambia sparkled like the inviting waters bordering this country's coastline—with the contestants' tanned, toned, and take-nothing-for-granted physical beauty putting Mexico's vacation playgrounds on the map.

GIRLS IN GRIDLOCK:

(Below) Multi-tier staging turned all 77 Miss Universe contestants into a highly visible part of the stage show.

As one of the largest and most celebrated international competitions of its kind, the Miss Universe pageant is proof that—while around-the-clock news coverage gives new meaning to the term "reality TV"—television can also communicate the good times like no other mass medium can, with beauty, pageantry, and people who cherish peace and harmony taking the stage. The 56th annual chapter of this pageant allowed these most breathtaking beauties to light our world with a positive energy, as the two-hour telecast presented before a live audience of 10,000 (including Miss Universe Organization co-owner Donald Trump) at Mexico City's National Auditorium also attracted an NBC and Telemundo TV viewership of more than 600 million.

The opening scenes of beachside video clips led into the show's first live number, an onstage explosion of sight and sound, underscored by kinetic stage lighting and colorful costuming that has become a hallmark of the Miss Universe pageant under NBC's and the Trump Organization's ownership. The live onstage procession, featuring a Nelly Furtado soundtrack and festive national costumes adorning the ladies, put an exotic exclamation point on the positive healing power of this annual world-class competition. In leaving behind the comforts and, in some cases, the conflicts of their homelands, all 77 of these beauty queens had, over the past year, demonstrated the courage and commitment to win a beauty title, while also promoting a number of worthwhile charities and causes supported by the Miss Universe Organization.




READY TO ROCK THE HOUSE:

(Right) Rachel Smith's outfit, a star-spangled nod to the Elvis Presley Las Vegas era, drew an enthusiastic response during the opening national costume presentation, as did Japan's Riyo Mori in her modern take on a traditional look.

Served with a twist


As is the tradition, this year's contestants were intent on showing us their very best in Swimsuit, Evening Gown, and Interview segments in order to earn the right to take possession of the top prize—the $250,000 pearl-and-diamond-studded crown and the year-long reign as Miss Universe 2007.

Part of the telecast's wow factor came into focus immediately after the Costume Parade, when all the contestants took their place in a blue backlighted, stacked steel grid—a stage presentation that added a fresh visual component to the innovative Phil Gurin-produced MUO pageants for NBC-Telemundo. Also new this year to the network's telecast was Vanessa Minnillo, the Entertainment Tonight correspondent and Miss Teen USA 1998 winner, who took over the female cohosting role that Nancy O'Dell had to relinquished this year due to the impending birth of her first child [for details, see Scoops, page 14]. Vanessa was joined in the emceeing duties by Dancing With the Stars winner and actor Mario Lopez, and the pair took advantage of their TV-polished personnas and shared Hispanic background to enhance the show's international flair.

Also reinforcing the Hispanic connection of this year's pageant, Miss Puerto Rico and Miss Universe 2006 Zuleyka Rivera appeared next in a stunning yellow gown to update the world on her year of service, during which she appeared around the globe as a spokeswoman promoting the expansion of AIDS and HIV treatment services. She promised to continue that work in the years ahead, before stepping back to allow Vanessa and Mario to reveal the 15 contestants who, through the votes of the preliminary competition judges and final choices of the Miss Universe Organization, were still in the running for the title Zuleyka would pass on. Those selections kept the dream alive for: Miss Venezuela Ly Jonaitis, Miss Thailand Farung Yuthithum, Miss Denmark Zaklina Sojic, Miss Nicaragua Xiomara Blandino, Miss Angola Micaela Reis, Miss Slovenia Tjasa Kokalj, Miss USA Rachel Smith, Miss Brazil Natalia Guimaraes, Miss India Puja Gupta, Miss Mexico Rosa Maria Ojeda Cuen, Miss Japan Riyo Mori, Miss Ukraine Lyudmila Bikmullina, Miss Tanzania Flaviana Matata, Miss Korea Honey Lee, and Miss Czech Republic Lucie Hadasova.

WORKING THE CURVES:

(Above) Natural beauty, grace, and fitness were put to the test in Swimsuit competition, after which these representatives made the Top 10: (Top, L-R) Brazil, India, Japan, Angola, Venezuela, (Above, L-R) USA, Korea, Tanzania, Nicaragua, and Mexico. (Right) New to Miss Universe was Vanessa Minnillo, who cohosted with actor Mario Lopez.

Back to basics in bikinis
With the live action heading backstage as contestants prepared for the Swimsuit segment, the telecast flipped a switch to a pretaped modeling segment with still images captured by international fashion photographer Fadil Berisha. A live introduction of the star-studded finals judges' panel followed: Dallas Cowboys quarterback Tony Romo, Heroes TV series co-star James Kyson Lee, Elle magazine fashion director Nina Garcia, rock guitarist and owner of Spread Radio Live Dave Navarro, Miss Universe 1993 and daytime TV actress Dayanara Torres, Telemundo TV star Mauricio Islas, Deal or No Deal's Lindsay Clubine, fashion designer Marc Bouwer, Miss Universe 1953 Christian Martel, and nine-time world figure skating champion Michelle Kwan.

A quick video tour featuring contestants at play in some of Mexico's Caribbean photogenic resorts appropriately preceded the highly anticipated Swimsuit competition, where confidence, poise, and fitness became the acid test for the Top 15. This year, the staging featured a giant sun graphic, along with the special guest-starring accompaniment of Mexico's pop-music hitmakers RBD. The producers put the band out front, followed by the Top 15 in three mini segments, during which the 62 nonfinalist contestants danced in place in their multilevel stage backdrop. The Top 15 each strolled down the runway, appearing in the order each had been introduced earlier in the show, wearing animal print bikinis and carrying fringed body wraps. Combining the live music with Swimsuit competition—a technique used at other MUO pageants in recent years—once again propelled the energy level of the contestants and audience alike to new heights.

Another round of judging led to the selection of the Top 10. Still outfitted in swimwear, the 10 contestants continuing on were the queens from Brazil, India, Japan, Angola, Venezuela, USA, Korea, Tanzania, Nicaragua, and Mexico. As the Top 10 left the stage to dress for Evening Gown competition, the audience was treated to video clips that showcased close-ups of each young woman in a variety of settings, with self-narrations sharing their personality traits, experiences, and hopes for the future, followed by more video clips of this year's Miss Universe contestants visiting a multitude of Mexico's tourist destinations.

ACTION FIGURES:

Success in the Evening Gown competiton is reflected in a demonstration of elegance, poise, and an inner glow–in other words, someone whose body language speaks a dialect anyone can easily understand.The candidates from (above, L-R) Brazil, USA, Korea, and Venezuela,and Japan (R) earned their Top 5 placements after they completed their Evening Gown appearances.

With the start of the Evening Gown presentation, Mario sounded what turned out to be a prescient note of caution, when he shared this tip: "No matter how high your heels, keep both your feet on the ground." All 77 women opened the Evening Gown segment, set to the upbeat soundtrack of "When You Gonna Give It Up To Me?," before the Top 10 took their turns demonstrating their graceful form and movement in evening wear that sparkled with generous appliques of crystal beading, sequins, and shimmering fabric embellishments. As in Swimsuit, the combined average score flashed on the television screen at the end of each contestant's appearance.

All came off flawlessly until, six steps into Miss USA's stroll toward center stage, Rachel Smith caught a heel in her hem. Her feet slid out from under her and she fell backward. In a second, she was on her feet, underdeterred and flashing confident and flirty smiles at the TV cameras and judges as she finished her runway walk. Though Rachel's 8.754 score was less than a point lower than the highest mark for Top 10 in Evening Gown, she certainly earned everyone's respect for making an amazing recovery. Mario summed up this portion of the show with the words, "All I have to say is 'Magnifico!'"

Pressurizing the pageant
Once Mexico's rich historic and cultural centers received their allotted TV air time, Vanessa and Mario brought us closer to the mystery of who would become Miss Universe by announcing two special awards: Most Photogenic, Miss Philippines Anna Licaros, and Miss Congeniality, Miss China Ningning Zhang.

With under 30 minutes left, scores from Evening Gown would determine who had earned a place in the Top 5, along with the unenviable opportunity to answer the pressure-packed Onstage Interview questions. Selected to continue to that next level were Venezuela's Ly Jonaitis, Korea's Honey Lee, Brazil's Natalia Guimaraes, USA's Rachel Smith, and Japan's Riyo Mori. They were immediately sent into interview mode to help spotlight their unique personalities and points of view. Who would realize their dream? The audience excitement exploded across the auditorium, with boisterous chanting matches breaking out among the Top 5 finalists' cheering sections.

Addressing the judges' questions in their native tongues (with English interpretation for all but Miss USA), Miss Venezuela spoke eloquently about maintaining the proper balance in a man-woman relationship; Miss Korea rose to the occasion in choosing a comic book hero's super power to help support her missionary work; Miss Brazil put her heart and mind into answering a question on using both of those resources to live her life to the fullest; Miss USA deftly handled her question (as well as a smattering of audience jeers) by relating her eye-opening and educational experience while visiting South Africa; and Miss Japan was eloquent in crediting her childhood dance classes for lessons in being happy, patient, and positive that continue to inspire her today.

And then there were two
The Top 5 graced the runway one more time, while the judges' made their final decisions. Awaiting the winner was a fabulous prize package that included her very own Mikimoto cultured pearl tiara, a year living in a New York City Trump Towers apartment, personal styling consultations and products, a $30,000 diamond-studded watch, New York Film Academy training, and choices in designer wardrobe lines to cover her head-to-toe in glamorous style while spending a year as an international superstar and role model for women around the world. Miss Universe 2006 Zuleyka Rivera's final walk brought with it her voiceover narrative that expressed her appreciation for the opportunities that had come with the title, and thanked her family, her native Puerto Rico, and the executive support system of MUO, led by Mr. Trump and MUO President Paula Shugart.

The two-hours of nail-biting anticipation peaked when Vanessa and Mario received the final results and read off three names: 4th Runner-up, Miss USA Rachel Smith; 3rd Runner-up, Miss Korea Honey Lee; and 2nd Runner-up, Miss Venezuela Ly Jonaitis. Left standing were Brazil's Natalia Guimaraes and Japan's Riyo Mori, who briefly held hands and then stood apart and faced each other while avoiding eye contact. After only a quick pause, Miss Brazil accepted Mario's news naming her as 1st Runner-up, leaving Miss Japan Riyo Mori looking shocked as the news of her victory began to sink in, propelling her into the limelight as the newest star in the Miss Universe firmament. Completing her walk down the runway, Riyo was mobbed by her 76 fellow beauty queens, and while the TV credits rolled, you could read the words of astonishment on Riyo's lips, as she exclaimed in perfect English, "Oh… my… god!"

QUEEN FOR A LIFETIME:

As the clock wound down the final minutes in Mexico City, once again we witnessed history in the making as Rachel Smith (below left) made a graceful 4th Runner-up, and the responces of Brazil's Natalia Guimaraes and Japan's Riyo Mori told the story at the moment when Brazil was announced as 1st Runner-up. Outgoing Miss Universe Zuleyka Rivera placed the crown on an emotional 20-year-old Riyo, who walked the runway as the latest winner from Japan since Akiko Kojima became the first young woman from Asia to win the Miss Universe title in 1959.
w