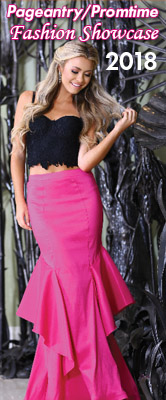 By retelling Tara Conner's story of recovery after accepting Donald Trump's generous second-chance offer, the Miss USA telecast raises the dramatic stakes as the competition seeks its 56th winner.

By Fred Abel

SUPPORTIVE TURN:

(Above) Usually projecting a tough-as-nails businessman demeanor, Donald Trump surprised media cynics with his sympathetic handling of Tara's situation. (Top) Miss USA 2007 Rachel Smith relaxes during a casual post-pageant garden photo shoot.

F

urrowed brows and tears of turmoil tumbled across the video screens as the 56th annual Miss USA Pageant got underway. The dramatic replay showed portions of a December 2006 press conference, where a sympathic pageant co-owner Donald Trump and a contrite Miss USA 2006 Tara Conner faced an insatiable horde of New York City-based media. who were following the fate of Ms. Conner after reports on her public behavior had led to widespread speculation that she would be dismissed. Rerun in the opening moments of the 56th annual Miss USA 2007 Pageant telecast, the dramatic video was further evidence that, even in their most trying times, national beauty pageants contribute positive lessons of courage and personal triumph in our society before an estimated worldwide viewing audience of more than 250 million.

"I've always been a believer in second chances," Mr. Trump said at the time. "She's agreed to go into rehab. I believe she will be an amazing example." Cut to footage of a tearful Tara. "Sometimes you have to hit rock bottom before you can work your way back up," she says. "I plan on walking out of this the best Miss USA you've ever seen."

With that, the pageant's live video cameras captured Tara as she appears smiling on-stage from the Kodak Theatre at Hollywood and Highland in a sleek-bodiced V-neck gown with layered ruffles from her hips to her feet. "It has been THE most unforgettable year of my life," she says to a rapt audience in Los Angeles and across the country. "And I'm back, and I'm better than ever. … Who will win Miss USA 2007 starts right now."

The dramatic video intro, combined with a hand-held camera that captured the live backstage primping and TV-production management, served to underscore the audience anticipation, as 51 contestants walked down a runway in a variety of outfits, from color-matching hot red and pastel cocktail dresses to full-length gowns and leopard-print and black-sequined styles, with a few wearing flowing full-length pants.

Returning as hostess, Access Hollywood's co-anchor Nancy O'Dell (looking radiant in black as an expectant mother) was joined in the cohosting duties by newcomer Tim Vincent, a native of Wrexham, Wales, who emceed Miss World 2005 and has served for two years as Access Hollywood's New York City correspondent.

The show next returned to the video overview of Tara's story, with Tim concluding, "Now Tara serves as a glowing example and courageous role model for young women everywhere…as living proof that there are second chances everywhere." For herself, Tara announced plans to work on a book, along with a wish to follow Nancy O'Dell into entertainment reporting and select acting roles.

Fifteen co-stars
With all that drama in the first 20 minutes of the telecast, the rest of the show promised more surprising revelations, the first of which was the announcement of the Top 15 semifinalists, based on the preliminary competition before a separate panel of judges. Their decisions were as follows: Miss Virginia Lauren Barnette (a two-time Pageantry & PromTime Fashion Showcase model), Miss Rhode Island Danielle Lacourse, Miss South Carolina Ashley Zais, Miss Utah Heather Anderson, Miss Hawaii Chanel Wise, Miss Texas Magen Ellis, Miss Kansas Cara Gorges, Miss Missouri Amber Seyer, Miss California Meagan Tandy, Miss Nevada Helen Salas, Miss Michigan Kelly Best, Miss Louisiana Elizabeth McNulty, Miss North Carolina Erin O'Kelley, Miss Tennessee Rachel Smith, and Miss Wisconsin Caitlin Morrall.

Fashion being at the forefront of our modern beauty industry, the Miss USA 2007 videographers naturally turned up at a pre-pageant photo shoot with official MUO photographer Fadil Berisha behind the still camera. The live audience watched video montages as the Top 15 and Berisha worked to capture each young woman's most flattering poses."The cameras never lie," said Tim Vincent. "These women are absolutely stunning."

For the complete behind-the-scenes story and all the details on this and other exciting competitive events from across America, as well as a wealth of advice to improve your chances of victory, be sure to Order Pageantry today.
w