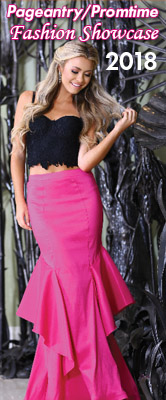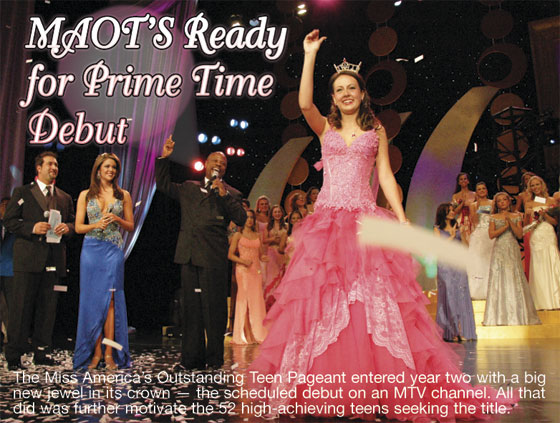 PHOTOS BY BRION PRICE PHOTOGRAPHY
BY FRED ABEL
D

own in Orlando, you're never very far from a delightful entertainment opportunity in the vacation capital of the universe, what with the Walt Disney World Resorts, Universal Studios, Sea World, and Cypress Gardens theme parks dominating the regional landscape, along with such old-time stalwarts as Gatorland Zoo sharing the scrub-oak speckled Central Florida terrain with a shiny new ultra-chic shopping mecca known as the Millenia Mall all beckoning brightly right off the visitor-packed I-4 corridor. One new attraction has up until this year slipped into town quietly, but will soon make a prominent place for itself on the national stage and everyone's must-see list: the Miss America's Outstanding Teen Pageant is this vacation kingdom's newest big attraction.
The TV network's presence only upped the ante on an already exciting scholarship competition out to prove itself to be polished, professional, and ready for its televised unveiling.
It was mid-August. With the thunderstorm season in full swing outside the Linda Chapin Theater in the Orange County Convention Center reminding everyone filing in of the electricity and excitement about to wash over them, the stage was set for the second annual Miss America's Outstanding Teen Pageant (MAOT), which for all intents and purposes looked much the same as last year's inaugural event, except for one rather prominent difference — this time, the show was being entirely captured by multiple video cameras for its scheduled television debut via a programming arm of MTV in late October. That TV network's production presence only upped the ante on an already exciting scholarship competition, which, in its second go-around as the little sister of the venerable 85-year-old Miss America Pageant, was out to prove itself to be more polished, professional, and ready than ever for its televised unveiling.
Once the finals audience had shaken off the raindrops and taken their seats, the competition got underway as it had last year, with the combined videotaped and live introduction of 52 of the nation's best quadruple-threat teenage girls, who had already proven their mettle in Talent, Evening Gown, Sportswear, and Interview events during highly-charged competitions with MAOT victories in all 50 states, the District of Columbia, and the Virgin Islands. The ultimate question on everyone's mind: Who would "wow" the audience and judges this year, thereby proving themself as a role model of female beauty, grace, talent, athleticism, and intellectual achievement, to earn the title of Miss America's Outstanding Teen 2007 and the $30,000 college scholarship top prize?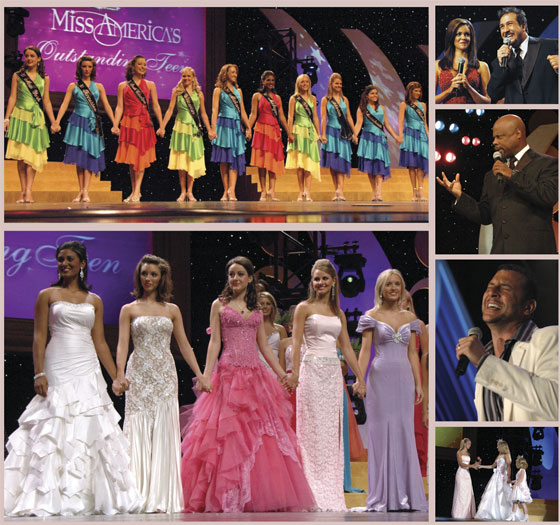 1-in-10 CHANCE: (Top) MAOT 2007's Top 10 semifinalists would compete in Sportswear, Evening Gown, and Talent, leading the judges to name a Top 5 (Above). Adding to the entertainment are (Right, top to bottom) cohosts Joey Fatone and MA '06 Jennifer Berry, vocalist Dr. Wintley Phipps, country singer Cooper Boone, and the Miss America Princesses.
Class of 2007
As the Miss America VIPs and guests settled in, the auditorium lights dimmed and MAOT board member Dr. Wintley Phipps delivered an impressive version of the National Anthem, which was followed by the on-stage entry of all 50 contestants escorted by another new and growing MAO organization, the Miss America Princesses, made up of pre-teen girls. The TV spotlights and video cameras were next trained on stage left, where the cohosts stepped out to enthusiastic applause. The sparkling beauty and reigning Miss America 2006 Jennifer Berry joined Orlando-based pop singer and actor, best know as one of the five members of the 1990s boy-band phenomenon known as *NSYNC, Joey Fatone, who was returning as an emcee for a second year.
All the glitz and glamour of the opening culminated in the introduction of MAOT's "first lady," MAOT 2006 Meghan Miller, who recounted some of the highlights of her groundbreaking and successful year of service as the first of what promises to be a long list of distinguished teen winners. In only its second year, MAOT had made tremendous strides under the leadership of MAO CEO and President Art McMaster, MAO Board Chairman Sam Haskell, MAOT Board Chairperson Donna Bozarth, and MAOT National Director Christine David. The biggest evidence of this came prior to the pageant, when the pageant announced the teen pageant's finals would be telecast on October 28 on The N, a programming arm of MTV Networks, described as "the nighttime network for teens" with availability every day from 6 p.m. to 6 a.m. in 50 million households via cable and satellite TV. Taking charge of the production was John Best, an Emmy Award-winning producer, who welcomed the opportunity to serve as the first MAOT TV producer, and described the new pageant as an ideal fit with The N, "a network that reaches our key demographic of teens."

(Top) Miss America 2006 Jennifer Berry.
(Bottom) Miss America's Outstanding Teen 2005 Meghan Miller.
Breath of Fresh Air
Nine days earlier, after having arrived and checked in at the Rosen Centre Hotel, the 52 MAOT candidates began creating a youthful and glamorous MTV-worthy whirlwind, as they made their presence felt throughout the Orlando region with shopping trips, sponsor parties, and promotional appearances throughout the vacation kingdom acknowledged as the No. 1 vacation capital in the world. In between rehearsals, they videotaped their opening introductions at Cypress Gardens, splashed about at Wet n' Wild water park, at attended a dinner fit for royalty at the Midieval Times Dinner Theater. Like all true MAO participants, they made time for public service with tiara-party visits sponsored by Give Kids the World, competed in a "Bowling for Scholars" tournament, feted outgoing winner Meghan Miller at a farewell gala, and relaxed at a "Popcorn Pajama Party."
The contestants also had their work cut out for them over three consecutive nights with preliminary events — Talent, Onstage Question and Evening Wear, and Lifestyle and Fitness in Sportswear — for which they were divided into three separate groups, named Red, White, and Blue, of course. Based on the preliminary judges' scoring, only 10 of the 52 MAOT state titleholders would advance to finals. As the entire field assembled onstage in multitiered, multicolored dresses, Joey Fatone and Jennifer Berry delivered the good news for the following 10 semifinalists: MAOT-NY Maria DeSantis, MAOT-TN Leah Beth Bolton, MAOT-SC Maggie Hill, MAOT-WI Allie Rick, MAOT-AL Abby Steverson, MAOT-MI Nina Davuluri, MAOT-VA Brittany Young, MAOT-AR Dorothy Roy Shepherd, MAOT-MA Cherise Marie LeClerc, and MAOT-OK Molly Colvard.
Apropos for a pageant, "Celebrate" was the song used to kick off the competition, which started with Lifestyle and Fitness in Sportswear (worth 10%), with the emphasis truly on "sports" as the 10 semifinalists modeled various outfits from tennis, golf, cheerleading, dancing, and track. The audience greeted these modeling appearances warmly, then settled back as entertainer Cooper Boone sang "American Way," accompanied by the First Academy of Orlando Youth Choir.
Joined by all contestants as well as the National Princesses, the semifinalists next stepped forward with utmost elegance to accept long-stemmed roses and then proceed to center stage in the demure Evening Wear segment (worth 15%), while singer-songwriter Billy Flanigan sang "You Are the Lady of This Moment," a tune penned especially for this year's MAOT Pageant, and the emcees delivered voiceover background biographies for each of the 10 semifinalists.
Performer Friendly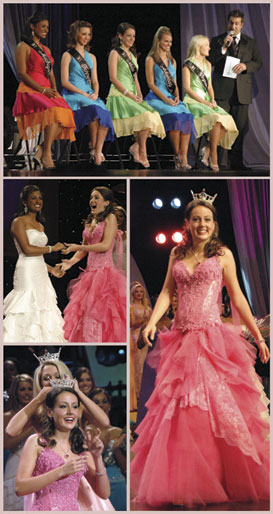 ?CLOSING MOMENTS: After the Top 5 have a relaxed on-stage question-and-answer session with Joey Fatone, the countdown continues as the field is winnowed to two: MAOT-MI Nina Davuluri and MAOT-NY Maria DeSantis, who react to the news as Maria is named MAOT 2007. Meghan Miller passes her tiara to Maria, who takes the winner's walk.
As you might expect in a pageant where the Talent segment counts for 35% of the final score, the next 10 Talent appearances — broken up by a visit with nonfinalists backstage by Meghan Miller and a $5,000 special scholarship award presented to MAOT-MS Natalie Wood for her work with the Dream Academy Mentoring Club — promised to be decisive in determining which young ladies would move into the Top 5. Audience-pleasing results came in the form of opera, Broadway musical, tap and ballet, harp, and piano performances from the semifinalists, while a male dance group called the Second Story Guys, donning stilts and blue tuxedos, put on a delightful dance show set to a Mowtown musical medley.
Back from intermission, the audience didn't have to wait long to find out who was moving closer to their MAOT dream. Judges put their stamp of approval on the Outstanding Teen representatives from Virginia, Arkansas, New York, Tennessee, and Michigan. Without any scoring for Interview (worth 5% in preliminaries) at this point, all that remained for the Top 5 were an unscored onstage conversation with Joey and Jennifer and the announcement of nonfinalist Special Awards, after which the judges placed the names of the Top 5 in the order of finish. Those decisions would determine who would be named MAOT 2007 and given a tiara, sash, and the chance to live for one year as an All-American role model for all teens to look up to.
Who made the grade? Joey Fatone asked everyone to take a deep breath as the order of finish was about to be announced, with 4th Runner-up MAOT-AR Dorothy Roy Shepherd, 3rd Runner-up MAOT-TN Leah Beth Bolton, and 2nd Runner-up MAOT-VA Brittany Young taken out of the running. That left only two, MAOT-NY Maria DeSantis and MAOT-MI Nina Davuluri, still hoping for the top spot. Once more, all in attendence could virtually hear a pin drop until the teen from Michigan was named 1st Runner-up. The title of Miss America's Outstanding Teen 2007 belonged to New York's Maria DeSantis, whose finely tuned operatic voice, ambitious honors-course curriculum, and brightly urgent personality made a strong and lasting impression. This year, though, you don't have to take our word for it — just tune in to The N on October 28 to see for yourself how Miss America's Outstanding Teen 2007 Maria DeSantis did it.

w