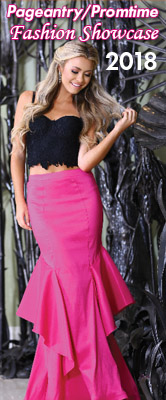 As co-host of Access Hollywood, Nancy O'Dell is our go-to girl in La-La Land for the big scoops on celebrities. We caught up with the entertainment news anchor and former Miss SC-MAO during a whirlwind two days, when she proved to be funny, accommodating, and still on Cloud 9 even after 10 years in the high-profile role as a media personality all her own.
By Fred Abel
Picture this: It's 7 a.m. in Los Angeles and the sun is only beginning to cut through the haze as Nancy O'Dell pulls her Mercedes out of the drive and puts in a call to Pageantry on her cell phone. Her work schedule on any given day is a whirlwind of such multitasking, only this time she's the interviewee, and I have the privilege of finding out what makes one of America's entertainment-TV treasures tick. "If you had asked me ten years ago if I would be doing the same thing," she says, "I probably would have said, 'Oh, I'll probably do something else in the entertainment world.' But I couldn't be more happy than where I am. I love it and would like to be here far into the future, because my job provides so many opportunities, not only the Access Hollywood show itself, but so many other projects that come with it."
When she joined Access Hollywood in 1996 as one of the regular reporters chasing Hollywood's leading men and ladies for face time, Nancy O'Dell could hardly imagine that, a decade later, she would be considered one of TV's hottest talents as her own career and celebrity took flight. "I was there from day one, and it was great to watch the show's transformation, because now it is considered one of the top two entertainment news magazines that exist. To have been there for the birth of the baby, so to speak, and to see it come into maturity is such a neat thing."
Admirers have had a similar reaction to Nancy O'Dell herself as they've watched her growth — from Miss South Carolina 1987 (MAO), to award-winning local South Carolina and Miami TV journalist, and on to Los Angeles, where she eventually worked her way up to her throne as the Access Hollywood co-anchor (with Billy Bush), host of Miss Universe Organization pageants, and a presence on the red carpet and on-stage at awards shows, rubbing elbows with Brad Pitt and Angelina Jolie at events such as the Oscars, Emmys, Grammys, Golden Globes, and ESPYs. She has even gotten to play herself in such movies as Scream 2 and Scream 3 and the TV hit series Beverly Hills, 90210, while also providing her voice for a role on The Simpsons animated series and taking on several TV and movie acting roles.
Nancy owes her high profile, though, to her day job, during which she looks totally gorgeous and in her element as anchor, tackling tricky assignments covering some of the biggest, most beautiful Hollywood stars — from Richard Gere, Tom Cruise, and Tom Hanks to Sandra Bullock, Mariah Carey, and Halle Berry — as well as special assignments, such as her extended one-on-one visit with First Lady Laura Bush. "When the show first started and nobody knew about it," says Nancy as she idles in LA's gridlock, "we would have to call and beg for interviews. Now the celebrities are coming to us for exclusives, because we're considered one of the top entertainment news shows."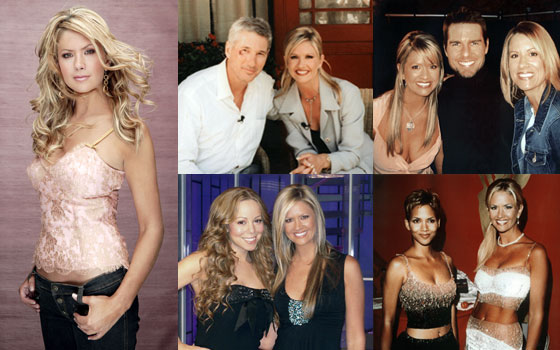 CELEBRITY Seeking: (Left) Nancy poses for a spectacular cover shot for Pageantry Magazine. (Top Middle) Actor Richard Gere on a movie set with Nancy, who tells of having a girlhood crush on Gere that left her tongue-tied during what was her first of many of her interviews with him. (Top Right) Nancy and her sister Karen spend quality time with superstar Tom Cruise. (Above Middle) Grammy Award-winning recording artist Mariah Carey visits with Nancy on the set of Access Hollywood. (Above Right) Oscar-winning actress and pageant winner Halle Berry and Nancy are the picture of fitness at the Emmys show.
With looks that rival some of the very starlettes she's sitting down with five nights a week on Access (the show is produced and syndicated by NBC Universal Domestic Television Distribution and is the second most-watched TV entertainment magazine show), it is little wonder that Nancy is listed by national magazines as "One of the 20 Hottest Stars Right Now" and as one of the "10 Most Bankable Stars in Syndication."
Not bad for a South Carolina girl who first made a small splash in state pageants — including Miss High Tide, a Myrtle Beach, South Carolina, swimsuit competition and a title that she's quick to make light of. "I don't know how I got to be Miss High Tide," she jokes. "I didn't have the largest endowment up top, so I thought, I don't know, maybe I should be Miss Low Tide." She made the most of her svelte figure, impeccable grooming, and flair for fashion, though, gaining the Miss South Carolina 1987 title and garnering a preliminary Swimsuit Award at national finals that year. What propelled her into pageants? "Being from South Carolina, I think it was the thing to do," she says. "I knew it was a great way to get scholarship money in the Miss America program. It was definitely an experience that helped me, because I had to travel to make public appearances almost every day. I don't think that I would have the job I have today if I hadn't gotten that pageant training then. It definitely matures you and teaches you public relations, speaking, and people skills."
It hasn't hurt that she possesses not only beauty queen good looks but brains as well — Nancy graduated summa cum laude with a major in marketing from Clemson University in 1990. The almost $15,000 in MAO college scholarships paid for the rest of her tuition at Clemson, she says, "which was nice, because I felt that my parents had always been there for me, buying dresses and traveling to competitions.
"I don't think I would have the job I have today if I hadn't gotten that pageant training then."
Pageant experience can't be underestimated, says Nancy as she negotiates traffic en route to the Access Hollywood studio. "Being interviewed so much that year I won Miss South Carolina definitely helped me with my interviewing skills today. You learn how to get a different point across that you want to convey." Recalling the year the hit movie Miss Congeniality opened, she remembers her producers saying, "You're a pageant girl, you're perfect to cover that!" Later, when she interviewed the film's star, Sandra Bullock, they chuckled over all the contrivances pageant contestants use in their beauty and ward-robe preparation. "Watching the movie, I was laughing at all the tricks," Nancy says. "I said, 'I know that trick,' and I still like to use some of them today, such as when I have to be out at the Oscars and have a long dress on that has to stay in place."
Over her 10 years with Access Hollywood, the very nature of entertainment journalism has changed, and Nancy has grown and adjusted along with it. "When I started sitting down with the stars, it was about their projects, their movies, and the research they did, whereas now it seems like viewers crave entertainment news more than ever. Now, people are into finding out about the stars' personal lives, who had a baby, and who has a relationship with whom."
Taking full advantage of her Southern charm combined with the solid reporting skills she developed during her formative years as an investigative reporter at Miami's NBC affiliate, WTVJ-TV, Nancy has demonstrated the tenacity necessary to not only survive but also thrive in Hollywood's ego-infested waters. As her own celebrity status has risen and she's developed personal friendships with such superstars as Halle Berry and Mariah Carey, she's been able to deliver the kind of insider scoops that today's gossip-hungry, entertainment-TV viewers find irresistible.

South Carolina DEBUT:

(Top) Nancy appears with her parents and, at the time, Vice President George H.W. Bush. (Above Left) in 1988, prior to giving up her crown, she poses in a swimsuit with the 1988 contestants. (Above Right) As Miss South Carolina, Nancy wears a Japanese kimono during her two weeks as part of the International Trade Relations program.
"The other day, I sat down and did a long interview with Nick Lachey, who came to us first to talk about his new album," explains Nancy, "and he was really open and honest with us about his relationship with Jessica [Simpson]. It's come to the point where the stars trust the show, and they trust you as an interviewer. It's great to get that exclusive. We just had an exclusive with Mariah Carey, where we talked about her new tour coming up. I sat down with First Lady Laura Bush, and had a meeting with the president — some thing you don't get to do in an entertainment news show."
Even her own personal trials, including her divorce from Miami doctor Richard O'Dell and a break-up with an LA boyfriend, have given Nancy useful perspective for her star interviews. "I can relate to them," she notes. "I went through a divorce, celebrities go through separations and divorces, too, so you sympathize with them. When they say, 'I'm going to keep that part of my relationship private,' I can respect that. As a journalist, it's your job to ask all those personal questions of them, but you have to respect their right to privacy."
Nancy's own private life increasingly has been breached in recent years as her career flourishes. She was inducted into South Carolina's Music and Entertainment Hall of Fame in 1998, becoming its youngest member, and was honored by the state's governor earlier this year when he declared February 1 as Nancy O'Dell Day. "That was fun. Later, my little nephew called me up and said, 'So this is great: Every year on this date I get to have the day off from school!' They had just gotten off for Martin Luther King Day, and I had to explain that he wasn't getting a day off for my day." Testimonials aside, Nancy reveals some slight discomfort with all the attention. "It's kind of weird, because being from South Carolina, I don't really think of myself that way," she says. "I just kind of do my thing, but I am beginning to see more interest in my life since the media coverage of my wedding a year ago. Now, my husband and I will be out shopping and people will come up to us and say, 'Congratulations! We saw your wedding.' I feel weird about it, because it's such a personal thing."
That marriage, in June 2005 to business executive Keith Zubchevich at the Bacara Resort and Spa in Santa Barbara, California, perhaps best reveals Nancy's family-oriented side. They wrote their own wedding vows, Nancy's uncle officiated, and the best men were Keith's two sons, Tyler, then age 10, and Carson, 6. Having read that the couple had met the year before while waiting to board separate flights at Bob Hope Airport in Burbank, I asked, in my best gossip-reporter vernacular, "What was that all about?" Nancy laughed and revealed the fascinating details. "He smiled at me as we kept passing each other in line, but I wondered if he was smiling because he knew me from the show or if he was really interested. He was really cute, and he had the prettiest blue eyes, so I said, 'Okay, I'll smile back.' I had just broken up with my boyfriend, and I was glad that had happened, so I could meet my husband."
"It was fate," Nancy said of meeting her future husband on an airport line.
"It sounds like it was love at first flight!" I blurt out."
But they almost didn't meet. Keith had left Nancy behind after she was delayed with a double security screening. She walked to the concession stand at the far end of the terminal, and the rest, as they say, is history. "So we both wound up in the coffee shop," she says, "and, I have to say, we're bound to say it was fate."
"It sounds like it was love at first flight!" I blurt out.
"There you go!" Nancy exclaims. "Nobody's ever responded to that story like that before. I like it!"
Nancy's contagious enthusiasm has proven to be one of her keys to success. "You always have to be peppy," she says. "No matter how bad of a day you're having, you have to be perky in all those different roles. … One day you're doing one celebrity interview, the next day you're doing another interview, the next day you're doing the Oscars, then it's Miss USA, and after that it's the Golden Globes…."
Yet her "perky genes," as she has come to realize, would take her only so far when she stepped in front of the cameras in TV and film roles. "It was a whole different challenge, and I didn't do a lot of acting. Just some bit parts with small amounts of lines here and there. I never went out for a leading role, because I knew I was trained for broadcasting, and that's where I wanted to stay.
"I did Scream 2, and I remember the director Wes Craven sitting there not saying anything, holding his little clipboard, so I started into my scene and he stopped me. 'Nancy, you need to wait for me to say action.' You don't feel so comfortable if you haven't been around a movie set very long. After a while, it started feeling a little easier. I never missed an 'action' cue after that."
Handling the travel requirements for her assignments on behalf of Access and the Miss Universe Organization has come easily, though, due to her pageant experiences, such as visiting Japan for two weeks in the Interational Trade Relations program. She still stays in touch with the people who run the operation, including the senior director, a man she calls "my grandfather in Japan."

Co-host odyssey:
Nancy joins Miss Universe 2005 Natalie Glebova following the live NBC telecast of the pageant from Bangkok, Thailand. Nancy has co-hosted both Miss USA competitions from Baltimore, and she's also handled co-hosting duties at the network's coverage of the Tournament of Roses Parade telecast from Pasadena, CA, since 2000
Volunteering for charity also falls into her MAO service experiences, only now, with a much higher public profile, she's taken on major positions: Celebrity Ambassador for Childhelp USA and spokesperson for the March of Dimes' "Blue Jeans for Babies" project. She's been inducted into the American Red Cross' National Celebrity Cabinet and received the Spirit of Leadership Award from Best Buddies, a non-profit organization that helps those with intellectual disabilities.
I ask Nancy about changes facing the pageant industry, but something cuts her short. "I'm sorry," she explains moments later, "I'm getting into another lane at the same time I'm talking to you." Once she's out of the car and in the Access makeup room, Nancy praises the Miss Universe system for its sexy, hip productions, and expresses hope that the Miss America Organization's reality programming will be well-received, adding, "When I hear a negative comment about pageants, I say, 'You know, this was one of the first reality shows ever.' That's what pageants are."
As a studio makeup person dries her hair, I pose one last question: What one lesson can we learn from Nancy O'Dell's career? "Experience teaches you that your goals are obtainable as long as you stick with it," she says. "You can do anything you set out to do. Oh, my! That sounds like a pageant answer, doesn't it? But it's very true!"
w