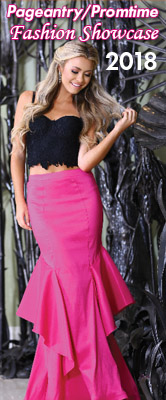 TRUER WORDS... I met with teenagers at Patch, a military base in Stuttgart, encouraging them to volunteer as mentors with SmartWired.
As Miss Teen USA 2005, I've received my share of prizes and accolades, but when it comes to taking advantage of my own success, I've learned there's no greater personal sense of accomplishment than inspiring, and then delivering, community-service help to others in need.
By Allie LaForce
One of my major thinking talents is "wanting to win." I discovered this during several weeks in Stuttgart, Germany, earlier this year, where I became "SmartWired." The SmartWired program helps children and mentors find their strongest thinking talents and learn how they can apply them to be successful. Throughout the whole process, I came to realize this personal desire to win is the reason I love delivering community service.
To me, when someone provides community service, everyone benefits. As Miss Teen USA, I am extremely thankful for all I have received: the Mikimoto crown and tiara, CoverGirl makeup, Chi hair products, Nina footwear, Preciosa Crystals, and a wardrobe from Tadashi are all part of the rewards of winning the Miss Teen USA title. But so much more important to me are the opportunities I am having to give back, where the rewards far outweigh the sacrifices.
Community service doesn't need to be all-consuming. It can entail any activity, from picking up trash around the community for 10 minutes to participating in a program as large and great as Sparrow Clubs USA, a national school-based service-projects organization promoting help for children in medical need. Providing community service through Sparrows Club is so beneficial and rewarding, I have found that taking only an hour or two out of the day to help someone else really makes me feel great! Not only does the community benefit from just one hour of my time, but I get something out of it, too.
Sparrow Clubs works with young people to increase their involvement in the community, while benefiting young victims of illness and their families, who often need financial help in addition to medical attention. In my case, my high school chose to adopt a teenage boy with an extremely rare disease, who nevertheless was attending classes and participating in school activities as though nothing could get in his way.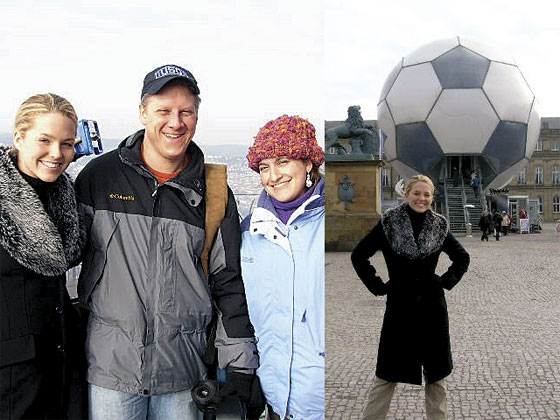 I'M STILL ON TOP OF THE WORLD: (Above left) This is me, IMC videographer Peter Barossi, and Miss Universe Organization Talent Development Manager Susie Dicker (L-R) standing 718 feet above it all at the top of the TV Tower in Degerloch, near Stuttgart, Germany. OLD IS "NEW:" (Above right) This portrait was taken in front of the "New Castle," built in 1487, in the center of downtown Stuttgart.
The kids in my school all knew him and wanted to do everything possible to help. Our school was asked to come together to contribute a minimum of 256 hours of community service in order to earn money for our classmate. For each hour of community service, my school would contribute $10 to be granted to our classmate and his family. Daily announcements of our progress were made, and further fund-raising continued until more than 600 community-service hours were logged. By introducing the Sparrow Club concept to my school, I was able not only to help this individual student myself, but also encourage others to participate by setting an overall goal for everyone to reach.
Last summer, I also became involved with community service that is essential to the survival of high-quality education at my school, Vermilion High School, in Vermilion, Ohio. My classmates and I gathered at the high school and walked door-to-door throughout the city, petitioning homeowners to vote in favor of an education levy — a government tax that, in Vermilion's case, is earmarked for public-school funding for in-school and after-school programs.
By promoting a "Yes" vote on the levy, we were able to show how much dedication and pride we have in our school, while also demonstrating through our involvement how public tax money can have a positive impact on their community. All kids benefit when they band together — it's second nature to take pride in being on a team or in a club — and raise public awareness about the importance of setting goals for the future. Going door-to-door, my fellow students and I also were able to reach out to the younger generation of kids and pass the torch to them, delivering the message: "Through our unity, we can break down walls."
No matter whether we contribute five minutes or five hours — whether we support educational funding, a community garden, or a civic center — giving back through community service results in personal rewards as well. Providing community service makes me feel special inside — as if I have "made someone's day" everyday. Each person may have different reasons that motivate him or her to contribute, but in the end there is one great result — a community coming together for an important cause and with a greater success than it could have achieved otherwise. By learning about my thinking talent through SmartWired, I now understand why I love community service so much: I love to win... and, come to think of it, everybody wins when we care enough to become involved.
Allie LaForce of Vermilion, Ohio, is in her junior year at Vermilion High School, where she is first in her class and a self-described jock. Among her extracurricular activities, she plays volleyball and varsity basketball, and is a pitcher on her school's varsity fast-pitch softball team. Allie is also an on-camera interviewer at her high school football games. At 5-ft.-8-in. with blond hair and blue eyes, Allie takes after her mother, Lesa LaForce, Miss Ohio USA 1977. She has volunteered with a number of charities, including Friends of Lorain Foundation, an organization that raises money each year for someone in need; Day of Caring, a program where volunteers read to children and lift their spirits; Relay for Life, in which Allie walked laps around her high school track to raise money; and Spring Spruce Up, which provides assistance to the elderly at their homes. Allie established her own charity event, called Teens for Tsunami, through which she raised more than $1,200 to support the victims of the tsunami through the Red Cross.
w