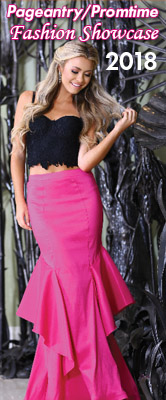 As the 54th Miss Universe, 2005 titleholder Natalie Glebova has been the star of her very own extensive and compelling travelogue. Having emigrated from Russia to start their lives anew in Toronto, Canada, more than a decade ago, the Glebova family demonstrated brave willingness to trade the security of their Russian homeland for opportunity halfway around the world. It proved to be one of Natalie's most valuable lessons. As a university business major with dreams of stardom, she took a chance on her own that paid off handsomely last May in Thailand, when she wowed the world to become Miss Universe. Since then, Natalie's natural vivacious beauty, grace, and intelligence have impressed all who have come to know her. Pageantry caught up with Natalie in New York as she prepared to depart on her final cross-cultural victory lap.
By Fred Abel
Hello, Natalie. So, tell me, where have you been traveling this year?
I've been everywhere: Asia, Africa, Europe, South America... you name it.
What's been your favorite destination?
I think Thailand, just because I've been back so many times and I have so many friends there now. It's such a beautiful place, and the people there are so nice!
How would you describe your travel schedule?
It's been crazy. Up until the New Year, I've been traveling and haven't seen New York or my own bed for a long time. Since the New Year, I've been in New York a bit, with Fashion Week here, and attending a lot of events around the city. But now I'm starting to travel again, and it's good to get busy again until I give up my crown. I'm going to Nicaragua, and I'll be at Miss Canada, where I'll crown my successor, and I'll go to Thailand again. I fell in love with that country, with the reception they gave us, how friendly the people are, and just seeing how resilient they have been after the tsunami. They're amazing!
Last year's pageant certainly reached an historic emotional high. What did it feel like at the moment when you realized you were chosen as Miss Universe?
I guess it just felt like, even though it wasn't my initial dream to win — my dream was just to participate and be part of the show and represent my country — it felt like, oh my God, all my dreams just came true. Winning the title meant that I was going to travel and meet so many people, and that's something I dreamt on my own. I just thought it would happen much later in my life. When they called my name, though, I thought: Is this a dream or is this reality?
How long does it take for the reality to sink in?
It actually takes just a few seconds to say, it's me! I'm the winner! And then it takes a few days to fathom all the wonderful things that are going to happen, and a few months to settle into the role and say, okay, this is my life now.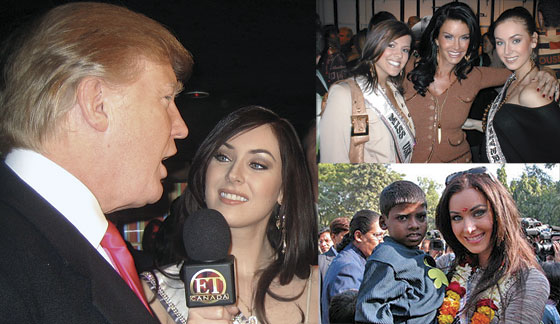 KEEPING UP APPEARANCES: (Above) Natalie interviews Miss Universe co-owner Donald Trump on behalf of Entertainment Tonight Canada on the red carpet at the launch party for Mr. Trump's latest venture, a travel web site. (Above right) Natalie visits with children from the Great Indian Dream Foundation in Delhi, whose mission is to provide education to disadvantaged children. (Above right-top) Natalie appears with fashion model Janice Dickinson and Miss USA 2005 Chelse Cooley at the Heatherettes fashion show during Fashion Week in New York City.
Your upbringing in Russia and your family's later move to Canada would seem to have helped you make that transition. Can you share that experience?
I was born in a small town on the coast of the Black Sea in Russia, and living there was very nice. It's a very beautiful place with mountains nearby. I had lots of friends, studied piano, took gymnastic classes, and studied English. I am an only child. My mother was a high school teacher, and my dad was a radio communications specialist in the shipping industry. My parents always wanted to leave Russia to pursue better opportunities and a better future for me. Finally, we found out that in Canada we were able to come into the country as Blended Immigrants. They decided to move in 1994.
Was that difficult?
I was 13 at the time, and yes, it was very hard to leave all of that. But at the same time, my parents had prepared me for many years about how much better our lives would be when we moved, and it really was better as soon as we moved, I just felt our lives changed for the better. I felt like this was my new home and I've felt for the last 11 years that Canada is my home, and it's a great place to live, and I miss it a lot now.
How far did you take your education there?
I went through high school there, and I also went to the university as well in Toronto, studied information technology management and marketing, and graduated in 2004 with a Bachelor of Commerce degree.
What aspects of the pageant world attracted you into the Miss Universe program?
What I found fascinating was being on stage and performing. Ever since a young age, I've always been involved in extracurricular activities that allowed me to perform on stage and learn a certain skill, like dancing or gymnastics. I really love preparing for the performance and doing a big show. When I was in college, I wasn't able to find anything like that, so I was looking for something to challenge myself — that I would love to do and that would be exciting. I just happened to come across the Miss Universe Pageant on TV one evening. It was 2002, the year that Miss Russia won. I was just really fascinated by the whole thing, the way the show was put together, the way the women were so put together and so elegant, so classy and sophisticated, and I wanted to be one of those women competing in this pageant. I thought that was the ultimate prize — to be able to represent your country in such a world-class event. So I just went online, did a little research on the Miss Universe web site, and applied online. From there, the national director for the Miss Universe Canada Organization contacted me. I had to fill out a few applications, go in for an interview, and do a regional pageant.
What were your challenges in getting to the place where you felt you could compete?
I had to shape up and polish up. I knew I had to be in the best physical fitness of my life, so I went to a nutritionist and found out the best way get into shape, and I worked out a lot. I started reading newspapers more and watching the news to brush up on current events. There are also all the little things, such as getting the right dress, having the right hairdo, practicing interviews....
Yet you made it look so effortless. Was it?
Well, that's how it should be. When you look at figure skaters doing those crazy jumps, they make it look so effortless, but really it takes such a long time to perfect them. But, at the same time, being in a pageant is not like figure skating. Something from inside you has to come across as being polished and well-rounded. You can't really practice that, but you can do things to improve yourself in little ways.
Did you win right away?
No, the first year I didn't win. I ended up being in the Top 5. I guess that was my first setback, and I decided, okay, that's all right. It happens. People fail. I asked if I could repeat the next year, and I was accepted. I guess I learned from my mistakes a little bit; things I felt were my shortcomings I improved, and I ended up winning.
You can't prepare yourself only for winning. You have to prepare yourself for both winning and losing.
Why would you consider being in the Top 5 that first year to be a failure?
In my first year I put too much expectations on myself when I set my goals to go into Miss Universe and win. That was wrong of me to do, because you can't prepare yourself only for winning. You have to prepare yourself for both winning and losing. When I didn't win, that really hurt me and I felt like I failed. But in the second year, I made sure I prepared myself for both situations. I said, okay, if I win, that's great, I'll work towards winning, but if I don't win, I still have to set new goals and work toward those.
Entering the finals in Thailand, how well prepared did you feel?
Compared to Miss Canada, it was a different level of competition, competing with women from 80 different countries rather than just contestants from Canada. I did feel ready, because I had a great organization in Miss Universe Canada, who really made a great team effort in helping me to be the best I could be. It was a lot of work, but I knew I had to step it up a notch.
Is the role and the job serving as Miss Universe what you expected?
I had looked at what past Miss Universe winners have done — all the wonderful experiences that Jennifer Hawkins [MU 2004] and Amelia Vega [MU 2003] had — and I can say that my year is definitely living up to my expectations. It's been a wonderful year filled with surprises and amazing opportunities. Yes, it is a job for the Miss Universe Organization, but it is full of priceless experiences — the life lessons that I have learned will help me for the rest of my life.
What are some of those lessons?
Well, in ways that help in how to interact with people. This job is working with people, and dealing with people on different levels. You've got your politicians and presidents, royal families, and celebrities. Then you also have AIDS patients to show compassion to. In this job, you have to have the ability to interact with so many different people and be able to relate to them all. Of course, my life has completely changed when it comes to looking at the world from an HIV and AIDS perspective and how there's so many people affected by that disease. You look at them when you visit them in hospitals or orphanages, and even though they're going through such hard times, they take pleasure from some simple things in life. Those are some great lessons to learn: That you can't get too focused on things that don't matter. Be happy with what you have.
What are your personal goals as you pass on the title and crown of Miss Universe?
My priority in the next five years is definitely my career. Marriage and family is a close second, I suppose, that I see myself pursuing in the next 10 years. Career-wise, I'm very ambitious right now to continue this kind of lifestyle and career. It will be more on the business side, because I have a degree in business, but I would definitely like to do something in the industry of beauty, glamour, and entertainment. I see myself as a business owner, eventually. Until then, I'll work with different companies, represent them and be not just a face or spokesperson only, but also a business person.
w