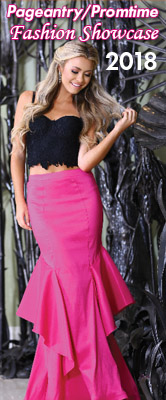 "The days went by so fast for my roommate, Miss Michigan Teen USA 2005 Catherine Laurion, and me. We would hold hands each night and say the same prayer: 'If it be God's will, let us be the last two standing.'"
By Allie LaForce
When, at 15 years of age, I asked my mom if I could enter the Miss Ohio Teen USA pageant, I never dreamed that a year later I would be sitting in a Donald Trump-owned Manhattan apartment. To say the feeling is unreal is an understatement!
I am a competitor and enjoy the thrill that comes from competition. Entering the Ohio State pageant was just another challenge I embraced. I have always competed in basketball, softball, and volleyball with the utmost confidence, but last year, I thought to myself, "Why not try something new?" My mom has always taught my brother, sister, and me that "Your attitude determines your altitude," so I kept that in mind as I decided to try to win the title of Miss Ohio Teen USA.
Preparation makes winners of all of us, and preparing is exactly what I did. As an athlete, I have to regularly condition my body for the sports I play, and eating smart was one of the keys for me. I never skipped a meal. Instead, I just modified what I ate: carbs in the morning, protein at night, and no food after 7:30 p.m. My exercise regimen, which consisted of a lot of cardio and lunges topped off with crunches every night, helped me sleep well and got my body ready for the Swimsuit competition. I was thankful that sports were already such a big part of my everyday routine, because it made getting in shape that much easier.
The next step in getting ready for the pageant was finding an evening gown. Lucky for me, I didn't have to look far. One of my mom's good friends let me borrow one of her pageant gowns. Then I prepared for the Interview section of the competition, with my mom making up mock interview questions for me to practice answering. This technique was something that worked for her when she competed for, and won, the Miss Ohio USA title in 1977.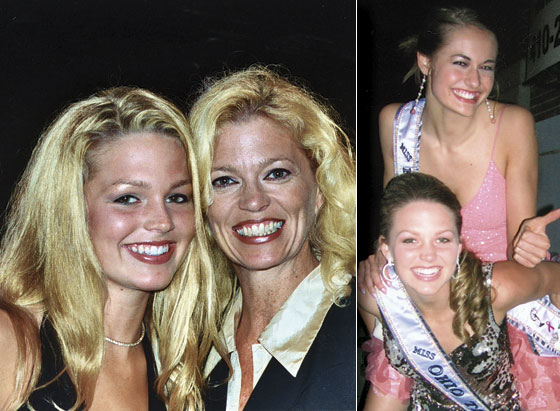 She ain't heavy, she's my first Runner-up:
(Right) Prior to finals, Allie gives a piggyback ride to her competition roommate and good friend, Miss Michigan Teen USA '05 Catherine Laurion. (Above) With her mother Lesa (Rummell) LaForce, Miss Ohio USA 1977.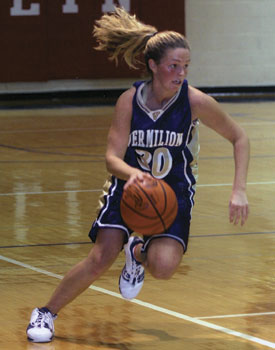 LaForce to be reckoned with: A multi-sport varsity athlete at Vermilion High School, Allie LaForce turned on her natural elegance and charm to capture the Miss Teen USA 2005 title.
It was hilarious videotaping and watching myself. I was able to review the tape and make some adjustments to my performance. Although I tried hard just to be myself, I found that if I became nervous, I could break the ice by asking one of my own questions. I did this during Interview portion at the Miss Teen Ohio finals, when I asked the host if he knew the score of the Ohio State game, which was being played at the same time as the pageant (and I really was dying to find out!) The next thing I knew, I won and was Miss Ohio Teen USA. Wow! Considering I had been the last competitor to sign up, I can say I'm sure glad I did. According to my mom, it was only supposed to be a "pageant boot camp" to prepare me for any future competitions. I guess I surprised her, too!
Being in Baton Rouge, Louisiana, this past July was like a summer camp, as I joined 50 other contestants for 18 wonderful days leading up to the 2005 Miss Teen USA competition finals. The days went by so fast for my roommate, Miss Michigan Teen USA 2005 Catherine Laurion, and me. We would hold hands each night and say the same prayer: "If it be God's will, let us be the last two standing." Amazingly, we were.
From the first week of photo shoots and being completely entertained by the wonderful sights, sound, and food of Baton Rouge, the fun continued all the way to the day of the actual telecast. I was having so much fun backstage that I feared in the back of my mind that I would trip on stage, if I didn't stop laughing with the other girls.
The 4th runner-up was called, followed by the 3rd and 2nd runners-up, but it was not until I was left standing there in the middle of the stage with Catherine that I thought, "Could I actually win this thing?" We couldn't let go of each other, and when they called "Michigan" as the 1st runner-up and me as Miss Teen USA 2005, she couldn't have been more supportive.
One of the greatest parts about winning — other than heading for my apartment in New York City the day after the pageant and meeting my new roommates, Miss USA 2005 Chelsea Cooley and Miss Universe 2005 Natalie Glebova — was having the chance to meet Mr. Trump. How cool was that? I loved the rush of that first week of being Miss Teen USA 2005. The media appearances, wardrobe fittings, and the photo shoots were unbelievable!
The bell has just rung here at Vermilion High School. Oh, I still believe that winning Miss Teen USA 2005 is a dream, until I get home at the end of day and see my Mikimoto tiara sitting in its case on my dressing table. The city posted signs around town announcing my success, the students and faculty members continue to cheer me on, and my local ice-cream parlor named an ice cream sundae after me. But, tiara or not, I am just Allie, and my summer reading projects are due tomorrow, so I'll have to go pull an all-nighter for that one!
Allie LaForce of Vermilion, Ohio, is in her junior year at Vermillion High School, where she is first in her class and a self-described jock. Among her extracurricular activities, she plays volleyball and varsity basketball, and is a pitcher on her school's varsity fast-pitch softball team. Allie is also an on-camera interviewer at her high school football games. At 5-ft.-8-in. with blond hair and blue eyes, Allie takes after her mother, Lesa LaForce, Miss Ohio USA 1977. She has volunteered with a number of charities, including Friends of Lorain Foundation, an organization that raises money each year for someone in need; Day of Caring, a program where volunteers read to children and lift their spirits; Relay for Life, in which Allie walked laps around her high school track to raise money; and Spring Spruce Up, which provides assistance to the elderly at their homes. Allie established her own charity event, called Teens for Tsunami, through which she raised more than $1,200 to support the victims of the tsunami through the Red Cross.
w