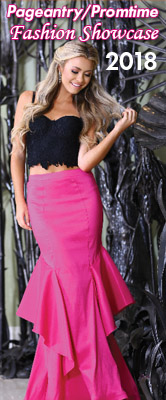 Fifty other teens and their wealth of beauty, brains, and talent stood between any single contestant and the 2005 Teen USA title. The odds of winning seemed daunting, but come to find out, pageant success runs in the winner's veins.
By Fred Abel
The young women who had won the right to appear on-stage at the Miss Teen USA 2005 pageant in early August were a diverse group. We know this because some of their most intriguing characteristics were superimposed on-screen during the NBC telecast. Among the facts revealed: 80 percent of the 2005 contestants carried a good-luck charm into the competition. Collectively, their grade-point average in school was 3.63 on a 4-point scale. On average, they each owned 55 pairs of shoes and, of those, packed 14 pairs to have available at the finals in Baton Rouge, Louisiana. And, viewers found out, although 40 percent reported having body piercings, only four of the contestants — not surprisingly, a low number for this Swimsuit-competition-bound set — had a tattoo.
With such a wealth of natural beauty, brains, and talent appearing on-stage in living color, the last thing Miss Teen USA fans expected to see were tattoos. Viewers — including an estimated worldwide viewing audience of more than 250 million — also didn't require a survey to conclude that each of the 51 state Teen USA 2005 queens, who announced themselves from the appropriately named American Queen Riverboat at the start of this annual network primetime special, were exactly alike in one respect: These young women all had dreamed of winning this title. In the next two hours, they would find out whether their hard work in preparing for this opportunity of a lifetime would pay off and become their exciting new reality.
As the two-hour, star-studded worldwide telecast of the Miss Teen USA 2005 pageant got underway with the American Queen introductions, it was clearly going to be a highly charged finale with one of the pageant's most competitive and promising fields ever, comprised of state Miss Teen winners from all 50 states and the District of Columbia.
At stake along with the year-long Miss Teen USA title were an array of prizes that included an apartment in Manhattan shared with MUO's other titleholders, Miss USA 2005 Chelsea Cooley and Miss Universe Natalie Glebova; a one-year modeling contract with Trump Model Management; a custom-designed wardrobe; travel across the U.S. and to vacation spots such as the Caribbean; opportunities for promoting a variety of community service causes; a two-year scholarship to acting school; and a one-time appearance on the NBC daytime drama Passions.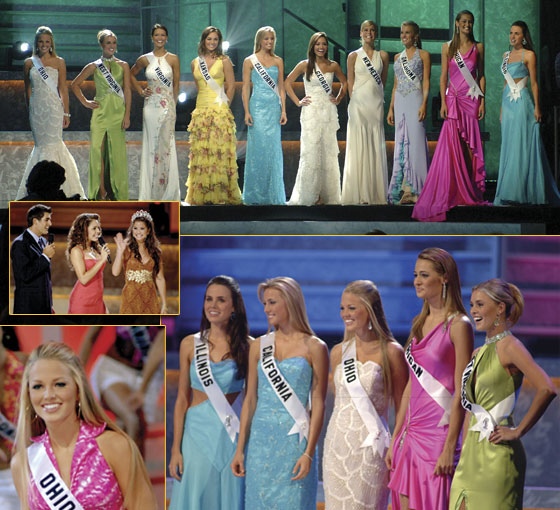 COUNTING DOWN:
Top: The Top 10 (L-R) Allie LaForce (OH), Andrea Turner (WV), Tori Hall (VA), LaTasha Laine Lawrie (KS), Stephanie Brink (CA), Katie Conkle (GA), Brittany Toll (NM), Crystal Glidden (OK), Catherine Laurion (MI), and Kelly Cruse (IL). Top left: Co-hosts Galen Gering and Susie Castillo talk with Shelley Hennig; Left: Allie makes a casual wear appearance. Above: The Top 5 (L-R) Kelly Cruse, Stephanie Brink, Allie LaForce, Catherine Laurion, and Andrea Turner. Opposite: Miss Teen USA '05 Allie LaForce basks in the audience affection following her win.
As they had done earlier in the summer with Miss Universe, Miss Universe Organization President Paula Shugart and veteran TV writer and executive producer Phil Gurin and Company took the pageant production to a new level of excellence. A sense of exotic Southern charm spilled over into the telecast from the many preliminary activities videotaped in and around host city Baton Rouge (French for "red stick"), Louisiana. In the days leading up to the finals, Miss Teen USA had sent its stars on the road, partaking in such local splendors as the Louisiana Art and Science Museum, the Alligator Bayou Tour, the Mississippi-docked American Queen Riverboat, French/Creole/Cajun cuisine, and the tallest state capital building in America.
The show's telegenic co-hosts, Miss USA 2003 and MTV host Susie Castillo and NBC daytime drama Passions actor Galen Gering, brought suitable hip youthfulness to the proceedings, while NBC casting added to the rising-star quotient with pop-music acts Aaron Carter and Kimberly Locke and a celebrity-studded judging panel that included Kathy Hilton of NBC's I Want To Be a Hilton and Naima Mora, CoverGirl spokesmodel and winner of the reality series America's Next Top Model.
Throughout the two-hour competition, the contestants appeared on a color-changing backlit stage flanked by two giant video screens, with the three-level stage ending in a central circular section that jutted runway-style into the orchestra seating area. The fast-paced competition showcased three event categories: Evening Gown, Swimsuit, and Interview, with the latter presented as a 30-second answer to questions composed ahead of time by the Top 5 and outgoing Miss Teen USA 2004 Shelley Hennig.
But before any of that could take place, we had to find out whom the judging had determined would make the Top 15 (the voting included an online poll as well as the marks from the preliminary judges). Galen and Susie called out these 15 states: California, Virginia, Maryland, Ohio, Illinois, New Mexico, West Virginia, Minnesota, New York, Kansas, Oklahoma, Kentucky, Michigan, Arkansas, and Georgia.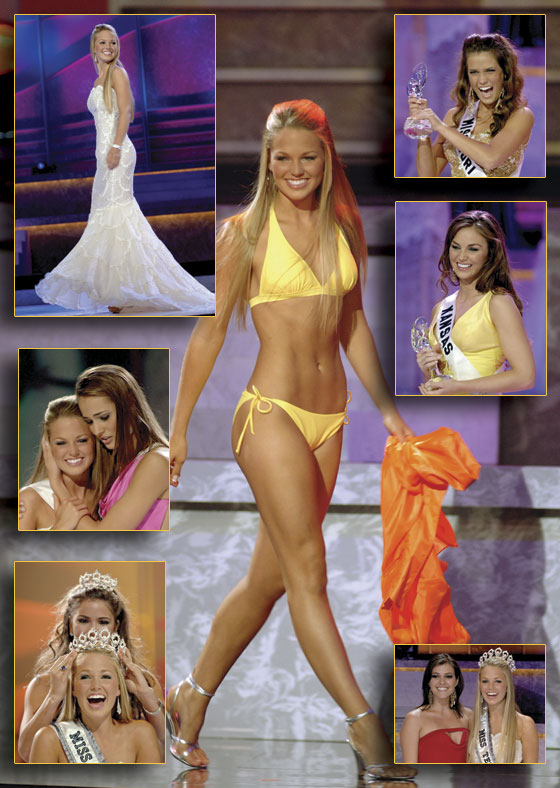 VICTORY PARADE:
Top left: Ohio's Allie LaForce competes in Evening Gown and Swimsuit. Above L-R: Allie and Miss Michigan Teen USA Catherine Laurion await their fate; moments later, Shelley Hennig places the crown on the new Miss Teen USA 2005 Allie LaForce. Above right from top: Miss Missouri Teen USA '05 Rachel Woolard accepts the Congeniality Award, Miss Kansas Teen USA 2005 LaTasha Lawrie wins the Photogenic Award, and Miss USA 2005 Chelsea Cooley poses with the newly crowned Allie.
As all 51 went backstage to dress for the Evening Gown parade, Aaron Carter was introduced and performed his hit, "Saturday Night." The Evening Gown event began with all 51 candidates appearing fashionably elegant in the gowns of her choice, before each of the Top 15 was given the spotlight to make her way gracefully to the circular center stage for close-up evaluation by the judges. The resulting scores would determine the Top 10: Ohio's Allie LaForce, West Virginia's Andrea Turner, Virginia's Tori Hall, Kansas' LaTasha Lawrie, California's Stephanie Brink, Georgia's Katie Conkle, New Mexico's Brittany Toll, Oklahoma's Crystal Glidden, Michigan's Catherine Laurion, and Illinois' Kelly Cruse.
Because the next major segment would require extensive costume-change time for the Swimsuit parade, the audience was taken on an extended side trip, with a set of 10 pre-taped get-acquainted videos featuring the Top 10 in various settings back home followed by American Idol 2nd Runner-up Kimberly Locke's performance of her hit song, "I Could."
In a bow to Baton Rouge culture, the producers injected a Cajun flavor into the Swimsuit competition with a Zydeco background-music beat. Once the non-finalists had graced the stage, each of the Top 10 survivors arrived in their Swimsuit finest, wearing a sassy array of brightly colored two-piece halter-top bikinis with contrasting-color sheer wraps, and their sunniest smiles. Such a stunning display of consistent fitness would make it that much more difficult as the judges were about to be asked to cut the field down to the Top 5. To draw out the drama a while longer, special awards were announced: the Miss Congeniality Award went to Miss Missouri Teen USA Rachel Woolard, voted on by the 2005 delegates, and the Miss Photogenic Award, voted on at the NBC.com web site, was given to Miss Kansas Teen USA LaTasha Lawrie.
When it came time for the Top 5 to be called, the judges were keeping hope alive for Illinois' Kelly Cruse, California's Stephanie Brink, Ohio's Allie LaForce, Michigan's Catherine Laurion, and West Virginia's Andrea Turner. Each would handle their final questions with assurance, and then all that was left for the Top 5 was one more stroll across the stage in evening gowns. Miss Teen USA 2004 Shelley Hennig said her thank you's and goodbyes, capping a fabulous year serving as a positive role model for teens the world over, and then readied the crown and sash for her successor.
Which one of these five deserving young ladies would step up to follow in Shelley's footsteps? As the envelope bearing the answer was handed to Galen Gering and Susie Castillo, the years of experience spent dreaming, preparing, and competing to become Miss Teen USA state titleholders would draw each of the five finalists together, as they held hands on-stage to learn of their collective fate. Calling them up in reverse order, the co-hosts presented the honors to 4th Runner-up Miss California Teen USA Stephanie Brink, 3rd Runner-up Miss Illinois Teen USA Kelly Cruse, and 2nd Runner-up Miss West Virginia Teen USA Andrea Turner.
Miss Teen USA Top 5

Miss Teen USA 2005

Alexandra "Allie" Leigh LaForce

1st Runner-up

Miss Michigan Teen USA Catherine Laurion

2nd Runner-up

Miss West Virginia Teen USA Andrea Turner

3rd Runner-up

Miss Illinois Teen USA Kelly Cruse

4th Runner-up

Miss California Teen USA Stephanie Brink
Left momentarily clinging to one another were two good friends, Ohio's Allie LaForce and Michigan's Catherine Laurion, whose common state director — Melissa Pitchford directs both the Ohio and Michigan Teen USA pageants — found herself in a can't-lose situation. But only one would reach the very top of this mountaintop, and it would be the young woman whose mother, Lesa Rummell LaForce, contended for the Miss USA title as Miss Ohio USA 1977. When Catherine Laurion heard Michigan called, indicating that she had finished 1st Runner-up, she knew she was embracing the new Miss Teen USA. Allie's eyes widened as Susie Castillo made it official, saying, "…and so Miss Teen USA 2005 is Ohio!" In the final TV moments, cameras mounted overhead showed Allie LaForce on the circular stage, surrounded by 50 of her new best friends, basking in the energy of absolute joy.

w