By Shelly Hennig
My final thoughts as I plan for the future: I feel privileged to have been given the role that will always be my favorite, and hopefully we will meet again — just as soon as I fulfill my next dream.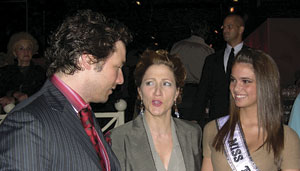 HER TOWN, TOO: Shelley (R) attends a Seeds of Peace charity event with Rocco DiSpirito, the chef and star of the reality show The Restaurant, and Edie Falco, actress and co-star of HBO's The Sopranos.
One of the questions students frequently asked me when I spoke with them during this year was, "What have you learned since becoming Miss Teen USA?" Hands down, my answer has been that working with the Miss Universe Organization is one of the best things that ever happened to me.
Winning Miss Teen USA started off as a silly goal of mine; I didn't think it was possible. However, on August 6, 2004, when they announced, "Miss Louisiana Teen USA is the new Miss Teen USA," I immediately realized how privileged I was to get the opportunity to work with the Miss Universe Organization and have Mr. Donald Trump as a boss. For the past year, not only has this title helped me, but it has also allowed me to help others across the country. I mean, I always thought I was a pretty good role model in my hometown of Destrehan, Louisiana, but who knew that one day I would be considered a role model across the United States! Being Miss Teen USA has introduced me to some amazing people who are now my friends for life.
I have worked with outstanding charitable organizations such as MADD, Seeds of Peace, BuzzFree Prom, Sparrow Clubs, and D.A.R.E., just to name a few. I have enjoyed every last second I've spent working with these organizations, and hope to continue to support their efforts after my reign is over... if they still want me! Ha, ha!
I didn't have as much time as I would have liked to hang out with Chelsea Cooley, Miss USA 2005, or Natalie Glebova, Miss Universe 2005, who are my New York City roomies, but they became close friends nonetheless, and I will miss them. I will also miss Jennifer Hawkins, Miss Universe 2004, who told me on the phone before she went back home to Australia that I am the little sister she always wanted, and I have an open invitation to visit her "down under" whenever I want. I wonder if that means I have a round-trip ticket to Australia. Oh well! I look forward to taking her up on that offer if I need an escape from New York!