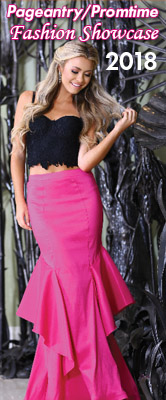 Miss USA helps Baltimore deliver on its slogan's promise, and the region returns the favor as the competition's gracious 2005 host. The winner's ties to Pageantry only gave us more reason to cheer.
By Fred Abel
Observers might conclude that the folks in Maryland who dreamed up the nickname "Charm City" some years ago in order to boost business for Baltimore's tourism industry were exercising the creative license usually associated with Hollywood. But maybe the "Charm City" promoters were just looking into a crystal ball, because a major injection of charm is exactly what Baltimore received — and gave back — in late March and early April of 2005, when 51 remarkable young women began arriving there for the 54th annual Miss USA competition.
As has been its intent in recent iterations of The Miss USA telecast, the NBC and Donald Trump partnership — with Miss Universe Organization President Paula Shugart and veteran TV writer and executive producer Phil Gurin at the helm and The Donald himself orchestrating a level of showmanship worthy of a man whose own empire now reaches far beyond his Big Apple roots — delivered enough celebrity and show-business pizzazz to make waves along the banks of the city's Inner Harbor. While boosting the glitz and glamour in the region as only a vibrant national pageant can, the production team also delivered a fast-paced telecast that kept the focus on the Miss USA state titleholders and brought the show to an exciting climax with the naming of one young lady as Miss USA 2005.
For Baltimore — a tradition-rich city situated at the northern tip of the Chesapeake Bay with a variety of historic and natural assets — the pre-arranged Miss USA contestants' guest appearances provided invaluable opportunities to showcase not only Baltimore's red-hot Major League Orioles, NFL Ravens, and renowned Inner Harbor but also the area's ties to historic figures such as Babe Ruth and Edgar Allan Poe as well as Ocean City on the state's Eastern Shore and the U.S. Naval Academy in Annapolis. Using only a dozen valuable prime-time TV minutes within the telecast's two-hour time slot, Gurin's team superbly packaged video clips covering the contestants' whirlwind tour, allowing America to gain new appreciation of the region while also letting the contestants be seen in a variety of let-down-their-hair fun spots.
Baltimore's Inner Harbor also made a compelling backdrop for the telecast's eye-popping videotaped contestant introductions, with the 51 women stepping out in Technicolor-red dresses in front of such sites as the refurbished U.S.S. Constitution and Fort McHenry (where Francis Scott Key wrote "The Star-Spangled Banner"), lending a patriotic flair that carried over on-stage once the competition commenced with the opening number from within the nearby Hippodrome Theater. Set in 18th-century splendor, the venue sparkled — arched light boxes framing the Hippodrome stage, carved oval windows floating above, Baltimore row-house-influenced white marble stairways leading off both sides of the stage, a glistening floor resembling inlaid marble, dark backdrops festooned with sparkling "stars," and a crystal chandelier — all adding romantic splendor to the competition.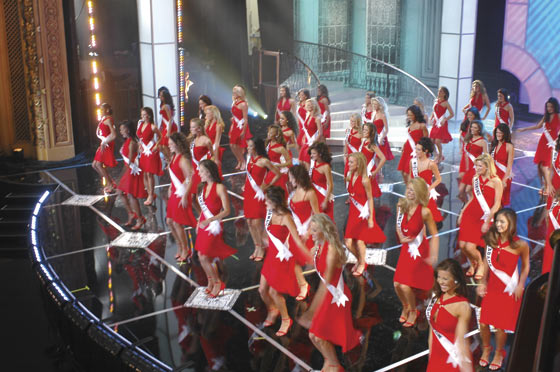 STEPPING OUT: The 2005 Miss USA contestants perform the opening number of the 2005 Miss USA Presentation Show in their designer outfits at the France-Merrick Performing Arts Center at the Hippodrome Theater.
Returning as co-hosts were Access Hollywood's Nancy O'Dell and Billy Bush, who continue to brighten the pageant scene with Nancy playing the cool beauty to Billy's cute cutup. Among their many observations, they noted what a rare privilege it is to appear in a Miss USA final, pointing out that a family has a better chance of having a son drafted into the National Football League than a daughter chosen as a Miss USA contestant. The effervescent Miss USA 2004 Shandi Finnessey made her gracious presence count as well in spots before and after the telecast's commercial breaks.
A family has a better chance of having a son drafted into the National Football League than a daughter chosen as a Miss USA contestant.
Judging which woman would beat the odds and become one of America's most visible female role models was a celebrated lineup of stars, legends, and champions, including Cover Girl supermodel and star of NBC's Las Vegas Molly Sims, six-time Olympic gold medal winner Michael Phelps, boxing legend and co-star of NBC's The Contender Sugar Ray Leonard, stylist to the stars Frédéric Fekkai, fashion designer Pamela Dennis, former contender of NBC's The Apprentice Raj Bhakta, South Africa-born model Nicola Breytenbach, Trump Model Management's John Tutulo, Donald Trump employee and The Apprentice appointment setter Robin Himmler, and NBC's Days of Our Lives star Brody Hutzler. Their assignment began shortly after the exciting opening number, when the emcees called the Top 15 front and center. Cast as leading ladies in this show were the state winners from Oklahoma, New York, Florida, Illinois, Maryland, Utah, Mississippi, Arkansas, West Virginia, Texas, Kentucky, Pennsylvania, California, North Carolina, and Michigan.
The first competition segment, the serene Evening Gown presentation, was a testament to the poise, grace, and confidence exuded by all the semifinalists, as each floated across the stage to make a fashion statement of her own choosing. After the judges' scores were compiled, Nancy and Billy announced the Top 10: Oklahoma's Laci Scott, New York's Meaghan Jarensky, Florida's Melissa Witek, Illinois' Jill Gulseth, Maryland's Marina Harrison, Mississippi's Jennifer Adcock, Kentucky's Kristen Johnson, Pennsylvania's Brenda Brabham, California's Brittany Hogan, and North Carolina's Chelsea Cooley.
Next up came pre-taped interviews, allowing the audience to catch its collective breath between the charm of Evening Gown and the sizzle of Swimsuit. While the Top 10 briefly shared their philosophical thoughts, on-stage super-graphics revealed each contestant's hometown, height, weight, education, and hobbies.
For the Swimsuit segment, each of the Top 10 appeared in an identical white bikini with a floral print design, along with a sheer sarong which flowed behind them as they walked to the stage front, turned 360 degrees, presented the audience with a final show of confidence, and then departed stage right. After the display of "confidence, strength, and stamina," judge and Olympic gold medalist Michael Phelps was prompted to say: "If these women were around the Olympic pool, not a lot of swimming would get done."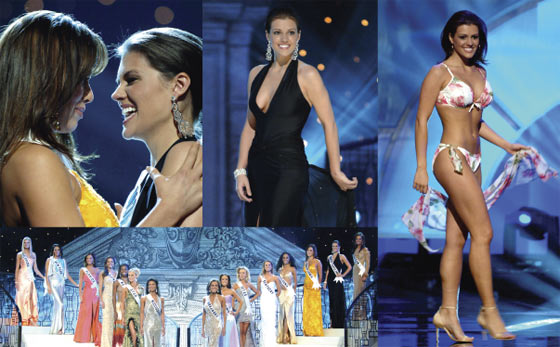 STAGE presence: (Above, R-L) The confidence to compete, the mark of a true winner, is etched on the face of Chelsea Cooley as she appears in Swimsuit and Evening Gown portions of the finals. Chelsea embraces Miss California USA Brittany Hogan moments before being named Miss USA 2005, and raises a fist in triumphant joy. (Left) The 15 semifinalists, chosen from a field of 51 Miss USA 2005 contestants, are introduced at the start of the competition.
But Michael Phelps and his fellow judges had much more to accomplish, with the choice of the Top 5 and the ultimate order of finish awaiting them. Following the special award announcements naming Miss Wisconsin '05 Melissa Young as Miss Congeniality and Miss Texas '05 Tyler Willis as Most Photogenic, Billy Bush quipped, "For some god-forsaken reason, we're asking five more to leave." Allowed to continue on to the nail-biting time that is the Final Question were the fans and Top 5 contestants from California, North Carolina, Florida, Kentucky, and Illinois.
Each finalist would be asked a question composed by one of the others or Miss USA 2004 Shandi Finnessey. Who would be able to best handle the pressure-packed moment, think quickly, and articulate her ideas and feelings in the allotted 30-second response time? Up first, California's Brittany Hogan was quick to say she couldn't answer what she would like to know in advance about her future, explaining that not knowing was "the spice of life." North Carolina's Chelsea Cooley spoke sincerely of Oprah Winfrey as someone she could relate to for her generosity and hard work. Florida's Melissa Witek knew that her greatest challenge had been to "prove that a woman can be just as successful as a man" by succeeding, as she has done, in a male-oriented industry as a granite importer and wholesaler. Kentucky's Kristen Johnson explained how self-esteem issues often are a young woman's greatest challenge. And Illinois' Jill Gulseth defined a hero as someone who thinks positive, can give praise and encouragement, and puts other people in front of themself.
Now that those remarkable demonstrations of preparation and poise were behind them, the Top 5 returned for one final fashion revue, then held hands as Billy Bush prepared to reveal which of these five beautiful, intelligent, and articulate young ladies had earned the life-changing year, whirlwind adventure, and all the perks that come with the Miss USA title. Drawing out the suspense, he announced Melissa Witek as Fourth Runner-up, Jill Gulseth as Third Runner-up, and Kristen Johnson as Second Runner-up.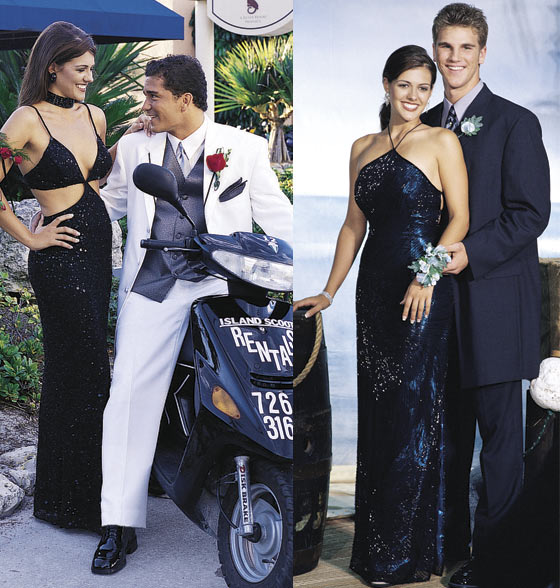 IN HER PAGEANTRY FINEST: In 2002, Chelsea made her Pageantry print modeling debut, appearing in the magazine's annual PromTime Fashion Showcase.
Miss California and Miss North Carolina, their fate still hanging in the balance, turned toward each other and embraced, then remained together while looking down at the floor as they awaited Billy Bush's decisive words, which were: "The First Runner-up is California, the new Miss USA is North Carolina!" The faces of Chelsea Cooley and Brittany Hogan briefly froze as the enormity of the announcement was processed, before Miss California hugged the new Miss USA and graciously stepped aside.
HER SHINING MOMENT: Miss USA 2004 Shandi Finnessey prepares to place the pearl-encrusted crown on Chelsea as she reacts to winning the Miss USA 2005 title.

Chelsea Cooley accepted the sash, the crown, and the winner's bouquet from Shandi, then smiled through tears and waved to acknowledge her well-earned audience applause. Chelsea had been in the winner's circle before at a national teen pageant, and her past association with this publication as a 2001 Pageantry and PromTime Fashion Showcase model certainly gave us an extra-special feeling of pride as we watched her progress to her triumphant moment. From this point forward, she could look forward to many things: the Trump apartment, the pearl tiara, an expansive new wardrobe, a brand-new SUV, acting classes, and an assortment of goods and services that would propel her toward her next battle — the Miss Universe title — and a starring role on a world stage.

But on this April 11 evening, as the other 50 young women she had competed against joined her ever-widening admiration society, Chelsea Cooley clearly had the look of a remarkable champion, comfortable knowing that she had already proven herself worthy as America's new role model of smartly applied feminine beauty, poise, intellect, and ... yes, charm.

w