Fulfilling My Destiny
By Miss Teen USA Shelley Hennig

My anti-drinking-and-driving message is dedicated to my brother Brad, who inspires me to face life's realities every day.
Not everyone has a perfect life. Sometimes it's hard to believe that even the person you think might "have it all" actually doesn't. I'm the perfect example of this. Three years ago, I lost my brother in a drinking-and-driving crash. Brad was 18 years old. People are supposed to die of old age, not from a liquid drug out of a bottle. Like any other death, this was unimaginable and extremely hard to deal with. I'll never get over the loss, but I have learned ways to cope with it.
I have been speaking out against drinking and driving for the past two years, working first with Counseling on Alcohol and Drug Abuse (CADA), and now as a spokesperson for Mothers Against Drunk Driving (MADD) and the "Buzz Free Prom" project. I cannot erase what happened to my brother, but I have decided that it is my duty, as well as a privilege, to remind teenagers across the country that drinking and driving is a choice. It's not something you have to do, which means it can be avoided.
This spring, all of the 51 Miss Teen USA 2005 delegates will have joined me as I took part in the third annual "Buzz Free Prom" program. The "Buzz Free Prom" project, which was co-sponsored by MADD, sent me across the nation on a media tour encouraging young adults to sign a pledge to have a "buzz-free" prom season.

My goal is to spread the message to as many young adults as I can that, before they pick up that bottle, they should know that drinking and driving ruins lives.
Many people ask me how I can speak to so many high school students and discuss the details of my brother's death. They wonder how I find the strength to stand in front of hundreds of people, look into their faces, and talk about Brad. To be honest, I'm not totally sure how I get up to the stage each time I make an appearance, but I know that I feel a lot stronger once behind the podium. At times, I feel Brad standing there beside me, pushing me forward. I think he's blessed me with his inner-strength, which allows me to be strong and passionate while sharing our story.
I would give anything to have my brother back with me and my family again. To be a part of that "perfect" life again — just the five of us as we once were. Although I know there is nothing in the world that can bring him back to us, I feel him with me every day… and I know what he wants me to do. My goal is to spread the message to as many young adults as I can that, before they pick up that bottle, they should know that drinking and driving ruins lives. Should they find themselves unable to resist the temptation of having a drink, then I want to remind them to be responsible and make a call to someone for help. That effort alone could save their lives and so many others. It's worth it!
So from me and my brother Brad to everyone out there, it's all about making a choice. My choice is to stay alive.
Shelley Hennig of Destrehan, Louisiana, is a 17-year-old high school senior who was named an Academic Excellence Student at Destrehan High School and is an honor student and senior class representative. She has dreams of succeeding in fashion or commercial print modeling, but first Shelley's goal is to finish high school and attend New York University. Shelley is also an accomplished poetry writer with two poems published in Young Authors Book of Poetry. After her brother Brad died in a drunk- driving accident three years ago, Shelley became an advocate against under-age drinking and began working with the Council on Alcohol and Drug Abuse, a Louisiana non-profit organization, where she shares her family's story of tragedy and speaks out to her peers about the use of alcohol and drugs.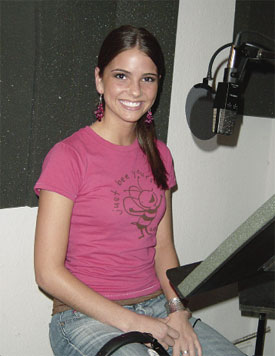 CAMPAIGN APPEARANCES: Here, I am doing the video shoot in a cemetery (below) and the studio voiceover for the "Buzz Free Prom" public service spot (above).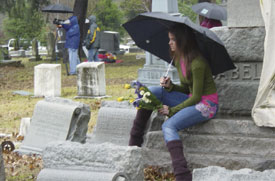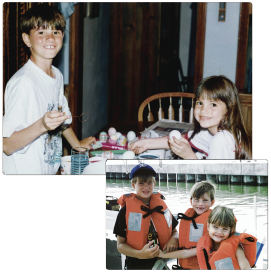 Me and Brad, coloring Easter eggs at home (above). This is me and my two brothers, (from left) Glenn and Brad, on a boating outing (right).