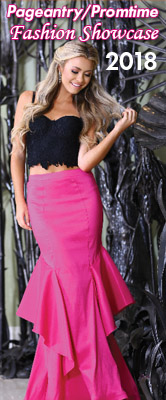 The Pageantry Interview

Miss USA 2004
Shandi Finnessey

EDITOR'S NOTE: If her whirlwind schedule is any indication, Miss USA 2004 Shandi Finnessey is doing well merely to keep her head on straight. The night before we talked, Shandi had just flown in from a five-day trip to Thailand. That morning, she awoke early to a gray rainy day for a meeting at 9 o'clock, then had to go home and unpack all of her things. After our interview, she had a fitting for a parade costume, then a shopping trip to pick out winter clothing, before attending a dinner that same night. The next morning, before her Macy's Thanksgiving Day Parade appearance, she was booked to appear on the Today show. But before that, as I caught up with her by phone, she was about to repack her travel bags because after the parade, she planned to fly home to St. Louis to see her family... and represent her title, too.

Pageantry magazine: So, when do you get any downtime?
Shandi Finnessey: We pretty much don't sleep in this job! But that's okay, because it's only for a year, and we have to maximize every single day. But, I'm looking forward to a trip back home for Thanksgiving.

PM: What's that going to be like?
SF: After the parade, I'll get in to St. Louis late on Thanksgiving Day, and the family is going to postpone dinner until I arrive, which is nice. I stay Friday and part of Saturday, then I go to Kansas for the Miss Kansas USA Pageant on Sunday evening, and then I come back to St. Louis Monday morning and fly back to New York. It will be a nice trip.

PM: Tell me, what were some of the highlights of your life since April 12, 2004, when you became Miss USA.
SF: Truthfully, all of it. I'll have to get out my journal, because my days are filled with so many events that since April, it feels like I blinked my eyes and the time passed, but at the same time it's like four years have gone by. There are so many highlights, such as visits to Walter Reed and Bethesda medical hospitals in Washington, D.C., where a lot of our service men and women come back to from Iraq after being wounded. My father is a Vietnam vet. He was in the Marines. With the state our country was in when I won the Miss USA title, and so much of the negativity that was throwing a shadow over us then, I felt to be Miss USA was not only about being an icon of beauty, but also about being an ambassador for our country, so that other countries would understand what America was all about... to keep our focus on our soldiers and keep our support for them.

Winning pageants brings
all the glory, but as a
personal-caring role model
she achieves the ultimate
fulfillment as a smart
and sexy winner.

By Fred Abel

With tight travel schedules, runway appearances, tours of duty visiting wounded soldiers, and junkets to foreign countries, Shandi is having an unfogettable year to shine in the public spotlight.

When I'm in these hospitals, holding the hands of these wounded men and women, it's so hard on my heart, but it's also so amazing that you're able to bring so much joy to some soldiers' day just by talking to them. It was a little bit tough at times, because the soldiers wanted to talk about how they got their wounds, and I always want to leave a little bit of myself in whatever situation I'm in, but also take a little bit of that person with me, just so that I create more depth and substance from the experience. Then, after getting involved in those soldiers' lives, to have to attend a gala two hours later, it can be a challenge to change my emotions so drastically in one day.

PM: What were some of the lighter moments of your year thus far?
SF: I got to visit Cuba — that was amazing — and went scuba diving there. Also, I went to Korea, and just got back from Thailand. So much time is spent with fund-raisers, and legislation, and supporting charities, that any time you get to do something out of that box, it's fun. I met Bruce Willis at a party, and I was such a geek by going up to him and saying, "Oh, hi, can I get a photo?" You know, he's actually very shy, and handsome as ever. I've heard he's kind of shy and rarely goes to functions like that.

PM: How do you think you're perceived: shy or outgoing?
SF: I think I'm pretty outgoing. Fortunately, people comment on my intelligence. I consider that so flattering, because I think people have a certain stereotype set up for a "quote-unquote beauty queen." So, I am very grateful when people comment on what's inside, my personality, or say to me, "You're so intelligent to talk to." I consider that more of a compliment.

PM: You're also 26 years of age, which may give you more maturity than younger pageant winners.
SF: I think it does, especially because I've had so much worldly experience. I have my undergraduate degree, I have two

works that have been published... I've been modeling since I was six, which exposed me to so many different people and places, and I've had to manage my money since a very young age. I think that just gives me an edge. I have a good head on my shoulders, and I know this job only last a year. That's why I'm determined to maximize the experience, and not only leave as many footprints as possible, but also take as many memories with me as well.

PM: You have extended your stay in competitions as well, with titles in more than one pageant system. Tell us about that.
SF: I was in the middle of my Master's degree studies when I won Miss Missouri America in 2002. I took some time off, filled up my schedule with motivational speaking all across the state, competed for Miss America, finished out my year,

Once I graduted, I had a thirst for knowledge… so I read a lot — especially because we spend so much time in airplanes, airports, and cars.

and then I had maybe three months between Miss America and Miss Missouri USA. I was considering going back to school, but I wanted to give it my best, so I took those three months and really focused on preparations. And obviously, I did well at Miss USA, so I've yet to go back and finish up my Master's.

PM: Where did you find the motivation for pursuing a doctorate?
SF: I think I've always been that way. Once I graduated, I had a thirst for knowledge, especially being away from school for two years. I have to keep feeding myself with knowledge, so I love to read a lot — especially because we spend so much time in airplanes, airports, and cars, and there's not much to do unless you want to talk on the phone... or read a gossip magazine.

PM: Speaking of gossip: What kinds of coverage have you had from media outlets?
SF: Living here in New York, I just became familiar with the "Page 6" column in the New York Post, and I've actually been mentioned quite a lot — probably once every three weeks — where they cover random things I'm doing. For example, I was in the gym one morning working out, and to my knowledge, nobody was paying any attention to my workout. But then the next day "Page 6" talked about me working out, so you wonder who's around who witnesses this and puts you into the paper. It teaches me that, even when you don't think you are in the spotlight, you can be, so you always have to be at your best.

PM: Do you receive much pageant fan mail, and what are the topics brought up?
SF: I probably get two- to three-hundred e-mails a day, and I make it a point to answer all of them, even if it's just a "Thanks for your e-mail, God bless." At least it's something to let people know that you care. A lot of girls write me: "I'm in school and I'm so ugly and everybody makes fun of me. I come home from school crying. What can I do?" I was in that position, too, when I was younger. I try to get them to embrace their imperfection. But it's so hard to get through those years, and it's only when you get older that you can embrace all that is good about yourself.

PM: From the sound of it, you'd be the most beautiful counselor anybody ever had!
SF: Ha, ha, ha! Well, you know, ideally, I would love to do counseling on television, like Dr. Phil. I think everybody should go to a counselor, but a lot of people are scared that they'll be labeled. But, like myself, I'll have an issue in my life and I'll be watching Dr. Phil or Oprah, and someone will be on the show talking who has the same issue as me. You tune in because they get advice and you hear what it is and can apply it to your life. By being a counselor on television, I would be able to help so many more people than just the regular clientele in an office practice.

A highly visible New York City celebrity in her own right, Shandi neverthess has done her share of star-worshipping, with such notables as Bruce Willis (L) and Nick Lachey (below). Her own face and svelte body attract numerous paparazzi wherever she appears.

PM: It appears that being helpful and being concerned for others is a high priority for you. Has it always been?
SF: I remember people telling me this when I was younger: If you can put something other than yourself first in life, that's when you are truly happy. So many people whom I've met always put themselves first; they're very financially stable and have everything together in their life, but they don't have a family or don't have anything going on in their life of importance. Then, they seem so unhappy. Instead, if you put someone else first — if you're married and put your spouse first, or you have children and put them first, or you do charity work — you just feel so much happier about yourself.

PM: How would you describe the image of Miss USA today, and how does that role remain important?
SF: Miss USA is a woman of the new millennium — pretty, sexy, intelligent, opinionated, and feels strong about expressing her opinion. She appears in public in jeans, a cute sexy top, and a pair of heels, because that's what the modern woman can relate to. A titleholder is still relevant, because when you look at the role models we have — a Britney Spears and an Eminem — society needs a stronger role model for kids to look up to. When you see kids in elementary school who think it's cool to have thongs hanging out of their pants because Britney does, you realize you have a huge problem with the people our kids are looking up to. You need a role model who is beautiful, is trendy, and yet is still intelligent and has good moral values.

PM: Who are the role models in your life?
SF: My family has had a lot of influence on me. My grandmother on my mother's side, Fern, is an amazing woman. Every summer we used to drive as a family in this big van — myself, three brothers, my mom, my

dad, two dogs, four cats — and we used to stuff everything in this van and drive up to North Dakota. We would spend a couple of weeks with my grandmother on her farm. I just learned so much from my grandmother, from her way of life. She's going on ninety now, and she's never had a headache in her life. She's just so pure of heart. Certain actresses have influenced my life. I've always looked up to Julia Roberts and Sandra Bullock, because on-screen they just come across as so real. They put so much of themselves in it... I had an eighth grade English teacher whose being and aura I always really admired and appreciated — she seemed so focused, yet elegant. I really believe that from every person who you meet in your life, you can learn something, even if it's a homeless person on the street or the president of the United States.

PM: What do you depend upon for your inner spirit and strength?
SF: I'm very fond of meditation and yoga, and one important thing I stress is living in the here-and-now. Another little adage that I like to refer to goes like this: "Yesterday is the past, tomorrow is the future, and right now is the gift — that's why they call it the present." People can tell if you are living in the moment. A lot of times people comment on my competitions at Miss USA and how I came across to them on-stage — I don't think ever in my life have I felt more in the moment, because I realized what an amazing opportunity it was to be competing at the Kodak Theater in the middle of Hollywood, with millions of people around the world watching, and my family cheering in the audience and holding up big signs. I wanted to take it all in, to feel the stage lights on my skin and hear the roar of the crowd, and feel the nerves pulsing through my body, and I wanted to store that feeling deep within my soul, so that when I'm eighty years old and sitting on the front-porch swing, I can relive that moment and remember it.

PM: As Miss USA, how do you deal with the public perception of a pageant winner as the embodiment of perfection?
SF: I wouldn't consider myself very pageant-like, if there is a stereotype. You can't worry about the mistakes you make, because you either learn from them or they make things beautiful. I like painting abstract paintings, and whenever I spill a glob of paint, or if I'm painting on the ground and my cat walks across it and leaves footprints on it — that's what turns out to be the most beautiful part in my painting, and I view that as "life." What's so hard to understand when you are younger is that everybody looks at magazines and they want to be that ideal beauty. But look at Cindy Crawford with her mole. She talks about when she first began modeling, and they said to her, "You've got to get that thing removed." She decided not to, and that's what made her famous.

PM: In the next few years, do you see yourself staying in the public spotlight, and perhaps going into show business?
SF: Absolutely. I never thought I would, but I'm considering — I don't have anything set in stone yet — I would love to do something on television in terms of hosting or interviewing. I think it's something that I'm good at, and I would be a good interviewer or host because I'm a good listener. I've been interviewing at a few different networks, and if all goes well, I will be moving to Los Angeles and... actually, my roommate will be Tami Farrell, who is Miss Teen USA 2003. She's out there right now, and we're really good friends and talk constantly, and she's just an amazing person. So if all goes well, I'll give it a shot. I figure I'll definitely try it for a year, and if things go really well, I'll make that my career. Or, if things don't go well or I don't fit into that role, I'll pick up where I left off and finish off my Master's and Doctorate degrees in counseling and go that route.
w